How to Emerge From Stagnation? Proposals for Growth and Development
Proposing transformative measures for education, health, and infrastructure, this article, in two parts, highlights the path to revitalising India's economy and society.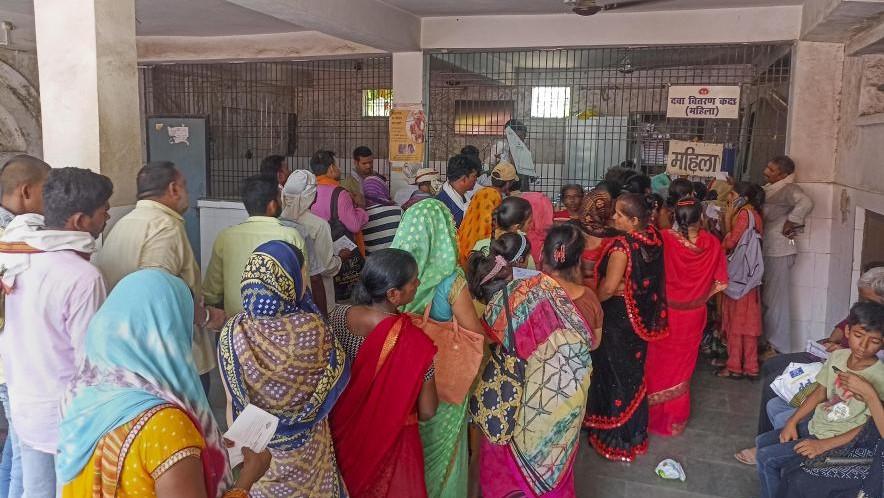 Representational Image. (File Image)
The context
The Indian economy and society are at present in a Trishanku state. In real terms, the GDP is around six percent in its annual growth rate, and it is unlikely to decline much further, say below four percent. This is likely because the country's top 10 percent of income recipients show a substantial increase in their income regularly. Their demand will help the economy register some positive growth. However, the remaining 90 percent of the income recipients have been registering a decline in their average income in recent years. Nothing in the policies of the Union and state governments promises an increase in the real income of this overwhelming bulk of the Indian population. 
Therefore, the overall growth rate, though positive, is unlikely to register an increase. The growing disparity in income distribution in India will mean very low growth, if not stagnation, of the economy. 
The social scene is depressing as well. The total population is likely to increase till the middle of this century. Therefore, the working-age population will continue to grow till then. But in the education and health sectors, the present policy trend is to leave the provision for the lowest level onwards to the private enterprise, to be purchased by individual households. 
Since incomes will not rise, the expenditures of the vast body of Indians will not be able to promote growth. Poor education and dependency on private health services will result in a lack of skills and enterprise. Such an economy cannot hold out the possibility of significantly increased economic investment.  
The best we can imagine for ourselves is a re-emergence of the Middle Ages in terms of comparative economic and social attitudes. The traditional Indian society will be 'content' with its caste divisions while worshipping in newer Ram Mandirs. The religious minorities will be economically deprived because of poor education and health and will therefore remain subdued as second-class citizens. Meanwhile, the bulk of the Hindu society will also not be economically much better off. The state will see to it that this social equilibrium is not upset. 
How do we go about changing this scenario? I suggest we advocate programmes that will work towards –
people being at least school educated;

easy, inexpensive access to treatment of routine health problems;

employment that provides reasonable income growth over time and improvement of skills;

creating small and not-so-small investment opportunities; 

villages and towns being well connected by roads, with electricity and broadband telecom service.
Programmes for Change
In the first part of this article, we will discuss three of seven 'programmes for change'.
EDUCATION: 
Every village, however small, should have a school. If there are only two teachers, they can arrange to teach with the help of children in the higher classes. Children in tribal villages, as well as all villages and towns, should be taught in their mother tongue in the beginning. Teachers should be locally recruited. In non-tribal schools, the teachers should be from the same district. In the tribal school, the teachers should be able to speak the same language as the children. Recruiting such 'trained' teachers locally may be difficult, but they can be trained during summer vacations. However, they should and would be able to teach not only arithmetic but also language, history, and geography in the children's language using the prescribed texts. By the third and fourth standards, the children should be introduced to the regional language. 
In most households, particularly tribal and scheduled caste ones, there may be no adult in the family who can help the children study at home. Private tuition is not affordable for such households. The school teachers should help such students in the evening for about an hour and a half or two. These teachers should be paid an allowance for this additional work from the funds available with the government's SC and ST development departments. 
The school should have electricity to facilitate children's work in the evening and otherwise. The children in the schools should be provided with all text and non-text books, slates, pencils, exercise books, pens, geometry boxes, and any other study material for free and in adequate quantity. This should be done in addition to the two sets of school uniforms for every child and mid-day meals. The teachers in schools for tribal and SC students, in particular, should be better than average teachers. These students need more careful attention to enable them to come up to the level of others without literate persons at home.
After completing primary education in the village schools, these children should be able to attend high school. If there is no high school in the village, the state should provide every child with a bicycle to go to the high school in the adjacent village. Until the end of their high school education, every child should be provided with free education and all textbooks and other teaching materials in adequate quantities by the state. The schools should have electricity as well as internet facility and computers to enable students to study outside the normal school hours since many may not have a conducive atmosphere to do so at home. If the high school is not in the village, then the high school-going children should be permitted to use the primary school classrooms in the village for such study outside school hours. 
In the selection of reading material, for both texts and non-text material, particularly medieval writings, those that appear to present values upholding caste and a particular religion should be avoided.
All children should be given education in their regional language in high school. But English as a language should be taught from the fifth standard onwards. Though the mother tongue was made the medium of instruction in the government high schools in 1943, the level of English education was such that the student passing out of high school faced little difficulty reading English books and listening to lectures in English in college classrooms. Towards the later part of the 1950s, however, the level of English education in high schools fell, such that the students found it difficult to read English language books or understand lectures. This has cost them heavily. It is time that the level of English language education in government schools is restored. One way of ensuring this is to make the translation of long, unseen passages in English into the local language a necessary test, in which the passing percentage should be 90. A student should, of course, be enabled to pass the high school examination without English if they choose to do so. However, admission to any post-High school study course will require this ability in English. So, such a student should be enabled to take a test in translation in order to qualify for admission. 
What is important is the ability of the student to read and understand literature in English. Their mother tongue may be the medium of instruction at the post-high school level, but the inability to read and comprehend literature in English will make the student unfit. The same insistence on speaking and writing in English need not be obligatory.
Since the introduction of the two-year higher secondary course, it has become the inevitable entry institution for students who want to study something after secondary school. For those who might like to get trained in some vocational skills, the opportunity is very limited. There are ten times as many higher secondary (so-called junior colleges) institutions as ITIs. This has been both frustrating and wasteful. What is needed is a reversing of the proportion. There should be many more ITIs than higher secondary schools. Indeed, to start with, every block in the country should have at least one fully equipped large ITI. When this is provided, many will go there rather than to a higher secondary school.
At present, Higher Secondary school courses are designed to prepare students for admission to undergraduate colleges. There is no programme that can train an intending candidate to be a lower-level official in a bank or government or private company office, etc. Such intending candidates should be taught good regional language composition, English composition, translation, computer programming, elementary accountancy, bookkeeping, and general civic study. Competence in these in two years would facilitate their recruitment as assistants in banks, as well as in government and private company offices. Training of this sort would not prevent them from seeking admission to certain undergraduate courses. The employment market needs such persons to start with. 
Similarly, undergraduate training in laboratory work in chemical and biological disciplines will open up opportunities for candidates in the chemical and pharmaceutical industries. Many colleges might prefer to engage in such training programmes. This would be far better than the common B.A., B.Sc, and B.Com degrees that train them for nothing in particular. The postgraduate degree in Arts, Sciences and Commerce (management) would then become more pointed and useful as well as productive.
For tribal and SC students, higher education at any level should be tuition free. And such students should be given scholarships to sustain themselves during the higher education period. Certain lower caste groups may also deserve this facility for at least a few decades. Suppose such a scheme of education at different levels is sincerely followed for at least a couple of decades. In that case, I imagine that reservation of seats for admission to higher educational institutions or jobs may cease to be necessary after 20 years. Children going to English medium schools (which should be purely private schools) will have to learn their mother tongue very well in school if they wish to go to a college or seek government jobs.
HEALTH SERVICES:
The bulk of the people in this country find health service costs heavy; it upsets all other routine calculations of the household. It is not only the more serious health troubles which cost very high, even routine troubles turn out to be expensive. And, since these are unpredicted, such expenses upset all routine calculations. People with low incomes can hardly afford to meet those costs. It is absolutely necessary for the state to provide these services. Even in highly developed countries like the Scandinavian countries, health services are provided by the state.
The health service to be provided by the state should start at the Primary Health Centre. In India, the primary health centres are run at the Block or Sub-divisional head-quarter level. People in most villages and even in towns cannot easily go there. The doctor at the Primary Health Centre should be available daily within walking distance. 
I suggest that a population of 3,000 should have a primary health centre. A doctor should be able to manage two adjacent centres, attending to patients for four hours in the morning or evening. He/she can move from one centre to another on a motorcycle. However, every centre should have two full-time nurses, and the ASHA workers of the area should be attached to such centres. The centre should provide drugs for routine troubles for free. It is only the expensive drugs for which the doctor should write a prescription for the patient to buy from the market. For every visit, the patient may be required to pay a fee of ten or twenty rupees.
Each primary health centre should have two adequately furnished rooms for normal child delivery. The suspected difficult cases should be advised to go to the Block Hospital. The delivery should be provided for free. Besides, there are the normal needs of a medical centre and the maintenance of the building and equipment. 
Every Block Hospital located at the Block headquarters should be a full-fledged Hospital with two hundred beds, all pathological and radiological service facilities, and competent medical staff and equipment for the purpose. The district headquarters should have a 500-bed hospital with various medical service facilities. Moreover, every district hospital should be equipped with a training centre for nurses. Patients coming to the hospital as indoor patients should be charged no more than Rs 100 a day, irrespective of the illness.
The opening of primary health centres may be faced with a shortage of doctors. Three steps are being suggested here to meet this need. First, the longer-term step is the opening of new medical colleges. Some of the district hospitals should be expanded to become full-fledged medical colleges. A related suggestion is to open up the old L.M.P. or L.C.P.S. courses (of three years duration), which have so far been opposed by the Indian Medical Council. I hope the Council will see reason in this renewed suggestion, and the state governments should press the Council to agree. 
The opening up of this extra layer of doctors will have many beneficial effects, which I shall not try to get here. The second suggestion is to make the award of the MBBS degree contingent upon the service of the successful final-year candidates serving as doctors in the primary health centres for two consecutive years when they will be handed their degree certificates. A third suggestion is to recruit doctors who retired from government service as well as those private medical practitioners who are willing, irrespective of age, to work in the primary health centres on an annual contract basis. If these steps are taken, the primary health centres should be fully strengthened by the end of the tenth year. These centres should be served by medical graduates (or LMPs) and not Ayurvedic or Homeopathic practitioners.
ROADS:
The erstwhile Planning Commission treated the creation of social infrastructure in the countryside as a residual claimant in its scheme of capital allocation. The result has been disastrous for the socio-political set-up as well as in preventing the possibility of small non-farm investment activities in the countryside.  
In most states, villages are not connected by all-weather roads to the nearest highways. Seeing this situation in most fields, like roads, education, health services, and even minor irrigation, the Maharashtra Regional Imbalance Committee (1983) suggested a formula for providing these infrastructures rather than leaving the task to the discretion of the administrative authority. The suggested method was to calculate the average proportion of the villages in the state with the particular facility. All administrative Blocks (or taluks) that had a lower percentage of villages with this facility were to be provided with funds to reach the state average level. After that, the state average was to be recalculated, and the same allocation procedure followed again until all villages were ultimately covered. The time taken to complete the task will depend upon the resource provided compared to the need. The present Pradhan Mantri Gram Sadak Yojana does not follow this approach. As a result, while some villages get concrete roads, others remain without any roads.  Calculations along this line would indicate the size of resources to be devoted to completing the work for roads during the next five years in each state. Roads should be all-weather in the next five years, including bridges where needed. Villages located on hilltops should not be neglected. 
Nilakantha Rath, Emeritus. Fellow, Indian School of Political Economy, Pune. The views are personal.
Get the latest reports & analysis with people's perspective on Protests, movements & deep analytical videos, discussions of the current affairs in your Telegram app. Subscribe to NewsClick's Telegram channel & get Real-Time updates on stories, as they get published on our website.
Subscribe Newsclick On Telegram