How Hate Has Laced the Gujarat 2022 Election Campaign
From the Assam chief minister, Himanta Biswas Sarma to his UP counterpart, Ajay Bisht a la Adityanath and actor Paresh Rawal, the actor, hate speech is clearly the BJP's preferred campaign weapon; speeches are likely to worsen after the first phase.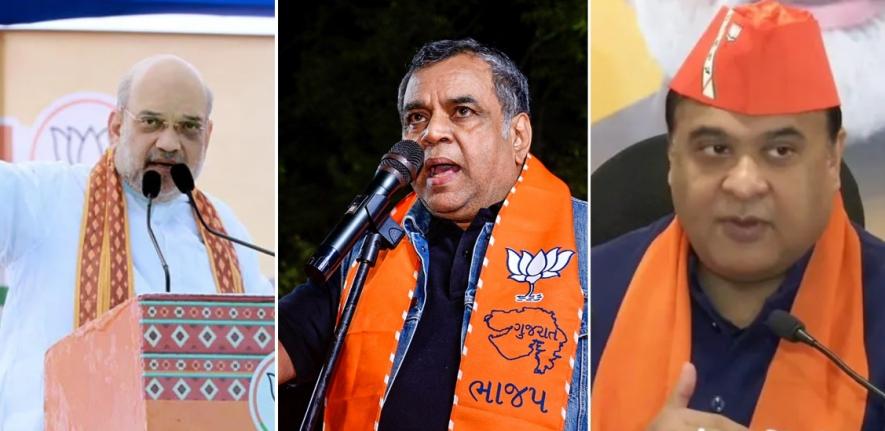 There is an interesting section in the Representation of People Act of 1951, Section123 (a) that is meant to hold up the gold standard against corruption of the electoral process. Iterating that this gold standard has been tarnished time and again would amount to a tautology given the deep incursion of hate speech and writing in the electoral arena, election after election. Especially after the ascendancy and domination of a majoritarian worldview, in Indian politics.
"The promotion of, or attempt to promote, feelings of enmity or hatred between different classes of the citizens of India on grounds of religion, race, caste, community, or language, by a candidate or his agent or any other person with the consent of a candidate or his election agent for the furtherance of the prospects of the election of that candidate or for prejudicially affecting the election of any candidate,]" outlines section 123 (a).
The dazzling campaign for the 2022 Gujarat state assembly elections, underway for the past several weeks has been severely tarnished by repeated shards of hate; many of these highly publicized statements have come from elected officials of the ruling party at the Centre and in many states (the Bharatiya Janata Party-BJP), in fact from two chief ministers, both outdoing each other, Assam and Uttar Pradesh. The tone of course was set by none less than India's powerful politician and union home minister Amit Shah and was rounded up by actor turned politician, Paresh Rawal.
Under statutory boundaries of Indian election law, the Election Commission of India (ECI), purportedly autonomous and independent is meant to monitor and prosecute instances of such deviations during political campaigns. That is, if deviant speeches that amount to a "corrupt practice" defined as "an attempt to promote feelings of enmity or hatred between different classes of the citizens of India on grounds of religion ete etc, the ECI is bound to take action. In the unforgettable 1980s, when this phenomenon –of misusing religion for political ends—first peaked, that too in Maharashtra – parties and candidates of errant parties tried often to wriggle out of responsibility by claiming that a campaigner for the same party, was not in law, the candidate who is bound under the law to bar herself/himself from recourse to such corrupt practices. In 2022, Shah, Adityanath, Himanta Biswas Sarma, Paresh Rawal are the "star" campaigners for the party that is seeking to romp back to power in the state.
The HM, Shah set the tone on November 16. During an election rally, the man congratulated Chief Minister Bhupendra Patel for having demolished illegal mazars or Muslim shrines that had "mushroomed" in Beyt Dwarka which a small island off Dwarka coast. As reported by Rediff.com Shah said "I want to congratulate CM Bhupendra Patel for demolishing illegal mazars (a Muslim shrine or enshrined tomb) and other illegal constructions which mushroomed in Beyt Dwarka (a small island off the coast of Dwarka) over years. There were more mazars than the population".
Not content with this deliberately targeted allegory, Shah also said, "All the Latifs and Ijju Shaikhs (two criminals from Gujarat) were already eliminated. Today, 20-year-old youths do not even know what curfew is like. We eliminated the appeasement-based politics and established the rule of law in Gujarat".
Will this amount to a corrupt electoral practice in the sense that it promotes feeling of enmity, hatred read exclusion between different classes of citizens?
Experts worldwide accept that "slurs" reflect and spread discrimination by illustrating how they work in everyday conversations, public and private. Slurs always target a category and the fact that the derogatory content that they convey is presented as not open to discussion but reviled statement of "fact", make slurs particularly dangerous tools.
Besides, children and adults are affected by bias, prejudice, and discrimination. So, if in constant public discourse, made more powerful and legitimate by those in political power, intergroup social exclusion—exclusion of peers on the basis of group membership—is perpetuated by labeling and slurs, the outcome surely will be heightened enmity and hatred between categories of citizens? Thirdly, the labeling theory posits that even the self-identity and behavior of individuals and groups is determined or influenced by terms used to classify them; it is associated with concepts of a self-fulfilling prophecy and stereotyping. This labeling theory focuses on the tendencies of majorities to negatively label minorities or those seen as deviant from standard cultural norms Stigma is defined as a powerfully negative label that changes a person's self-concept and social identity.
Now let's look at the use of the terms repetitiously and negatively at play here.
Shah set off this tone of his party's campaign by the negative use of mazars (graves of Muslim spiritual leaders) in his first speech. In the same exhortation that included stigmatizing and labeling, he brought up the names of two well-known and communally reviled criminals, Latif and Iiju Shaikh. Both Muslims. Now never mind that Bhadresh Kumar Patel, is both a Gujarati and reportedly one of FBI's 10 most wanted criminals in 2019, not a Muslim. Or that Mehul Choksi, also an economic offender of humnougous proportions shares his ethnic origin with the western Indian state. Or that, once upon a time, in the area around Porbunder, a woman gangleader and politician, Santokbehn Sarmanbhai Jadeja caused a shiver to run down many a spine. If the aim of the labeling hate-letter is not to objectively showcase a crime-free society, however, but –in mass public psychology, during poll time—to demonise Indian Muslims by ensuring that a large section of Hindus swallow this toxic venom, you could or may succeed.
Unstoppable and undeterred by the ECI, Shah, went further. On November 24, he made a provocative and controversial statement, bringing up the post Godhra carnage of 2002. Claiming that under earlier (Congress) dispensations, "anti-social elements" (read Muslim) indulged in violence, he proudly said that "perpetrators" were "taught a lesson in 2002" bring "permanent peace to the state." This was uttered at the Mahudha town of Kheda district where the union home minister was again campaigning for a candidate of his party.
Shah was accompanied and followed in swift succession by a quick study, a rising politician from one of the most visible states in India's north east, Assam. Sarma previously a Congressman was the star hate letter in 2022.  Sarma, crisscrossing Gujarat as a star campaigner, first in Surat, then in Kutch again resorted to selective hate vitriol. Sarma used slur and stigma, pillorying terms like "love jihad" deliberately created to target free choice and autonomy –when couples across faiths and caste exercise their right to co-habit. Prejudicial labeling of the Muslim as the "criminal," "the violent" and culturally excluded (mazhars) the task of othering a significant section of Indian citizens, Muslims, is near complete.
Sarma, on his second visit to Gujarat for campaigning, Sarma raised the infamous Delhi murder case involving Aftab Poonawala and Shraddha Walkar from Mumbai, which he had raised during his earlier visit also, blamed the rival Congress party "for creating an eco-system that allowed instances of love jihad to take place." "Therefore, I believe that the country needs a law against love jihad. And it can be possible only in the BJP government under the leadership of Narendra Modi, he added. This was on November 29. Returning back to his home state on December 1, elaborating on Shah's controversial statement on the 2002 violence, Sarma added his two bits of wisdom, "Hindus don't normally contribute to riots," positively exonerating mass targeted violence where accused have been from the majority (Delhi 1984, Nellie, Assam 1983 and Gujarat 2002) and further also stigmatizing and labeling—Muslims.
Adityananth a la Ajay Bisht the all-powerful chief minister of Uttar Pradesh (UP) excelled even his own record on November 27. Campaigning for the Bharatiya Janata Party (BJP) in Somnath, Bhavnagar and Amreli, Uttar Pradesh Chief Minister Yogi Adityanath Saturday attacked the Congress for "appeasing Muslims" by opposing the reconstruction of the Somnath temple and branded Aam Aadmi Party (AAP) chief and Delhi Chief Minister Arvind Kejriwal a "true sympathiser of terrorism".
And finally the popular actor, Paresh Rawal, was not to be outdone. Undermining the campaign about inflation and the price of gas cylinders that has skyrocketed, he said, ""Gas cylinders are expensive but they will come down. People will get employment too. But what will happen if Rohingya migrants and Bangladeshis start living around you, like in Delhi? What will you do with gas cylinders? Cook fish for the Bengalis?" Paresh Rawal said in his speech also during campaigning in Gujarat.
So we have it all and in good measure: slurs, social exclusion and labeling that will all serve their purpose during campaigneering, unchecked by either the ECI or higher judiciary, tasked with ensuring the constitutional check and balance.
The Muslim as evil, culturally distinct, violent, aggressive, not to be trusted, the eternal outsider. In Gujarat it began decades ago with defiling terms like Miya Mussalman being used within classrooms and drawing rooms. Slowly it entered professional public spaces, then wings of the state. With India's most powerful political party unashamedly confident to applying the slur, social stigma of exclusion and labeling to simply win an election, the precipice of the hate pyramid in Gujarat 2022 stands breached.
Get the latest reports & analysis with people's perspective on Protests, movements & deep analytical videos, discussions of the current affairs in your Telegram app. Subscribe to NewsClick's Telegram channel & get Real-Time updates on stories, as they get published on our website.
Subscribe Newsclick On Telegram