How to Live in Lockdowns – Lessons from Kashmir
Patience, planning, perseverance, positivity and community bonding can help a lot.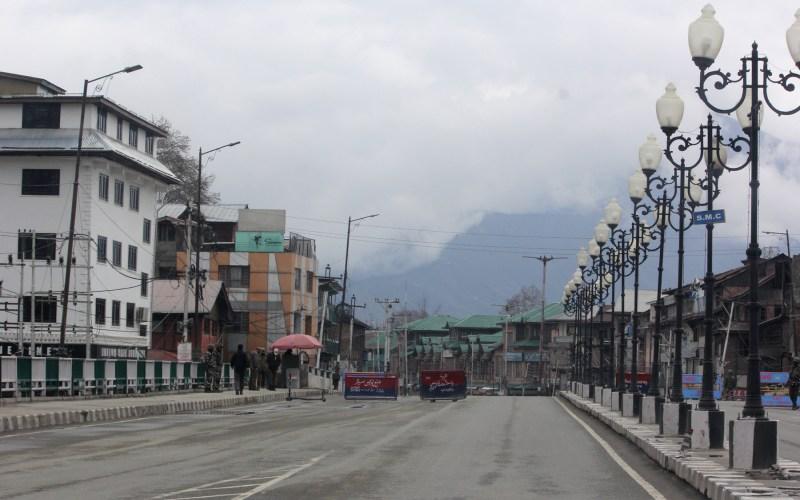 Image Courtesy: Greater Kashmir
Many friends nationally and internationally have been asking how Kashmiris have spent time during multiple lockdowns in the past three decades. They want to learn from the experience of Kashmiris in the times of COVID-19-induced lockdowns.
We Kashmiris have seen lockdowns but with two exceptions -- restricted or no access to Internet and no virus. We had social distancing during lockdowns in Kashmir but at this moment, it is more of physical distancing.
Adversities often come with opportunities and positivity has a way of surviving. This is a time when I feel that whatever positives we have learned in lockdowns should be shared with others. So, let me go step by step on what actually matters in lockdowns and how we should handle it.
Lockdowns always have immediate, short-term and long-term effects and we have to deal with them accordingly. So, before we prepare to deal with the consequences of lockdown, it is very important to be prepared for it.
Medical Services, Cash in Hand
In lockdowns, one of the major challenges is medical services. Availability of doctors/paramedics in the immediate neighbourhood, reliable ambulance services and curfew pass is important for those managing sick patients at home. Be vigilant about patients who are on chemotherapy, oxygen concentrators, dialysis and other associated disorders. OTC (over the counter) drugs used for common ailments should be stocked and used on instructions of a medical doctor.
Having cash in hand is very important because at times ATM's don't work, internet connectivity is low or there is no cash in the ATM. Stock essential eatables, cooking gas and other fuels to a limited extent and avoid panic buying.
During lockdowns, we often come across emergency travel, so fuel tanks of your vehicle should be adequately filled. Continuous electric supply during lockdowns is a challenge, better be prepared with back-ups like candles, LED lamps, torches, inverters and generators.
Mobile phones in present crisis of COVID-19 are most important. Regular recharge of pre-paid mobiles and good battery back-up gives us unlimited connectivity with family and friends. We can spend quality time with our near and dear ones through audio calls, video calls, and WhatsApp groups. Generally, lockdowns provide a good platform to resolve your long-term professional or personal issues. Just talk, reach out and minimise your differences.
Physical, Mental Health
The COVID-19 lockdown also provides us an opportunity to take care of our body and soul. Good sleep is very important in lockdowns. It helps us in dealing with any crisis in a better and balanced manner. Good sleep energises body, enhances immunity, encourages positivity and builds better mental health.
In a lockdown, the biggest challenge is to handle people having mental health issues like OCD (obsessive compulsive disorder), anxiety, and depression. However besides mental health patients, general population also suffers from common anxiety. These anxiety disorders originate from issues like economic, social, family, personal, professional, religious and political. For anyone with generalised anxiety, a lockdown exposes him or her to excessive worrying and irrational behaviour. Smile, laugh, be positive, share and care.
As a community you have to come together and feed those who can't afford a living. This has been done in Kashmir and that is why we have survived collectively. It is good to reach out to neighbours, friends and those who don't have resources. This can be done by sharing food items and daily needs through a community or individual initiative. We can pay advance money to daily wagers, labourers, carpenters, plumbers, mechanics and other skilled workers. This money can later be adjusted for any work related to their respected field. Generate trust and a sense of community bonding with a common goal of healing and helping. This feeling results in a magic that I have witnessed many times in Kashmir.
Verify News, Information
Another major challenge is to have verified news from trusted sources. Unfortunately, on social media and messaging platforms, fake news is in abundance, which results in panic. Managing anxiety and panic during such crisis requires us to focus on facts and not random emotional bulletins. The general public should avoid temptation to learn everything about COVID-19 from social media sources. More social media information adds to panic. It is better to access good news source about COVID-19 twice/thrice a day. Read and share positive inspiring stories from credible media sources.
Economic Impact
The economy always suffers ruthlessly in lockdowns. In Kashmir, government employees have been the ones who have been a great support for the community in sustaining and surviving lockdowns. They get their salaries on time and it is this cash that flows in the market. Business establishments connected with daily needs, medicines, communications, education, entertainment, media and few more do better than the rest.
The MSME (medium, small and micro enterprises) and corporate sector suffers most in these situations. Proactive bank loans, credit facilities, relaxation in EMI and insurance guarantee schemes do help the population to sustain and survive. The most important thing that can help you to come out of such a crisis is staying together as a community and nation.
In every locality in Kashmir, I have noticed that credit is offered by almost every shopkeeper to most of the neighbours. Shopkeepers receive cash payments from salaried government employees and some affordable households of that particular locality. This cash is utilised by the shopkeeper in buying goods and he receives rest of the payment from all other neighbours in instalments or once the crisis ends.
Always remember that supply chain for goods is not a problem for 21 days, provided citizens prefer a normal diet and stop wasting resources that can be used by others. Prepare a nice weekly chart for meals with your family. Mostly when we are at home, we can easily skip one diet. The most important thing to remember is that in lockdowns, local shopkeepers come to your rescue, not supermarkets.
During the lockdown days, never forget homemakers who are still functional. Salute those who are cooking and feeding us in spite of all the difficulties. These are the days to make them feel special. Spend time with them in kitchen, helping them, write a poem in their honour, draw something beautiful and make videos.
The major challenge for private sector in lockdowns is to pay salaries without any income. In Kashmir, we have done this in three ways. The first method is to talk to employees, pay a basic amount during lockdown and the rest can be adjusted once the crisis ends. The second method involves no salary cut for grade 3 and grade 4 employees, 25% cut for grade 2 and 50% cut for grade 1 employee. The third method is changing working hours from day to night, but that is not possible in COVID-19 crisis.
Handling Children
Children and youngsters pose a great challenge in lockdowns. Their energy levels are so high that you can't trap them and need to channelise this in a positive manner. First and the foremost, limit social media for them as much as possible. In crisis situations, fake news and negative posts have a great impact on their psyche. Review, supervise and provide a personal touch to their thoughts and feelings. Initiate frank and friendly discussions, encourage traditional storytelling, debate on issues that are of concern to them and do talk about present crisis of COVID-19 in a subtle way with them. This is also a good time to introduce local regional language, culture and art.
It is also important to introduce and involve children in some community work from home itself. Parents can help kids in making a Facebook page about awareness on COVID-19, showing respect to senior citizens by creative works, sharing quotes, messages and awareness in school WhatsApp groups, inspiring stories of local heroes who are fighting the crisis, making video messages on COVID-19 precautions and preventions. Give them a feel of responsibility and their role towards community. It has a great impact on them in the longer run.
Finally, don't think about future. I thought a lot since the past three decades but things happen the way nature shapes them. We need patience, planning, perseverance and positivity in a crisis like COVID-19. I would like to share with you one of my childhood experiences. We were appearing for Class 10th exams. The paper was very difficult and out of syllabus. I did attempt all questions but was not satisfied. A senior teacher said to me: "There is a rule when the examination paper is very tough, the majority passes, but if paper is very easy, only a few do well because the comparative standards are higher."
The novel coronavirus is a tough paper for humanity, but I am sure majority will pass.
The writer is a medical doctor, entrepreneur and social activist, and is also Chairman H.N.Wanchoo Trust and CEO, SPACE Communications. The views are personal.
Get the latest reports & analysis with people's perspective on Protests, movements & deep analytical videos, discussions of the current affairs in your Telegram app. Subscribe to NewsClick's Telegram channel & get Real-Time updates on stories, as they get published on our website.
Subscribe Newsclick On Telegram