How Racial Politics is Being Fomented Amid Economic Inequalities in North Bengal
The Gorkhaland issue may raise its head once again as BJP and TMC back separate factions. But Left-backed people's movements are firm on highlighting livelihood issues.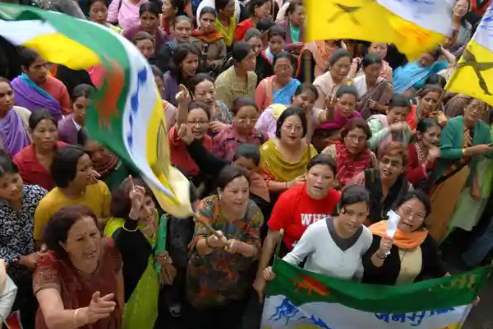 Representational Image. Image Courtesy: HT
Kolkata: Once again, the Gorkhaland issue threatens to raise its head in North Bengal, as Bimal Gurung, the former dethroned satrap of the separatist Gorkha Janmukti Morch (GJM)  is back in circulation after severing ties with the Bharatiya Janata Party-led National Democratic Alliance and announcing his support for West Bengal chief minister Mamata Banerjee's Trinamool  Congress (TMC).
As a result, people's movements related to issues such as the unemployment, the sorry state of tea garden workers and the daily hardships of hill people are in danger of getting side-tracked by racial politics ahead of the Assembly elections in the state next year.
Signs of political volatility are already evident, as seen in the recent incident when the convoy of West Bengal BJP President Dilip Ghosh was by "attacked" , allegedly by Gurung's supporters.
"Every time the iron is hot, cold water is poured on people's movements in North Bengal by racial or divisive politics, as was seen in the Bihar election campaign. In this scenario, we are giving serious thought to including various caste-related issues unlike earlier," Ashok Bhattacharya, the Mayor of Siliguri and a CPI(M) legislator, told  NewsClick.   
Elaborating further, Bhattacharya said: "There are some valid points being made, that in North Bengal the cumulative number of minorities, including Nepalis, tribals, Muslims and Scheduled Castes, is higher than the general category. We are seriously pondering over is creating movements in the coming months on the demands and grievances of these sections of people."  
As far as the Gorkhaland issue is concerned, both BJP and TMC are playing competitive politics. While the BJP is said to be close to the Binay Tamang faction of GJM, the TMC and the Gurung faction are said to be hobnobbing. As result, the suspended Gorkhaland demand is set to resurface as part of the election discourse in North Bengal.
The performance of Left-led tier-3 ULB in Siliguri is 'best'
While the Gorkha Territorial Administration or GTA, headed by Binay Tamang, has been complaining of apathy from the state government, the Left-led Siliguri Municipal Corporation or Siliguri Mahakuma Parishad (SMP), whose term ended on November 15, has been adjudged the "best tier three local body in planning in India, the third in the country and the first in the state in implementation of projects," said Bhattacharya.
"We are happy to provide meaningful assistance to weaker sections as well as improving the quality of our urban local body (ULB) in all these years even as we faced non-assistance by the TMC government as it is Left Front-led with Congress as a junior partner. We have been able to stop all non-institutionalised child births in our area, which is a heroic work done by our health workers," he added.
After its creation, it has been the CPI(M)-led Left Front that led the SMP, mainly located at the flora and fauna enriched Terai zone, adjacent to Siliguri city and covering  a little more than 837 sq km area.  Prof Tapash Sarkar of North Bengal University, who is an educationist and sabhadhipati of SMP, said:  "We had to go to Kolkata and wade in knee-deep water last year before our instalment for development grant was released by the State government. Where others got crores, we got peanuts. Yet, we were able to raise our own funds," adding that the SMP had left a mark in creating and nurturing over 6,000 self-help groups in the area.  
In the four panchayat samiti areas that it covers  -- Matigara  Naxalbari, Fasideoa and Kharibari  -- the Left has been able to maintain its winning streak and, especially after SMP's  creation during 1989  in the peripheral areas of the then Darjeeling Gorkha Hill Council, following the Jyoti Basu-Subhas  Ghisingh-Longowal Pact that had succeeded in stemming the first round of violence in the hills. 
Fomenting of Racial Trouble Amid Economic Inequalities 
North Bengal has about 450 tea gardens spread out in the Darjeeling Hills, Terai and  Dooars  regions that are registered as sellers in the Siliguri Tea Auction Centre. Many of these are owned by Bengal- based industrial groups. Often, the wage bargaining  tends to get a racial slant as most tea garden workers are either tribals or Nepali- speaking. 
The Chia Kaman Mazdoor Union (CKMU) is one of the major tea workers' union in the area and is associated with stories of Sagina Mahato, Ratanlal Brahmin and Ananda Pathak.  One slogan that resounded in the hills then was:  Jab tak  pahar me Teesta Rangeet rahega , lal jhanda uncha rahaga (As long the rivers Teesta and Rangeet flow in the hills, the Red Flag will flutter high).
In the past five years, the CKMU has made a comeback as a trusted ally of the working class in the hills and even various upper hill tracts now have CKMU units. 
Talking to NewsClick, Saman Pathak (son of late Left leader Ananda Pathak), leader of CMKU and  Centre of Indian Trade Union's Darjeeling district committee and  Goutam Ghosh, president of CITU Darjeeling district, alleged that racial trouble was being fomented due to growing economic inequalities. They said this was affecting development in the tea garden areas.
"Last year, on the wage increment front, we saw some success," said Pathak, saying all eyes are on the December 4 tripartite meeting in Kolkata. "Two gardens in Khalisani and Sinctum area in the upper hills are dithering on paying 20% bonus. We will raise the issue and try to force the state government to intervene," he said.
Pathak said last year's 20% bonus was a "huge success" of the unified movement of the tea workers in the hills and in North Bengal."
He said during the next tripartite talks, the joint forum of tea garden workers and CITU would be looking at Rs 350 to 400+ level of minimum wages in the North Bengal, up from a meagre daily wage of Rs 176.  "This year the tea market is buoyant and the impending wage agreement talk is enthusing tea industry workers to go on a fighting mode," he added.
Get the latest reports & analysis with people's perspective on Protests, movements & deep analytical videos, discussions of the current affairs in your Telegram app. Subscribe to NewsClick's Telegram channel & get Real-Time updates on stories, as they get published on our website.
Subscribe Newsclick On Telegram