How Rajinikanth is Selling Evasion as Revolution
The star-politician seems to fear losing popularity, but seeks absolute control over his party and the politics of Tamil Nadu. His prescriptions to achieve both are highly undemocratic.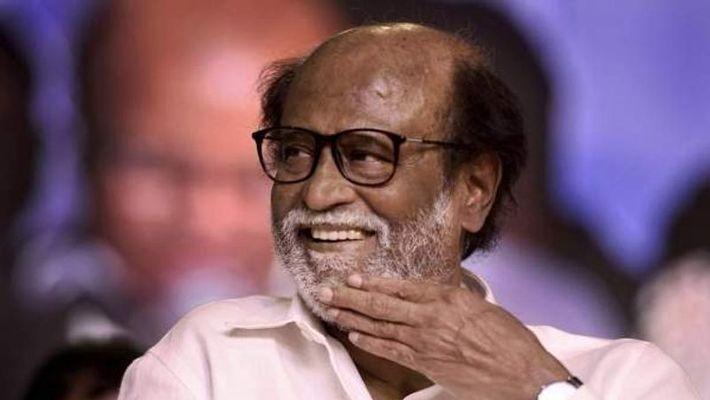 Image Courtesy: Asianet News Tamil
March 12 was just another one of those many days, when a host of people were excited about Rajinikanth. Usually the reasons for such excitement are two-fold; an update on his films or, even better, the release of his films and the second reason—popular since the mid-1990s—an update on his political entry. While the people have not been let down on the former one cannot say that about the latter, though over 20 years have gone by.
That said, the expectation has not died down, kudos to the persistence of a large number of people ranging from his fans, well-wishers, political enthusiasts and media houses. The enthusiasm is not unfounded, for he is an extremely successful and popular star, a dominant player in the film business for close to 30 years. Further, conventional logic also informs that successful stars make it big in politics of Tamil Nadu.
Towards the end of 2017, Rajinikanth lent some clarity to the speculation over his political entry in the aftermath of the untimely demise of former Chief Minister J Jayalalithaa, against who he campaigned in the 1996 State Assembly elections and gave the slogan, "If Jayalalithaa returns to power, even God cannot save Tamil Nadu."
On 31 December 2017, he announced that he would be floating a new party, which will contest in the 2021 elections in all constituencies of Tamil Nadu. In his address to the audience he also said, "I'm not entering politics for name or fame. If it was for a post I would have joined in 1996." Furthermore, the punchline he gave was "System Seri Illa [The system is bad]". It is a rather paradoxical remark and belongs to the family of untruths that have been repeated for decades, as Tamil Nadu continues to stay at the top positions in all governance rankings.
Subsequently, the last two years were marked by a spate of debates, talk shows and discussions on every small statement he made, ranging from his comments on the Thoothukudi protests, abolition of Article 370, remarks on Periyar EV Ramasamy, and his take on the ongoing anti-CAA-NRC protests in Tamil Nadu. Notwithstanding the fact that most of his statements met with bad press, he continues to dominate the media space and garner support from a section of netizens.
Yet, the latest media briefing session on March 12 saw a disappointed Rajni—going by his own claim—deliver a rather ambivalent monologue. To begin, he announced that he would not run for elections, which dashed the hopes of many of his supporters. He confessed that the secretaries of the Rajini Makkal Mandram (Rajni People's Forum) were unhappy with his decision, which was the reason for his disappointment.
He also said that the aim of his address was to put forward his ideas on the functioning of a political party and his approach to politics before he floated a party. At the same time, the slogan he gave through his address was: "If not now, then when?" At this juncture, we problematise the key ideas put forward by Rajinikanth and the implications of such ideas on the health of democratic politics.
People, posts and party
Acknowledging the dominance of the two Dravidian parties, the Dravida Munnetra Kazhagam (DMK) and the All India Anna Dravida Munnetra Kazhagam (AIADMK), Rajni advocated against the idea of having a large number of office-bearers. Pegging the number of office bearers at over 50,000 for each of the Dravidian parties, he observed that the presence of such a large pool of office-bearers was the reason for corrupt practices like favouritism in allotment of government tenders and misuse of public funds, to name a few.
He went on to say that the average age of politicians in public office was over 50, while youngsters are given opportunity only if they are dynasts or rich. The solutions offered were pretty straightforward: a significant reduction in the number of office-bearers, a time-bound appointment of cadres just for election purposes—they would have to vacate office after elections—and a 65% quota for youngsters in seat distribution, while the remaining 35% seats would be filled by retired bureaucrats, judges, civil servants and good candidates from other parties.
While these ideas make for a good WhatsApp forward, they are counter-intuitive to our constitutional values and ground realities.
A small statistic is pertinent. There are 91,975 elected posts just in rural local bodies and over 2.31 lakh candidates participated in the recently-held local body elections. Add to this the number of elected posts in urban local bodies, the state legislature and general elections. In this context, if a party were to field candidates in all elections, it would need a deep-seated party structure and people managing party affairs at every level, so that there is coherence between the higher echelons and workers on the grassroots, and an intimate connect with the voter.
In fact, having fewer party posts goes against the democratic principle of decentralisation of power. Corrupt practices are a reality. However, the solution for corrupt practices needs to be located in stricter rules and transparency in functioning and not in dismantling democratic structures.
In the same vein, the idea of promoting youngsters is always a welcome step and dynasts are a common and an unwelcome phenomenon. However, just elevating youngsters to public offices goes against the grain of effective governance. An analogy can be drawn with the corporate world, where a fresher joins as an analyst and not manager, and even in case of lateral entry field experience weighs heavily. Since their inception the Dravidian parties, for the most part, have had a well-defined ladder of elevation, starting from being a member to becoming a district-level secretary within the party to securing an MLA ticket.
Rajni also proposed a clear distinction between the head of the party and the head of government. On the face of it the idea sounds fair. However, when probed, it throws up issues. Rajni says that the ministers and MLAs will be accountable to the people through the party, and that they will only implement the agenda decided by a council of experts constituted by the party. In other words, the party will come in between the people and the representatives they have voted to power. And, more importantly, the leader of the party becomes paramount in the affairs of the government, which is incongruent with the Constitution.
Moreover, such a framework brings back eerie memories of semi-democratic countries that have supreme leaders. An Indian example could be seen in Balasaheb Thackeray and his Shiv Sena, where the constitutionally-sanctioned head of government was seen to be controlled by a party chief. That said, even the Shiv Sena example does not hold now as the party has changed its ways.
The irony, however, blatantly exposed itself when Rajni invoked the names of CN Annadurai, M Karunanidhi, MG Ramachandran (MGR) and Jayalalithaa to back his ideas. The most prominent of the above, Annadurai, had dedicated his life to making people participate in politics. Among other things, he meticulously worked to construct a robust party structure, which had recruits from all sections of society cutting across caste, class, gender and region.
Further, even MGR, whom Rajni seeks to emulate, had replicated Annadurai's ideas in letter and spirit when he left the DMK to start the AIADMK. On the other hand, Rajni's invoking of Annadurai reeks of trickery, where Annadurai's image is paraded, while his ideas are simultaneously disregarded or worse, caricatured.
Female voters, awareness and revolution
Invoking Mahatma Gandhi, Swami Vivekananda, and the 1967 elections, Rajni observed that the Tamil land is a land of revolutions and the first step to orchestrate another revolution is to educate women voters because, according to him, 60% of them display "herd mentality" while voting and lacked the intelligence to choose a candidate. At this juncture, he says, it is the responsibility of the media and "intelligent minds" to instil awareness among women.
There are two problems with Rajni's understanding of women voters. First, it is not congruent with ground realities, especially considering that Tamil Nadu is one of the better-performing states in parameters concerning women, from health indicators to literacy. Moreover, the participation of women in protests, both in the distant and recent past—including the ongoing anti-CAA-NRC protests—testifies their awareness and ability to assert.
Second, the perpetuation of such an understanding among his supporters, with no regard to the impact it would have, is problematic for it comes off as a rejection of the state's progress in empowering women. Rajni's monologue ended with assigning the attending media-persons an important job: supposedly, they are to spread his messages to every nook and cranny of Tamil Nadu and thereby raise an awareness that would "lead to a revolution". Put another way, he is shying away from both the accountability that a constitutional position would entail and the physical effort involved in reaching out to people.
His attempt to outsource the task of a political party to media-persons—much to their perplexity—reflects an impersonal approach to politics. It is an approach that has not yielded positive results, not even in today's age of digital proximity. For instance, in 2019, it did not yield positive outcomes for the Telugu Desam Party or the Indian National Congress.
Its might and dominance over media narratives aside, the Bharatiya Janata Party (BJP) is also primarily supported by active groundwork by leaders and not just their agents.
Democracy, not benevolence
On 16 March, during the second-anniversary celebration of digital news outlet Chanakyaa, Rajni delivered another address. It throws more light on his approach to politics. While narrating the story of the rise of Chandragupta, the 3rd-century BCE founder of the Maurya empire who was guided by the counsel of Chanakya, Rajni said it is important to "keep people guessing" and take them by surprise. He also presented a sequence, wherein his ideas, right now a swirl, would evolve into a wave, and finally a tsunami, to hit the state during the elections.
While the tenets of Arthashastra are taught to every aspiring administrator in the country, the context of Arthashastra is also taught to be problematic owing to the undemocratic time that the book belonged to. Stripping the Arthashastra from its context jeopardises its replicability, especially in a democratic frame. In other words, the recent past has demonstrated that India does not need strategists who have helped establish kingdoms, nor benevolent kings (or 'swamin' as the Arthashastra would have it) from an ancient society, but leaders who come with a promise of perpetuating democratic principles and uphold constitutional values.
Vignesh Karthik KR is a PhD student at the King's India Institute, King's College London. Jeyannathann Karunanithi is a political analyst based in Chennai.
Get the latest reports & analysis with people's perspective on Protests, movements & deep analytical videos, discussions of the current affairs in your Telegram app. Subscribe to NewsClick's Telegram channel & get Real-Time updates on stories, as they get published on our website.
Subscribe Newsclick On Telegram