Huliyar Nomadic Tribes Fight for Resettlement After Rain Destroys Homes
The nomadic communities in Karnataka have been campaigning for land rights for 14 years. This year, they lost their homes due to the excessive rainfall.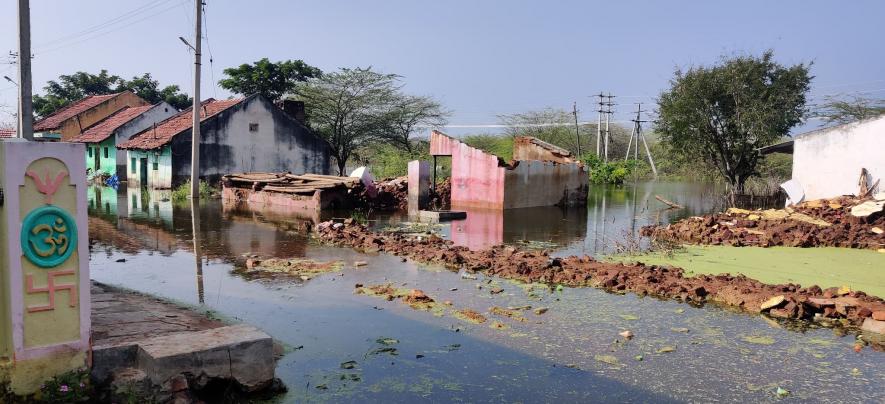 Damaged homes provide testimony of the devastation caused by rains.
After their homes were destroyed in October, nomadic tribes in the town of Huliyar (Tumkur district, Karnataka) have been made to run from pillar to post for resettlement and land titles. After a protest lasting 21 days in October, they were promised that work would start on their homes immediately after the rains stop. 
However, the work did not progress even after two months. They are now contemplating a fresh round of protests. In 2018, the Tumkur Deputy Commissioner (DC) allotted 1.35 acres of land in Huliyar for nomadic communities and subsequently, 34 families had been allotted hakku patras (land grant certificates). However, the homes of 60 alemari (nomadic tribes) families were destroyed in the floods. 
The record rainfall this year has resulted in water logging across Karnataka. Tumkur, too, was battered by rainfall. The alemari communities in Huliyar had constructed homes on a part of the Huliyar lake which remained dry for 40 years. They knew it was a part of the lake but believed that it would remain dry in perpetuity. However, after forty years, the unprecedented event took place in September this year. The torrential rainfall led to the entire lake filling up rapidly, and water began entering their houses. Within a few days, the homes began falling apart. They estimate that 180 homes were destroyed in the flooding, out of which 60 belonged to Alemari communities.  
Sanna Lakshmakka, 48, is one of the leaders of the Korama community. She sells hair pins, bangles and similar items for a living. Speaking to NewsClick, she said, "once the water started filling up inside our homes, we began a protest outside the office of Deputy Tahsildar. We wanted land of our own, in a safe place. The protest commenced on October 2, on Gandhi Jayanti. Despite the pouring rain, we sat under a tarpaulin and continued the protest day and night. Within a few days, the water level started to rise and the houses began collapsing. After 21 days of the protest, government officials came to the location and requested us to stop the agitation. They promised to start work on our homes in one week. A plot of land had been allotted to us. They brought sand and tried to level the area with a JCB. However, the work stopped after two days."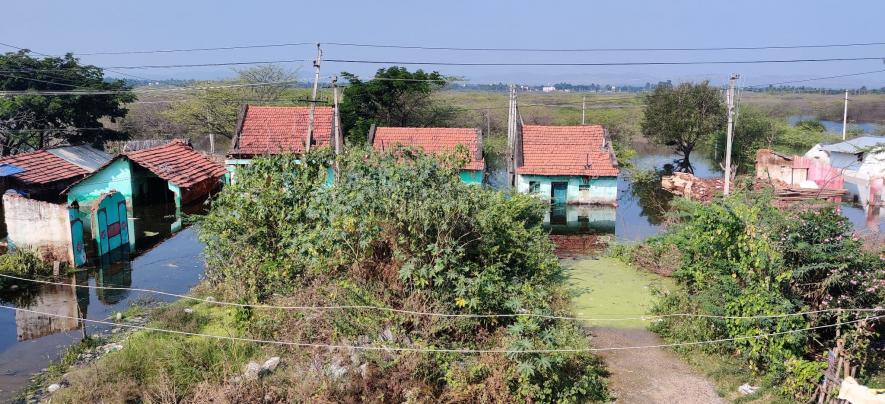 Houses completely submerged by the Huliyar lake
She says that she was injured when she tried to retrieve her possessions from the flooded houses. "When I entered my home to retrieve my things, I was bitten by a snake. I was admitted to the hospital for five days. Now we are relying on other people in the community for help. Three families are residing in one home. I was a child when I came to Huliyar. My father used to trade in small items. We had built sheds near the lake. This side of the lake was always dry. We had nowhere else to go, so we eventually decided to build homes in the same spot. This year, the rainfall caused flooding which destroyed our homes," she added.
Alemari is a classification of nomadic tribes/castes. 121 castes are parts of it, such as Handi jogi, Korama, Sillekyatha, and others. They stay together and help each other out. They speak multiple languages, but the Kuluva language seems to be a common mother tongue among this particular group of families. Out of the 60 families, 34 families received hakku patras for land. The rest are awaiting the land grant. They would prefer that they are all allotted land in the same place so that they can live together.
NewsClick reached out to Tejaswini, Tehsildar of Chikkanayakanahalli. Speaking to NewsClick over the phone, she said, "I have identified an area of 1.35 acres and allotted hakku patras to the alemari families. The land development work is pending. It has to be done by the Panchayat Raj Engineering Department (PRED)." 
The Tehsildar had claimed credit for the land allotment which was done by the Tumkur DC in 2018. However, another 26 families have applied for land grant certificates, which have not yet been approved.
The Taluk Social Welfare Officer, Dinesh, told NewsClick, "the sites have not been marked. The survey work is pending. After the allotment of sites, we will also build houses for them. I need to verify whether the plots have been registered in their name or not. The funds for the construction of houses have been sent to Ambedkar Abhivrudhi Nigama. They need to coordinate with the engineer to develop the plots." 
Alemari Budakattu Mahasabha
The nomadic communities in Huliyar have been represented by an organisation known as Alemari Budakattu Mahasabha (Organisation of Nomadic Tribes). They are led by their district President, Handijogi Rajanna. The organisation was started by Dr Bala Gurumurthy, a member of the Budga Jangam community. He was the first PhD holder from his community. He started the organisation in 2004 in order to raise awareness within nomadic communities in Karnataka. Dr. Gurumurthy has served as a lecturer in many colleges and has also helped set up the Scheduled Caste/ Scheduled Tribe (Sc/St) Alemari Kosha (Alemari Cell) in Karnataka. He has published anthropological studies about various nomadic communities in the state. He says that there are 121 castes in Karnataka that are part of the Alemari classification.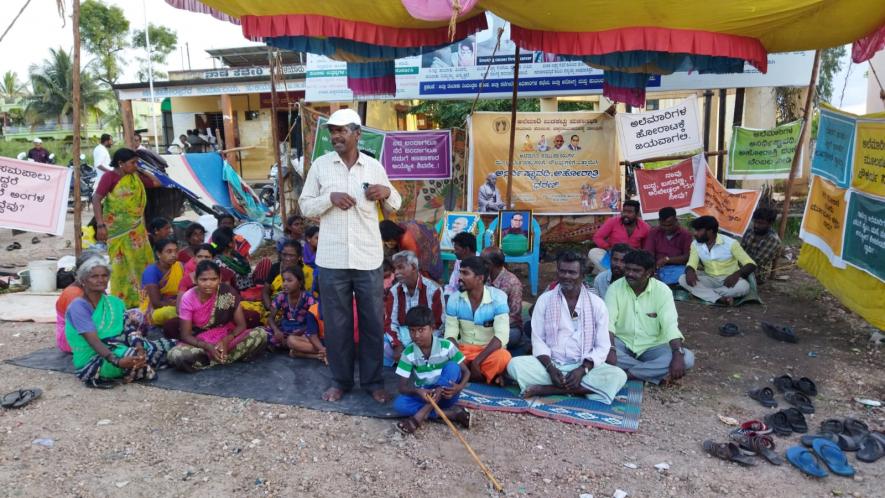 The October protest led by Handi jogi Rajanna (pictured in a white cap) of the Alemari Budakattu Mahasabha
Handi Jogi Rajanna is the driving force behind the Huliyar land struggle. A man, described as committed and emotional, he also lost his home in the October rains. However, he has been fighting for land rights for his community for 14 years. Each time they protest, promises are made to them, but not fulfilled. These communities have been landless for several generations and earn a living within the informal economy. Very few members of this community have completed SSLC (10th class).
When asked about the Kuluva language, Gurumurthy told NewsClick, "This is a language spoken by Koramas and Korachas. I didn't know about this language until 2018 when I met some leaders from the community. They are Denotified Tribes (DNT)." The Alemaris say that the Kuluva language is a mix of Tamil, Telugu, Malayalam and Kannada. The Kuluva language does not figure in the Language Atlas 2011. It is unclear whether the census takers have recorded the existence of this language. Gurumurthy says that a few anthropological studies on the Korama community are available at the Dr BR Ambedkar Research Institute in Bengaluru. 
Health Issues
Lolakshamma (55) was a part of the Alemari group which was protesting. In October, after spending a few days in the rain, she fell sick. She is also an HIV+ patient. Within a matter of days, her body began shutting down. She had known of her HIV status for several years but was able to work without any issues. But her body began to degenerate in October. Presently, she is unable to move on her own. If she owned a bed, she would be bedridden. She is confined to a mat on the floor. She currently lives with her brother and his wife. The doctors looked into her condition and informed the family that she had only six months to live. They also gave gloves and masks to the family and instructed them to wear these in order to wash and feed her.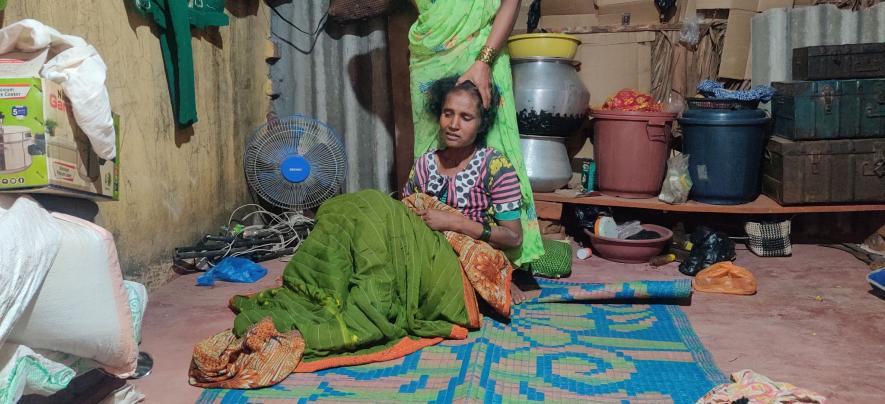 Suffering from HIV Aids, Lolakshamma is unable to even sit up on her own.
Her sister-in-law used to work in a factory as a daily wager. Since she took up the responsibility of helping Lolakshamma, she is unable to go to work. The loss of earnings is a further burden upon the family who have young children in school.
The families now live like refugees in makeshift tents. They have to walk three kilometres daily to fetch water. When they asked the government officials to provide running water to their place of residence (the makeshift tents), they were asked to pay a bribe of Rs. 10,000.
Discrimination at school
Sannamma, 30, hails from the Helava community, which figures in the Other Backward Classes (OBC) list. She speaks about the discrimination that her two children face at school. She told NewsClick, "our job was to go around the town with a bell and beg for a living. Now, I have started trading in ladies' cosmetics. I have sent my children to a government school. But the teacher ignores my children. They are not taught anything. They are not made to write or learn. I have been considering transferring my children to a residential school."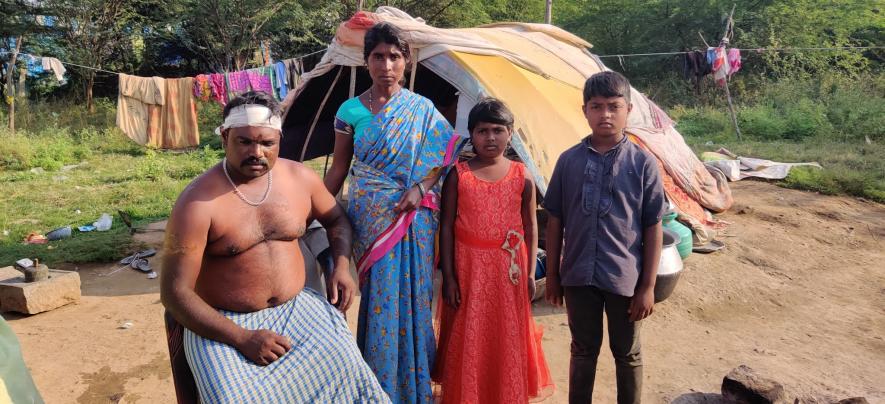 Sannamma with her injured husband and her children.
"Our communities used to travel around the country, we never settled down in one place until now. We have been in Huliyar for 35 years but we never owned any land. I am tired of sitting in protests. I lose earnings for those days when I protest. My husband met with a bike accident when he had gone to work. He has a head injury. He is also unable to work. This time, I didn't get any ration because my thumbprint (biometric authentication) was not recognised at the ration shop. We are facing so many hardships, and there is nobody to speak for us," she added.
Dr Gurumurthy mentions that the members of the Helava community used to go around town with a bell singing genealogies. They were traditional record keepers of the village.
The group is fighting to ensure that all 60 families are given hakku patras. The land grants are pending for 26 families. They are some of the most vulnerable people who earn around Rs 100-200/day. Land rights would ensure that they are able to live a dignified life. 
Get the latest reports & analysis with people's perspective on Protests, movements & deep analytical videos, discussions of the current affairs in your Telegram app. Subscribe to NewsClick's Telegram channel & get Real-Time updates on stories, as they get published on our website.
Subscribe Newsclick On Telegram