Hunger Amidst Plenty—Tragedy Continues 75 Years After Independence
As India celebrates its 75th Independence Day, there is a record harvest of foodgrains; but why are so many people hungry?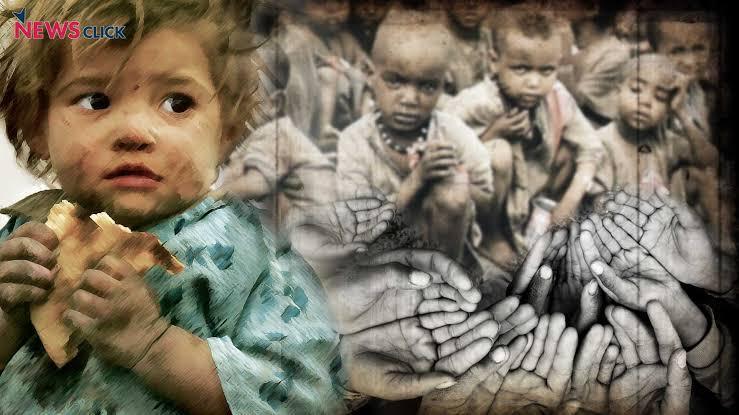 India has reaped an all-time high food grain harvest for 2020-21 of nearly 309 million tonnes (MT), or nearly 31 crore tonnes, according to latest estimates by the agriculture ministry. This was propelled by record harvests of wheat (109.5 MT), rice (122.3 MT), nutri/coarse cereals (51.2 MT) and pulses (25.7 MT). In addition, production of nine oilseeds too registered a record of 36 MT while sugarcane production clocked in at second best ever at 399 MT.
For a country that suffered from mass hunger and even starvation 75 years ago when it won independence from the British rulers, this is indeed a remarkable achievement. For the past few years agriculture production has risen steadily spurred by reasonable rainfall and the increasing yields in several states. [See chart below] It is a testimony to the dogged hard work of the farmers and their employed labourers who produced this output despite suffering from abysmal returns and rising costs of inputs.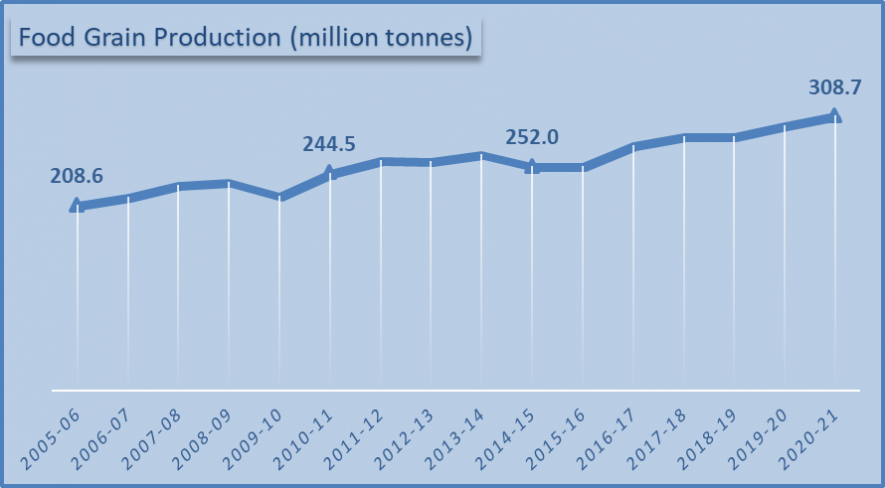 This abundance has also led to overflowing food grain stocks with the government. In July 2021, even after all this, government stocks were at a mind boggling 90.7 MT or just over 9 crore tonnes, according to latest data available with the central government's department of food and public distribution. As shown in the chart below, stock levels go up and down seasonally but the peak levels in June-July show a steady increase over the past few years.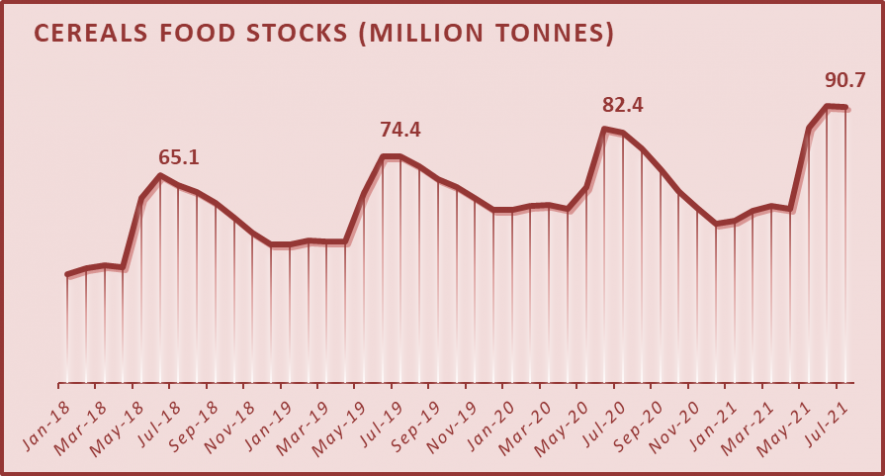 Central and state government agencies procure wheat, rice, and some of the coarse grains from farmers in order to channelise the food grain to needy families through the public distribution system, or for mid day meals and anganwadis. During the pandemic, the central government distributed over 24 MT of rice and 13 MT of wheat in addition to the regular distribution through the public distribution system. This was done at 5 kg per person per month. Yet, the food stocks are bursting at the seams.
PEOPLE ARE STILL HUNGRY
Here is something to ponder over while we celebrate the 75th Independence Day: according to a 2020 estimate by the Food and Agriculture Organisation (FAO), India has at least 189 million (nearly 19 crore) people who suffer from serious hunger. That's about 14% of the population going hungry on a continuing basis. The Global Hunger Index 2020 places India at 94 rank among 107 countries afflicted with mass hunger. The National Family & Health Survey of 2015-16 found that 59% of children up to 5 years of age were anaemic, as were 53% of all women. Over 35% children were stunted and nearly 17% were wasted—both indicators of chronic malnutrition—according to the Comprehensive National Nutrition Survey (CNNS) carried out between 2016 and 2018 under the aegis of the health ministry.
All this was before the pandemic hit India in March 2020. Subsequently, the ill-conceived 45 day lockdown followed by gradual easing of restrictions, and then the brutal second wave with its own lockdowns at the regional level have left millions of people severely deprived of basic food. Several surveys have reported that wages or earnings of people fell by 80% in the first lockdown, and have not recovered to pre-pandemic levels yet. Unemployment shot up,and families were forced to dip into their savings or in most cases, borrowed money just to survive.
There is no comprehensive estimate of the level of nutrition loss that is bound to have happened in the course of this devastating pandemic. But all accounts suggest that it has had a catastrophic impact on food intake. Children's nutrition programmes are reported to have suffered as schools—which provided mid-day meals—were closed. Anganwadi nutrition programmes that gave food to infants and pregnant and nursing mothers faltered and have barely recovered.
WHY SO MUCH HUNGER DESPITE AVAILABILITY OF FOOD GRAINS?
This is the key question. There have been record harvests for the past several years. Food stocks have been at record levels. It is bizarre that the present government has not fully utilised the available stocks to ease the increasing hunger of the people.
The primary reason appears to be the government's obstinate unwillingness to spend money to bring relief to the people.
Take the case of the PM Garib Kalyan Yojana (PMGKY), under which 5 kg food grain (rice or wheat) was distributed to all ration card holders (and some additional needy persons) for eight months in 2020 and is now underway for a three month period after the second wave of Covid-19.
Despite repeated demands and even protests mentioning that the allocation was highly insufficient and that it should be increased to 10 kg per month, the government simply refused to accept it. The stocks were there, as the chart above showed, but the government just didn't want to spend the additional money. It has been estimated earlier in Newsclick that this additional grain distribution would have meant spending an additional Rs.1.2 lakh crore. This is a measly amount—less than 1% of India's GDP, but it would have been a key relief for Indian people.
The government has also refused to expand the ambit of the public distribution system, especially in the crises faced by people because of the pandemic and the lockdown. At present, about 79 crore people are covered under the system. The government's own policy think tank Niti Aayog has estimated that population growth since the 2011 Census would have added at least 10 crore additional persons in need of such food grain, although true to its ideological colour, the Aayog was duly apprehensive of adding them to the ration card holders' category. But this only means that these people were deprived even of the inadequate 5 kg ration.
And then, there is the technological barrier – the requirement that all recipients should have Aadhaar linked ration cards and they should be able to get their biometrics verified at the ration shop, and so on. This leads to more exclusion.
All this, combined with a stumbling groping policy on dealing with the consequences of the pandemic and lockdown has meant that record harvests and record food grain stocks will be of no utility to India's hungry.
Surely, this is something to think about as we celebrate the 75th Independence Day?
Get the latest reports & analysis with people's perspective on Protests, movements & deep analytical videos, discussions of the current affairs in your Telegram app. Subscribe to NewsClick's Telegram channel & get Real-Time updates on stories, as they get published on our website.
Subscribe Newsclick On Telegram