UP: Ignored Despite SC Order, e-Shram App, Thousands of Unorganised Sector Workers Call Meet on Aug 1
Workers from across Uttar Pradesh will take part in a Mahapadav from August 9-10, said Sajha Manch, a collective of organisations across sectors.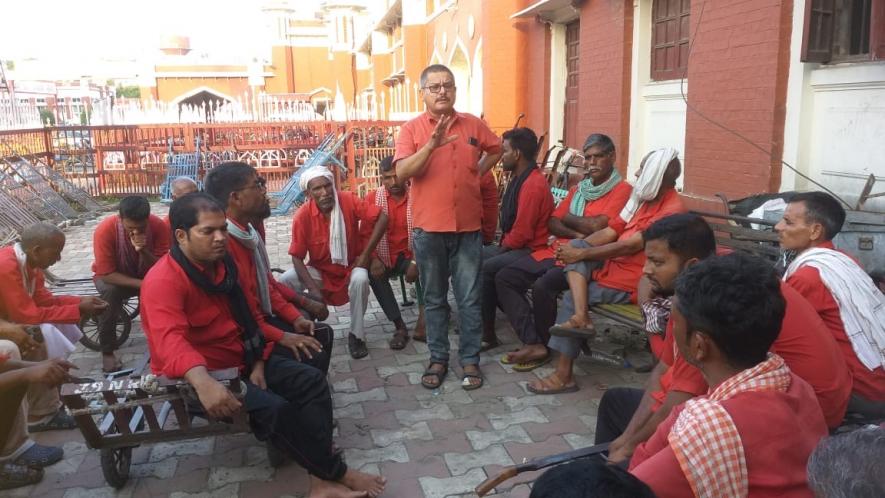 Lucknow: In 2021, Kundan Kumar, a mason, lost his parents in the Covid pandemic. Two years later, he has still not been able to repay the money he borrowed from his relatives to pay for the hospital bills. 
A 'Covid-19 orphan', Kumar is struggling to make ends meet. He feels that had the e-Shram App worked, he would at least be earning something and would have been less fearful about the future.
Many workers like Kumar, who were employed in the unorganised sector, have dealt with worse circumstances during the pandemic-induced lockdown, but two years after the creation of the E-Shram App, which was designed to create a National Database of Unorganised Workers (NDUW), to be seeded with Aadhaar, not a single worker in Uttar Pradesh has received any benefits, say those in the know.
The NDUW was said to have details of workers, such as name, occupation, address, occupation type, educational qualification, skill types etc. for optimum realisation of their employability and for extending the benefits of social security schemes. The portal was touted as the first-ever national database of unorganised workers, including migrant workers, construction workers, gig and platform workers, among others.
Aggrieved by the apathy shown by the government despite its tall claims, Kumar says that even after two years, the UP government did not have any plan in place for workers like him. "If they had a scheme to collect data and provide social welfare, then what is stopping them?" he asks.
Some workers told NewsClick that they had demanded that all those registered on the e-Shram portal should be included in the list of beneficiaries in government schemes. But, despite the Supreme Court's directions to state governments to grant ration cards to migrant or unorganised workers who do not have them but are registered on the Centre's e-Shram portal, several workers alleged zero action by the state government.
According to World Health Organisation, from January 3, 2020 to July 19, 2023, there were 531,915 Covid deaths in India. Due to the lack of policies and provisions from the government, many citizens lost their lives chasing healthcare and medicines. Due to government inaction, labourers from across India had to walk miles from urban areas to their homes in remote areas, as they were stranded in cities without jobs and food.
It is in such a situation that the idea of creating a database of migrant labourers across the country and ensuring minimum social security for them had emerged with the Supreme Court had directing the Central government to do so immediately.
Following this instruction, the e-Shram portal was created and till January 29, a total of 28-55 crore workers across the country were registered on this portal, of which the maximum number -- 8.30 crore labourers –have been registered on the e-Shram portal in Uttar Pradesh. These include workers engaged in156 sectors, mainly farm and rural labourers, MGNREGA, construction, domestic workers, vehicle drivers, rickshaw drivers, handcarts, weavers or chikankari artisans, workers in cottage and small industries, anganwadi, ASHA, mid-day meal, brick kiln, mining etc.
The scheme assured that except those who get Employees Provident Fund and Employees State Insurance, all those registered would be included for the purpose of benefits. However, two years later, the UP government, which has the highest number of registrations, has no plan in place, alleged some workers.
SAMMELAN IN LUCKNOW ON AUGUST 1
To raise the demand for social security benefits etc, on August 1, thousands of Anganwadi and mid-day meal workers, auto-rickshaw drivers, and labourers from at least 45 other unorganised sectors will gather in Lucknow.
To carry forward the struggle a Sajha Manch – a joint platform—has been brought together by the State Anganwadi Workers' Association, the Federation of Auto Rickshaw Drivers, the State Federation of Mid-Day Meal Employees, UP Workers Front, UP Unorganised Sector Building and Forest Workers Union, Women Domestic Workers Union, UP Building and Other Construction Workers Federation, Coolie Union, Unorganised Mazdoor Sabha, E Rickshaw Driver Union, Bakery Workers.
Thousands of workers from across Uttar Pradesh will take part in Mahapadav begins from August 9-10, said the organisers.
Dinkar Kapoor, president, UP Workers' Front, accused the state government of "failing" to fulfil the promises it had made to lakhs of workers of the unorganised sectors. He said daily-wage labourers, Anganwadi workers and attendants and mid-day meal employees had been facing several problems and were even being denied the minimum wages. He said that wages have not been revised in the state since 2019. 
"We had staged several demonstrations in an effort to draw the state government's attention. The government promised to resolve the issues but has failed to keep its word," Kapoor told NewsClick.
The protestors' demands include minimum monthly wages of Rs 26,000, the allocation of Pradhan Mantri and Chief Minister Awas Yojana to labourers, benefits of Ayushman Card Scheme, Rs 3,000 pension guarantee to labourers, guarantee of free education in all schools under Right to Education for children of laboorers, scholarship for children's education, Rs 5 lakh of death insurance and insurance of Rs 2 lakh for accidents, funeral benefits among others.
The Sajha Manch accused Prime Minister Narendra Modi and Chief Minister Yogi Adityanath for not fulfilling its promise made during Covid-19.
"Even two years after the e-Sharm portal, the state government does not have any plan for workers, nor has the government included unorganised workers into the beneficiary category. The Central and state governments do a lot of publicity in the name of the beneficiaries and make big announcements, but it is all a stunt," some union leaders alleged.
Within UP, the district of Prayagraj, has registered the maximum 22 lakh unorganised workers followed by Jaunpur (21 lakh), Sitapur (20 lakh), Bareilly and Azamgarh (both 19 lakh), according to the national database.
Gorakhpur registered 18 lakh unorganised workers, while Lucknow and Kanpur Nagar had 15 lakh each, Varanasi and Aligarh both had 14 lakh each, Moradabad 12 lakh, Meerut 11 lakh, Ghaziabad nine lakh and Gautam Buddh Nagar 5.61 lakh, among other districts, as the database.
Get the latest reports & analysis with people's perspective on Protests, movements & deep analytical videos, discussions of the current affairs in your Telegram app. Subscribe to NewsClick's Telegram channel & get Real-Time updates on stories, as they get published on our website.
Subscribe Newsclick On Telegram