"I'm Keeping Basil in Mind Now as the Fights to Liberate Palestine Continue" - Vijay Prashad
Vijay Prashad beautifully ties Basel, Palestine and the terrible campaign against Rania Khalek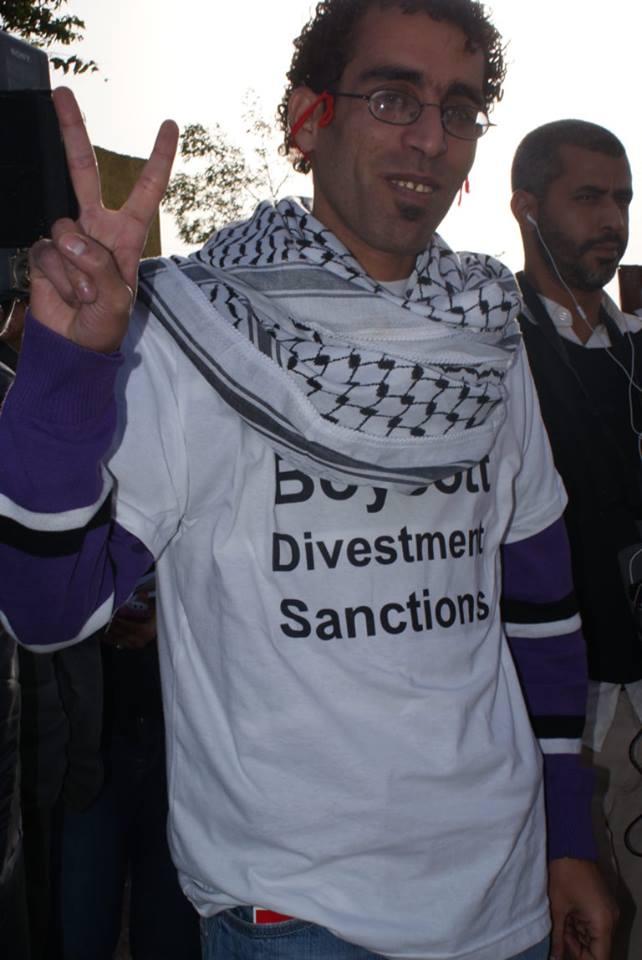 Basil al-Araj assassinated by Israeli occupation forces
News comes from Ramallah that the brave writer and activist Basil al-Araj was assassinated by Israeli occupation forces in his home in el-Bireh. Basil, age 31, had been hiding from the Israelis for a year. He had been a prisoner of the Palestinian Authority for six months for his role in trying to revive Palestinian politics. Basil's death comes as part of a series of assassination raids by Israel that killed Abdullah Shaladeh, Muataz Washaha and others. These are people who want to breathe life into Palestinian liberation. They are threats not because they are violent, but because they are political and
The middle of this month would witness a different type of Yatra on the streets of Telangana and Andhra Pradesh. It would neither be led by high profile leaders - who have the aura of Z plus security with them - nor would it be undertaken in an ultramodern bus - fitted with latest facilities and which could even be used as podium for a public meeting.
It would be taken out on a blue pickup truck renamed Bhim Auto and would be led by a 50-year-old woman Radhika Vemula  along with her son Raja demanding justice for her elder son Rohith.
 
During this yatra Radhika intends to visit one Velivada ( Dalit hamlet) after other in the two states to tell people how castiest forces are hell bent upon denying dalits their due rights and how justice is still being denied to her son who committed suicide because of the machinations of such people. (http://nsi-delhi.blogspot.in/search/?q=rohith+vemula).
 
She would also communicate to them that the ruling dispensation at the Centre led by BJP but the and the state governments in Andhra Pradesh and Telangana have been callous towards the plight of the Dalits and have joined hands to deny justice to her son. Not so long ago the government of Andhra Pradesh had made outrageous statements about Rohith not being a Dalit and earlier in February had demanded that Radhika 'prove' that she is Dalit in 15 days.
Speaking at a rally in Bengaluru Radhika Vemula announced her plan in detail. 
 
"On March 14, Raja (her other son) and I will start the Dalit Swabhiman Rath Yatra. We will travel across Telangana and Andhra for a month and conclude it on Ambedkar Jayanti (April 14). We will try and cover every Dalitwada (Dalit settlement) in these two states." She also exhorted the audience "[t]o revisit what Rohith use to say the radical Ambedkar for 'liberation of dalits.'
(http://www.hindustantimes.com/india-news/rohith-vemula-s-mother-announc…)
She plans to raise two key demands through this awakening programme: 
- Sacking of Hyderabad University vice chancellor & his prosecution under SC/ST Prevention of Atrocities Act. 
- Passage of 'Rohith Act' aimed at stopping discrimination in educational institutions
they are human.
The picture is of Basil wearing a BDS shirt. It is fitting. The Israeli Knesset has just passed a bill to prohibit the entry of 'internationals' into Palestine-Israel who support BDS.
In the midst of all this is a fracas against writers and activists for Palestine who do not pass a certain litmus test on Syria. Rania Khalek faced this at UNC and at Concordia. The point was not the students who made the decisions, for most of them are quite disoriented by the lobbying that they faced (as they quite candidly say). It is this lobbying on behalf of certain people for a certain vision of the Syrian war. There can be no sense for these people that the war has morphed into such a situation that calls for a cease fire and for some breakthrough at Geneva seems the only humane way forward. They are convinced in the 'Syrian revolution' and that anyone who does not kowtow to their views must be pilloried or shunned. As someone with a quarter of a century of experience as a reporter and as a political person, I find that attitude to be quite distasteful. It is imperative to learn as finely as possible the situation in a conflict, and to always find the space to articulate an exit from that conflict - particularly if there appears to be no real victory for anyone.
The statement was signed by a number of people, including myself. The signatories include: Nahla Abdo, Rabab Ibrahim Abdulhadi, Asad Abukhalil, Ali Abunimah, Suzanne Adely, Max Ajl, Sami AlBanna, Michael Albert, Louis Allday, Mark Ames, Said Arikat, Reza Aslan, Carl Beijer, Medea Benjamin, Keane Bhatt, Max Blumenthal, Audrey Bomse, James Carden, Joe Catron, Noam Chomsky, George Ciccariello-Maher, Helena Cobban, Andrew Myles Cockburn, Dan Cohen, Elliot Colla, Jonathan Cook, David Cromwell, Omar S. Dahi, Roxanne Dunbar-Ortiz, David Edwards, Karim Eid-Sabbagh, Rami El-Amine, Zein El-Amine, Joe Emersberger, Lee Fang, Nina Farnia, Liza Featherstone, Glen Ford, Drew Franklin, Peter Gose, Kevin Gosztola, Greg Grandin, Glenn Greenwald, Bassam Haddad, David Heap, Doug Henwood, Edward Herman, Brad Hoff, Adam Horowitz, Abdeen Jabara, Bruno Jäntti, Rula Jebreal, Zaid Jilani, Adam Johnson, Charlotte Kates, Sameera Khan, Jerome Klassen, Ken Klippenstein, Kyle Kulinski, Paul Larudee, Carlos Latuff, Daniel Lazare, Michael Levin, Anthony Loewenstein, Mairead Maguire, Abby Martin, Mario Martone, Rania Masri, Todd Miller, Amina Mire, David Mizner, Mnar A. Muhawesh, Corinna Mullin, Elizabeth Murray, Robert Naiman Jana Yasmin Nakhal, Jim Naureckas, Ayman Nijim, Ben Norton, Anya Parampil, John Pilger, Adrienne Pine, Justin Podur, Gareth Porter, Syksy Rasanen, Afshin Rattansi, Corey Robin, Brahim Rouabah, Greg Shupak, Bill Skidmore, Norman Solomon, Rick Sterling, David Swanson, Linda Tabar, Dahlia Wasfi, Mark Weisbrot, Asa Winstanley, and Col. Ann Wright.
You can read the statement at Mondoweiss - http://mondoweiss.net/2017/…/against-blacklisting-activists/.
I'm keeping Basil in mind now as the fights to liberate Palestine continue.
Disclaimer: The views expressed here are the author's personal views, and do not necessarily represent the views of Newsclick.
Get the latest reports & analysis with people's perspective on Protests, movements & deep analytical videos, discussions of the current affairs in your Telegram app. Subscribe to NewsClick's Telegram channel & get Real-Time updates on stories, as they get published on our website.
Subscribe Newsclick On Telegram