Import Duty Cut on American Apples, Lentils Catastrophic for Farmers, Say Farm Unions
Ahead of the visit of US President Joe Biden for the G20 summit, India cut import duties on certain US products, a move decried by farmers and experts.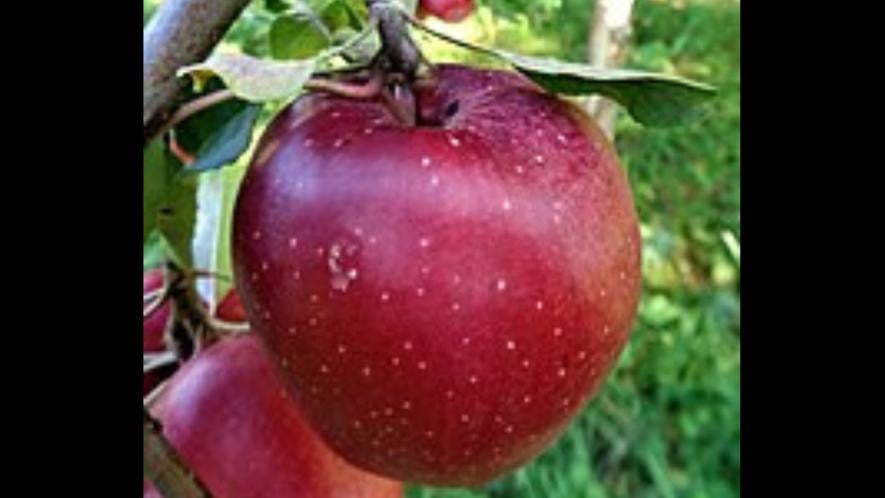 Image Courtesy: Wikimedia Commons
New Delhi: Farmers' associations have reacted sharply to the reduction of import duties on American almonds, apples, walnuts and lentils, ahead of US President Joe Biden's visit for the G20 summit in New Delhi. As per the Finance Ministry circular, import duty on masur dal has been exempted. Earlier, it was levied at 20%. Similarly, import duties on Washington apples have been reduced from 35%to 15%.
Farmers NewsClick spoke with said that lower import duties on apples and masur dal  would have a catastrophic impact on their lives at a time when they are already battling the woes of climate change and predatory pricing in the open market in the absence of procurement on minimum support price (MSP).
Surendra Singh, a lentil farmer, who had little inkling of the import duty cut, cultivates on a 20-acre farm in Rewa district of Madhya Pradesh. He told NewsClick over the phone that cultivation of masur dal remains less profitable. "I may get some profit if the weather is favourable. I sold it at Rs 3,200 per quintal in the previous season. There is no MSP procurement here. If prices drop further, how will we survive?"
Talking to NewsClick, Sohan Thakur, president of the Apple Farmers Federation of India, said the immediate effect of the cut in import duty would lead to dumping of cheaper Washington apples in the Indian market.
 "Our expectation about the volume of apples to be dumped is around Rs 6,000 crore in the Indian market. To put it in perspective, farmers of Himachal Pradesh produce apples worth this much each year. On the quality front, Washington apples are better. So, the premium segment of apples, where farmers had some scope of profit, will simply vanish," he said.
Thakur maintains that Washington apple growers receive phenomenal subsidies compared with their counterparts in India, and it is the prime reason that American apple growers can make good profits even when they sell the produce at cheaper rates.
"The data suggest that American apple growers receive about 32% subsidies from the federal and state governments, whereas Indian apple growers have consistently seen apathy of successive governments. In 1991, we used to receive about 9% overall subsidies on different things like fertilisers, pesticides, and farming equipment. This has reduced to 2.5 % in 2023," he added.
Thakur said over 10 lakh families in India grow apples in their orchards. "We have three lakh families in Himachal Pradesh and seven lakh families in Jammu and Kashmir who depend on apple farming," he said.
 A closer look at the news articles in the United States suggests only 1,400 apple growers would take out the chunk of business from India.
When asked about the paradox, Thakur said, "This is the actual policy paralysis where the interests of Indian farmers have been put aside. Corporations have taken over agriculture in the US, which is why they have so few apple growers. At least the Indian government should have considered our interests."
Vikas Rawal, an agricultural economist at the Centre for Economic Studies and Planning, Jawaharlal Nehru University, Delhi, told NewsClick that the Indian government should have opted for the rate under a retaliatory regime as the norm to protect the marginal farmers.
"I fail to understand the logic of retaliatory import duties in agriculture. Our farmers have never been on the same playing field as American farmers. They own large tracts of land spanning hundreds of acres. They receive large de-coupled subsidies, which means that they receive cash in hand for the area of farms. Let's assume a farmer receives $50,000 from the US government. He can straight away put it into his infrastructure or purchase machinery, etc. They have the best technology. Their productivity remains unparalleled. How can small and marginal farmers in India be expected to take on big US landlords? They will get profit on little margins. We cannot survive on low margins. These current import duties will affect all farmers growing major export items," he said.
When asked about lentil farmers, Rawal said, "The US and Canada grow much of masur for India and Bangladesh. There is hardly any consumption in the Western hemisphere. Even in Europe, it is considered a poor man's food. Our farmers grow very small quantities of masur dal because it is not procured through MSP, and the open market prices are not remunerative. It is only grown in areas with very little rainfall, particularly in Eastern India," he said, adding that "either way, our farmers have been thrown under the bus, and we are not getting anything in return!"
Get the latest reports & analysis with people's perspective on Protests, movements & deep analytical videos, discussions of the current affairs in your Telegram app. Subscribe to NewsClick's Telegram channel & get Real-Time updates on stories, as they get published on our website.
Subscribe Newsclick On Telegram