Brazil's Lula Sworn in, Vows Accountability and Reconstruction
In his first act as president Sunday, the third time elected Lula da Silva signed a decree to tighten gun control.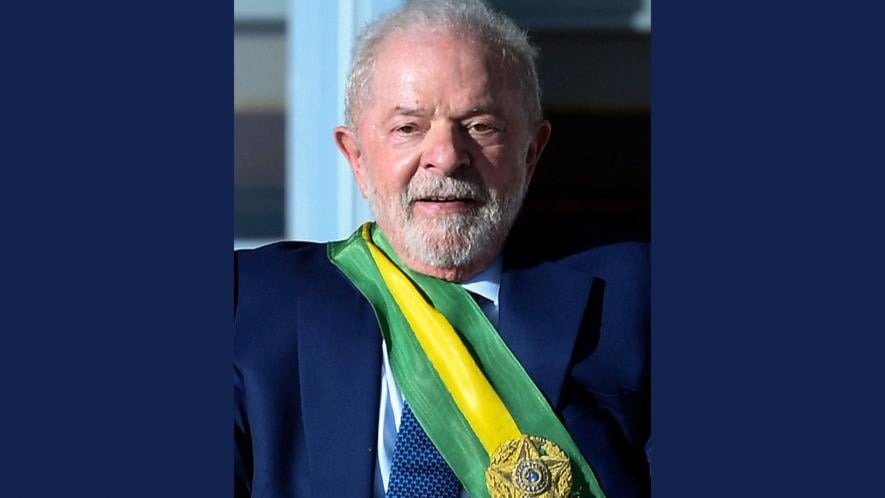 Image Courtesy: Wikimedia Commons
Brasilia: Brazil's Luiz Inacio Lula da Silva was sworn in as president
on Sunday, and in his first address expressed optimism about plans to
rebuild while pledging that members of outgoing Jair Bolsonaro's
administration will be held to account.
Lula is assuming office for the third time after thwarting Far-Right
incumbent Bolsonaro's re-election bid. His return to power marks the
culmination of a political comeback that is thrilling supporters and
enraging opponents in a fiercely polarised nation.
 "Our message to Brazil is one of hope and reconstruction," Lula said
in a speech in Congress' Lower House after signing the document that
formally instates him as president. "The great edifice of rights,
sovereignty and development that this nation built has been
systematically demolished in recent years. To re-erect this edifice,
we are going to direct all our efforts."
Sunday afternoon in Brasilia's main esplanade, the party was on. Tens
of thousands of supporters decked out in the red of Lula's Workers'
Party cheered after his swearing in.
They celebrated when the president said he would send a report about
the prior administration to all lawmakers and judicial authorities,
revoke Bolsonaro's "criminal decrees" that loosened gun control, and
hold the prior administration responsible for its denialism in the
face of the COVID-19 pandemic.
 "We do not carry any spirit of revenge against those who sought to
subjugate the nation to their personal and ideological designs, but we
are going to ensure the rule of law," Lula said, without mentioning
Bolsonaro by name. "Those who erred will answer for their errors, with
broad rights to their defence within the due legal process."
Lula's presidency is unlikely to be like his previous two mandates,
coming after the tightest presidential race in more than three decades
in Brazil and resistance to his taking office by some of his
opponents, political analysts say.
The Leftist defeated Bolsonaro in the October 30 vote by less than 2
percentage points. For months, Bolsonaro had sown doubts about the
reliability of Brazil's electronic vote and his loyal supporters were
loath to accept the loss.
Lula will have to navigate more challenging economic conditions than
he enjoyed in his first two terms, when the global commodities boom
proved a windfall for Brazil.
At the time, his administration's flagship welfare program helped lift
tens of millions of impoverished people into the middle class. He left
office with a personal approval rating of 83%.
In the intervening years, Brazil's economy plunged into two deep
recessions — first, during the tenure of his handpicked successor, and
then during the pandemic — and ordinary Brazilians suffered greatly.
Lula has said his priorities are fighting poverty, and investing in
education and health. He has also said he will bring illegal
deforestation of the Amazon to a halt. He sought support from
political moderates to form a broad front and defeat Bolsonaro, then
tapped some of them to serve in his Cabinet.
In his first act as president Sunday, Lula signed a decree to tighten
gun control and set a 30-day deadline for the comptroller-general's
office to evaluate various Bolsonaro decrees that placed official
information under seal for 100 years. He also signed a decree that
guaranteed a monthly stipend for poor families, and re-established the
mostly Norway-financed Amazon fund for sustainable development in the
rainforest.
Claúdio Arantes, a 68-year-old pensioner, carried an old Lula campaign
flag on his way to the esplanade. The lifelong Lula supporter attended
his 2003 inauguration, and agreed that this time feels different.
 "Back then, he could talk about Brazil being united. Now it is
divided and won't heal soon," Arantes said. "I trust his intelligence
to make this national unity administration work so we never have a
Bolsonaro again."
Given the nation's political fault lines, it is highly unlikely Lula
ever reattains the popularity he once enjoyed, or even sees his
approval rating rise above 50%, said Maurício Santoro, a political
science professor at Rio de Janeiro's State University.
 "I always wanted to go the inauguration, I didn't think I would have
a chance to see Lula there after he was jailed," said Tamires Valente,
43, a marketing professional from Brasilia. "I am very emotional, Lula
deserves this."
Speaking to the crowd, Lula listed shortfalls in government funds that
will affect the Brazilian people. He said that, according to the
transition team's report on Bolsonaro's government, textbooks haven't
been printed for public schools, there are insufficient free
medications and COVID-19 vaccines, the threat looms of federal
universities shutting down, and civil defence authorities cannot work
to prevent disasters.
 "Who pays the price for this blackout is, once again, the Brazilian
people," he said, and was promptly met by a chant from the crowd: "No
amnesty! No amnesty! No amnesty!"
Get the latest reports & analysis with people's perspective on Protests, movements & deep analytical videos, discussions of the current affairs in your Telegram app. Subscribe to NewsClick's Telegram channel & get Real-Time updates on stories, as they get published on our website.
Subscribe Newsclick On Telegram