In Most States, BJP Votes Drop After a Term in Office
This started happening in the Modi era, although 'double engine' governments were hyped as advantageous.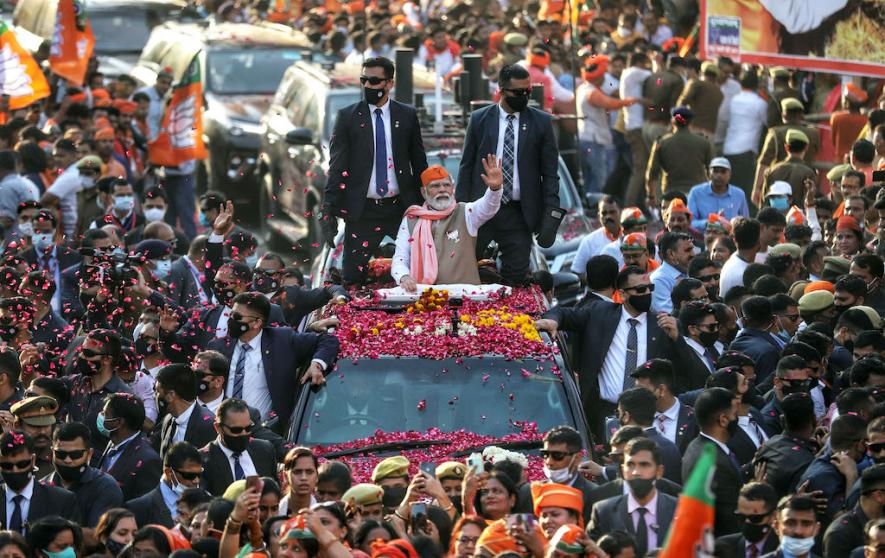 Varanasi, Mar 04 (ANI): Prime Minister Narendra Modi waves to the BJP supporters during a roadshow in support of party candidate for the seventh and last phase of Uttar Pradesh Assembly elections, in Varanasi on Friday.
There is a problem haunting the ruling BJP – and they seem to be unaware of it. Or at least they pretend it's not there. State Assembly election results since Narendra Modi swept to power at the Centre in 2014 show that in bigger states, wherever the Bharatiya Janata Party (BJP) formed a government, its vote share in the subsequent Assembly election dropped. This happened in six major states while in four others its vote share increased.
What this indicates is that BJP being in power – and supposedly benefitting from support from the Central government – somehow doesn't go down well with the electorate. The party is unable to deliver what it promises or is unable to tackle key issues that people are concerned about, or its priorities are different from what the people want. Probably, all of these together are a reason. The much tom-tommed 'double engine' model of government has failed.
States where vote share dropped
Six states where BJP vote share dropped over consecutive Assembly elections are: Bihar, Chhattisgarh, Goa, Rajasthan, Madhya Pradesh and Maharashtra. [See chart below]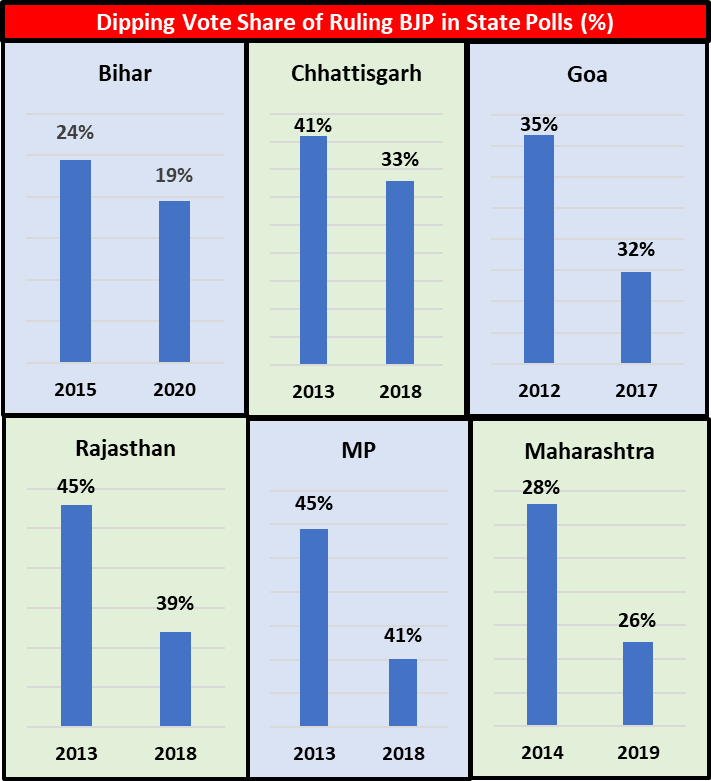 In all these cases, the second election took place after BJP came to power at the Centre in 2014. In Chhattisgarh, Rajasthan and MP, the Opposition party – Congress – came to power after the defeat of incumbent BJP. So, the disillusionment of people reflected in the lower vote share led to less number of seats than the challenger.
In MP, the BJP managed to break a section of Congress legislators after about 18 months and bring down the Congress government. But the electoral verdict was against them in 2018.
In Maharashtra and Bihar, BJP had contested as part of an alliance. In both cases, the same alliance was there in the previous election, too, that is, in 2014 and 2015 respectively. In Bihar, this alliance with Janata Dal (United) scraped through and came back to power. But BJP had been forced to contest less seats in 2020 than they won in 2015, which probably reduced their vote share. But that is not just a statistical curiosity – they made the alliance on those terms based on a self-assessment of their strength.
In Maharashtra, their long standing alliance with Shiv Sena broke up after the election results were out, and so, they are now sitting in the Opposition benches.
The only common factor behind BJP's decline in these states is this: an increased reliance on the so-called Modi magic for not just electoral campaigns but also on governance. This means dependence on Central government initiatives, stress on Hindutva politics, inability to assert a state's federal autonomy and subservience to Delhi's vision.
It may be argued that if Modi's policies were working so successfully at the Centre – after all BJP won a second even bigger victory in the 2019 general elections – why wouldn't they work at the State's level? The answer lies in the fact of BJP's rejection in several states. Clearly,the issues closest to people, including price rise, unemployment, farmers' incomes, wages, industrial stagnation, land grab, etc., are unresolved and in fact becoming more dire. People are realising that Modi coming and addressing large rallies at the time of state elections does not mean that such issues will get solved by the local government.
States where BJP vote share increased
As shown in the chart below, Assam, Gujarat, Haryana and Jharkhand are the four states where the incumbent BJP's vote share ticked up in the second election.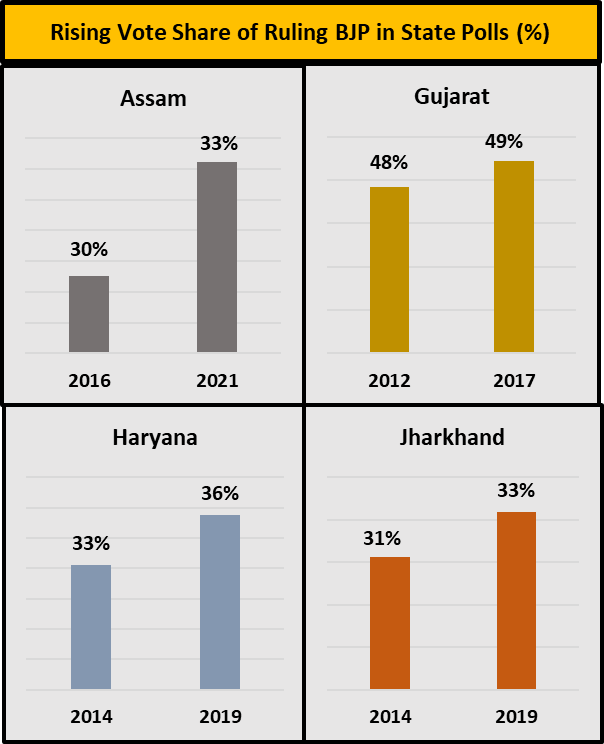 In Jharkhand, BJP could not get a majority despite the increased vote share and the Opposition alliance led by Jharkhand Mukti Morcha formed the government. This happens in a straight contest. In Haryana, the BJP's seats declined from 47 to 40 but the collapse of a regional party (Indian National Lok Dal) led to increases in the votes of BJP, Congress and a splinter of INLD. The BJP formed a government by aligning with the splinter Jannayak Janata Party (JJP) after the results were announced.
In Gujarat, BJP's seats came down from 115 in the outgoing Assembly to 99 in the 2017 Assembly elections. But its vote share increased by about 1%. This was mainly a fall-out of the direct contest with Congress which gave a sturdy fight but fell short, betraying its weak foundations.
It was only in Assam that a decisive victory was won by the BJP in the 2021 elections, increasing its vote share by about three percentage points. What is common to both these states is the large reliance placed by BJP on a polarising Hindutva agenda. In Gujarat this derives from the rise of Modi after the 2002 communal carnage which has ghettoised and marginalised the minority Muslim community. Gujarat has also received much attention from the Modi government. In Assam too, the BJP has utilised the National Register of Citizens (NRC) issue and the foreigner bogey to polarise society and gained electoral advantage.
What will happen in UP and Uttarakhand?
It appears that Uttar Pradesh, where polling will end on March 7, is getting pulled between these two poles – BJP has largely based itself on the Hindutva agenda though it may also gain from some of the policies of the Modi government like the free foodgrain distribution scheme started after the COVID pandemic that struck in 2020.
The Opposition has largely focused on price rise, unemployment, the farmers struggle and the failure of BJP to fulfil its promises. This has led to a resurgent Samajvadi Party-led alliance that also seems to be benefitting from newly formed caste equations.
If the SP-led alliance is able to emerge as the sole challenger to BJP in the minds of the electorate, then the BJP will face defeat. Whatever be the case, its vote share is likely to go down from the remarkable 42% it had garnered in 2017.
In Uttarakhand, again, BJP is fighting a tough battle, trying to inject communal issues into the state's politics to pave the way for its victory. But, as in other states, discontent with its indifferent policies and inability to deliver has dragged it down into a neck and neck race. March 10 will reveal the winners in all these seats.
Get the latest reports & analysis with people's perspective on Protests, movements & deep analytical videos, discussions of the current affairs in your Telegram app. Subscribe to NewsClick's Telegram channel & get Real-Time updates on stories, as they get published on our website.
Subscribe Newsclick On Telegram