In Unregulated Spaces: Domestic Workers Renew Protests Against Labour Codes 
Amid the Monsoon session and the government's announcement of the commencement of work on the database for unorganised workers, domestic workers and unions have begun fresh protests to highlight the failures of the new labour laws in protecting them.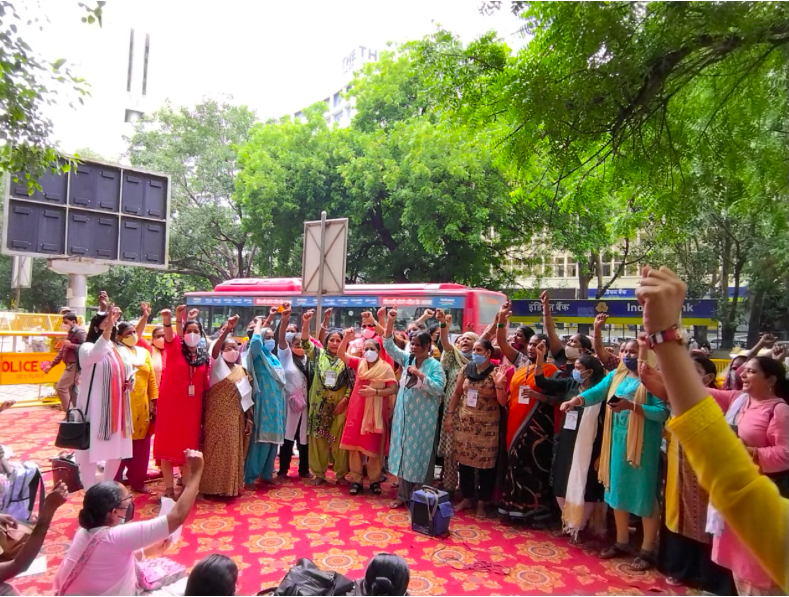 New Delhi: As the Narendra Modi government announced the creation of the database for unorganised workers after several missed deadlines-- domestic workers and affiliated unions have renewed protests against the exclusionary labour laws which leave India's five million domestic workforce out of its ambit. With the lack of recognition as workers and vague definitions of workplace and employer-employee relationships, these workers, even if registered for the database, will not have access to social security, minimum wage or any protection. 
While the government remains a signatory to the C189 labour convention of the International Labour Organisation (ILO), it has not ratified the provisions of decent work for domestic workers. Moreover, the government's new labour codes will exclude this section of the workforce. The Periodic Labour Force Survey (2017-18) estimates that there are 5.255 million domestic workers in the country. Of these, an estimated 80% are poor and vulnerable women. 
The labour codes do not mention home as a workplace. Since private homes are workplaces of domestic workers where they should get their rights, these are not recognized by the government. Hence the codes, as they are, prohibit tdomestic workers from legally demanding fair working conditions.
Moreover, the codes also fail to stem the differentiation in wage inequality. A total of 12 states in India do provide for minimum wages for domestic workers but the calculation of these wages is far below what these workers are earning these days. Moreover, domestic workers are considered unskilled although a large number of them are cooks or look after children, the sick and the aged, all of which are jobs that require specific skills.
These concerns were flagged at the protest by unions of domestic workers on August 4 in Delhi amid the ongoing Monsoon session of Parliament to demand legislation for domestic workers. 
Speaking with NewsClick, activist Sonia George from SEWA, Kerala said, "Domestic workers are nowhere in the labour policy. The primary concern is this. They were a part of the social security Act of 2008 but now as a part of the social security code coming in, the Act has been repealed. No established legal system applies to domestic workers. What systems of registrations do they have? Where would these workers get registered? The employer-employee relationship is not defined and the workplace is not defined. Employers' responsibility is not defined. We are demanding regulation." 
The pandemic has not only exposed but also exacerbated the vulnerabilities of domestic workers, the majority of whom have faced job loss and have received no emergency relief or income compensation. A survey by the Domestic Workers Sector Skill Council (DWSSC) says that nearly 85% of domestic workers have not been paid for the lockdown period. An eight- state random survey by DWSSC, a non-profit organisation under the Ministry of Skill Development and Entrepreneurship, found that 23.5% of domestic workers had migrated to their native place.
Speaking with NewsClick, Elizabeth Khumallambam of the Domestic Worker Network (CSCD) & NPDW, said: "Domestic workers are outside the purview of getting social security after the enactment of the Social Code. Domestic workers, who work in individual households, are not established. Hence, the government should either make an amendment to the labour codes or make a separate legislation. During pandemic, with job losses and reduced income, many of these workers face destitution."
The existing Labour Code on Occupational Health and Safety, specifically excludes the recognition of domestic workers. There are no grounds provided for this exclusion and it is known that several accidents and even tragic deaths of domestic workers do occur on a regular basis in the country. They also face sexual harassment in these homes, which is generally not even exposed.
Also, there is no provision in any law to protect these workers from the exploits of agents who make huge amounts of money via labour supply, as there is no regulation of these agents. A majority of domestic workers are women and a large number of them are single mothers or only earning members of their families.
This week's protest also included 12 MPs from Lok Sabha and Rajya Sabha from different states, such as Kerala, West Bengal, Maharashtra and Telangana. Kerala MP Ariff A.M. said though Parliament is seeing disruptions during the Monsoon session and Bills are being passed without discussion: "We are for an enactment of a law for domestic workers".
Another MP from Kerala, Shri Shanmugam, said; "Though the government is not ready to hear out the trade union, it will have to find a way out for unorganised sector workers, including domestic workers, to improve their service conditions, ESI should be cover all unorganised workers."
These concerns come ahead of the much promised national database for unorganised workers that is slated to take off this month. The database originally was rooted in concerns for domestic workers--the order was given in a petition filed in 2012 to register domestic workers, part of India's unorganised workforce, under the Unorganised Workers Social Security Act, 2008. However, with these looming issues, the benefits of this database will elude domestic workers and if these remain vague and ill-defined. 
Read More: COVID-19 laid Bare the Struggles and Exploitation That Domestic Workers Face
Get the latest reports & analysis with people's perspective on Protests, movements & deep analytical videos, discussions of the current affairs in your Telegram app. Subscribe to NewsClick's Telegram channel & get Real-Time updates on stories, as they get published on our website.
Subscribe Newsclick On Telegram