Indebted Country: People, Governments Both Buried Under Loans
Since 2014, state government debt has zoomed by over 200% and the Central government's by nearly 150%.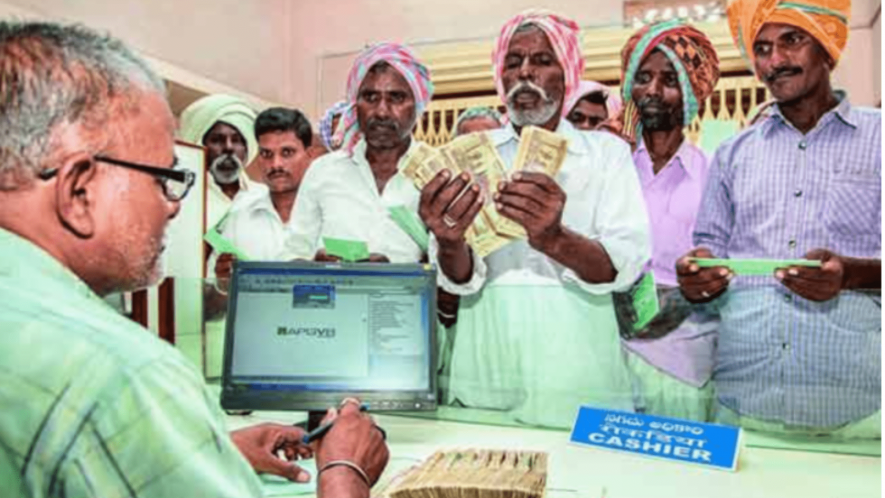 Loans are being taken because families cannot meet their needs through their earnings. Representational Image. 
Recent Reserve Bank of India (RBI) data show that accumulated personal loans from banks stood at Rs 41 lakh crore in April. These loans were taken for buying homes, vehicles, consumer durables, etc. apart from various other contingencies. Compared to 2014, this is a staggering increase of more than 400%. (See chart below)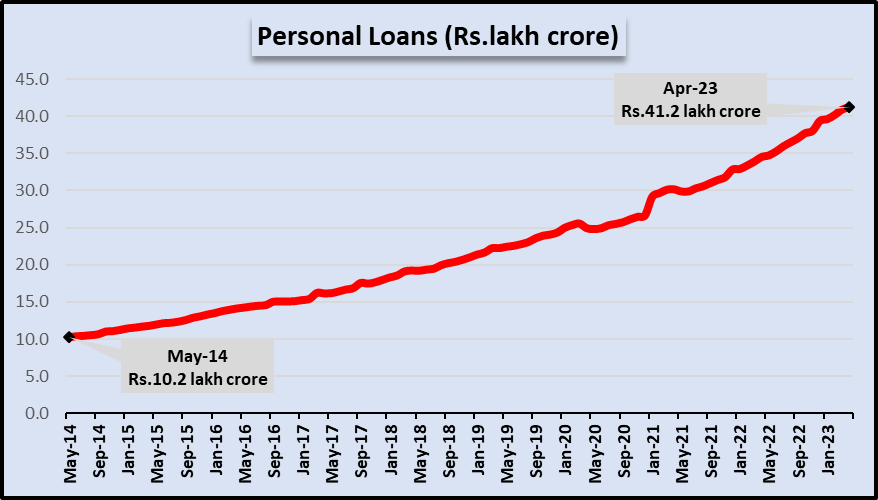 To measure this huge amount, consider this: the 2023-24 Union Budget is about Rs 45 lakh crore. So, personal loans are quite close to that!
What about loans taken by the government? The latest RBI data show that the Central government had an accumulated debt of Rs 157 lakh crore whereas all the state governments combined had an estimated accumulated debt of Rs 76 lakh crore at the end of 2022-23.  
High Personal Loans
What does this high growth in personal loans mean? Some might argue that it is a good sign because people are taking loans to buy more goods or services, which is good for the economy. This may be true for flourishing economies with high earnings, good social security coverage and stable jobs.
However, considering India's economic conditions, with high unemployment and inflation, largely low-paying jobs and the continuing low growth of the industrial sector, this indicates a much more dire situation.
Loans are being taken because families cannot meet their needs through their earnings. The data show that loans for heavy expenditure items—like buying homes or funding expensive education—are not exhibiting as much growth as loans for smaller, possibly retail, spending.
One notable item included in this is pending credit card payments, which crossed Rs 2 lakh crore for the first time—an increase of nearly 30% in the past year. This growth rate is nearly twice the overall bank credit growth in the past year. Credit cards are used mostly for consumption expenditure and this super-high growth in outstanding credit card payments shows increasing indebtedness among even the relatively better-off sections of society.
Meanwhile, micro and small and large industries show very tepid growth in bank credit, 10% and 5%, respectively, indicating that these large employers are not investing in new capacities. Hence, they will not be able to provide any new employment, which, in turn, would lead to continued limits on family incomes.
Recent National Accounts data also show that private consumption expenditure has shrunk as a share of Gross Domestic Product (GDP), revealing the tight economic conditions households face.
Exploding Union Government Debt
Governments often take loans to run their affairs. These loans can be taken from private commercial sources, like banks or through bonds issued to the public, or they can also be sourced from existing pools of funds like Provident Fund corpus or small savings funds, etc.
But increasing debt in India should be setting off alarm bells—as shown in the chart below. The Central government's outstanding liabilities (loans) have skyrocketed from Rs 64 lakh crore in 2014 to a breathtaking Rs 157 lakh crore in 2022-23. That's an increase of nearly 150% in nine years.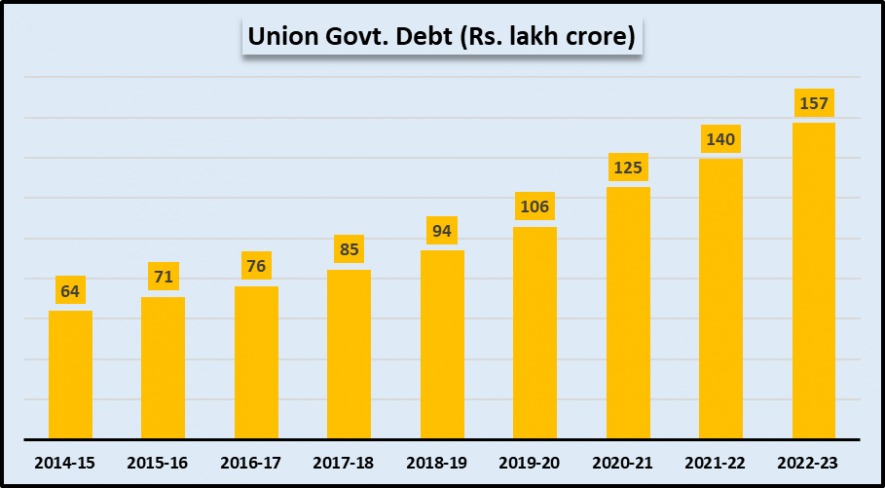 In 2022-23, nearly 58% of the Central government's debt was owed to market sources, i.e., commercial lenders like banks. This portion of the debt would require high-interest payments every year.
In the 2023-24 Budget, estimated interest payments are nearly Rs 11 lakh crore, about 23% of the total expenditure projected for the year. That is a staggeringly high share of people's money spent on financing the loans taken by the Central government. Repaying loans would continue for years, but that would be a headache for future governments.
The government would be justified in incurring such huge liabilities if the funds thus collected are deployed for the benefit of the people. But the government is slashing and squeezing spending on various welfare measures (like MGNREGS) because it claims it has to balance its budget and can't afford such expenditure.
The loans are actually helping what Prime Minister Narendra Modi has referred to as "wealth creators"—the corporate sector, which has been given various gifts like tax cuts, incentives and subsidies. The loans are ultimately financing these concessions. Such loans are also being spent on various large infrastructure projects like highways and fast trains, the utility of which is questionable.
State Governments Too Borrowing Heavily
Meanwhile, state governments too have been borrowing heavily but for no fault of theirs. As the chart below shows, combined state government liabilities have zoomed from about Rs 25 lakh crore in 2014-15 to an estimated Rs 76 lakh crore for the current year—a 200% increase in the past nine years.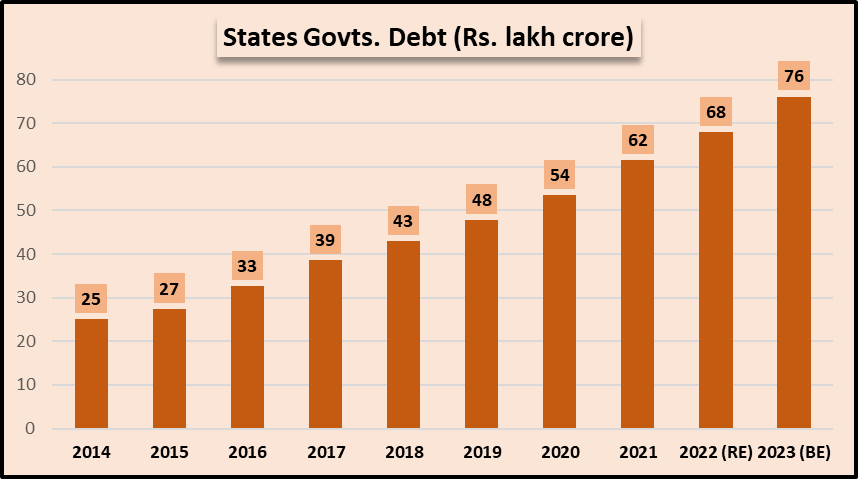 The central government's policies of squeezing spending on various welfare schemes have meant that state governments have had to step up and try to compensate for the gaps. That's because all schemes are implemented on the ground by state governments. In many of them, they have to contribute a pre-determined share. Not being able to implement the schemes would reflect poorly on the incumbent state government. 
State governments have mostly lost their rights to levy taxes and duties after the GST was rolled out in 2017. This has affected their revenue collection. Moreover, the Central government imposes strict, often onerous, conditions for raising capital for investment. It also exercises power over disbursements for various schemes and delays or obstacles lead to difficulties for state governments.
Besides all this, several state governments continue to follow the Central government's example in taking loans to bolster their finances and undertake politically advantageous projects or give concessions to local corporates and traders. The BJP state governments, in particular, are enthusiastically following the path of fiscal management shown by the Modi government.
The result of all this is the huge mountain of debt that now weighs down upon Indians and will ultimately be repaid from their earnings over the coming years.
Get the latest reports & analysis with people's perspective on Protests, movements & deep analytical videos, discussions of the current affairs in your Telegram app. Subscribe to NewsClick's Telegram channel & get Real-Time updates on stories, as they get published on our website.
Subscribe Newsclick On Telegram