India in 2020 Incurred a Loss of $87 Billion Due to Climate-Related Hazards, Says Report
The World Meteorological Organisation report shows how every part of Asia was affected, from Himalayan peaks to low-lying coastal areas, from densely populated cities to deserts and from the Arctic to the Arabian seas.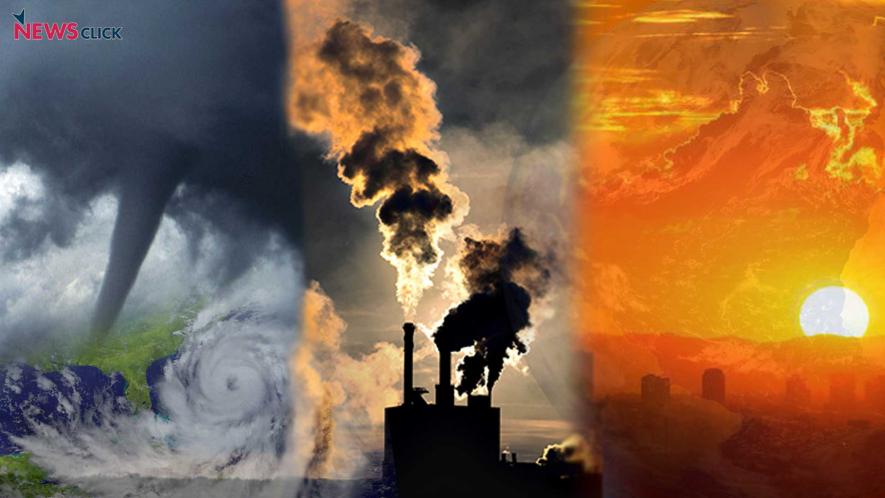 Extreme weather and climate change caused the loss of life of thousands of people across Asia in 2020, and displaced millions of others and cost hundreds of billions of dollars while wreaking a heavy toll on infrastructure and ecosystems. Sustainable development is threatened, with food and water insecurity, health risks and environmental degradation on the rise, according to a new multi-agency report coordinated by the World Meteorological Organisation (WMO).
"Weather and climate hazards, especially floods, storms, and droughts, had significant impacts in many countries of the region, affecting agriculture and food security, contributing to increased displacement and vulnerability of migrants, refugees, and displaced people, worsening health risks, and exacerbating environmental issues and losses of natural ecosystems," said WMO secretary-general Petteri Taalas, when the report was released.
He added, "Combined, these impacts take a significant toll on long term sustainable development, and progress toward the UN 2030 Agenda and Sustainable Development Goals in particular."
The State of the Climate in Asia 2020 provides an overview of land and ocean temperatures, precipitation, glacier retreat, shrinking sea ice, sea-level rise and severe weather. It examines socio-economic impacts in a year when the region was also struggling with the COVID-19 pandemic, which in turn complicated disaster management.
The report shows how every part of Asia was affected, from Himalayan peaks to low-lying coastal areas, from densely populated cities to deserts and from the Arctic to the Arabian seas.
According to the report, tropical cyclones, floods and droughts induced an estimated average annual loss (AAL) of several hundred billion dollars. China, India and Japan experienced the majority of this loss: approximately $238 billion in China, $87 billion in India and $83 billion in Japan (figures in US dollar). The report said, "When the size of the economy is considered, AAL is expected to be as high as 7.9% of GDP (US$ 7.5 billion) for Tajikistan, 5.9% of GDP (US$ 24.5 billion) for Cambodia and 5.8% of GDP (US$ 17.9 billion) for the Lao People's Democratic Republic. The highest AALs are associated with drought."
In 2020, floods and storms affected approximately 50 million people including over 5,000 lives lost. This is below the annual average of the last two decades: 158 million people affected and about 15,500 fatalities. As regards damage, India and China suffered the most in absolute value from extreme events: US$ 26.3 billion and US$ 23.1 billion, respectively. Japan, the Islamic Republic of Iran, Bangladesh and the Republic of Korea also suffered severe damage.
For some countries, the impact was significant when translated into a percentage of gross domestic product (GDP), which was the case for India, the Islamic Republic of Iran, Bangladesh and Pakistan, where damages exceeded 0.5% of GDP.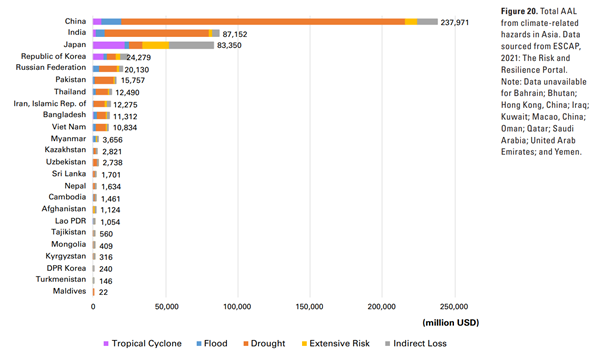 The report pointed out that Cyclone Amphan, one of the strongest cyclones ever recorded, hit densely populated coastal areas in Bangladesh and India during the rapid spread of COVID-19 in May 2020. The response to the impact of Amphan was made difficult owing to restrictions imposed during the pandemic and the disruption of supply chains.
"The COVID-19 pandemic has highly disrupted socioeconomic development in the region. In South Asia, owing to lockdowns and restrictions on economic activities, it was estimated that up to 132 million people could be pushed into extreme poverty (< US$ 1.90 per day), mostly in India followed by Bangladesh, Pakistan, Nepal and Sri Lanka.
Lockdowns have also affected the jobs and livelihoods of millions of internal migrant workers, leading to displacement and a mass exodus to villages," the report said.
It added that climate and weather events had major and diverse impacts on population movements and on the vulnerability of people on the move in Asia throughout 2020. Much of the disaster-related displacement recorded globally in 2020 took place in China, Bangladesh and India, which recorded some of the highest figures (about 4 to 5 million new displacements each).
"Refugees, internally displaced people and migrants in Asia are often among those most vulnerable to climate-related and weather-related hazards. The overwhelming majority of weather-related displacements in Asia take place within national borders, though cross-border movements also occur. Additionally, mobility restrictions and economic downturns due to COVID-19 have slowed the delivery of humanitarian assistance to vulnerable people on the move, as well as efforts to support recovery for affected persons, including durable solutions for those displaced," it said.
It added, "To build back better from COVID-19, it is recommended that a scale-up of regional and subregional cooperation strategies that integrate disasters, including climate-related disasters, and associated health perspectives, complements national efforts to implement the 2030 Agenda for Sustainable Development."
Get the latest reports & analysis with people's perspective on Protests, movements & deep analytical videos, discussions of the current affairs in your Telegram app. Subscribe to NewsClick's Telegram channel & get Real-Time updates on stories, as they get published on our website.
Subscribe Newsclick On Telegram