India's COVID-19 Deaths 6-7 Times Higher Than Official Figures, Comparable to US: Analysis
The new study says India's significantly higher COVID death rate in 2021 compared to the lower than expected death rate in 2020 requires further research.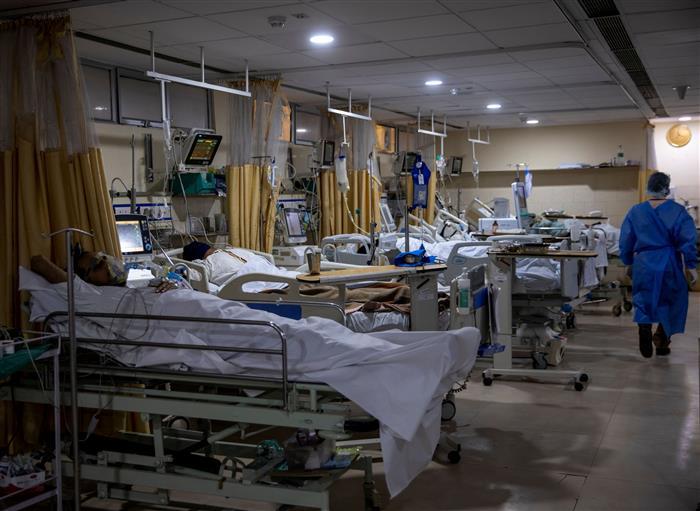 Image Courtesy: Tribune India
India's cumulative COVID-19 deaths were six to seven times higher than reported officially, according to a recent analysis published in the Science journal on January 7, 2022.
The authors of the analysis said, "Our study finds that Indian COVID deaths are substantially greater than estimated from official reports. If our findings are confirmed, this may require substantial upward revision of WHO's estimates of cumulative global COVID mortality, which as of January 1, 2022, stood at 5.4 million."
India's total national COVID deaths remain undetermined. At the end of 2021, India reported about 480,000 deaths from SARS-CoV-2 infections.Using an independent nationally representative survey of 1.4 lakh adults, the authors compared COVID mortality during the 2020 and 2021 viral waves to the expected all-cause mortality.
As of January 1, 2022, India reported over 3.5 crore cases of SARS-CoV-2, second only to the United States (US). India's official cumulative COVID death count of 4.8 lakh implies a COVID death rate of approximately 345 per million population, about one-seventh of the US death rate.
However, the authors of the study tapped data from an independent polling agency that surveyed nearly 1,40,000 people across the vast country by telephone, asking whether anyone in each household had died from COVID-19. They also analysed government reports from hospitals and similar facilities and looked at officially registered deaths, and came up with a much higher estimate—between 2,300 and 2,500 deaths per million by September 2021, comparable to the rate in the US, which has one-third as many people.
The researchers found that COVID constituted 29% of deaths from June 2020-July 2021, corresponding to 32 lakh deaths, of which 27 lakh occurred in April-July 2021 (when COVID doubled all-cause mortality). A sub-survey of 57,000 adults showed similar temporal increases in mortality with COVID and non-COVID deaths peaking similarly. Two government data sources found that when compared to pre-pandemic periods, all-cause mortality was 27% higher in 2 lakh health facilities and 26% higher in civil registration deaths in ten states; both increases occurred mostly in 2021. The analyses find that India's cumulative COVID deaths by September 2021 were six to seven times higher than reported officially.
"India's reported COVID death totals are widely believed to be under-reports because of incomplete certification of COVID deaths and misattribution to chronic diseases and because most deaths occur in rural areas, often without medical attention. Of India's 10 million deaths estimated by the United Nations Population Division (UNPD) in 2020, over three million were not registered and over eight million did not undergo medical certification," the study said.
Prabhat Jha of the University of Toronto, one of the authors of the analysis, said that one of the factors behind the under-reporting of COVID-19 deaths was politics. He thought the administration of Indian Prime Minister Narendra Modi had clouded the true picture of the pandemic. "The Indian government very much is trying to suppress the numbers in the way that they coded the COVID deaths," Jha said. He and others also fault the government for not releasing data from the Sample Registration System (SRS), which routinely surveys 1% of India's population to track births and deaths. "I think the political pressures were such that they said, 'Anything that's going to come out is going to be embarrassing'," he added.
The study highlighted that both the 2020 and 2021 viral waves were characterised by widespread transmission, and, in 2021, mostly uncontrolled, multigenerational transmission of the virus within households, with high levels of antibodies detected.
It added that India's significantly higher COVID death rate in 2021 compared to the lower than expected death rate in 2020 requires further research.
"The spread of infection to rural areas in 2021 is one factor, but there might also be differences in the pathogenicity between the original virus (Wuhan) in 2020 and the mix of Alpha and Delta variants accounting for most of the 2021 viral wave (26), or other biological predictors of severe infection which changed between these two waves. Similarly, tracking death rates will be essential to understanding the effects of the Omicron wave currently underway in India, or future viral variants," the study said.
Get the latest reports & analysis with people's perspective on Protests, movements & deep analytical videos, discussions of the current affairs in your Telegram app. Subscribe to NewsClick's Telegram channel & get Real-Time updates on stories, as they get published on our website.
Subscribe Newsclick On Telegram