India to Boost Sakhalin-1 Oil Output
The capacity of Sakhalin-1 is quite impressive. There was a time before OPEC+ set limits on production level, when Russia extracted as much as 400,000 barrels per day, but the recent production level has been about 220,000 barrels per day.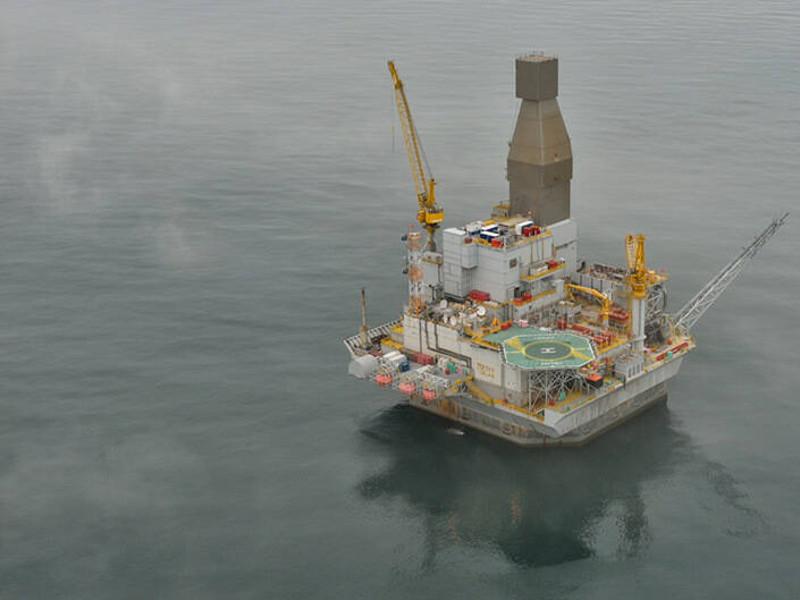 Sakhalin-1 oil and gas development project is located off the coast of Sakhalin Island in the Russian Far East (File photo) 
After Sakhalin-2, Moscow also plans to nationalise Sakhalin-1 oil and gas development project by ousting US and Japanese shareholders. But Moscow will make an exception for India so that OVL which holds 20% stake will remain & continue to work. Moscow grapevine is that while Rosneft will continue to hold controlling share, more Indian companies may be inducted to replace US & Japan and thereby also ensure a sales market in India. 
The Sakhalin-1 is located off the coast of Sakhalin Island in the Russian Far East. It comprises three offshore fields — namely, Chayvo, Odoptu, and Arkutun-Dagi. Until recently, the Sakhalin-1 project was operated by a Russian subsidiary of the American major ExxonMobil known as Exxon Neftegaz, which owns 30% of the shares. In addition, 20% is owned by the Russian state, 30% by the Japanese company Sodeco, and 20% by the Indian ONGC Videsh. Whereas Sakhalin-2 specialises in the export of liquefied natural gas, Sakhalin-1 is in the export of Sokol oil.  
The capacity of Sakhalin-1 is quite impressive. There was a time before OPEC+ set limits on production level, when Russia extracted as much as 400,000 barrels per day, but the recent production level has been about 220,000 barrels per day. The abrupt departure of the Americans following the US sanctions against Russia has caused the  production to plummet to just 10,000 barrels. Russians hope that with the replacement by more Indian companies, the production level can be restored to the previous level. Indeed, the hope is that Indian ONGC Videsh will pull up the production level of Sakhalin-1 project relatively quickly by bringing in own technologies.
The overall trend of nationalising the holdings of American, British, Japanese and European capital in Russia's strategic sectors of economy is crystallising as the new policy — the Russian version of India's AatmaNirbhar Bharat ("Self-reliant India" campaign.) The cleansing of Russian economy, freed of Western capital, is expected to accelerate in the period ahead. India has seamless opportunities here to make investments and reap windfall profits. In strategic terms, India's energy security will also be guaranteed for decades to come. 
Moscow was well aware of the predatory character of Western capital in Russia's oil sector — a legacy of the Boris Yeltsin era — but had to live with the exploitation as it didn't want to antagonise other potential western investors. But that is history now. The souring of relations with the West to almost breaking point rids Moscow of such archaic  inhibitions.  
Indeed, the new policy to replace western capital from the commanding heights of Russian economy is not without risks, but Moscow is confident that it is on the right track and must do what it takes. Also, the decrease in production in the Sakhalin-1, unless addressed soon, may negatively affect the very characteristics of the oil fields in the Russian Far East, if the oil recovery factor decreases over time and a lot of oil is left to remain in the reservoirs. 
The development of the fields had depended on Western equipment and technologies. Now Russia has lost both. On the other hand, the departure of the Americans will leave Russia with no easy route but to have its own technologies. 
On balance, however, Americans stand to lose heavily too, as the production sharing arrangements dating back to the Yeltsin era have been forced out of Russia when it was in dire economic straits during the transition from the Soviet period and was in no position to negotiate optimal deals. Come to think of it, something like 262 such so-called production sharing agreements (PSAs) were squeezed out of the Russian government by western oil companies by the year 2000. 
After coming to power in 1999, President Vladimir Putin set about the mammoth task of cleaning up the Aegean stables of Russia's foreign collaboration in the oil sector. The "decolonisation" process was excruciatingly difficult, but Putin pulled it through and got rid of as many as 260 (out of 262) PSAs. In fact, Sakhalin-1 and Sakhalin-2 are the very last remaining two PSAs harking back to post-Soviet Russia's decade of humiliation under Yeltsin. 
Any surprises why the Biden Administration hates Putin so much and wants him out of power in Moscow? 
Legend is that when the Soviet Communist Party Secretary Nikita Khrushchev paid his pathbreaking visit to India in 1955, then Prime Minister Nehru, amongst other "talking points", referred to Soviet Union's great reservoir of expertise in the oil sector, while complaining that the West refused to help anything in India's state sector. 
Khrushchev instinctively reacted in positive terms to Nehru's request for help and no sooner than his return to Moscow, deputed a famous Soviet expert / geologist to India to prospect for oil — whose fame was such that he could apparently smell oil lying untapped deep in the bowels of the earth. Thus was born the ONGC in 1956, which is heading for Sakhalin Island on a similar mission!
06 Jul 2022
Russian President Vladimir Putin (L), at a meeting with Defence Minister Sergey Shoigu, revealed proposals of army commanders in Ukraine "for the development of offensive operations", Moscow, July 4, 2022
On July 1 at the White House, US President Joe Biden made a startling disclosure that "the idea we're going to be able to click a switch, bring down the cost of gasoline, is not likely in the near term." 
American gas exporters have positioned themselves accordingly to fill the gap as Europe turns away from Russian imports. Financial Times reported recently that "US liquefied natural gas producers have announced a string of deals to boost exports as the industry capitalises on shortages that have left Europe with a mounting energy crisis." 
The deals are so lucrative that Cheniere, America's leading gas exporter, has taken an investment decision to push ahead with a project that will boost its capacity more than 20 per cent by late 2025, anticipating long-term supply deals and locked in purchases of US gas over the coming decades. The US producers of gas are reportedly running plants flat-out to increase supplies to the EU. 
The US has overtaken Russia for the first time as Europe's top gas supplier. Although LNG from the US is sold to Europe at much higher costs than pipeline gas from Russia, EU countries have no choice. 
With Russian supply via Nord Stream at just 40% of capacity, and deliveries to be halted completely for annual maintenance on July 11-21, the outlook for near-term Russian gas supply to Europe appears bleak. 
Germany has warned of the risk that Nord Stream gas may not return at all following the maintenance. At any rate, Russian supply to Europe is at record lows and is "set to remain constrained through the third quarter," per S&P Global.
Germany is heading for a major economic crisis. The head of the German Federation of Trade Unions has been quoted as saying in the weekend, "Entire industries are in danger of collapsing forever because of the gas bottlenecks — especially, chemicals, glass-making, and aluminium industries, which are major suppliers to key automotive sector." Massive unemployment is likely. When Germany sneezes, of course, Europe catches cold — not only the Eurozone but even post-Brexit Britain. 
Welcome to the European Union's "sanctions from hell." The US literally hustled the Europeans into the Ukraine crisis. How many times did Secretary of State Antony Blinken travel to Europe in those critical months in the run-up to the Russian invasion of Ukraine to ensure that the door to any meaningful talks with the Kremlin remained shut! And American energy companies are today making windfall profits selling gas to Europeans. Won't Europeans have the common intelligence to realise they have been had? 
Now, Biden has washed his hands off the gas crisis. He brusquely stated at a press conference in Madrid on June 30 that such premium on oil prices will continue "as long as it takes, so Russia cannot, in fact, defeat Ukraine and move beyond Ukraine. This is a critical, critical position for the world. Here we are.  Why do we have NATO?" 
Biden's counterfactual narrative is that the sanctions against Russia are going to work eventually and a long war in Ukraine would be Russia's undoing. The US narrative is that if you look under the hood of the Russian economy, it may not be flexible and resourceful enough to develop an entrepreneurial bunker spirit and adopt new business models to neutralise the sanctions. Biden is convinced that Russian economy is in the grip of industrial mafias that are not very innovative and, therefore, there aren't many options for Russia under the Western sanctions. 
Biden said in Madrid: "Look at the impact that the war on Ukraine has had on Russia… They've (Russians) lost 15 years of the gains they made in terms of their economy…  They can't even — you know, they're having — they're going to have trouble maintaining oil production because they don't have the technology to do it.  They need American technology. And they're also in a similar situation in terms of their weapons systems and some of their military systems. So they're paying a very, very heavy price for this." 
But even if that's the case, how does all that help the Europeans? On the other hand, President Putin's strategic calculations with respect to the war remain very much on track. Russian forces made indisputable progress in establishing full control over Luhansk. On Monday, Putin gave the green signal to a proposal from the army commanders to launch "offensive operations." Five months into the war, Ukrainians are staring at defeat and Russian army generals know it.
Russia didn't wander into Ukraine unprepared, either. Evidently, it took precautionary steps both before and since the war to shield its economy. And this enables the Russian economy to settle down to a "new normal". Washington's options are quite limited under the circumstances. Fundamentally, western sanctions do not address the causes of the Russian behaviour, and therefore, they are doomed to fail to solve the problem at hand. 
To be sure, Putin has some nasty surprises in store for Biden closer to the November mid-term elections. Biden blithely assumes that he controls all the variables in the situation. Schadenfreude is never a rational basis for statecraft. 
On Monday, the strategically important Kherson region bordering Crimea formed a new government with the First Deputy Prime Minister of Russia's Kaliningrad region heading the cabinet and Russian nationals among his deputies. Now that HIMARS multiple launch rocket system, contrary to Biden's promise, is blasting Russian cities, expect some major Russian retaliation. 
The pathway of Russia's offensive operations is being relaid to include Kharkov and Odessa as well, apart from Donbass. The influential Kremlin politician and chairman of Duma Vyacheslav Volodin said on Tuesday, 
"Some people are asking what our goal is and when all this will end. It will end when our peaceful cities and towns no longer come under shelling attacks. What they are doing is forcing our troops not to stop on the borders of the Lugansk and Donetsk republics (Donbass) because strikes (on Russian regions) are coming from the Kharkov regions and other regions of Ukraine."
How long does Biden think the Europeans will want to be involved in a protracted proxy war with Russia? Bild reported on Sunday that 75% of German respondents see recent price hikes as a heavy burden, while 50% said they feel their economic conditions are worsening; every second German fears a lack of heating this coming winter due to reduced Russian gas supplies and rising inflation in the European Union. 
Yet, Biden says war will go on "for as long as it takes" and fuel shortage will continue "for as long as it takes." The European economy is expected to start contracting over the course of the second half of 2022 and the recession may continue until the summer of 2023 at least. 
Analysts at JP Morgan Chase, the US investment bank, said last week that Russia could also cause "stratospheric" oil price increases if it used output cuts to retaliate. It said, "The tightness of the global oil market is on Russia's side." Analysts wrote that prices could more than triple to $380 a barrel if Russia cut production by 5m barrels a day.
Putin's decree last week is ominous — the Kremlin taking full control of the Sakhalin-2 oil and gas project in Russia's Far East. State-owned Gazprom held a 50% plus one share stake in the project and its foreign partners included Shell (27.5%), Mitsui (12.5%), and Mitsubishi (10%). The decree stipulates that Gazprom will keep its majority stake, but foreign investors must ask the Russian government for a stake in the newly created firm within one month or be dispossessed. The government will decide whether to approve any request.
MK Bhadrakumar is a former diplomat. He was India's ambassador to Uzbekistan and Turkey. The views are personal.
Get the latest reports & analysis with people's perspective on Protests, movements & deep analytical videos, discussions of the current affairs in your Telegram app. Subscribe to NewsClick's Telegram channel & get Real-Time updates on stories, as they get published on our website.
Subscribe Newsclick On Telegram