India-Canada Rift: Breaking Down the Socio-Economic Ties in Numbers
While tensions have existed between the two countries, their relationship has generally been favourable for each other. Canada is one of the top preferences for Indians to immigrate, especially from the state of Punjab.
The diplomatic tensions between India and Canada existed for quite a long time. It became apparent as early as Indian independence when Canada supported a plebiscite in Kashmir in 1948. The top leadership of both nations have been at odds over the issue of Khalistan extremism in Canada. It hit a new low on September 19 when the prime Minister of Canada claimed that there was evidence to suggest a potential link between the murder of a Canadian Citizen- who happens to be wanted in India- and the Indian Government.
While tensions have existed between the two countries on one or two fronts, their relationship has generally been favourable for each other, and the connection happens to be deep and old, as Canada is one of the top preferences for Indians to immigrate, especially from the state of Punjab. Canada is home to more Sikhs than India. Here, we decode the socio-economic connection in numbers.
Indian Immigration to Canada Tripled in Just Seven Years
There are certain places in Canada, like Brampton, called Mini Punjab. Indians, especially the Sikh community, are a considerable share of the population in Canada. Immigration to Canada from India has witnessed a significant increase over the years. In the mere course of seven years, from 2015 to 2022, the number of people immigrating to Canada from India has increased by more than three times. In 2015, the number stood at 39,340, which increased to 1,18,245 in 2022.
The COVID-19 pandemic caused the number to fall to 42,870 in 2020 from 85,590 in 2019.
The number of Indians who became permanent residents in Canada rose from 39,000 in 2015 to 1,18,000 in 2022, a staggering increase of 202%, according to data available from Immigration, refugee & citizenship Canada.
In 2021, a whopping 1,27,940 Indians became permanent residents of Canada, increasing from 42,870 in 2020, a COVID-19 hit year. Arguably, this increase wasn't just because of the ease of travel after COVID-19 but also due to restrictive immigration policies in the United States, particularly in the Trump administration.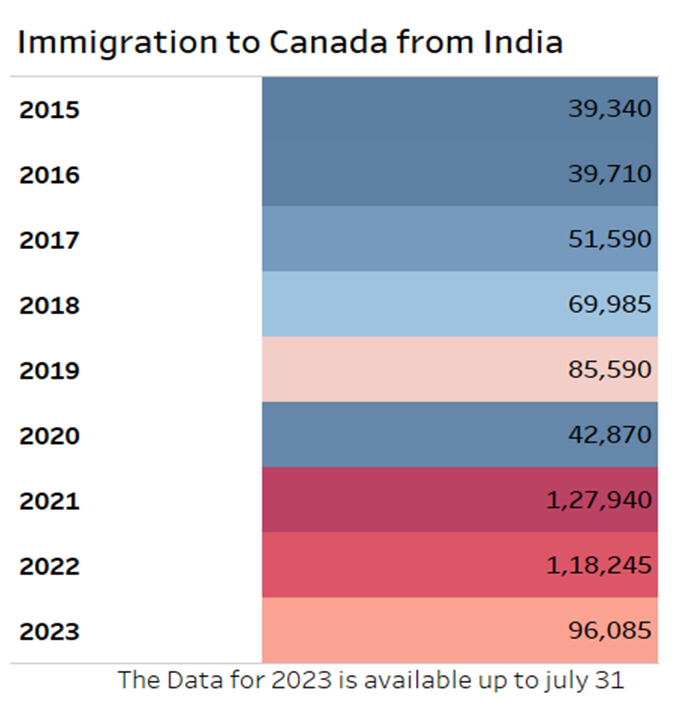 Indians With Study Permits In Canada Increased by 625%
The number of Indians living temporarily in Canada with study permits was just 31,920 in 2015, as per the data maintained by IRCC. This number increased to 2,25,940 in 2022, making it an increase of 625%. The number fell during the COVID-19 year. However, there was again a staggering increase of 33% from 1,69,350 in 2021 to 2,25,940 in 2022. 1,07,885 Indians have already received study permits till July 2023 to live temporarily in Canada.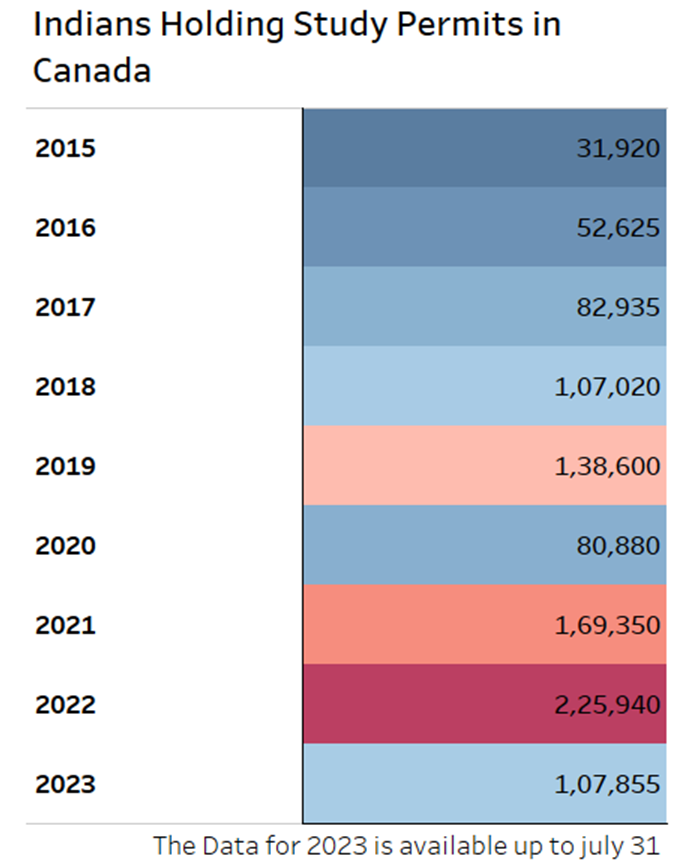 The Bilateral Trade is in Favour of India
There has been a net increase of 15% in Canadian imports from 3.52 billion dollars in the financial year 2018-19 to 4.05 billion dollars in 2022-23. Meanwhile, exports from India to Canada increased by 44% in the given period, from 2.85 billion dollars in 2018-19 to 4.11 billion dollars in the financial year 2022-23. Notably, Canada is not a big trading partner of India. India's bilateral trade with Canada stood at 8.16 billion dollars during the FY 2022-23, which is 0.7% of the total.
Canada is among the few countries with which India trades in surplus. The trade balance favoured India with a 58.45 million dollar Trade balance in FY 2022-23. Regrettably, it has seen a sharp contraction in previous financial year. The trade balance in the financial year 2020-21 was 274.33 MDs- favouring India- increased to 631.21 million dollars, which sharply dropped in FY 2022-23, leaving a trade surplus of 58.45 million dollars.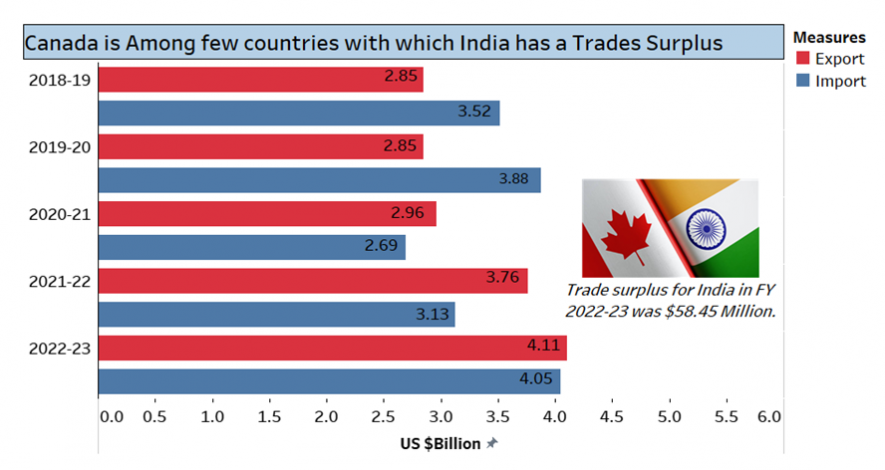 Minerals, fertilisers, paper products, and machines are the few top imports from Canada. In the financial year 2022-23, India imported commodities like mineral fuels, mineral oils, bituminous, and mineral waxes worth 1061 million dollars, which accounts for a 26% share of total imports in the given year.
Pharmaceutical products, articles of Iron or Steel, machines, precious metals, and organic chemicals are top export commodities from India to Canada. In 2022-23, India exported commodities of 4109 million dollars to Canada. The top ten export items accounted for 57% of the total worth of exports in the financial year 2022-23.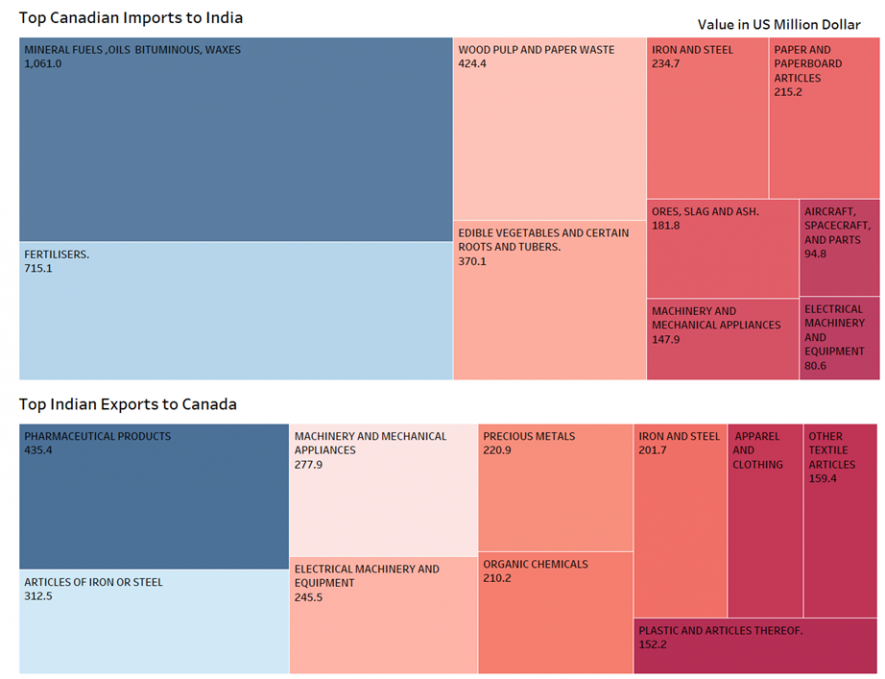 Canada is the Fourth-Largest Source of Foreign Tourists in India
Canada has consistently been one of the top source countries for foreign tourists in India. In 2021, the latest year for which data is available, Canada accounted for 5.3% of Foreign Tourist Arrivals (FTAs) in India, with 80,437 tourists. In 2017, Canada held a share of 3.4% of FTAs and was the fifth-largest source of tourists for India.
However, the number of tourists from Canada in 2021 was only a quarter of that in 2017. FTAs from Canada reached 3,51,859 in the pre-pandemic year of 2019 but fell sharply to 80,437 in 2021, a post-pandemic year. It's worth mentioning that while the number of foreign tourists from Canada dropped, the share of Canada in India's total foreign tourist arrivals increased, indicating an overall contraction in the total number of foreign tourists.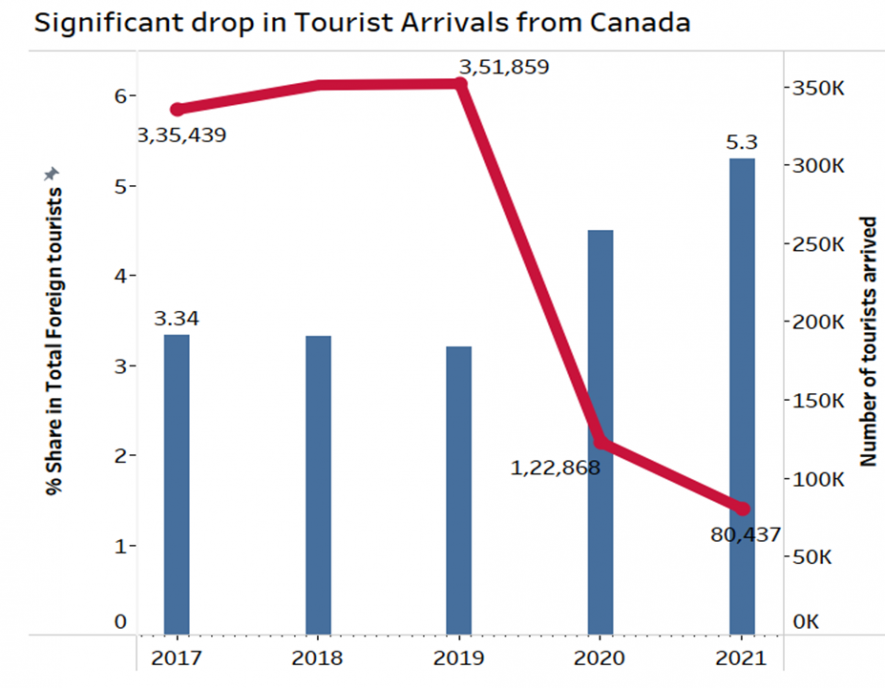 Source for All Data- IRCC, Ministry of Commerce and Industry, and Indian Tourism Statistics
The author is an independent journalist. The views are personal.
Get the latest reports & analysis with people's perspective on Protests, movements & deep analytical videos, discussions of the current affairs in your Telegram app. Subscribe to NewsClick's Telegram channel & get Real-Time updates on stories, as they get published on our website.
Subscribe Newsclick On Telegram