India Must Stop Glorifying Collective Punishment
It has become a symbol of brutality but it is worn like a badge of honour by those in power. The bulldozer is not just breaking homes but hurting the justice system.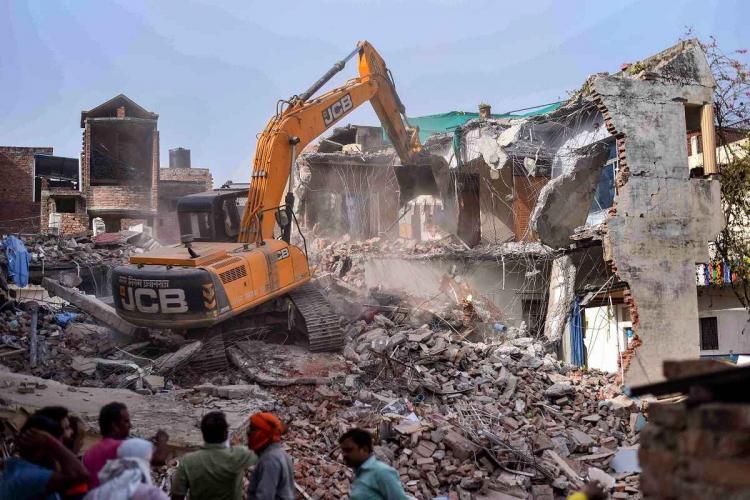 Afreen Fatima's house razed. Image credit: The News Minute
The house in Prayagraj that belonged to activist Afreen Fatima's mother stands demolished. A student union leader who participated in the anti-Citizenship Amendment Act agitations, Afreen is fighting perhaps the toughest battle of her life. Her father, Mohammad Javed, also an activist, was declared the "mastermind" of the protests in Allahabad on 10 June. He was arrested, and Afreen's mother and sister were detained. Their struggle for justice will be long and tortuous. 
On Monday, the Allahabad High Court refused to hear a letter petition filed by six lawyers questioning the administration's claims about the demolition and municipal law violations by Javed. However, Govind Mathur, former chief justice of the same court until last year, has called the demolition "totally illegal" and a challenge to the rule of law. 
In the past, Justice Mathur had tried to rein in the arbitrariness of the Uttar Pradesh government and set aside the "illegal" detention of Dr Kafeel Khan. He rightly declared the "name and shame posters" of the State government, which sought to frighten those who participated in the anti-CAA movement, as an "unwarranted intervention in privacy". 
It is disturbing that Afreen is not the only one suddenly confronting a ruthless state. Houses have been demolished in Saharanpur, Kanpur and other places in Uttar Pradesh following the Friday protests against the hate speeches of two ruling-party members. It was after these protests took a sudden violent turn that bulldozers rolled up to take down several homes. 
Violence is reprehensible, but there are laws to deal with perpetrators and deliver justice to those who fell in harm's way. However, with Hindutva forces holding political power, protests—violent or not—have become another pretext to unleash attacks on the marginalised, especially religious minorities. 
It is chilling how similar the storylines of those in charge of law and order are regarding recent events. The police and administration first declare a particular house as illegally built. Then, they claim notices were sent earlier, which got no response. Soon after, they name a date for the demolition, which they declare perfectly legal. Meanwhile, the ruling political class has no qualms in saying that only the homes of rioters are being demolished.
As the bulldozing mania spreads across the country, various Bharatiya Janata Party-ruled states—Madhya Pradesh, Gujarat, Assam and Karnataka—have taken the lead in demolishing homes. A bulldozer is simply a heavy-duty machine to clear the earth. But now, it symbolises a state prepared to repress those it declares the enemy. No questions asked, no waiting for court verdicts, no need for legal formalities. Be it couples who elope, individuals who break the law, or an instance of communal violence, the police are resorting to summary justice, and bulldozers are their allies. 
In Madhya Pradesh, three shops of Asif Khan from the Dindori district were demolished because he and his paramour, Sakshi Sahu, eloped and married. Sahu's brother complained under the state's so-called freedom of religion law, alleging Asif had kidnapped her. The administration even demolished Khan's father's house, which he had built on land given under a government scheme. The harassment stopped only when the Jabalpur Bench of the Madhya Pradesh High Court granted the couple protection.
Defenders of the state's actions habitually refer to a 2009 Supreme Court order that said the responsibility for any violence during an event lies with its organisers. The ruling says the organisers must compensate for claims arising from such violence. However, these people forget the ruling's other details, such as the prior need to prove the organisers were involved in the violence. In all the recent instances that have come to light of demolitions and summary punishment, there is no sign of legal proceedings to establish guilt. There is also no sign of a law that approves demolitions as justice for any crime.
Constitutional rights and Supreme Court judgements underline that "due process" must be followed in any case before the police or administration. Article 300A says no person shall be deprived of property save by the authority of law. Subsequent Supreme Court judgments have reiterated this stand.
The landmark 1985 Olga Tellis judgement emphasises that notice is a legal requirement, as is listening to the affected families, even trespassers, before an eviction. This stipulation ensures people get enough opportunity to leave before they are made to go. The famous Maneka Gandhi case from 1978 reiterated this position. In this case, which related to Gandhi's passport being impounded by the government on the "vague" grounds of "public interest", the court expanded the scope of Article 21. It said that due process of law is integral to the procedure established by law. In other words, no legal action can violate due process, which is integral to the Constitution of India. It also said that Article 21 relates to a "fair" not just a "formal" process of law.
A fundamental principle of natural justice is that no one should be condemned without being heard. The legal maxim audi alteram partem, or hear the other side, means each party is entitled to a fair hearing and must get an opportunity to respond to the evidence against them. All these legal principles do not seem to apply to the demolition of homes or shops.
Instead, the executive is taking on the role of judge, jury, and executioner. That is why former Supreme Court Justice Madan Lokur has asked: "Under what law can they demolish a house for an offence that hasn't been proved?"
Petitions have been filed challenging these demolitions because they are punitive measures. Notices have been issued to states where demolitions have taken place to respond. These petitions underline that such drives are a "malafide exercise of power" and target a minority community "under the guise of removal of encroachment". Hopefully, the judiciary will intervene to stop a section of the executive from transgressing into the judicial realm. Perhaps it will have a sobering effect on the legislators, for many elected representatives also do not respect the right to life and liberty.
Earlier this year, a rap from the Supreme Court forced the Uttar Pradesh government to withdraw recovery notices to people who had participated in the anti-CAA protests. In those protests, too, there was violence and damage to property and lives were lost. Yet the court told the authorities to return the money already recovered because any action taken by the state must be backed by law. 
With a pliant media ready to buy any argument that supports demolitions, some even participating in demolitions for live TV, we can imagine the fear people face. Can democracy thrive when a section of people is increasingly made politically and socially redundant? The earlier the judiciary addresses the growing fascination for bulldozers among BJP leaders, the better it will be. 
Indeed, the judiciary must also address that such demolitions are a collective punishment, which has no place in a modern legal system, which rests on individual liability, not collective punishment. Enforcing the latter violates international laws, including the Geneva Conventions, which India ratified in 1950.
While India celebrates 75 years of freedom, a colonial-era means of collective punishment, once used to stamp out rebellious regions or individuals, is coming back. Sadly, peaceful and justice-loving people have become silent spectators to the downhill journey of a cherished democracy. 
The author is an independent journalist. The views are personal.
Get the latest reports & analysis with people's perspective on Protests, movements & deep analytical videos, discussions of the current affairs in your Telegram app. Subscribe to NewsClick's Telegram channel & get Real-Time updates on stories, as they get published on our website.
Subscribe Newsclick On Telegram