India Signs COMCASA: Big Risk, Low Returns
COMCASA is the second of the two "foundational agreements" on defence signed by India and the US, the first being LEMOA or Logistics Exchange Memorandum of Agreement signed in 2016.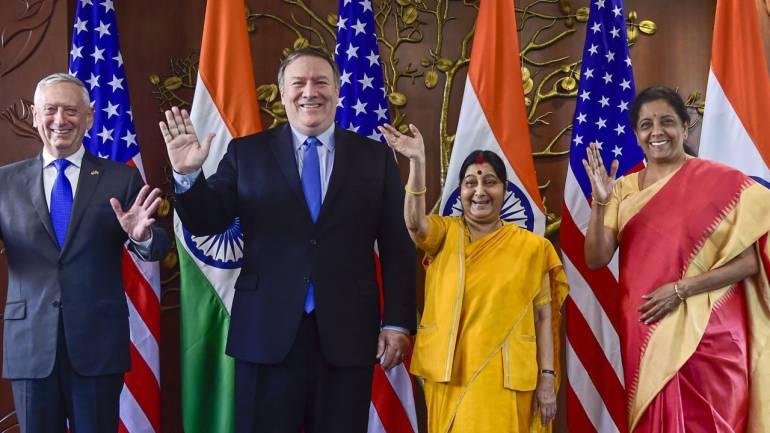 Image Courtesy : Money Control
India finally signed the Communications Compatibility and Security Agreement (COMCASA) with the US in New Delhi on 6th September during the so-called 2+2 summit involving the Defence and Foreign Ministers of both countries. COMCASA is the second of the two "foundational agreements" on defence signed by India and the US, the first being LEMOA or Logistics Exchange Memorandum of Agreement signed in 2016. LEMOA allows the two countries to use each others' military facilities as required on credit, while COMCASA enables inter-operability between the two militaries by providing for sharing of secure communications and real-time intelligence through use of advanced US hardware and encryption software. Both Agreements are usually signed by the US only with its NATO and other military allies, whose ranks India has now joined for all practical purposes. The names of the Agreements have been slightly changed from the original US designations of LSA and CISMOA to provide India a fig leaf of pretence that it has only entered into an arrangement of convenience, not an alliance. Now only the third foundational Agreement remains to be signed, namely BECA (Basic Exchange and Cooperation Agreement for Geo-Spatial Cooperation), for sharing space-based communications and intelligence.
Sections of the mainstream media are gushing about the massive gains that India's defence forces will make with the entry of advanced US equipment into this country and the leap that India is ostensibly poised to make in the geo-strategic firmament. But more thoughtful analysts have long pointed to the dangers of this Agreement and the inherent strategic tie-up with the US. While India may indeed reap some short-term benefits linked to specific weapons platforms, there are many pitfalls which may not only hamper India's defence preparedness but also undermine its strategic autonomy and sovereignty. The BJP government has finally done what the UPA managed to avoid despite internal and external pressures.
Immediate gains will be in relation to the US-made military systems that India has acquired in the recent past. Sale of military equipment by the US to India was opened up by the US-India Defence Framework Agreement, itself enabled by the Indo-US Nuclear Deal, which removed the sanctions barrier preventing sales of advanced technologies to India due to its nuclear weapons programme. Since 2007, starting from a base of zero US hardware, India has acquired US$17 billion worth of US military equipment. The C-130 J Hercules and C-17 Globemaster III transporters, P8i maritime reconnaissance aircraft, and the soon to arrive Apache attack and Chinook heavy-lift helicopters, are all currently equipped with commercial radars, communication and other equipment. After signing COMCASA, India will be able to procure higher-performance and more secure, encrypted communications equipment for use on these platforms, lifting their capability to a much higher level.
India and the US are in advanced stages of talks on US sale of armed Predator or Sea Guardian drones, with the US insisting that the sale is contingent upon India signing COMCASA. If India acquires additional advanced US weapons platforms, such as fighter aircraft, they too can be similarly equipped with COMCASA-compliant hardware, ready for "inter-operability" with US forces, similar to the US arrangement with NATO and other allies in West Asia and with Japan or South Korea in East Asia.
More importantly, these would be linked in real-time with US military systems, potentially enabling sharing of the in-depth and extensive US intelligence and operational command and control including in live operational situations. 
These are the supposed plus sides for India which have some commentators salivating. The benefits, however, are likely to be far less in reality, while the negatives are huge and have not been adequately discussed in India.
When India upgrades its already advanced US-made military platforms after COMCASA, it will definitely boost their performance and India's defence capabilities in general. However, real-time access ito US intelligence will not happen automatically, but will be realized only if and when the US decides to part with such information. And India will have to pay a price for that. The US will undoubtedly require India to participate more actively in US military operations or other strategic moves, not just as quid pro quo, but on a more long-term basis where "inter-operability" is a necessity. The US has hitherto shared such information only with its military and strategic allies. So, is India on its way to becoming one too?   
Official Indian spokespersons have emphasized that while COMCASA enables acquisition by India of high-tech communications equipment from the US, there is no obligation to do so. But when India sees the benefits compared to the many non-US platforms the armed forces now use, it will inexorably pressurize India to buy more US military hardware.
India will also face other serious problems in having a vast array of non-US especially Russian military equipment. India operates Russian-origin fighter aircraft such as the Sukhois and various MiGs, submarines, tanks, and missile systems. None of these will be compatible with US communications hardware or software, meaning that Indian armed forces will have to work with various communications systems in different weapons systems. Another factor pushing India to acquire more US hardware. So, while COMCASA will enable "inter-operability" with the US, it will damage "intra-operability" within the Indian armed forces! 
The biggest negative is the cementing of a military alliance with the US, with all that entails. No US military ally has been able to escape from the loss of strategic autonomy accompanying that. NATO allies had no choice but to join the US war on Iraq, or its war in Afghanistan. 
For all the Indian Ministers' priding themselves on winning the US over, the US has made no concessions to India, and US Ministers are returning with India in the US fold and giving nothing in return. The US has not given up its opposition to India acquiring the Russian S400 Triumf air defence system, nor has it backed off from opposing Indian oil purchases and other economic relations with Iran. The US duo also pressed India to commit to additional purchases of $10 billion of goods from the US to redress its (temporary) trade deficit with India. And all the while tempting India to buy even more US military hardware, with COMCASA as bait. Slowly but surely, the US is reeling India in to its collection of captive allies.
Get the latest reports & analysis with people's perspective on Protests, movements & deep analytical videos, discussions of the current affairs in your Telegram app. Subscribe to NewsClick's Telegram channel & get Real-Time updates on stories, as they get published on our website.
Subscribe Newsclick On Telegram