India Tops Internet Shutdown Globally for 5th Consecutive Year
Out of 187 shutdowns across 35 countries last year, 84 were ordered in India, including 49 in J&K, according to Internet advocacy watchdog Access Now.
India topped the list of global Internet shutdowns in 2022 for the fifth consecutive year. Out of 187 shutdowns across 35 countries last year, 84 were ordered in India, including 49 in Jammu and Kashmir (J&K), the annual report of Internet advocacy watchdog Access Now shows.
The New York-based digital rights advocacy group's report, 'Weapons of Control, Shields of Impunity', released on Tuesday, reads: "India implemented 84 shutdowns in 2022, and remains the country with the highest number of recorded shutdowns in the world—for the fifth consecutive year."
Since the watchdog started documenting Internet shutdowns in 2016, India accounted for approximately 58% of all shutdowns documented in Access Now's Shutdown Tracker Optimization Project (STOP) database.
From 2015 to 2022, Indian authorities "blocked, at least, 55,607 websites, URLs, applications, social media posts, and accounts. These censorship acts have been steadily on the rise with the government blocking 2.4 times, or 142%, more social media posts in 2022 than 2018".
"The responsibility of Indian states for the majority of shutdowns globally is impossible to ignore and a deep problem on its own," the report reads adding that authorities in regions across the country are "increasingly resorting to this repressive measure and inflicting shutdowns on more people in more places".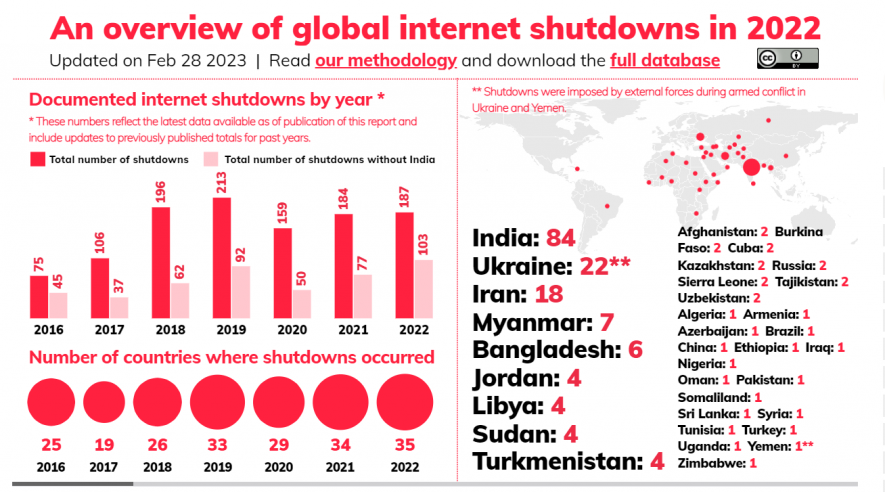 Pointing out the Internet disruptions in J&K, the report says that the government shut down the Internet 49 times "due to political instability and violence, including a string of 16 back-to-back orders for the three-day-long curfew-style shutdowns in January and February 2022".
In 2021, around 80% of all shutdowns were in J&K compared to 58% in 2022. 
Excluding J&K, West Bengal (7) and Rajasthan (12) imposed more shutdowns compared to other regions in India, "responding to protests, communal violence and exams with disruptions that impacted the daily lives of millions of people for hundreds of hours in 2022". 
Although Access Now counted fewer than 100 shutdowns in India for the first time since 2017, it is "not convinced" that the government has "embarked on the path towards positive sustained change regarding digital rights".
"Legal challenges against shutdowns, fewer mass protests in the aftermath of the COVID-19 pandemic and the sustained and increasing crackdown on dissent may have increased administrative friction or reduced the incentives for authorities to impose shutdowns," the report adds.
The group also feels all disruptions in India in 2022 weren't recorded due to the government's "persistent failure to publicly release shutdown orders in violation of the Supreme Court's judgment" and the "technical challenges in monitoring, tracking, and recording shutdowns—in particular in communities where shutdowns are an emerging issue".
Mentioning the proposed Draft Indian Telecommunication Bill, 2022, which "would empower the Centre and state governments with unrestricted powers to impose shutdowns when necessary and expedient", the report says it "signals the government's intention to continue down this troublesome path, violating fundamental rights of expression and assembly and providing opportunities to cover up human rights abuses". 
Besides, the government has "honed its playbook by increasing censorship, blocking websites and issuing takedown orders to social media platforms", it adds.
According to the report, 103 shutdowns occurred outside of India across 34 countries in 2022, passing the 2019 record of 92 across 32 countries. "We recorded 50 shutdowns across 28 countries outside India in 2020, half the amount in 2022."
The number of shutdowns in countries other than India topped 100 for the first time. Bangladesh, India, Iran, Jordan, Libya, Myanmar, Sudan, Turkmenistan, and Ukraine (imposed by Russia) had, at least, four shutdowns in 2022 compared with seven countries with, at least, four shutdowns in 2019.
"During the political upheaval, protest movements, violence, and active conflict, millions across these nine countries experienced frequent and severe shutdowns with disturbing regularity," the report says.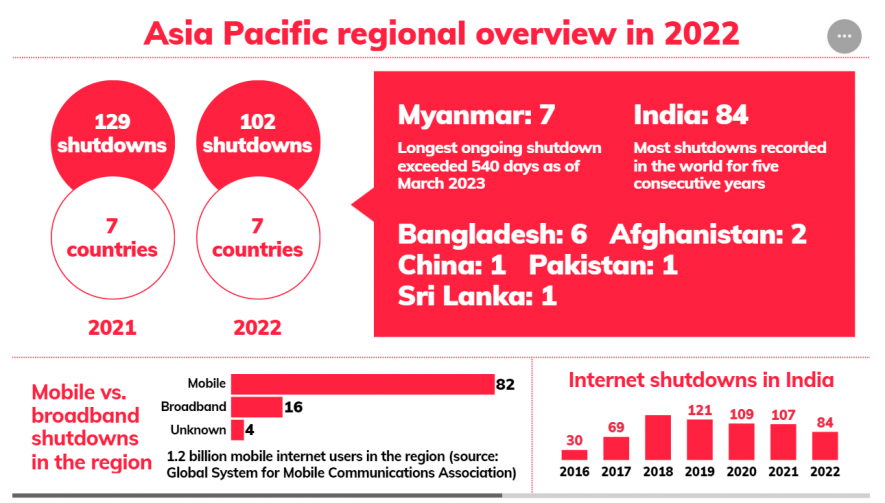 More countries outside India repeatedly shut down the Internet as "a weapon for control and a shield for violence and oppression".
Ukraine was second on the list with the Russian military cutting access to the Internet, at least, 22 times since February 24 last year. "During Russia's full-scale invasion of Ukraine, the Russian military cut Internet access, at least, 22 times, engaging in cyberattacks and deliberately destroying telecommunications infrastructure," the watchdog said.
Iran was third with 18 shutdowns in response to demonstrations against the government triggered by the death of 22-year-old Kurdish-Iranian woman Mahsa Amini in police custody on September 16.
Iran was third with 18 shutdowns in response to demonstrations against the government triggered by the death of 22-year-old Kurdish-Iranian woman Mahsa Amini in police custody on September 16. 
The report mentions that all the 35 countries "imposed shutdowns during protests, active conflict, school examinations, elections, periods of political instability or high-profile events like religious holidays or visits by government officials with an ultimate goal to assert control and silence voices".
"A majority of these shutdowns also provided cover for perpetrators to commit human rights abuses with impunity," it adds.
Prolonged shutdowns continued in full force, affecting entire regions and countries. In 2022, a record 16 shutdowns carried over from 2021, including a protracted shutdown in Tigray, Ethiopia, a blanket shutdown in regions across Myanmar, and 9 continuous platform blocks.
The Myanmar military kept people in the dark for extended periods by targeting areas where coup resistance was strongest with the longest ongoing shutdown exceeding 540 days as of March 2023.
"As 2022 rolls into 2023, another set of 16 shutdowns are still in place in many of the same countries with 12 of these having lasted, at least, one year," Access Now adds.
Get the latest reports & analysis with people's perspective on Protests, movements & deep analytical videos, discussions of the current affairs in your Telegram app. Subscribe to NewsClick's Telegram channel & get Real-Time updates on stories, as they get published on our website.
Subscribe Newsclick On Telegram