India U-17 Squad Girls Struggle to Survive as Football Big Boys Talk about Return of Big Leagues
Disbanding camps and sending campers home has resulted in terrible hardship for some of India's most vulnerable athletes. While planners talk of resuming sporting activity and creating "safe zones", six girls in the Under 17 football team for the FIFA World Cup, all from Jharkhand, struggle to find food to eat.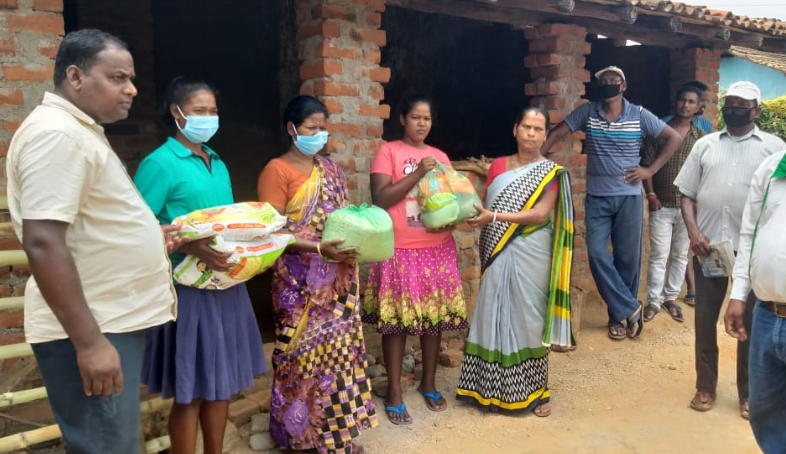 It took local news indignation and a Chief Minister's direct intervention for relief to reach Sudha Ankita Tirkey in Chainpur. The AIFF's relief package was announced nine days later.
"Everybody has suffered in the lockdown," the Jharkhand Football Association's Secretary General said over a phone call the day before yesterday. He isn't wrong. After two and a half months of death, confinement, unemployment and crises after crises engulfing the country (and the rest of the world), it is tough to disagree with these kinds of statements. 
Say that to Sudha Ankita Tirkey. The young footballer is part of India's Under-17 women's World Cup camp. Tirkey was one of many sent home when the camp was disbanded in lieu of the lockdown. She travelled home to her village in Chainpur, Jharkhand, in March to be with her family and has been there since. On May 26, local news agencies reported that Tirkey and her family (her mother who works as a house help and a younger sister), devoid of a ration card, relied on the kindness of others to survive on basic meals of rice and dal. Things got so bad that seeking help, she travelled to her uncle a few hours away and came back with some onions and potatoes. 
Also Read | Renedy Singh: Indian Football Clubs Need to Respect Player Contracts and Salaries
It gets worse. Tirkey is not an anomaly. This narrative is repeated in the cases of Sumati Kumari, Poornima Kumari, Ashtam Oraon, Amisha Bakla and Salina Kumari. 
The news report spurred action, as indeed only local news reportage can do. The Chief Minister's office (or at least his Twitter account) galvanised into combat mode. The District Collector of Gumla was duly notified of the situation and rations and supplies were made available. Nine days later, the AIFF announced a stipend of Rs. 10,000 per month to cover nutrition costs of the players while they were away from the camp. The Jharkhand Football Association claims it took cognisance and also launched into action (the reason for the delay was because "We don't have their addresses"). Soon enough, the AIFF also released a pending daily allowance for players, which was directly deposited into their accounts. 
Initially, AIFF officials cleared the matter saying players sent back from camp were the responsibility of the state associations. The Jharkhand Football Association clarified that the national federation rarely involves them when it comes to the players being sent home (thus leaving them in the dark about their location), or being released. "They book the tickets and send them to the players directly," were the exact words of the Secretary General. 
Cut forward yesterday and a carefully worded press release has cleared up any lingering bitter taste from this incident by quoting some U17 players talking about how online sessions have helped them stay fit despite the lockdown. To complete the aforementioned bitter taste loop the story quotes Nitu Linda, a midfielder from Jharkhand. 
"Our Coach and the staff are in constant touch with us through the online sessions and the drills. On top of that, the Federation has been looking after our needs and they have reached out to us for financial help so we don't compromise on our intake. It has also helped my family hugely," Linda said.
It is unfair to blame the PR machinery here. They are doing jobs created and made tough on them because of negligence at various levels of governance above. This really isn't a first. 
Age group players have been and may continue to be an afterthought. Sporting systems in India are less about creating a development model that is sustainable, and survives for years than for immediacy and context. National and state federations somehow never manage to synchronise and align goals and objectives when working the grassroots. 
Unconvinced? One off? Too much speculation? Here's another time something similar happened to U17 players from Manipur, who were part of the World Cup squad who would feature in the opening game of the 2017 tournament. The parents complained they had never even been asked if they would like to see their children play. As far as PR gaffes go this was a big one. We are a country that takes parental pride very seriously. 
It took another civil initiative — supported gracefully by a former India captain and an MLA invested in the sport — to get the parents to travel to Delhi for the opener. 
The problem isn't that these things happen. They are bound to. We are a country that seems to run on extempore. It is that they happen in such a tragicomical fashion. And the course correction is so tone deaf. The redos are just hack jobs.
Take a moment and think about those girls. Did anyone ask them how they would be when they went home? Would they be alright? Would they perhaps prefer to stay? Granted they were sent home for a break the length of which no one anticipated or could control. But here's an idea a bit left field. As soon as the lockdown was enforced, the federation could have pulled out its list of junior players sent home, run a check list and called all of them. One of the biggest funders of Indian football also coincidentally runs a devastatingly advertised telecommunications service. A few bills could've been run up. Maybe to actually help Indian football this time. 
This isn't so much an Indian football problem as much it is an Indian governance problem. You don't get the management you want, you get the management you deserve. This situation repeats itself through various spheres. A day after the 'Junta curfew' a young long distance runner, Narender Pratap Singh, found himself hastily rushing from Nashik to Patiala in the hope that he could get into the NIS before the gates shut. "Pahunch jaata toh acha tha. Ek jagah bas jao. Koi tension nahi. Thodi training bhi kar sakte thhe (If I managed to reach it would have been good. There would not have been any tension,. I could stay put and train a bit as well." 
He got till Rohtak and spent the lockdown at a 'senior's' house relying on his grace for company, shelter and nutrition.
Also Read | US Soccer Federation to Reconsider Anthem Policy
Indian sport's scouting and excellence system was created to help remove intergenerational disadvantages suffered by many athletes from rural India. Unfortunately, the system works in a way where protection is based not on equality but need and desire. A ranking system of sorts that eliminates those at the lower rungs of the ladder. And age group athletes, the pillars of this pyramid, suffer most.
Look away from sport (why not. Everyone else does) and there are some images that will forever define these few months. In no particular order here they are. A man facing a complete loss of self, tries to scoop up milk from the road in Agra. Three dogs surround him. A motorcyclist whizzes past. A toddler tries to wake the dead mother at Muzaffarpur station. A swarm of essential workers throng Anand Vihar bus stand in the hope they could get home to survive this lockdown. And because diversity is important, how about that elephant in the lake stomach filled with crackers soon to die. 
There is one common element in all. It is the P word. 
Policies are designed for urbanity. They are then applied to work everywhere. They are designed with the understanding that everyone it touches has a certain availability of privilege because the people in charge don't know much else. How else to explain these last two months?
When the rains go away everyone returns to the roads. The motorcyclist is the first person rebuked. How dare he go past on the milk? Does he have no shame? Elephant killers are castigated and called inhuman, because policies that help create animal human conflict are sensible, designed by super intelligent humans hoping for profit maximisation. Athletes are sent home because federations deem them surplus to requirements in times of crises. They are coaxed away from their families when needed, shipped back when done.
Also Read | World Cup Qualifiers and IPL Could Hamper 2020-21 Season of ISL
The JFA's Secretary General was kind enough to pacify any indignation.This was old news, he said. The girls are now eating well and everything has been resolved.  The statement, "I'll send you an article about how they are doing well now" is what modern day governance is all about.  
The idea of creating a governance system that percolates through all parts of the system equally has somehow been lost in the need for bravado and headlines. Pyramid governance has been replaced by the pyramid scheme. Money is splashed in advertising an event, rather than creating and curating it. The mismanagement of these girls is just a small example of how sports work in India. Everyone is always thinking about the big slice of pie. The leagues, the revenues, the friendlies, the clubs. The grassroots rot away.
Everyone has suffered during the lockdown. Just not equally. 
Get the latest reports & analysis with people's perspective on Protests, movements & deep analytical videos, discussions of the current affairs in your Telegram app. Subscribe to NewsClick's Telegram channel & get Real-Time updates on stories, as they get published on our website.
Subscribe Newsclick On Telegram