Indian Army: A Good Step Forward Raises Questions
How does it uphold the Constitution to hold 8 million Kashmiris captive to fight a handful of Pakistan-inspired militants?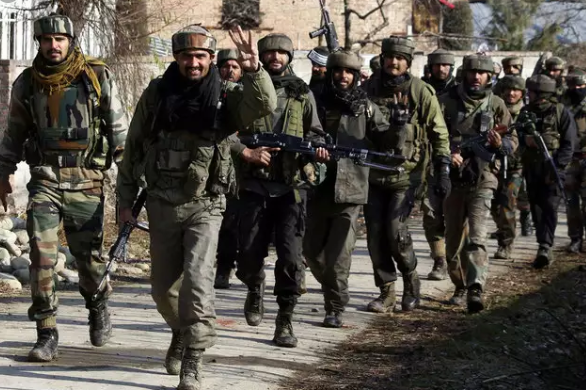 Image Courtesy: The Economic Times
A good soldier need not make a good military leader. This is something Indian people have come to realise after witnessing military officers make divisive statements, vituperative in content, pandering to the whims and desires of the ruling dispensation.
The former Army Chief, now elevated to become the first Chief of Defence Staff, has left behind a legacy which reeks of footsie with the BJP government. He had previously characterised the human shield incident as "innovative" thereby virtually encouraging his soldiers to ignore international humanitarian laws which govern conduct during war or armed conflicts.
It is in that context the new Army Chief's opening remarks at his press conference on 11 January were seen as moving away from the path laid down by his predecessor, to become something of a cheerleader for the ruling party.
A welcome break
General MM Naravane, in his opening remarks at his first press conference after taking charge, made it clear that soldiers and officers swear allegiance to the Constitution of India and safeguard "core values enshrined in the preamble to the Constitution that is justice, liberty, equality and fraternity". Although he missed out on secularism, this conspicuous absence did not raise any eyebrows. After all, it has been a long time since we heard a general speak of the Indian Army as "an army of the people and for the people".
These words acquire weight because, as he explained, the Army faces "a short-term threat of counter-insurgency and counter-terrorism but our long-term threat will always be for conventional warfare." Thus, he seemed to suggest that the Army wants to pull out from fighting its own people for prolonged periods and wants to return to its "primary role" of fighting conventional wars. These words are like a salve and have much import. Especially after we had been subjected to a language which crossed the border of decency and restraint, which was especially harsh against our own people in Kashmir.
But just a few days later, on the occasion of Army Day, the Army Chief delivered a statement dripping in partisan politics. He insisted that the abrogation of Article 370 was a "historic step" which will "prove to be important in integrating Jammu and Kashmir in the mainstream".
It's not as though the new Army Chief was innocent of the fact that what the BJP government did was controversial, divisive, and opposed by a large section of the Indian people. It's not Article 370 one needs to shed tears over—not when it had been hollowed out piece-by-piece since 1954. What is objectionable is the devaluation of J&K to the status of a Union Territory ruled directly by the central government (read, by unrepresentative bureaucrats) where Kashmiris will be mere "subjects", as was the case under feudal Dogra Rule between 1846 and 1947.
After 167 days of captivity more Indians are asking questions and raising doubts over the government's Kashmir policy. Even people in Jammu and Ladakh, who had came out in praise of the abrogation initially, no longer do so. Instead, they express apprehensions that their land and jobs will no longer be safe now that a "special status" state has been reduced to a virtual colony as a Union Territory. From businesses to professionals in Jammu and Ladakh, all are outraged at how decisions harmful to them are being imposed on their regions. To the extent that in Jammu while the BJP is allowed to organise rallies and meetings everyone else has been barred or is prevented from doing so.
As for Kashmiris, they enjoy no constitutional rights, their representatives (be it separatists or pro-India leaders) remain imprisoned. Surely the Army Chief knows that Kashmiris are Indian citizens and not 'proxies of Pakistan'. And that their right to life and liberty stands compromised.
Recall that the Indian Army has been engaged in fighting a "short-term threat" of proxy war since 1990, which makes it a 31-year-old war. This has prevented the Army from returning to its "primary task" to prepare for conventional war.
I draw your attention to the Indian Army's "doctrine of sub-conventional operations", brought out by the 'Integrated Headquarters in the Ministry of Defence'. I critiqued this doctrine from a civil liberties perspective in the Economic and Political Weekly. A companion piece to the article is also available, from 2006. This doctrine clearly recognises the distinction between fighting the"enemy" and "fighting own people" as a seminal difference. In this warfare there is a blurring of distinctions between "front and rear; strategic and tactical; combatants and non-combatants". Therefore, there "is a need to change a soldier's mindset from fighting the 'enemy' in a conventional conflict, for which he is trained, to fighting his 'own people'." Yet, it also makes clear that such engagement would not be short-term nor pursued less lethally.
So, empathy for fellow citizens gets transformed into treating them as proxies to be subdued.
"...military operations should aim firstly at neutralising all hostile elements in the conflict zone that oppose or retard the peace initiatives and secondly, at transforming the will and attitudes of the people... The endeavour should be to bring about a realisation that fighting the government is a 'no-win' situation and that their anti-government stance will only delay the return of peace and normalcy. Therefore, distancing from the terrorists is in their own interest and the only plausible course of action. However, the manifestation of such a realisation can take from a couple of years to decades as attitudes take time to form and to change."
Now, while "neutralising hostile elements" appears unexceptionable, who gets characterised as "hostile" is a flexible category. We are witness to how children as young as 10-12 year old get characterised as "radicalised" by army commanders, with consequences to follow. This gets compounded when "transforming the will and attitudes of the people" becomes the objective and begins to target children for "de-radicalisation" which is reminiscent of brain-washing charges during and after the Korean war of the 1950s. So, breaking the will of the people acquires a sinister quality. How is all this in consonance with constitutional morality and the promise of "justice, liberty, equality and fraternity"?
The proxy way
Take another issue, of the claim that this move had "disrupted" whatever "our western neighbour and its proxies" had in store. As a matter of fact, the role of Pakistan and its so called "proxies" were first created to divert attention from our government's own mistakes, when insurgency began in 1989-90 and then exaggerated to create the false narrative of its "disruption", and India's success.
Trouble is that the Indian Army has been claiming that it has beefed up the anti-infiltration grid across the Line of Control, which does not allow Pakistan to "send its militants". As a result there are reports that home-grown militants are keeping the fire of militancy burning. There are also reports that claim that Hizb was able to recruit and train "home-grown militants" inside Kashmir.
Furthermore, there are just 220 militants, 80% of whom are "home grown". In other words to expect that 220 militants have tied down a several lakh-strong Indian military or that these 220 (80% locals) pose a threat, is false. Especially when an ideologically-driven perspective informs the government's policy towards Kashmir.
Recall that by 2003 the Jaish-e-Mohammed had disappeared from the scene while Lashkar-i-Tayaba had been pushed to the background by 2013. If they have jumped back after years of oblivion, whose fault is it? If not that of the BJP-led government, then whose ham-handed style and ideological proclivity, grounded in antipathy towards Muslims, have made things far worse? Yet the fact is that militancy has remained low-key and limited. It is popular protests which gained ground, and in the name of combating the 'proxy war', the populace was targeted with a sledgehammer.
Since India has been in control of Indian held territory of J&K all this while, it is impossible for Pakistan to have initiated anything of its own accord. Its intervention was made possible because successive Indian governments, including the current government, carried on with the failed policy of military suppression, bereft of political principles and one which devalued winning over the unarmed civilians. The Indian Army and para-military forces, agencies and units of anti-terror cells have dominated the landscape for thirty years. In fact, any visitor to Kashmir can see for themselves the ubiquitous presence of the Indian military and their camps/bunkers/cantonments.
To believe that in order to fight handful of Pakistan-inspired militants today the Indian government has to turn an entire population of 8million Kashmiris captive is a cruel and odd policy and a debasement of the Constitution which spoke of "justice, liberty, equality and fraternity". What we have instead is a "national security"-driven perspective which reduces citizens to the status of a subject people and elevates "national" security above the Constitution.
Nelson's blind spot
What is astonishing is the fact that the former Army chief and present CDS, continue with his Nelsonian tirade against Islamic "radicalisation". At the Raisina Dialogue he claimed that "radicalisation starts from schools, universities and religious places" and advocated isolating children as young as 10-12 years old for "de-radicalisation".
So he could see Islamic radicalisation, amongst children as young as 10-12 years old, but remained blind to the BJP government-backed radicalisation of Hindu adults and children into Hindutva, the kid-glove treatment of lynch mobs and vigilantes across the country, especially in Jammu. That too right under the nose of the Indian military deployed in a "disturbed" area of J&K since 1990, and under BJP, wherever they rule.
Finally, the "mainstream" into which the Army Chief General Naravane wants Kashmir to get integrated is split down the middle, mired in communal filth and bigotry as semi-official policy, persecution of dissidents, attacks on students, proliferation of state-patronised lynch mobs and stupendous increase in violence against women.
Even the high and mighty stoop low in their public utterances which demoralise large sections of the people. All this invites no comment. Why? If it is alright to champion the abrogation of Article 370, a constitutional provision, which is being carried out by reducing fellow citizens to the status of a 'subject people' as during British Raj, then are we wrong in demanding that our Army Chief also speak out against the diabolical policies of the very same government which has polarised the country, turned Kashmiris into captives?
Point is not that Article 370 was sacrosanct. If it had been it would not have been hollowed-out in the first place. And many now mourning its loss ought to have spoken out more vigorously earlier. However, abrogation is just one part. What replaced Article 370, reduction to Union Territory status, where Kashmir's demographic character is sought to be transformed, is outrageous diminution.
For anyone to believe that we uphold the Constitution, even when we impose a solution on a captive population, without their consent, consultation or voluntary participation, all because it is for greater glory of India, then obviously, we are not on the same page of the Constitution.
Christopher Bassford, military historian and an authority on Clausewitz is credited for pointing out that "politicians must not attempt to use [an] instrument of war to achieve purposes for which it is unsuited". And emphasised that it is the "responsibility of military leaders to ensure that the political leadership understands the character and limitation of the military instrument." This is especially true when its a long drawn out war being waged against our own people.
So while welcoming the fact that the Indian Army swears allegiance to the Indian Constitution, it is high time that this commitment shows in army officers' words, and in the deeds of its personnel when they are deployed in "disturbed areas" empowered with AFSPA against our own people. To treat them as adversaries to be subjugated is an affront to fellow citizens, who are not the "enemy." In fact, if the Army belongs to the people of India, then let the Army under his command start to disengage from prolonged deployment in internal wars and return to its "primary role" of fighting conventional warfare.
Because so long as it is deployed against our own people, that too for decades on end, the commitment to the Constitution which promises "justice, liberty, equality and fraternity" gets hollowed out. Fellow citizens enjoy a legitimate right to speak out against the armed forces of the Union, when they are deployed in a prolonged ignoble war of suppression, which smacks of long-gone colonialism.
The writer is a civil rights activist. The views are personal.
Get the latest reports & analysis with people's perspective on Protests, movements & deep analytical videos, discussions of the current affairs in your Telegram app. Subscribe to NewsClick's Telegram channel & get Real-Time updates on stories, as they get published on our website.
Subscribe Newsclick On Telegram