Indians Refuse To Go Cashless: Another Demonetisation Bubble Bursts
Latest RBI data shows cash is back with a bang and cashless modes like e-wallets and mobile banking are again marginalised.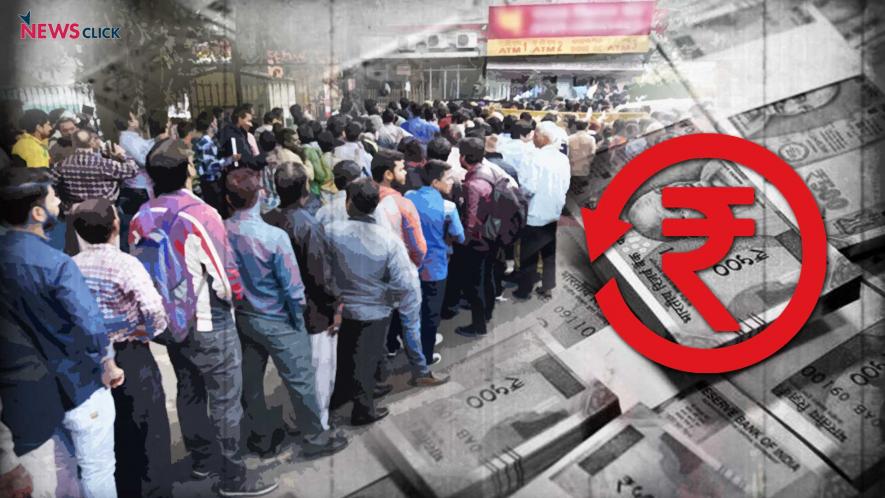 Newsclick Image by Nitesh Kumar
Cash in circulation in India is fast approaching the same level it was just prior to last year's disastrous demonetisation. Withdrawals from ATMs have bounced back to nearly the same levels. Mobile wallet transactions are down from their peak – achieved under duress – during demonetisation. And, point of sale use of credit and debit cards is up but not significantly.
All this means that one of the pillars of support for last year's demonetisation announced by Prime Minister Modi on 8 November 2016 has crashed spectacularly. Indians do not seem to be too enamoured of the great 'cashless' drive which Modi, his finance minister Arun Jaitley and the ruling BJP's drummers have been tom-tomming for nearly one year.
The main pillar of support – exposing black money – has already collapsed after it was found that 99% of the cash that was demonetised was deposited back into the banking system.
Recently released data from Reserve Bank of India (RBI) shows that Indians withdrew about Rs.2355 billion worth of cash from ATMs using credit/debit cards in August 2017. This is only 3% less than October 2016, just before demonetisation when such withdrawals were Rs.2424 billion. Data for October 2017 will be available only by December this year. It would surely be at par to 2016 by then.
Currency in circulation figures of the RBI show that in October 2016, Rs.17590 worth of cash was in circulation in the country. One year later, currency in circulation is Rs.16183 billion, just short of the pre-demonetisation figure. The government has still not completed the infusion of new notes and it is more than likely that the cash going around the country will be back to previous levels soon.
At a recent event, PM Modi yet again trotted out some dubious data to say that cash-to-GDP ratio in India had come down to just 9% from the pre-demonetisation level of 12%. Quite apart from the question whether less cash is good or bad, Modi's statement is a typical sleight of hand.
He was using the currency in circulation data for March 2017 when it was indeed 9% of GDP. But, the remonetisation (printing of new notes) was not yet complete in March 2017. It has been going on even after that and as of October 2017, the cash-to-GDP ratio is back to 11.4%. Fudging figures for validating a lie is an old trick used by governments, more so by the present one.
What about m-wallets like PayTM etc.? Their use has doubled between October 2016 and August this year. But even after that, m-wallet use comprises just 0.04% of all non-cash payments, according to RBI data. So, the two month binge indulged in by these companies and their gleeful celebrations when India was reeling under the demonetisation disaster is done and dusted with.
Mobile banking, another component of the cashless country Modi was dreaming about has declined by nearly 30% since October 2016 and makes up just 0.4% of cashless transactions.
Credit and Debit card usage at point of sale (POS) – like when you go to a department store and buy some stuff – together make up for Rs.717 billion worth of transactions. That's 0.36% of total cashless transactions.
In short, the dubious dream of hustling India into a cashless or even a "less cash" society lies in shambles. This won't come as a surprise to most people in the country except blind supporters of the cashless utopia.
The reasons for this failure are plentiful. But the main thing is that in a country where just 17% of employed persons get regular wages or salaries, and three quarters of the remaining self employed, casual or contract workers earn less than Rs.7500 per month, cash is and will remain the dominant form of transactions.
What is surprising about this whole sorry episode is that Modi and his advisors were so cut off from reality, so deluded in their own day dreaming that they convinced themselves, and forced others to agree, to launch the misadventure of demonetisation.
Disclaimer: The views expressed here are the author's personal views, and do not necessarily represent the views of Newsclick.
Get the latest reports & analysis with people's perspective on Protests, movements & deep analytical videos, discussions of the current affairs in your Telegram app. Subscribe to NewsClick's Telegram channel & get Real-Time updates on stories, as they get published on our website.
Subscribe Newsclick On Telegram