Inflation, Reduced Salaries Drive Workers to Join Historic Rally in Delhi
NewsClick talked to migrant workers after a play by Jana Natya Manch as part of the CITU campaign to mobilise people for the April 5 rally.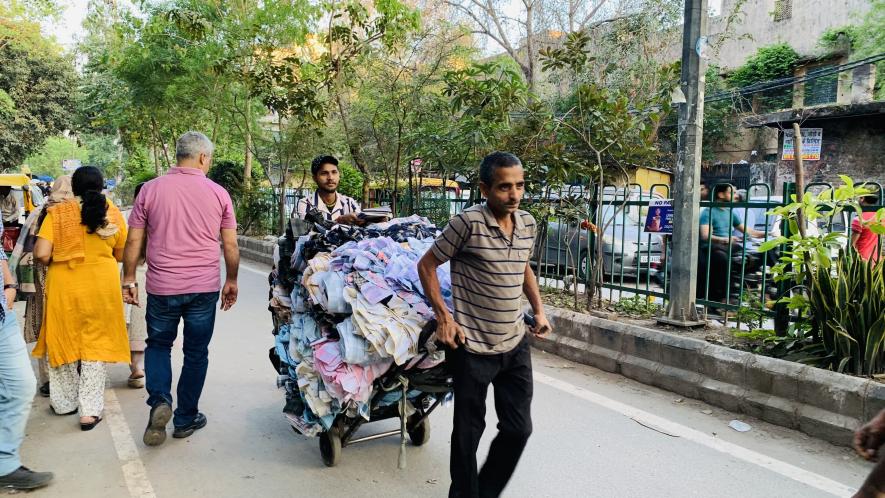 It's a dungeon. The sunlight will hardly enter rooms with 1 feet windows. Yet, one sees a steady flow of workers processing all kinds of clothes, from stitching to washing and packaging. 
The working conditions in North Delhi's Bapa Nagar are miserable. Living conditions are suffocating. However, the machines continue to run without any delay. Perhaps, this is why Delhi keeps attracting migrant workers from Bihar, Uttar Pradesh and West Bengal. 
However, workers' attention suddenly goes to appeals for the play "Sangharshon Ka Daur" by Jana Natya Manch. The play is part of a campaign by the Centre of Indian Trade Unions (CITU) to reach out to the working population to participate in the rally in Ramlila Ground on April 5. The rally's demands include revoking four labour codes and Rs 26,000/month salary for workers, among others.
As the play concludes, Manoj Gupta, who earned Rs 800 after four days of work, donates Rs 50 to the troupe. Gupta is convinced that play rightly depicted their condition. 
Talking to NewsClick, he said," I am a painter by profession; I hardly get work on all 30 days of the month. Inflation is breaking our back, be it gas cylinders, vegetables and groceries. There was no work in villages. So we came to Delhi for work; however, we are barely surviving here. There are no savings for my children," Gupta said. 
For Dataram, who stitched shirts all his life, the demand for a pension of Rs 10,000 for elderly persons appeals to him. 
"How would people like us live when we have no savings? Inflation is raging. The cost of medicines is going up too. I am spending Rs 2500 for my diabetes pills."
Both Dataram and Gupta are less likely to join the rally, but the campaign by CITU has set the mood among workers for struggle. 
Ajay Sain from Delhi Rehdi Patri Vendors' Union, who is coordinating the campaign in Karol Bagh, said that street plays remain an effective medium to mobilise people on their issues. 
"Even though a traditional method, it remains a powerful medium to communicate the message. It is a rally of farmers and workers. We are dealing with migrant workers who came from Bihar, West Bengal and Uttar Pradesh to earn their livelihood. When we talk about the plight of farmers, they readily engage with it," he told NewsClick.
"We have seen this section engaging in street vending to compensate for the loss of factory income. Factories hardly operate at full capacity, and owners pay only for work taken from workers. So, a factory worker may be a street vendor at night. The authorities are failing by not issuing licenses to them, and they are forced to pay a bribe to police to allow them their work."
Sain said that the vendors are new targets of the regime, which is portraying a sanitised version of Delhi to the delegates coming to attend different meetings of the G20 summit. 
"We constantly get complaints from street vendors that civic authorities have hounded them in Civil Lines and the Central Delhi zones. It is a direct attack on livelihood. The workers' families do not matter to the authorities. You just want a clean and barren city without people. It is one of the reasons they will be coming to the rally," Sain said. 
Komita Dhanda, a member of Jana Natya Manch, said that artists have come together with workers and farmers because art has a role in society and cannot be seen in isolation. 
"I think every thinking individual must speak up in these distressing times. There's an attack on artists, too, in the form of censorship. Sometimes it comes from the government but often from fringe elements. So, it's a mutual struggle for farmers, workers and artists."
When asked about the efficacy of the plays to mobilise people, she said, "We call these plays poster plays because it is often drafted to explain the demands of the unions. However, it remains effective because it can explain things to an illiterate person or someone with less time to read a pamphlet. Importantly, the organisations working with local communities also address people."
The union leaders maintain that the Union government has introduced four labour codes through the back door even though they are yet to be formally implemented. Fixed-term employment is a norm in the private and public sectors. Labour inspectors are not issuing challans for violations. Thus, a struggle is necessary; the rally is just the beginning.
Anurag Saxena, General Secretary, CITU Delhi, said that the difference in pay levels between the national capital and Uttar Pradesh is a big blow to the workers here. 
"In Delhi, an unskilled worker's minimum wage is Rs 16,792/month, whereas the minimum wage for an unskilled worker is Rs 9743/month. The minimum wages are not strictly complied with in Delhi. However, the Delhi-NCR region has the same living standards, rates of inflation and prices of food grains. So, the minimum wages of Delhi should be strictly implemented, and wages in other parts of the region should be brought to par with Delhi rates."
Talking to NewsClick at the headquarters of CITU at BTR Bhawan, he maintained there is no permanence like jobs, and it has worsened post-pandemic. 
"In the aftermath of lockdown, workers were laid off from every sector, be it hotels, airports or any other sector. Those who were displaced have not been reinstated. Even contractualised jobs are only for three to six months. The daily wages may have risen, but there is no security of payments. We got complaints from workers that contractors are partially paying them wages even contract has been fully executed. These reasons will push workers in Delhi NCR to join the historic rally."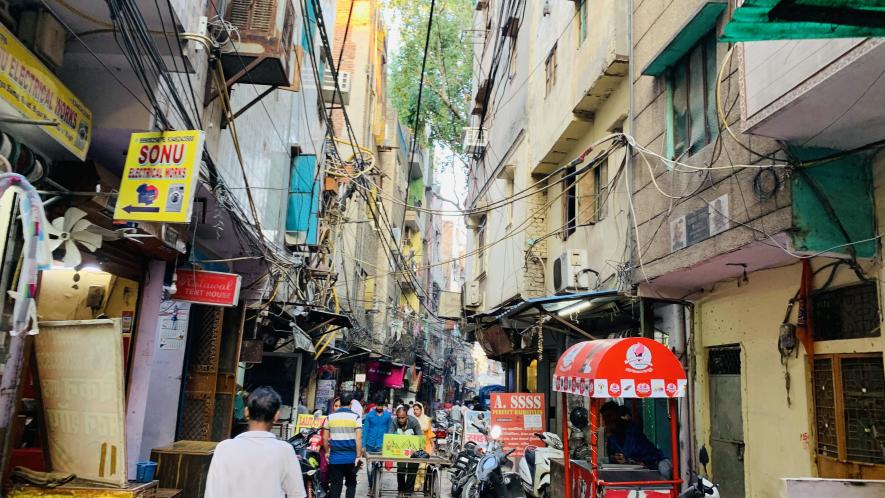 When asked about living wages' connection with nutrition and physical health of the workers, he said that the demand for Rs 26000 salary is not the sole demand of CITU alone.
"There is an overall consensus among unions that if a worker's family needs proper nutrition, room rent and education, they should get this much salary. However, I again highlight that ensuring minimum wages is also our responsibility."
He said that different unions affiliated with CITU took up initiatives like public hearings and street plays to reach out to workers and common people on their issues. 
"In public hearings, workers were invited to speak about their issues of non-payment, less work, and local issues. Lawyers, intellectuals, teachers and social activists also attended these meetings to see if they could help with these issues. We also took the help of Jana Natya Manch, which has so far performed 40 plays and garnered a decent response from people. We also applied traditional methods like handbill distribution and corners meetings to mobilise opinion about the rally."
He said that workers, particularly women workers, are furious over inflation as it has punctured their finances. 
"Salaries have gone down significantly, and the inflation is raging. The prices of essential items are ever increasing, and there is no effort from the central and state governments to contain it."
Get the latest reports & analysis with people's perspective on Protests, movements & deep analytical videos, discussions of the current affairs in your Telegram app. Subscribe to NewsClick's Telegram channel & get Real-Time updates on stories, as they get published on our website.
Subscribe Newsclick On Telegram