Insiders Allege Massive Violations in Allotment of Liquor Retail Stores to Private Players in Delhi
The Rs 7,200 crore tender for the privatisation of liquor stores in the capital went out in June 2021. Now, with successful bidders being announced by the government, trade insiders allege widespread violations of both the Delhi Excise Policy 2021-22 and the terms of the tender itself. Ultimately, these insiders say, it could cost the public as much as Rs 1500 crore.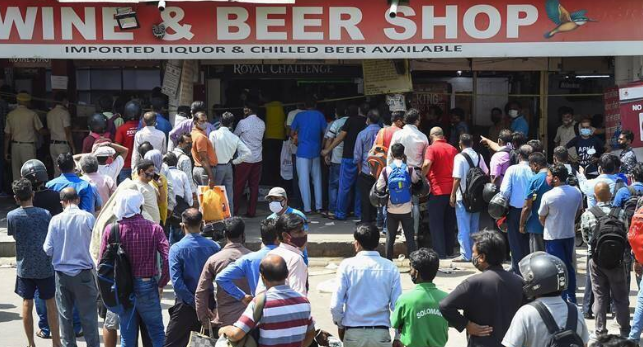 (Representational Image) All of Delhi's 850 liquor stores have been reallocated to private parties via tender process and the new, privately-run stores will begin operations from November 16 (Pic: Twitter, Financial Express).
The Delhi government's new excise policy for 2021-22 came into effect from October 1. Among the many aspects of the new policy is the critical exit of the government from operating liquor vends in Delhi. All of Delhi's 850 liquor stores have been reallocated to private parties via tender process and the new, privately-run stores will begin operations from November 16. 
The new policy has been controversial. For consumers, the closure of existing private shops for 45 days (nearly 40% of all the stores in the capital) has led to long queues and shortages both in terms of brands as well as volumes. Once the winning bidders for the new liquor stores were announced, the soup got considerably thicker. Over the course of the past week we have examined a sample tranche of publicly available data, provided to us by trade insiders and other interested parties. The data is sourced from the website of the Ministry of Corporate Affairs as well as through sources with inside access to the tender process including earnest money deposits made by some of the entities seeking to operate retail stores in Delhi. The allegations being made by these parties are serious. They range from the possibility of cartelization of the trade in the capital, to allocation of stores to blacklisted parties and the entry of manufacturers and distributors into the liquor retail sector and even collusion between the government and some entities involved in the bidding process. In short, exactly what the new policy was meant to counter and put an end to. They allege the result of these violations could lead to losses of revenue amounting to several hundred crore rupees.  
Before we get into our findings from examining the data, let's first examine some key points of the new policy below: 
That the entity is "not a defaulter, or black-listed, or debarred from holding an excise license." 

To allow the responsible players in the industry to carry out the trade transparently without resorting to any proxy model.

Entity holding wholesale licence shall not be a manufacturer/winery/brewery/bottling plant, anywhere in the country or abroad either directly or through sister entities.

Entities holding wholesale licence shall also not hold any retail licence directly or indirectly. 

The priority of the government is to promote consumer choice and availability…taking systemic measures to check bootlegging and smuggling, ensure equitable coverage… besides keeping in check the emergence of monopolies and cartels. 

No manufacturer or wholesale licence holder will be allowed to bid for retails vends, or vice versa. 

And finally, no entity will be allocated more than two zones in order to ensure that there is no market capture and cartelization. 
Several of these critical points, which impact both consumers directly, as well as the revenue of the government of Delhi, were also included in the terms and conditions of the tender issued for the retail stores. Delhi is divided into 32 retail zones with each zone containing 27 stores at an average reserved fee of Rs 225 crore per zone. Our analysis of a sample of the data on successful bidders for some of these retail zones clearly indicate violations of one or more principles of the new excise policy and indicate a lack of financial due diligence being completed by the offices of the commissioner, excise of the government of Delhi. 
Also Read | Delhi: Nearly 3,000 Employees to be hit as Private Liquor Vends Shut Shop from October 1
We sent a detailed questionnaire to the offices of the Chief Minister of Delhi, Arvind Kejriwal and of Arava Gopi Krishna, Commissioner (Excise, Entertainment and Luxury Tax) and Anand Kumar Tiwari, his deputy tasked with all retail licences, policy and litigation. The questionnaire was read by the officers on special duty attached to both Kejriwal and his deputy CM, Manish Sisodia. They asked the commissionerate to take action and respond, but, at the time of publishing, we have not yet received a response. We will update this story when one comes in. 
To give you a clear picture of the sort of violations and conflicts that came up from the data, here are some representative examples. Let's start with Balaji, a large group of intertwined companies controlled by Magunta Sreenivasulu Reddy, the sitting Lok Sabha member from Ongole constituency in Andhra Pradesh. Those familiar with Andhra politics know him to be an opportunist politician who was first with the Indian National Congress, then the Telugu Desam Party and now with the YSR Congress. The group has diversified interests in the liquor business, with distilleries and bottling operations in Tamil Nadu and Andhra Pradesh. Two companies related to the Balaji Group, namely Magunta Agro farms Pvt. Ltd. and Pixie Enterprises Pvt. Ltd. were allotted three zones (Zone 4, 23 and 32) in the recent tender process. 
Another successful bidder goes by the name of Khao Gali Restaurants Pvt. Ltd. This entity, the public-access data reveals, has close ties to the Indospirit Group. Promoted by Sameer Mahandru and Geetika Mahandru, the Indospirit group is involved in both distribution and manufacture of liquor as well as wholesale. The promoters are blacklisted in Delhi till 2022, but Khao Gali has, nevertheless, been awarded Zones 2 and 3 for retail purposes. 
An examination of the earnest money deposits also seems to indicate some collusion or cooperation between Balaji and Khao Gali. For example, the Rs 25 crore EMD in support of Magunta's bid was furnished by Bubbly Enterprises, a manufacturing setup part of the Indospirit group. A further Rs 35 crore was furnished by Primus Enterprises and Hiwide Enterprises, both part of Balaji Group with links to liquor manufacturing. In the context of Khao Gali's successful bid, at least Rs 25 crore EMD was furnished by Zainab Trading Pvt. Ltd. whose ownership traces back to Raghav Magunta, a liquor manufacturer and son of M Sreenivasulu Reddy. 
Also Read | 2021-22 Q1 GDP Data Overestimates: Economic Shocks Question Methodology
Finally, there is the Som group of companies from Madhya Pradesh that has interests in manufacturing, bottling, distribution and retail of liquor. Over the years several group companies and directors have been blacklisted in MP over non-payment of excise dues. Despite all this material being public, an entity by the name of Raisen Marketing, that can be tied to the Som group, won a retail zone in Delhi. 
According to a source familiar with the liquor trade in Delhi, who did not want to be named, the tender process has been tainted. "The excise commissioner had one week and the considerable resources of the government at their disposal to conduct financial due diligence," the source told NewsClick. "Clearly, some deals were struck when Mr Reddy visited Delhi and the successful bids are a result of the government choosing to look the other way. In exchange for what? I don't think that you need much of an imagination to figure that out." Given the amount of attention garnered by the new Delhi Excise Policy, we will be keeping a close watch on this developing story and bring you updates as soon as we have them. 
Meanwhile, a copy of this article was shared with a number of the companies mentioned above, to the email addresses listed in public based on information with the Registrar of Companies. A response is awaited and we will update this piece if we receive any. We are also publishing the entire tranche of data here (https://discord.com/channels/898206228650553404/898206370178932756), so anyone can access and verify it.  
Get the latest reports & analysis with people's perspective on Protests, movements & deep analytical videos, discussions of the current affairs in your Telegram app. Subscribe to NewsClick's Telegram channel & get Real-Time updates on stories, as they get published on our website.
Subscribe Newsclick On Telegram