International Day of Solidarity with Palestine: Strengthening the Resistance Against Occupation and Apartheid
Since 2005, the Palestinian-led global Boycott, Divestment and Sanctions movement has paved the way for grassroots mobilization in this direction.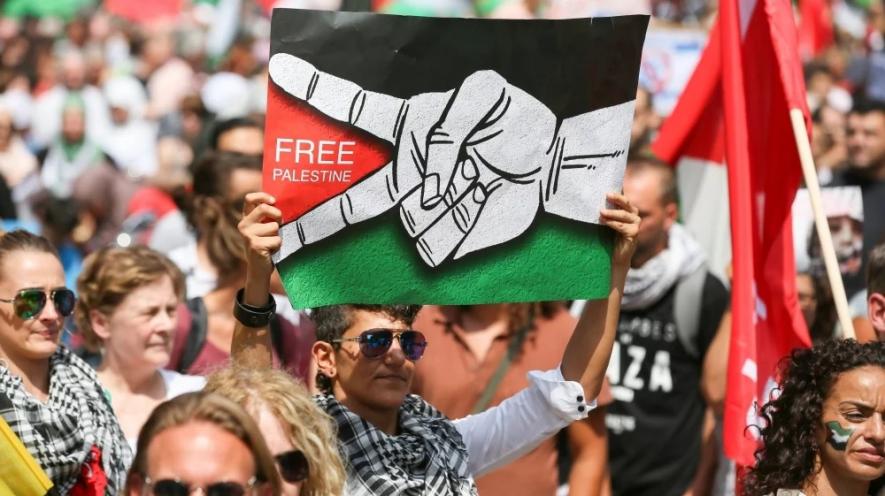 A protester in Brussels, Belgium, holds a placard reading 'Free Palestine' during a demonstration showing solidarity with Palestinians (Photo: Al Jazeera)
Since 1977, 29th November is observed by the United Nations as the International Day of Solidarity with the Palestinian People. Since 1947, when the United Nations partitioned Palestine, resolutions after resolutions have been brought up in the General Assembly, Security Council and other fora to address and find a resolution to the seven decades of occupation, apartheid, and colonization of Palestine. In the words of the Secretary General of the UN, António Guterres, 'The decades-long Palestinian struggle for self-determination, independence and a life of dignity faces numerous obstacles, including: continued military occupation of Palestinian territory; ongoing violence and incitement; continued settlement construction and expansion; deep uncertainties about the peace process; and deteriorating humanitarian and economic conditions, particularly in Gaza.'
Although the words of the UN Secretary General are commiserating and accurately reflect the situation, we cannot forget that with its 1947 Palestine Partition Plan, the UN gave legitimacy to the subsequent ethnic cleansing of most Palestine's indigenous population by the Zionist movement and by the state of Israel (the Nakba 1948). The UN Plan gave recognition to the settler-colonial Zionist movement and its project to become a state in Palestine. The UN even called one of the two proposed states a "Jewish state", although around 50% of its population was indigenous, mainly Arab population.
Evidently, it is through people's movement that effective solidarity for Palestine can be built. Since 2005, the Palestinian-led global Boycott, Divestment and Sanctions movement has paved the way for grassroots mobilization in this direction. The movement calls for non-violent pressures on the state of Israel as well as complicit institutions and corporations until they respect Palestinian human rights and international law. Around the world, groups have organized and won using these tools which were sharpened at the time of anti-apartheid struggle in South Africa. From artists cancelling performances in Israel, to corporations cancelling contracts to local governments ending ties, the movement is growing from strength to strength.
Crucially, civil society groups have built the understanding that ties with Israel not only sustain the oppression of Palestinians, they also exacerbate local militarism and right-wing exclusivist shifts. In July this year, in a conference and public hearing organized in Rio de Janeiro, 'United Struggles against Militarisation from Latin America to Palestine', activists shared experiences and built joint efforts to counter Israel's occupation of Palestine and also its growing ties with authoritarian regimes everywhere. India alone buys 50% of Israel's weapons exports. Along with arms, what is also exported by Israel is its ideology and methodology of repression which finds fertile ground in repressive regimes. From India, Gautam Navlakha participated in this conference where shared the nature and extent of India's military ties with Israel:
As is becoming clearer, there is a larger picture being painted here which we should turn our attention to. The trends of military and security infrastructure and equipment exchange between India and Israel are rooted in the ideological affinity between the two. This affinity is with respect to militarization of civilian life, repression of political dissent, mass surveillance and securitization couched in the language of 'counter-terrorism'…
Important thing to note that the seminal distinction between Combatants and non-combatants are one of the ground principles of International Humanitarian Laws (or Laws of War) which come into play during war and armed conflicts. If unarmed civilians become fair game for armed government soldiers, since they are now regarded as combatants, then commission of killing, sexual violence, enforced disappearance, torture, foisting false cases which are ruinous for affected people, become the new "normal". Since Israel follows the same practice vis a vis Palestinians and characterizes civilian Palestinians as combatants and therefore valid target to be fired upon, it seems Indian and Israeli militaries think alike.
India's Prime Minister Narendra Modi in an interview he gave to "Israel Hayou" (Tel Aviv) on June 04,2017 said that "India and Israel are not immune to it (terrorism). We are in full agreement that element which perpetrates violence on innocent people should not be allowed to flourish".
The importance of this becomes evident when we see how rapidly military ties have grown from transfer of military equipment and components to include 'Counter Terror' as well as Policing. And reaching "full agreement" with Israel over such "elements" that "perpetrate violence" is evidence of close ties.
Taking the connections built in this conference forward, in response to the recent attacks in Gaza where 12 civilians were killed in early November, these groups issued a joint statement condemning the attack and calling for internationalizing the resistance to racism and militarization. Their statement is reproduced here:
After 70 years of the Nakba (ethnic cleansing), the Palestinian people continue to suffer systematic violations of their rights by the State of Israel.
The Latin American, African and Asian movements of solidarity with the Palestinian people repudiate the new massacre by Israel that killed in the last week more than 12 Palestinians and Palestinians in the Gaza Strip-Occupied Palestine-, wounding dozens of people by the constant bombardments to which the Palestinian population is subjected.
The governments and peoples of the world must demand justice against those guilty of these crimes against humanity. The international community can not remain silent in the face of the genocide of the Palestinian people. We demand that Israel submit to international law and comply with UN resolutions. Also, that our governments break diplomatic and commercial ties with the segregationist regime of Israeli apartheid.
We join the efforts for a military embargo against the State of Israel, in solidarity with the Palestinian people and in defense of our own rights and struggles. If states and companies globalize racism and militarization, we internationalize our resistance!
Enough of apartheid, colonization and occupation. Enough of genocide against the Palestinian people. For the freedom of political prisoners and the right of return of refugees
On the day of International Solidarity to Palestine, these growing efforts to build a global struggle against Israel's occupation, apartheid and colonization of Palestine and against repression and militarization everywhere offer us a crucial lesson in solidarity and the importance of grassroots mobilization.
(The author is the South Asia Coordinator for Palestinian Boycott, Divestment and Sanctions (BDS) National Committee)
Get the latest reports & analysis with people's perspective on Protests, movements & deep analytical videos, discussions of the current affairs in your Telegram app. Subscribe to NewsClick's Telegram channel & get Real-Time updates on stories, as they get published on our website.
Subscribe Newsclick On Telegram