Is the International Order Changing?
As the Indian ruling class is ideologically and materially invested in the US, investing in Eurasia now will pay dividend only in the future.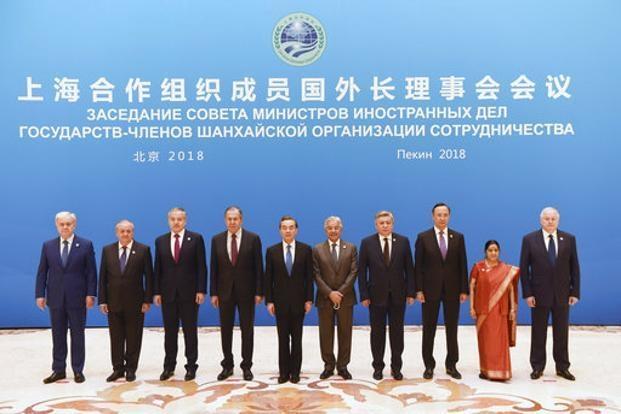 The headline grabbed by India's corporate media – print and electronic – on Shanghai Cooperation Organisation (SCO) was about India's ostensible 'snub' or 'rebuke' to China over its Belt and Road Initiative. In the process, they missed out on other more significant aspects of the joint statement adopted by the eight member States, of which Uzbekistan, India and Pakistan are new members. The fact that India gave vent to its reservations on BRI, yet went along on all the other issues in the Declaration, and signed 12 agreements speaks of the value of not letting 'differences become disputes', and seeking out areas of convergence. The two-day meeting of the SCO –18th meeting of the Council of Head of member States at Qingdao – ended with a joint statement, strikingly in contrast to the messy summit of G7 western grouping. The US pulled out its support at the last minute from the joint statement at the G7summit. This indeed necessitated a fair coverage and analysis of SCO, and not one driven by hostility towards China and others.  
The openness displayed by the SCO where a member country can endorse or reject issues is a good omen because this follows the decision that China and India had reached at the 'informal summit' at Wuhan, where it was emphasised that the two countries will not allow their "differences" to turn into "dispute". In this sense, UPA Government's decision in 2005 to get close to SCO has borne fruit, now that India is a full-fledged member.
With eight member countries, four states [Afghanistan, Iran, Mongolia and Belarus with 'observer' status] and six 'dialogue partners' [Armenia, Azerbaijan, Cambodia, Nepal, Sri Lanka and Turkey], SCO has gained credibility also because the US administration has been going hammer and tong against its friends and foes. SCO member states comprise 50 per cent of global population and share nearly 25-30 per cent of world trade. So, at a time when G7 is a divided house over "rules-based international order", the SCO has pushed for backing the WTO regime. China's president told a post-summit press conference that the members of SCO have agreed to 'uphold' the authority of WTO rules, to strengthen an open, inclusive, transparent, non-discriminatory and rule-based multilateral trade regime and to oppose the trade protectionism.
So, India  has to be "nimble footed" in its diplomacy now, having wasted four years chasing close ties with US and its allies at the expense of neighbours, slowing down on ties with Russia and acting tough towards China. For India, it is a tougher ask to juggle forging military alliance with the US in the name of 'rules-based access to air and sea', while simultaneously endorsing rules-based international economic order, where it is engaged in dispute with the US over a number of trade-related issues including India's military trade with Russia. 
How this will play out remains to be seen because in Asia-Pacific, India is a part of a military alliance in the making – with Japan, Australia and US, better known as Quadrilateral Alliance – while improving relations with China and Russia, hitherto downplayed.  
For instance, India participated in quadrilateral security dialogue with the US, Japan and Australia directed against China, at Singapore, on the eve of SCO summit. On the other hand, under the auspices of SCO, India, Pakistan and China were on the same side to work out the Regional Anti-Terrorist Structure. (Recently, a meeting was held in Pakistan to work out legal framework for such.) In August, Russia is hosting military drills again in Ural for two months where all the three countries will participate once again. Although, SCO is an organisation of equals working together on anti-terror or working together jointly on a peace mission, while the Quadrilateral Alliance in the making is where US's overlordship is taken for granted. Therefore, they cannot be compared. The point is that SCO provides another pivot for regional cooperation in Eurasia. 
In other words, India will require more than the "nimble footed diplomacy", given that India's trade, investment, technical and cultural ties are with the US and the West Europe, Japan etc. The Indian diaspora has "flourished" in Anglo-Saxon world, and India also has important Western security partners apart from sharing 'liberal democratic' credential.  
Now, all this may be true, but it is equally correct that after wasting years in futile pursuit of hardline vis-a-vis neighbours, from Nepal to Pakistan and China, as well as misperception of Russia-China relations harming India's interest, India has been compelled to change the track. What has helped is the US administration, which has used a sledgehammer in shape of extra-territorial sanctions against countries such as India, virtually asking them to submit to its diktat. Even the ardently pro-US ruling BJP finds US's bullying unpalatable now. Without India diversifying, this cannot be countered. That is where Eurasia looks promising where road and rail links over land offers enormous potential for regional economic cooperation. The legacy of British Raj with its obsessive fear of Russia and the Great Game, and bitter relations with neighbours China and Pakistan after 1947 resulted in militarisation of India's northern borders, cutting off pre-colonial trade routes with Central Asia. SCO membership offers an opportunity to get around this obstacle. In Afghanistan India's redline on Taliban has no takers, neither in the SCO nor the US, which is pushing hard for talks between the regime and Taliban. If prospects for peace in Afghanistan improve, Central Asia becomes attractive for known deposits of fossil fuel and natural gas as well as future possibility of opening up of land route through Pakistan to Afghanistan and beyond, for the Central Asia and Russia to grow. All this makes SCO heftier.
Besides the Qingdao Declaration, a joint statement was also announced on 'Promoting Trade Facilitation', including a five-year plan for implementing 'Long-Term-Good-Neighbourliness, Friendship and Cooperation', as well as on deepening cooperation in fighting terrorism, and on member countries' opposition to trade protectionism.
While India stayed away from endorsing BRI, the paragraph on terrorism saw India signing although no country was singled out – something Indian government reflexively does to refer to Pakistan each time the Indian government speaks of "terrorism".  However, the fact that the differences did not come in the way of announcing the Declaration as well as joint statements or the twelve agreements is also a sign of a less rigid course adopted by SCO, which allows countries to retain their differences, abstain from issues on which they disagree, but to build on areas of common interest and convergence. 
However, while we are still at early days of Indian diplomacy having to juggle burgeoning military ties with US, while opposing its arbitrary international rule busting policies, the fact is that US has rarely taken kindly to countries which defy it or try to chart an independent course. On the other hand, China claims that the two neighbours are neither competitors nor rivals in either Indian or Pacific Ocean. At Singapore's Shangri La Conference, China reminded India, alluding to India's criticism of China over South China Sea, that 55 per cent of India's trade passes through here without obstruction. But, it is true that China's refusal to abide by ruling of International Court of Justice on Law of the Sea has affected ASEAN countries, which too have a claim in SCS and this puts at risk any venture between say Vietnam and India for oil exploration. If despite this difference SCO allows relations to move forward on other fronts, so much the better.
Reason for caution is that changes prompted by circumstances – in this case US's bullying – may compel the pro-US BJP government to take a strident stance vis-a-vis US on trade and sanctions, but this could all be bidding for time before things change in the US. As the Indian ruling class is ideologically and materially invested in the US, investing in Eurasia now will pay dividend only in the future. However, the BJP government's commitment to this new track will be clinched if India does not succumb to US's pressure and sign the two pending foundational pacts COMCASA and BECA.
Get the latest reports & analysis with people's perspective on Protests, movements & deep analytical videos, discussions of the current affairs in your Telegram app. Subscribe to NewsClick's Telegram channel & get Real-Time updates on stories, as they get published on our website.
Subscribe Newsclick On Telegram