Investment Summits: All Dressed Up and Nowhere to Go
Past record shows that promises made at these summits don't get fulfilled – and there are reasons for that.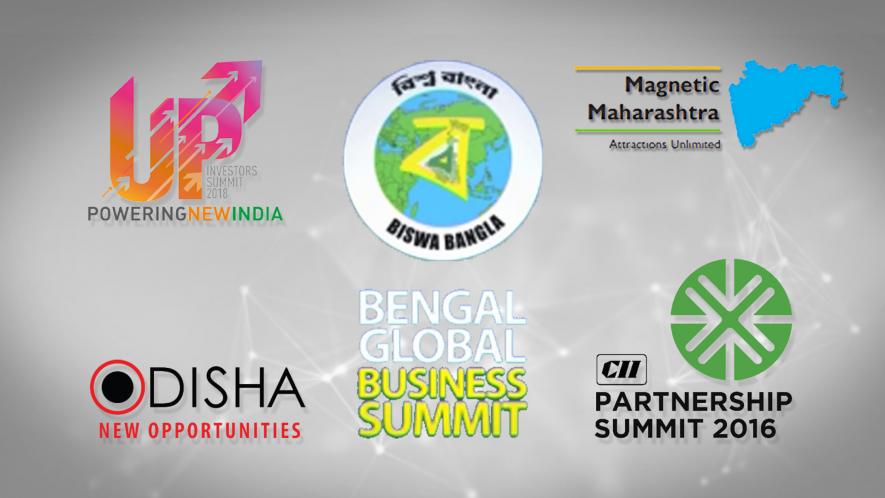 Newsclick Image by Nitesh Kumar
In One Thousand and One Arabian Nights, there is a famous story of a prince from the Barmecide dynasty (Barmakid in Persian) who torments a hungry man by inviting him for a feast where nothing is served but the Prince pretends to welcome each new dish, describes its vessel and its delicious nature and goes through the motions of eating while urging the hungry man to also eat to his fill and enjoy.
We are witnessing something of the same sort in India this winter. Magnetic Maharashtra, UP Investors Summit ("Powering A New India"), Bengal Global Business Summit, AP Partnership Summit, Odisha Startup Summit – a series of high profile events have recently been in the news. India's top corporate honchos were falling over themselves in declaring targets of investment – and jobs to be created – in the presence of Prime Minister Modi and/or the state's Chief Minister. We were treated to jumlas galore, paens of praise for the vision and sagacity of the political powers that be, and of course promises of a rosy, dazzling future.
In the Magnetic Maharashtra summit (19-20 Feb) investments worth Rs.16 lakh crore were promised by the industrialists as also 36.77 lakh jobs. UP's summit (21-22 Feb), threw up promises of Rs.4.28 lakh crore and 40 lakh jobs. Earlier, the Bengal Global Business Summit (16-17 Jan) had painted a future picture of Rs.22 lakh crore investment and 20 lakh jobs. AP's summit (24-26 Feb) is already slated to raise Rs.2.56 lakh crore. Last years have seen Resurgent Rajasthan and Happening Haryana summits, not to forget Momentum Jharkhand.
This is Modi's Gujarat model gone pan-Indian after the BJP has won several states. Remember: Gujarat started it all with eight Vibrant Gujarat summits since 2003, the last one in 2017 which yielded promises of an estimated Rs.30 lakh crore.
Why is one reminded of Barmecide's Feast? Because, it seems that a large majority of investment 'intentions' or 'proposals' flounder and tank, in most states. A study last year came up with a rather shockingly disappointing rate of completed projects compared to announced intentions.
If you really think about it, this is not all that surprising. These investment jamborees are all about optics – people trying to impress other people. The ruling party is trying to impress – and hopefully win over – common people of the state by promising jobs. The state unit of the party is trying to impress the corporate honchos that they are up to speed and that their state has the best to offer – cheap labour, cheap utilities, cheap land, low taxes and maybe low overheads (like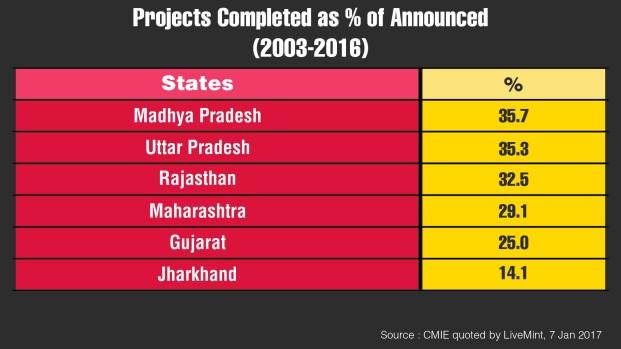 kickbacks and commissions). The tycoons are trying to impress the PM, the ministers and the chief minister with their sycophantic praise and big numbers. Behind the scenes, everybody is also trying to network with everybody else because that's how business gets done. And, of course, business houses are trying to squeeze out as much juice out of the govt. as possible to shore up their future margins.
Recent summits seem to be fast approaching cloud cuckoo land. In Magnetic Maharashtra Summit, Virgin Hyperloop actually got the state govt. to sign a framework agreement for building a hyperloop between Mumbai and Pune. Doesn't matter that the technology has not even been tested globally, but they already have the numbers worked out: travel time reduced to 25 minutes from 4 hours, 150 million passengers, Rs.350,000 crore savings!
But have a look at some real numbers. The Index of Industrial Production has increased by a measly 7.42% in the 20 months between May 2016 and December 2017 as per RBI. That's an annual growth of a mere 4.5%. Credit to industry has grown by just 3.6% between June 2014 and October 2017. That's an annual growth rate of less than 1%! In fact bank credit to industry has declined in recent months. Gross Capital Formation, as per CSO, has registered declining growth falling from 10.2% in 2014-15 to 6.3% in 2015-16 and 5.2% in 2016-17. Unemployment is raging at over 5.7% according to CMIE, mainly because new investment is not growing and hence new jobs are not growing. On the other hand, several sectors, like IT, are throwing out people.
Overall, the Indian economy is continuing to stumble along in conditions where demand is suppressed. That is the root cause of the above sad industrial numbers. No amount of promises by business bigwigs is going to lift demand. So all these summits are going to yield nothing but a few grains of sand.
Get the latest reports & analysis with people's perspective on Protests, movements & deep analytical videos, discussions of the current affairs in your Telegram app. Subscribe to NewsClick's Telegram channel & get Real-Time updates on stories, as they get published on our website.
Subscribe Newsclick On Telegram