IPL 2021: Of Bubbles & Men Whose Heads are Stuffed in Them
What is it about the current season of the Indian Premier League (IPL) that provokes anger? It isn't the game itself. It is the lack of empathy, as well as the blinkered approach most cricketers and administrators have taken towards the game — as Covid-19 rages across the country — that hurts the most. At what cost sports entertainment when millions suffer away?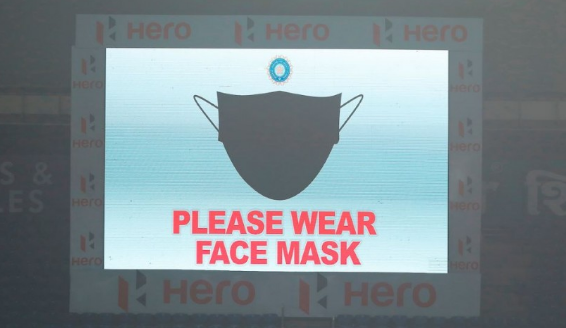 A message on the digital scorecard at the stadium where an IPL 2021 match is being staged is possibly the closest the BCCI and the league organisers have come to showing some regard to the people outside their biosecure bubble.
In May last year, Delhi's Feroz Shah Kotla, the iconic cricket venue now known as the Arun Jaitley Stadium, was converted to a temporary shelter for migrant labourers before they were allowed to travel to their home states. What ensued — with the hindsight provided by time — was a crisis born out of government mismanagement and apathy towards the working class.Thousands stayed in temporary tents at the Kotla, gripped by fear brought on as much by the pandemic as by their bleak economic prospects. Some made it home in the days and weeks after, many did not. Both sets endured loss and tragedy that could have been avoided. Their struggle goes on.
Today the scale of the disaster we are facing is, in almost every part of the country, devastating. A second wave of Covid-19 has hit our underprepared nation with a might that will leave many dead and millions scarred for life. The reasons for such an escalation, sickeningly, remain the same. And, as the month of May approaches, Kotla is getting ready again. This time, however, the decking up has nothing to do with the pandemic. The stadium will host the Delhi leg of the 2021 Indian Premier League (IPL) from April 28 to May 8, playing out a tournament as if in a parallel universe. The Board calls its universe the IPL bubble. Apt enough. It began in Mumbai, a city equally devastated by the pandemic, and, after going through four other cities, will end at the newly minted Narendra Modi Stadium in Ahmedabad (the Motera). Apt indeed. An exercise in indifference and hypocrisy ending in a stadium named after its perpetrator-in-chief. 
There is no parallel universe here, though. The IPL is as much a reality of this country as election rallies and religious gatherings pushed for by those in power. Amidst lockdown. And inaugurating statues and parliament buildings have been given precedence over hospitals and general welfare. 
Also Read | Vinesh Phogat Details Out Her Tokyo Plan
Of course the IPL organisers, the Board of Control for Cricket in India (BCCI), know that not too far from the stadium where sixes, fours and wickets would be celebrated, funeral pyres are being lit, some on footpaths because the cremation grounds are overflowing bodies of the dead.
The league, and its champions this year, would stand and lift the trophy over countless dead. Has the crass and brash BCCI top brass considered how that image would haunt the game forever? Where was cricket, and the rich and all powerful Indian board that controls the game, when India needed them to be a little empathetic if not outright dutiful or accountable? They could have easily opened their coffers and stadiums to house and treat the needy gasping for breath and dying on pavements because hospitals have run out of beds. 
Instead, they are playing franchise cricket, The hypocrisy in their meticulously created bubble is evident with just one example. Every person in the IPL biosecure bubble undergoes an RT-PCR test once every two days. A sinful luxury in these times when Covid-19 patients across the country have to wait between three to seven days or more to get their tests done and results to arrive. We are talking about patients who need that test result for medicines or even admission into a hospital. A matter of life and death. 
Indian cricket is in a bubble so thick that they probably can't hear the wailing sirens of emergency vehicles, and the cries of the people outside. The stakeholders of cricket are too self obsessed to realise the implications their reluctance towards social responsibility will have on this nation. Abhinav Bindra, India's only individual Olympic gold medallist, questioned this reluctance of the game, and the players, to understand what the need of the hour is.
Also Read | Super League a Necessity, Project Not Dead: Real Madrid President Florentino Perez
"Cricketers and officials can't just live in their own bubble, and be totally deaf or blind to whatever is going outside (sic). I can only imagine that while you're having these IPL games, outside the stadium you have ambulances going to hospitals. I don't know how the coverage on TV is but I would really appreciate it if it's a little bit muted in nature. I think celebration and everything around it should be at a minimum because you have to show a little bit of respect to society," Bindra wrote in his column in The Indian Express. The key difference here being that the deaf and blind do not live with those impairments out of choice.
"If we show some kindness, it'll help us heal as individuals and as a nation. That process is not going to be easy. We know the pandemic isn't ending tomorrow, but we don't know what the endgame is. So many people are going to lose their lives, so many families are going to be affected… it's going to be so tough."
Kindness. Well that, luckily, has been the saving grace in this second wave, though that alone has not saved lives. It has saved our belief in humanity though, while everything else is shaken or crumbled. People have risen above all their pain, difficulties and differences to help each other in any which way they can. But that's people for you, the population, who are always resilient in crisis and somehow manage to live on, despite being failed repeatedly by governments when they need it most. 
We have, at present, the worst possible leaders to lead the country even as, like Bindra puts it, the endgame looms large. The endgame, and its pain, the deafening cries, are already audible, despite the cacophony of digitally introduced crowd noise in the IPL broadcast. The much needed distraction for the masses, or so the justification goes. 
Also Read | Cricket Anti Corruption Units Face New Challenge From Bitcoins
Who watches these games, have you wondered? Well, the justification that it offers a distraction or temporary release for those in pain, is a cruel joke in itself. When you are running from one corner of the city to the other to procure oxygen cylinders for a dear one gasping for breath, you need a distraction. Right. You need to know which cash-rich franchise won. You need to know whether Virat Kohli hit a century or not. 
The country does not need distractions anymore. It has had too many in the past seven years. It is these distraction and diversionary rhetorics which have brought things to where we are now. And when India is burning, a stadium in the middle of the capital of the country that has seen over 2000 deaths on average every day in the past week, will switch on its floodlights for a mad show of arrogance. 
Shallow justifications are there aplenty, for sure. The IPL is being staged to keep afloat the shaken sports economy in the country, they say. Well, it serves cricket for sure, this league of international mercenaries. But the Indian sports economy has more to it than cricket! And those disciplines will continue to suffer and exist in obscurity even as the IPL thrives. The cricket economy was never shaken to start with. This IPL will end up creating more wealth for the blatantly self-serving establishment with a sickening disregard for the value of human life. Any parallels you sense with the ruling party are not coincidental!
Also Read | What the AFC Champions League and FC Goa's Debut Mean for Indian Football 
The country is in a state of health emergency unlike any it has witnessed since its birth in 1947. The disaster is gathering steam as we speak. There seem to be no answers and the only thing left to do is to weather the storm and hold onto whatever little we have got — be it love, lives of kith and kin or peace in existence. 
The statistics are damning. For cricket, a game of statistics, it is still not too late. One can only hope the power brokers of the game wake up and understand that when these statistics are tabulated in history books — the centuries and sixes hit in the IPL in 2021 will be scorned upon. The only numbers that will matter by then will be the lives lost and the lives left to live in the memories of those who left much before their time. And where would IPL be at the time. Well, irrelevance would be an apt punishment… the people's revenge, to cricket as well as to the leaders who led us to where we are now.
Get the latest reports & analysis with people's perspective on Protests, movements & deep analytical videos, discussions of the current affairs in your Telegram app. Subscribe to NewsClick's Telegram channel & get Real-Time updates on stories, as they get published on our website.
Subscribe Newsclick On Telegram