Irregular Salaries of DIETs in Maharashtra Despite Increased Work Load
District Institute for Education and Training (DIET) comes under State Council Education for Research and Training (SCERT). Maharashtra's DIETs have been deprived of salaries for four months.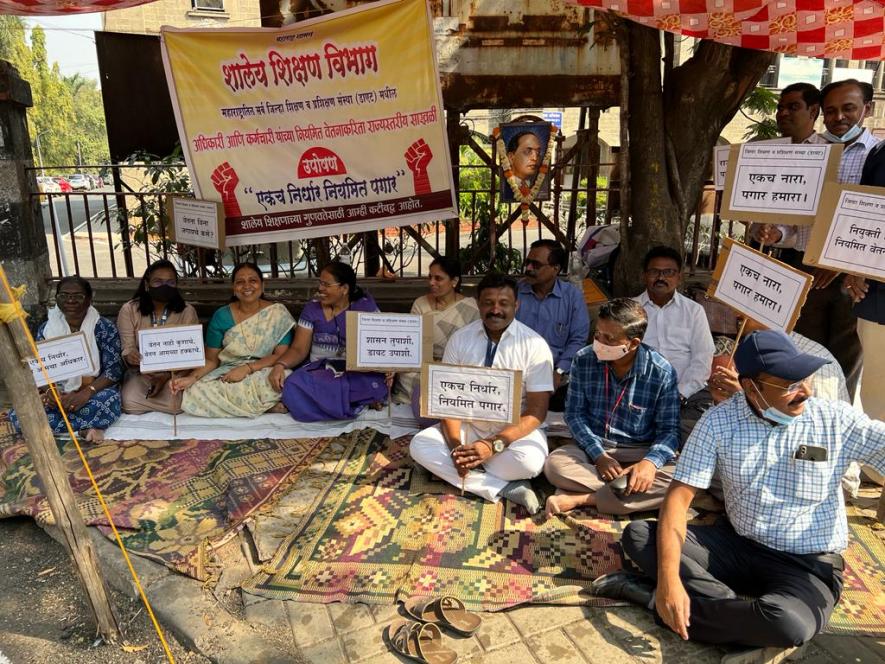 Shobha Khandare is a principal in District Institute for Education and Training (DIET), Pune. Her post is equivalent to deputy director. But, Khandare hasn't received her salary for four months. Her last salary was deposited in November 2021.
"Surviving without salary in these days of inflation is very tough. We had COVID-19 patients at home. We utilised our savings for their treatment. Now, this irregular salary has increased our mental stress," said Khandare.
She is one among 546 employees under the State Council of Education Research and Training (SCERT) facing the same issue for over two years.
When National Council for Education Research and Training (NCERT) was set up, it was mandatory for all states to set up similar councils. SCERT in Maharashtra is part of this program. Every district has a DIET under SCERT. As per rule, the salary of these employees is divided into Central and state governments' shares. The Centre gives 60%, while the state governments give 40%.
Since COVID-19, the Central government has cut and delayed various expenses. The salary share of DIETs is a part of these cuts and delays. At the same time, the state government is also struggling to get its finances in order. It has not released its share of 40%, citing a delay in the Central government's fund. The staff and officers in DIETs in Maharashtra are facing the brunt of these delays.
As per information provided by the organisation of DIET employees, there are 283 gazetted officers (class 1 and 2 grade) and 263 other staff. Their total per annum salary is approximately around Rs 57 crore, including DA and TA.
The organisation demands the state government to make budgetary provisions for this amount. Earlier, there was a minus grant system where the state would clear the salary bills even if the Centre's share is not received. Whenever central would transfer its share, the state would add it into its account. But post COVID-19, this minus grand system has been stopped.
"DIET employees are state government employees. Though the scheme is funded partially by the Central government, the employees come under the state government. SCERT is part of the state's primary education department. So we request the state government to make budgetary provision for our salaries," reads the demand letter of DIET employees' organisation.
Namdeo Shendkar works as a senior lecturer in DIET, Pune. He also heads the equity department, which deals with schemes for disabled students. There are a total of 22,000 disabled students in the Pune district. The central government issued a new UDID card for these students.
Shendkar worked day and night during the COVID-19 pandemic so that all the students would get this card. But at the end of the day, Shendkar himself has been left disappointed.
"We did so much hard work during COVID-19, risking our lives to complete the targets. Still, we are being denied our basic right- the salary. This is very frustrating," said Shendkar.
These DIET and SCERT staff have been protesting in Pune since March 2. They are on a hunger strike. Officers and other staff across Maharashtra have gathered in Pune and attended the protest in a chain.
The credit for online schooling in the last two years mainly goes to these employees. They overworked during the COVID-19 pandemic to create a system for online education, gave training to teachers, worked on technical aspects of the syllabus, etc. SCERT and DIET were instrumental in pushing online education in deep villages. They were also taking stock of the schooling program timely. But, despite these efforts, they are facing salary issues.
Get the latest reports & analysis with people's perspective on Protests, movements & deep analytical videos, discussions of the current affairs in your Telegram app. Subscribe to NewsClick's Telegram channel & get Real-Time updates on stories, as they get published on our website.
Subscribe Newsclick On Telegram