Isn't Muskaan a Daughter of this Nation?
The ruling dispensation is silent over the heckling of a young Muslim woman at a college in Mandya, Karnataka. Was Beti Bachao Beti Padhao merely a slogan?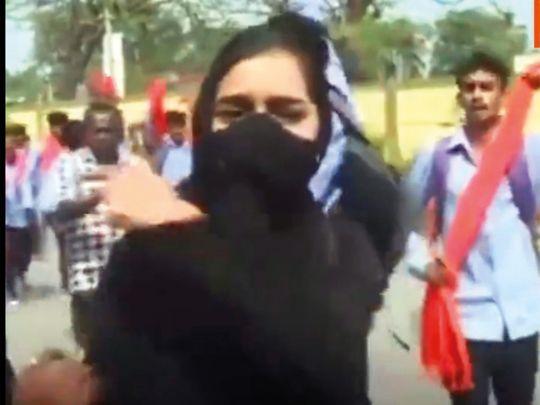 India is a diverse country and a plural society, an amalgam of religions, cultures and traditions. Unity in diversity has been a significant characteristic of this nation for ages. Even after the Partition marked by large-scale riots, India's leaders ensured that history never repeats itself in independent India. 
By 1949, the country had finalised a Constitution under the leadership of Dr BR Ambedkar that suited this multicultural society. The Constitution ensures the preservation of distinct cultural traits and recognised the fundamental rights of believers of all religions and cultural and linguistic minorities. Its Preamble includes the term "secular" to ensure that the state does not discriminate, patronise or meddle in the affairs of any religion. 
The Constitution, in fact, protects religions by adding religious rights as fundamental rights. Article 25 says all citizens have the right to profess, practice and propagate their religion subject to public order. Article 26 says all religious denominations can manage their affairs in matters of faith.
For almost 70 years after independence, nobody raised objections to what people wear or eat in India. However, things started changing since the Bharatiya Janata Party (BJP) came to power in 2014. Initially, Muslims were attacked over allegations of eating or storing beef. Mohammad Akhlaque was killed in Uttar Pradesh's Dadri region in 2015 for allegedly keeping beef in his refrigerator. Then the nation saw a series of attacks by so-called gau rakshaks or cow vigilantes against Muslims for transporting cows in Rajasthan, Uttar Pradesh, Madhya Pradesh, Haryana and other states. Even cow traders were not spared. Many were killed. 
Pehlu Khan, a 55-year-old dairy farmer, was lynched in the Alwar area of Rajasthan when a mob affiliated with the Vishwa Hindu Parishad and Bajrang Dal attacked him for transporting cattle in a lorry. After two years, the men seen yanking Pehlu Khan by the neck, throwing him to the ground and repeatedly kicking him were acquitted by the local court based on the "benefit of doubt". Such attacks continue, but many incidents go under-reported. A 25-year-old man from Madhya Pradesh was killed last year in June and another injured when a mob of cow vigilantes attacked them in Rajasthan's Chittorgarh district. 
Headscarf ban in Udupi college 
Last December, a government-run pre-university college in Karnataka's Udupi district banned students from wearing the hijab/headscarf inside classrooms. Around seven Muslim students, who asked for permission to wear hijab, were not allowed to attend classes. It created a massive controversy when their pictures sitting outside classrooms went viral on social media. The college authorities told reporters that a hijab would violate the prescribed dress code. The girls said that they were wearing the proper uniform and only wanted to wear a headscarf, which is a part of Islam worldwide. The girl students in Udupi were not inventing a new dress code. Many college girls have worn a headscarf, burka, hijab, etc., for years, and without objections.
If educational institutions deprive Muslim girl students of even a headscarf, what value does calling ourselves a pluralistic society have? This controversy is akin to an open challenge to the Constitution. Unfortunately, the unconstitutional decision of one college has affected other parts of Karnataka adversely.
Now, Bharatiya Janata Party (BJP)-affiliated groups have started playing politics over the hijab issue. Many male and female students who never wore saffron scarves or shawls earlier, have started wearing them to schools. Student groups like the right-wing Akhil Bharatiya Vidyarthi Parishad (ABVP) are orchestrating these measures across Karnataka, creating a vast communal divide. The support of BJP leaders through TV shows and social media platforms boosted the morale of Hindutva groups. 
On 2 January, in a government-run degree college in Koppa, Karnataka, several students wore saffron scarves to protest Muslim women wearing a headscarf in class. In another college in the Chikmagalur district, the administration suspended the dress code until 10 January. The principal had to call a parents' meeting to discuss the uniform for students. 
It is pertinent that Muslim girl students in Udupi were wearing the uniform prescribed by the junior college, i.e., a sky blue kurta and navy shalwar. In addition, the protesting girls were wearing a navy blue headscarf, also called hijab, and face masks. Some covered their face with a cloth, which is common in public places due to COVID-19 protocols. These students were not wearing a long black robe, veil or burqa but were following the proper dress code of the college. Therefore, it is hard to understand why the college principal objected. 
Heckling Muskaan 
In his short story, 'A Spark Neglected Burns the House,' Leo Tolstoy describes two feuding neighbours, Ivan and Gabriel. After years of wrangling and pure mutual hatred, Gabriel decides to burn Ivan's house down, but the fire consumes his own house too. In this narrative, Tolstoy talks about the adverse effects of hate and shows that reconciliation can save the day.
If the college principal in Udupi had not allowed the issue to flare up, the agitating ruffians would not have dared heckle Muskaan in Mandya. Muskaan, wearing a hijab, had gone to PES College to submit an assignment. A group of young men donning saffron scarves chanted Jai Shri Ram (Victory to lord Rama) as a means to threaten her. She walked on as the slogans became shriller, and they surrounded and heckled her. Bravely, Muskaan responded with Allahu Akbar (God is great). Some staff members intervened and helped her to enter the college building. A video of the incident went viral on social media. 
The men had purportedly gathered outside the college demanding a complete ban on hijab in colleges. They had brought some media persons along to demonstrate their power, but it is Muskaan's response which had a greater social impact. 
Dress codes in the country
In Jammu and Kashmir, Hindu and Sikh students have different dress codes in colleges and schools, and the managements never force students to wear headscarves. Even in minority colleges across India, even if most students are Muslim, the managements never ask non-Muslims to cover their heads. Using the hijab or headscarf is an age-old practice, and those agitating over it only want to persecute and intimidate the Muslims. They are constantly raking up such issues to play politics over it. (Fortunately, some key sections are also standing up for the rights of women in this debate.) 
The way a mob bullied Muskaan in Mandya and the silence of the nation's leaders over the incident—no arrests have been made in this case—make it clear Beti Padhao Beti Bachao is merely a slogan. I ask Prime Minister Narendra Modi, Home Minister Amit Shah and Chief Minister of Karnataka, Basvaraj Bommai, is not Muskaan a daughter of this nation? 
The author is a Srinagar-based columnist, activist and independent researcher and an Acumen Fellow. The views expressed are personal
Get the latest reports & analysis with people's perspective on Protests, movements & deep analytical videos, discussions of the current affairs in your Telegram app. Subscribe to NewsClick's Telegram channel & get Real-Time updates on stories, as they get published on our website.
Subscribe Newsclick On Telegram