'It's Very Much Personal now!' Say JNU's Women Students Fighting for Justice in Sexual Harassment Case
In the absence of the GSCASH, a reassuring security agency, and support from the administration, JNU students feel their campus is turning increasingly unsafe.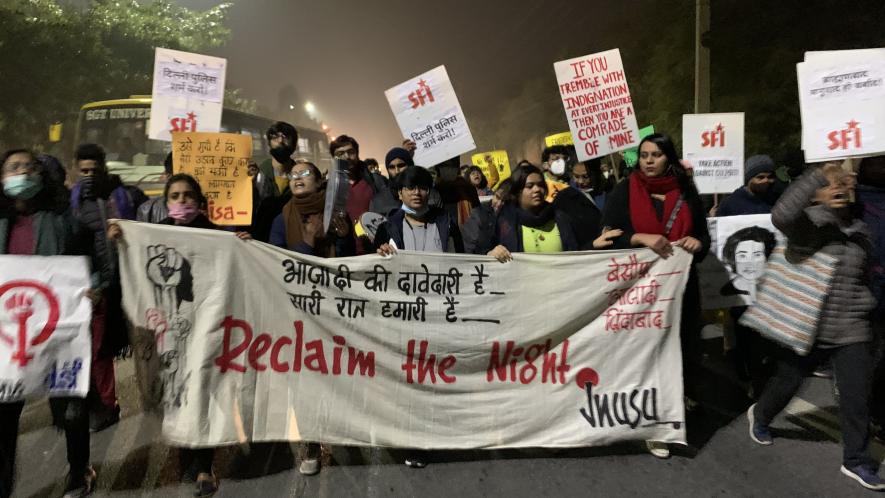 It's the third consecutive day when Titir and Janhavi are on the streets to demand justice for the survivor of sexual violence in India's premier Jawaharlal Nehru University. The student alleged that she was sexually abused on the campus on Monday when an unidentified assaulter tried to drag her in the bushes while she was strolling near the Vice Chancellor's house. 
After three days of investigation, Delhi Police has released a sketch of the suspect and appealed to the campus residents to come up with any clue that could help solve the case.
Titir Patra, a student of MA (History) at the Centre for Historical Studies, has joined her fellow student Jahnavi for a march to the office of the Assistant Commissioner of Police at the Vasant Kunj Police Station. Recalling her initial days on the campus, Patra told NewsClick that she never hesitated to take a stroll at night or return late from the library after finishing her studies at dawn. "When my parents called me to know about my well being and found that I was outside my hostel, I would vouch for safety on the campus and assure them every time that there would be no gendered violence. But after this incident, they are really worried. They are frightened about my security. But it is this fear that we need to fight," she said.
Jahnavi, who hails from Amreli District in Gujarat, said that she came to pursue her studies in JNU even when her family members did not subscribe to the idea. "For me, JNU was a dream for its forthright struggle in a fierce political atmosphere where other institutions have completely succumbed. I told my family about JNU only when I shifted my base from Ahmedabad to Delhi. In this scenario, if they learn about the incident, they would simply ask me to return," she told Newsclick.
Both friends share that their journey to higher education in this premier university was not quite smooth, and they had to fight with family members regarding every academic decision. 
During the march, NewsClick talked to students about how they saw the campus post the incident and why the university could not protect its students. Saumya, a sociology PhD student, said that the campus was increasingly becoming insecure with eve-teasing incidents happening regularly.
Sharing her experience, she said, "the problem begins with the conduct of Cyclops, the security agency itself. The guards behave as if they do not recognise students and ask us to make entries in the logbook. However, this behaviour completely changes when outsiders make an entry while coming in their big cars playing loud music. One day when I was walking, a random car riding guy came closer to me and asked me about the location of Ganga Dhaba. I gave him the directions. Then, this guy would pester you to come along with him in the car." Saumya continued, "Similarly, I was walking along with my friends when a speedy car playing loud music came to us, and the outsiders blatantly whistled at us. We could not identify who these people were." She added that when the security agency is approached with these complaints, they would suggest increasing the number of cameras on campus. "But these cameras are hardly helping us in getting any clues about the incident that unfolded on the campus. They would also come up with the idea that we need to protect our women. This understanding is very problematic because it would come with limitations. We will be asked to adhere to curfew timings, and [that will] curb our movement," she said.
When asked if her family was concerned after the incident, she nodded her head and said, "They are very much concerned because one incident happens to you, and you are on the suffering side of it. Right now, they do not know about the incident, but they remain concerned."
Swati Singh, a PhD student at the Centre for Linguistics, who has a similar set of questions for the security agency, told NewsClick that the guards meant to secure the campus indulged in passing remarks on girls' attires. "The student union met the officials of the agency when guards in inebriated condition passed remarks on the clothes of girls. In one such instance, a girl was stopped from entering the hostel because she was wearing shorts. If this remains the attitude of these guards, how do you expect that they would secure you?" she asked.
Singh went on to highlight how universities became the beacon of hope for millions of girl students only when the campuses were safe. She said, "In low-income families, particularly of marginalised communities, they hardly allow girl students to study. In most cases, the studies would end at the bachelor's or master's level. The girls could come to campuses like JNU because they had some money through scholarships, and they could assure their parents that they were safe on the campuses thousands of miles away from their homes. In this situation, when this news travels to them, how do you convince them now?"
The students, protesting outside Vasant Kunj Police Station, are visibly perturbed about growing insecurity on the campus and the dull response of the JNU administration and Delhi Police in the case. 
Singh added that the administration was yet to reach out to the survivor to assure her about needs. She said, "After three days, the JNU administration has come up with a press note, which speaks for itself about its insensitivity. It did not reach out to the victim, assuring her further legal help and counselling. These incidents leave the victim in trauma for a longer time. We do not know about our VC who is completely missing in assuring us help."
Tara (changed name), a student of MA Economics at the Centre for Economic Studies and Planning, said that this fight was highly personal now where one reaffirmed their belief. "What is the point when you study about the constitution, rights and movements and you cannot reclaim your security even when you colleague is subjected to such violence and harassment. Although my parents advised me not to engage in protests as JNU is very much a political space, it would be dishonest knowing the gravity of the situation."
Khushboo Sharma, who hails from Sikar in Rajasthan, alleged that the inaction from authorities could also be attributed to the mentality police officers carry about these crimes. Sharma, a PhD student of Political Sciences, told NewsClick that the students had been left alone in this fight to secure justice. She said, "The attitude of policemen indicates that they do not take these incidents very seriously, and it's a common crime in their parlance. What is more perturbing is the image of girl students of JNU that certain media channels have built that they come on roads to reaffirm their belief, wear short clothes etc. Had the JNU been actively pursuing the case seriously, there would have been a faster investigation."
Sharma squarely blamed the administration for the deteriorating situation on the campus after it abolished the Gender Sensitisation Committee against Sexual Harassment (GSCASH) in 2017. She added, "The students come to the university from various corners of the country, and they may not be aware of the question of gender. GSCASH engaged with students through its workshops and orientation programmes where they were sensitised about gender. The Internal Complaints Committee (ICC), which replaced the body in 2017, has been putting the onus of harassment on the victims. It gave a clean chit to the offenders of sexual harassment who acted like predators on the campus."
Aishe Ghosh, President of Jawaharlal Nehru University Students Association, in a statement, brought forth the case of Prof Atul Johri, who was given a clean chit by the ICC even when several victims narrated their horrific experiences. She said, "The JNU community has not forgotten the case of Atul Johri, where eight JNU students came out raising serious charges against him or many other cases where the ICC has not been able to serve justice to the complainants. The lack of GSCASH has effectively led to a culture of gender insensitivity with the abusers having complete impunity in our university spaces. In a society when there is so much stigma around sexual harassment and abuse, the ICC, with its regressive functioning, has been helping in further consolidating the patriarchal forces by putting the onus of safety on women whilst attempting to control their mobility and autonomy.
Get the latest reports & analysis with people's perspective on Protests, movements & deep analytical videos, discussions of the current affairs in your Telegram app. Subscribe to NewsClick's Telegram channel & get Real-Time updates on stories, as they get published on our website.
Subscribe Newsclick On Telegram