Jamia Violence 'Scapegoat' Students – Some Unheard Stories of the Emotional Battle
As a Delhi district court recently discharged 11 students framed in the 2019 Jamia violence, the State has moved Delhi HC.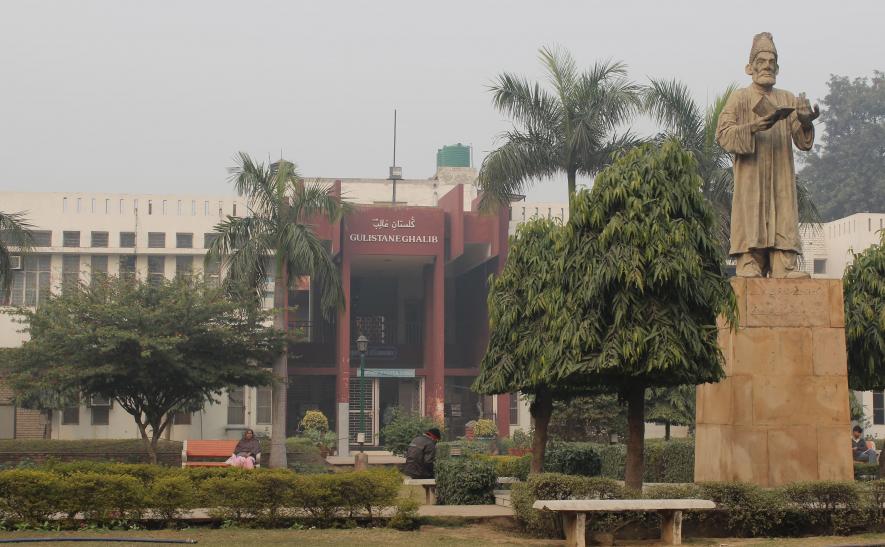 Gulistan-e-Ghalib which has the statue of Mirza Ghalib. Image Courtesy: Wikimedia Commons
New Delhi: The Saket District Court recently discharged some students framed during the Jamia violence in 2019 during the massive anti-Citizenship Bill across the country, saying they were made 'scapegoats'. However, the state has approached the Delhi High Court on the same.
While the prominent names among those discharged are Sharjeel Imam, Safoora Zargar and Asif Tanha, the eight students who had to face the brunt of a long legal battle, today, are either researchers, lawyers, journalists, or are pursuing their PhD from reputed universities in the country. Some work in the finest media houses in the country. With the battle that came their way, although they had a lot to lose, some of these students who NewsClick met, said they came out much stronger. 
Rioter in eyes of State, now a PhD student
Shahzar Raza, 23, the youngest in his family, was back then a student of Jamia Milia Islamia and was pursuing his graduation. While he was attending a wedding back in the village in Bareilly in 2019, he received a call from Delhi police asking him to be present for an interrogation a few days later. Young Shahzar could not help but reach out to his father, who owns a small shoe shop in the village. Fortunately, his parents were brave enough to console him saying nothing would happen as he was innocent. 
Soon came the summon, and as the court hearings began, things became even more difficult for him, as he had to start with his Master's at Hyderabad University, far away from Delhi.
"This took an extra toll on me as managing the expenses of every month's travel to Delhi alongside the regular food, lodging, and travelling in Hyderabad was a lot to bear at the age of 20," he told NewsClick. Although Raza's family was quite supportive in terms of finances, he had to take up freelance gig jobs while pursuing higher education to meet his expenses.
The case not just disturbed the regular life that one wants to lead, but also restricted these students from opportunities that would have taken them to new heights. In Raza's case, he received an offer from a University in Australia in 2021, but could not go because of the case. "I would have been at Australian National University doing my Masters in Political Science had this case not been on my head. Things would have been much different," he said.
Raza and some other students firmly believe that the reason they were targeted was because of the community they came from. "We were targeted because we were Muslims. Although one of our Hindu comrades was also charged, I believe it was solely because she was seen with us. Protests were done by everybody. But just see who were the ones to face the harassment?" Raza said.
The long-standing impact of the harassment has been something wherein the students like Raza have had to prevent themselves from being extremely vocal. There are times when they want to speak up, but the State's actions have stopped them from doing so. 
'Long legal battle has compelled me to study law' 
Umair Ahmad, 26, originally from Mau, was also among those students who had to handle a legal case on their shoulders until the Delhi court came to their rescue. Umair's case is shocking at every juncture and raises many questions. 
Like any other student of Jamia, Ahmad was also part of the anti-CAA (Citizenship Amendment Act) movement. He accepts he was on the streets and was protesting. "But when I learned that I was being named in the case, I was appalled and scared. It was long after I had even forgotten about the case," Ahmad told NewsClick. 
During the lockdown, like most other migrant students, Ahmad returned to his hometown in Mau, where his father, who is a doctor, runs a family of 10. "Everything was good until October 2020, when I decided to come back to Delhi and resume my education," he added.  What followed shook him to the core. One of his seniors, who was being interrogated by Delhi Police, called him and told him that the police had been showing his pictures to the others asking who he was, and his whereabouts.
A scared Ahmad took the next government bus home. He did not have the courage to share everything with his parents. But soon enough, they knew Ahmad's cell phone was ringing repeatedly. When he narrated what had happened in Delhi to his parents, his father asked him to take the call and put the phone on speaker. He was called to the police station on November 4, 2020, for an interrogation. During a series of interrogations, Ahmad said: "The investigating officer was on duty at the farmers' protest site back then. They used to make me wait for hours before asking questions." He alleged that he was even asked to become a witness for the police.
When he refused to do so, the matter was taken to the court. "My father is a brave man. He is educated and well aware of how the State had been trying to slap allegations on students who raised their voices. But Ammi (mother) just could not handle this. It was too much for her to understand, helpless, she used to cry all day praying to Allah for my safety," Ahmad added.
Some neighbours from his village, who knew his father, did come to his rescue. These were people who were well-versed in what was being done, as they had faced a similar situation, where because of taking part in the protests, they were being harassed by the police. 
"I had seen the people of my community suffer so closely. I had seen how students were being treated for dissent. All of this somehow empowered and encouraged me to read more, learn about our rights and be of some service to my community. I am now pursuing law because I know what kind of battle lies ahead," said Ahmad, who is now pursuing law from Mumbai. He started doing law in 2021, has been working alongside human rights advocates, and wants to fight legal battles in the future. But the travel during the case from Mumbai to Delhi has often left him numb.
At every hearing, he would wonder if something bad was going to happen, what if he got arrested? "I had ensured that my relatives and school friends do not know about the case. My father would say that he was coming to Delhi for my admissions. But I am sure, had my school friends known about the case, they would have cut off from me completely. Relatives who ultimately got to know about the case, even after the court's order, taunt me and my family," he added.
"I was well prepared that my case would extend for years. But the judgment that the court gave, although late, was very relieving. However, I believe our relief was short-lived. If the State takes this forward to the High Court, I do not know what will be done to us. I mean, what do I tell ammi now? She was so happy when I told her what the court had said. If I tell her what has happened now, she will be shattered," said Ahmad.
The course of justice, and what lies ahead
NewsClick reached out to advocate Abu Bakr Sabbaq, the advocate who fought the battle for these Jamia students. He was dealing with the case of four students and was even leading the case among other advocates. He shared his confidence and the fear he went through and still does. 
"We knew from the very start that the students were not in the wrong. The evidence that the police presented were only three: One was the mobile network location accessed via CDR (call details record), the second was the videos and pictures of students, and the third was testimonies of the proctor and other officials of the university and nearby people," he told NewsClick. He narrated that among all the evidence shown, there was nothing substantial that could land the students into trouble. 
Sabbaq said the videos where the students can be seen are at least four hours before the violence took place. In the video, students can be seen protesting and sloganeering, but it was not violent. "You may call it an aggressive protest, but was it violent? It was not," he said.
On the second evidence of CDR, for one mobile tower, the range lasts for 2-3 km. Most of the Jamia students are inside the campus, in the library, or in the Abul Fazal Enclave area. How does that prove they were there? In the videos of violence, no face can be identified, and the students never denied being a part of the protest.
"As sure as I was that the students will be discharged, with every hearing came a fear about what if they were punished for a crime they did not even commit," said the advocate.
Advocate Sabbaq was also a part of the Minority Commission that gave a detailed report of the violence. "There, it was evident that in places, where there were shops of Muslims and Hindus, Muslim shops were burnt and those of Hindus were left untouched. The Centre, during the Saket court's hearings, when not going in favour, even tried to get the case transferred to the Karkarduma court," he alleged.
When asked about the State's decision to move to Delhi High Court, he said: "This decision has brought justice to the students and has made the ruling regime bow down. They were bound to take this as an insult. The fact that they want to go to HC with this, as much as it is appalling, is natural on their end."
Although the advocate firmly believes that the HC will not entertain the plea, he also has a fear about the judge concerned catering to the case. Once in the court, everything lies in the hands of the judge who can either see the innocence of the students or entertain the matter that has been seen flawed by the lower court.
Get the latest reports & analysis with people's perspective on Protests, movements & deep analytical videos, discussions of the current affairs in your Telegram app. Subscribe to NewsClick's Telegram channel & get Real-Time updates on stories, as they get published on our website.
Subscribe Newsclick On Telegram