Jharkhand Government's War on Tribals
The government is making brazen attempts to steal tribal lands.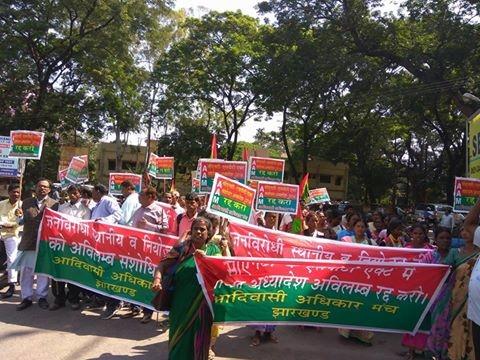 Jharkhand Government's War on Tribals
Recently, the Jharkhand Government has brought an ordinance to amend the Chotanagpur Tenancy Act, 1908 (CNT Act) and Santhal Paragana Tenancy Act, 1949 (SPT Act). These laws ensure protection of tribal land in the state. This anti-people action on the part of Jharkhand government has attracted strong resistance from opposition parties, tribal organizations, and people in general.
The British government, in 1908, enacted a law namely CNT Act and after independence SPT Act came into being. The Sec. 46 of CNT Act restricts transfer of land which belongs to people from Schedule Tribes, Schedule castes, and backward classes to any person(s) of other castes and classes. The land can be transferred to any person(s) to their own community who is a resident of their own district or police station area. These laws were formulated to protect the land of Tribal communities, Dalit communities, and backward classes. However, the section 49 of the CPT Act has the provision under which the land can be transferred to a non-tribal, non-SC/ST, and backward class for industrial and agricultural purposes. The current BJP (Bhartiya Janta Party) led government in Jharkhand wants to tweak certain sections which provide security to these socially, politically, and economically marginalized castes and communities.
The BJP government has brought an ordinance to amend section(s) 49 and 71 of the CPT Act and also an amendment in the SPT Act. The section 49 of CPT states that land belonging to a Tribal, SC, and backward classes can be acquired for industrial and agricultural purposes. Section 71 of the Act states that if a land is acquired by fraudulent ways, it can be returned to transferee and he is not entitled to return the compensation as well. Along with these an amendment has been proposed in the SPT Act to allow change in the pattern of use of land without any change in the ownership.
In January 2012, Jharkhand High Court has asked the then Jharkhand government to enact the law in its spirit, and made it clear that the Act applies on SCs and backward classes as well. This order also made Deputy Commissioner's consent mandatory for transfer of land belonging to tribal communities, SCs, and backward classes. This judgment was detrimental to the real estate market in the state and other illegal land transfers which were happening in the state. The current, BJP led government has completely undermined this court order by bringing an anti-tribal, anti-dalit and backward classes, and anti-peasant ordinance.
The ordinance defeats the basic purpose of the laws. It is proposed that under Sec. 49 tribal land transfers can be allowed for infrastructural purposes, such as railway, roads, communication lines etc. as well. The government also claims to have made stringent laws regarding this as they say that if the project doesn't start within five years of acquisition than the land will be returned to its original owner. By including infrastructural projects the government is rendering tribal land vulnerable to the claws of corporate. As we are aware, that in the neo-liberal era, governments have decided to bring in private players into the infrastructural projects as well. If this section is amended then the private companies can acquire tribal land. The provision of compensation, which is granted under sec. 71 in case of fraudulent transfer of land, is proposed to be revoked.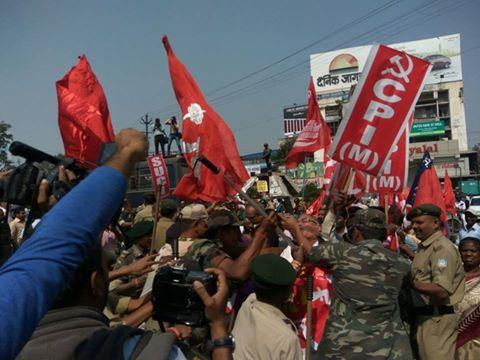 Various adivasi organizations are opposing this anti-people ordinance of the government. Recently, many protests had been taking place in the state and the government is trying to violently suppress the movement. On October 22nd, while people were moving toward Ranchi to attend a rally that was called by 42 adivasi organizations, police started firing at them and killed one person and injuring 7 others. To protest against the incident Left and secular political parties called for Jharkhand Band on 24th October. A delegation met with the governor to urge him to intervene in the matter of unprovoked firing by the police.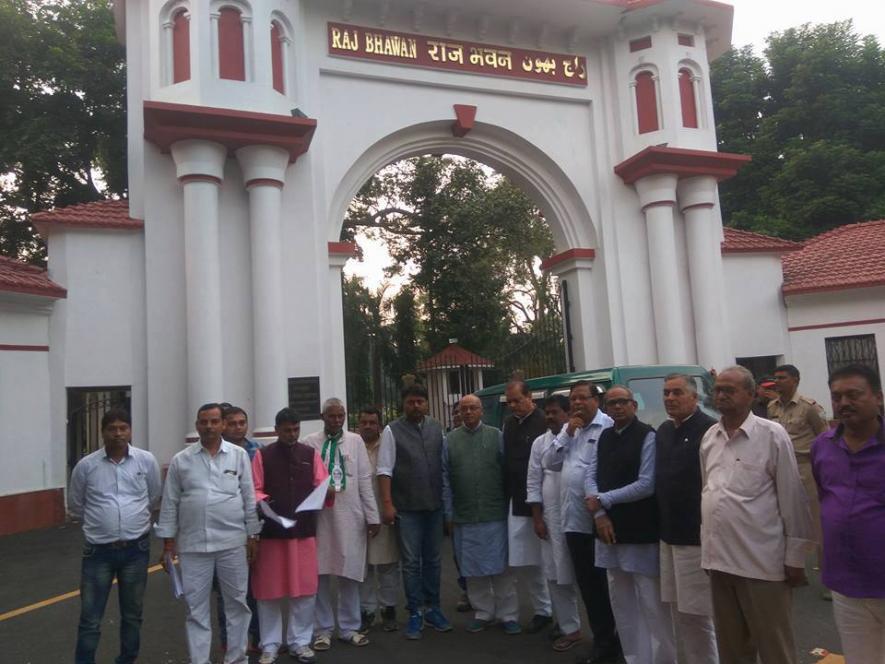 The issue of land has always been in the core of Dalit and tribal movements. The caste based discrimination these communities and castes face is complex but land is certainly an integral part of this equation. The Jharkhand government's ordinance is damaging to the right of land of these communities and castes. Agricultural land has been snatched from their owners in the name of development in the country. The real estate lobby, builders, and corporate are already influencing governments to get as much land as they like and want. We are witnessing how peasants all over the country are losing their land to the corporate and real estate developers. The compensation they get in return is meager. There is already a debate on the land acquisition laws, and in these times the Jharkhand government has decided to bring an ordinance which will essentially deprive the tribal, SCs, and Backward classes of their land.
Get the latest reports & analysis with people's perspective on Protests, movements & deep analytical videos, discussions of the current affairs in your Telegram app. Subscribe to NewsClick's Telegram channel & get Real-Time updates on stories, as they get published on our website.
Subscribe Newsclick On Telegram