Who Ate Our Foodgrains? Jharkhand's Ration Cardholders Ask Govt
Hundreds of villagers gathered on August 28 at West Singhbhum to tell their stories of how they have not been getting ration, for the past three months or even a year.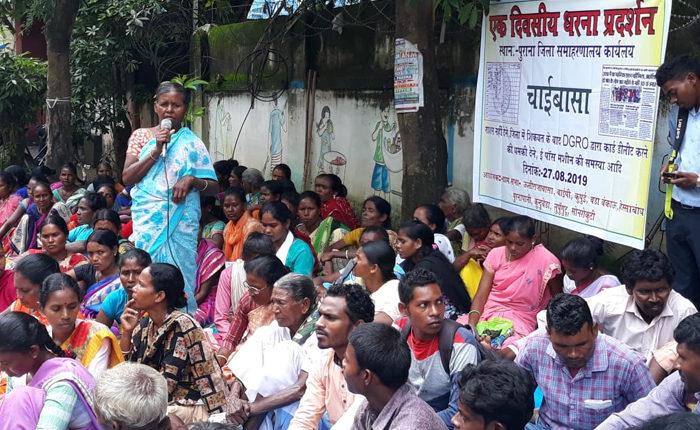 A village woman speaks at the dharna in West Singhbhum over no supply of foodgrains in ration.
It is not hidden any more that in last three years, Jharkhand has witnessed the maximum number of hunger deaths in India. And after every death, the administration or government, despite being in denial, promised that they would insure that ration supply improves in the respective areas.
However, this doesn't seem to be the case for West Singhbhum, where a hunger death took place in December 2018.
In Podahat village of Sonua block, one Biren Diggi had died of starvation after being denied food grains for four months.
However, Kaushalya Diggi of the same village informed, "Despite so many complaints since then, the villagers are yet to be given ration for September-December 2018."
Kaushalya was one of the hundreds of villagers from 11 villages across West Singhbhum who protested in front of the district's Deputy Commissioner's office against the non-disbursal of their Public Distribution System (PDS) foodgrains for many months over the past two years.
Non or irregular ration distribution, due to cancellation of ration card or not linking Aadhaar, has been a serious issue for Jharkhand. It has caused several troubles for cardholders and several deaths have also taken place because of it, but it seems government and administration is yet to learnt from it.
Many participants at the dharna shared their ordeals.
Also read: 20th Starvation Death in Jharkhand in 2 Years, Administration in Denial
John Kayam of Chakradharpur's Baipi village said, "None of the cardholders of our village has received PDS grains for the months of September-December 2018. We complained several times to the Supply Officer, District Grievance Redress Officer (DGRO), Deputy Commissioner and even the State Food Commission."
Kelaram Majhi from the neighbouring village of Kupui echoed the same, "We have also not received grains for those months. Eighty-one cardholders of the village have decided that they will not take any PDS ration till they get their pending grains."
People of other villages too, such as Khuntpanin block's Ulirajabasa, Bada Bankua, Onkolkuti and Sonua's Podahat shared that they were yet to get ration for a few months over the past two years.
Cardholders of Lupungutu village of Chaibasa Sadar block shared that the ration dealer makes them authenticate in the electronic Point of Sale machine but does not give them grains.
The National Food Security Act mandates that all grievances are to be redressed within one month. Many cardholders present in the dharna said that despite having repeatedly complained to the block and district administration over the past one year, their issues remain unresolved.
Villagers of Kupui said that the Block Supply Officer and the ration dealer had forged their thumbprints and signatures in a report to the district administration, according to which the cardholders of the village received grains for September 2018 (which they are yet to receive).
Also read: Jharkhand: People Continue to Die of Hunger, Officials in Denial Mode
The DGRO also threatened them that their ration cards would be cancelled if they did not agree to take the ration for months other than September-December 2018.
The protesters burnt effigies of the DGRO and the District Supply Officer.
People of Khuntpani's Ulirajabasa said that they did not get ration for three months in 2016, one month in 2017 and four months in 2018. After several complaints, they were called for a district-level hearing. But the DGRO declared that they would get pending grains only for the four months of 2018. According to her, cases of 2016 and 2017 are very old.
An old man Suniya Jojo of Baipi angrily reacted, "Don't the officials feel ashamed to eat the ration meant for the poor."
Manki Tubid, who works on people's rights in the district said that irregularities in PDS are not limited to a few villages, but are widespread across the district.
While the ration dealers claim that they are not allocated grains, according to the administration, the dealers are regularly allocated grains as per their online transaction reports. A question raised by everyone in dharna was "where is the grain going then?" This also makes the claims of the government that Aadhaar has helped in checking leakages in the PDS hollow.
Since Aadhaar was made mandatory in the PDS, cardholders have been facing several hassles. Ration cards not linked with Aadhaar were cancelled in thousands. Many of them are yet to be reissued new cards. None of the dealers maintain exemption registers to distribute grains to those who are not unable to successfully authenticate themselves through biometrics.
Representatives met the Officer on Special Duty (OSD) of the DC and submitted a memorandum, which included the following demands:
Also read: Jharkhand Tribal Allegedly Dies of Hunger
Pending grains of all the villages from 2016 onward should be immediately distributed to the cardholders. All eligible families whose ration cards have been cancelled, should be immediately issued new cards. Ration dealers responsible for siphoning off PDS grains should be terminated and all functionaries responsible for the irregularities should be adequately punished. And that Aadhaar-based bio-metric authentication system should be removed from the PDS.
The beneficiaries also burnt effigies of the DGRO and the District Supply Officer, before the end of the dharna.
Get the latest reports & analysis with people's perspective on Protests, movements & deep analytical videos, discussions of the current affairs in your Telegram app. Subscribe to NewsClick's Telegram channel & get Real-Time updates on stories, as they get published on our website.
Subscribe Newsclick On Telegram