J&K's WarwanValley Tourists Romanticise Horses, Residents Long for bus
Popularly known as the 'lost world', the remote and isolated valley awaits basic services that reliable connectivity would bring.
Students of Marwah block, in J&K's Warwan Valley, leave home early due to the lack of public transport to reach school.
Anantnag (Jammu and Kashmir): "Warwan Valley is exceptionally stunning—even for Kashmir...The valley's remoteness and isolation compound this beauty. This is a side of Kashmir that even most Kashmiris haven't seen."
This is how a trekking company describes Warwan Valley, nestled in the Pir Panjal mountains, between Ladakh and Kashmir. "Villagers on horses are common, almost like how people use scooters in the cities. After a while, it isn't surprising to find horsemen galloping towards a village raising a cloud of dust behind them! Almost like an incredulous scene from a movie," it says.
Warwan residents, however, do not share a tourist's romanticised notions of remoteness and isolation. "It feels like we are still living in the 90s. We are forced to walk miles as there is no bus service to our region," Azad Nabi Lone (37), the Sarpanch of Brayan village, in Warwan Tehsil, told 101Reporters.
Warwan, a picturesque valley in the Kishtwar district of Jammu and Kashmir, has a population of more than 60,000 people, which has almost doubled since the 2011 Census, when 35,572 resided in 55 villages. In 2014, the valley—with its three blocks of Marwah, Warwan and Dachhan—was made a subdivision with its headquarters at Marwah. In October 2022, the region garnered attention when National Conference president Farooq Abdullahrode a horse to visit Marwah.
The valley's main occupation is farming. The residents grow wheat, paddy, maize and kidney beans besides collecting herbs from the forest to sell. Marwah Rajmah is famous for being grown at high altitudes and free of fertilisers.
"We procure about 200 tonnes of rajmah from Marwa every year and sell it for Rs 160 per kg," said Gh Mohammad Ganie, a merchant in Anantnag.
Few people are into government jobs. Many also travel to Chenab and Kashmir Valley for seasonal labour work and return home in winter.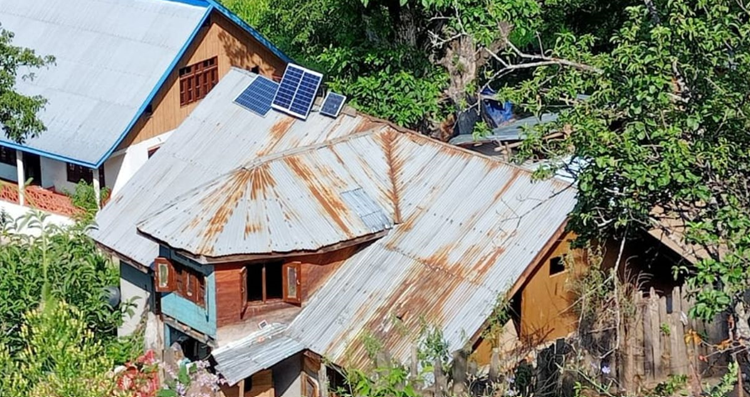 Residents of Warwan Valley have installed solar panels due to the lack of electricity.
Located at an altitude of 2,134 metres, Warwan is cut off from the rest of the state due to heavy rainfall for seven months a year. "People have to stock up on grain and essentials for winters as there is no connectivity apart from helicopters that time," said Mohammad Hussain (40), a resident of Marwah.
Marwah is 200 km north of Kishtwar, the district headquarters, but there is no direct road between the two places. The only road that connects Warwan to the rest of the state is from Marwah to Anantnag in the west, a distance of 120 km. No state transport vehicles ply on this road.
Travelling to the district HQ is an uphill task for a Warwan resident. They board a shared private vehicle, usually a Tata Sumo at the rate of Rs 600, to Anantnag and then another vehicle for Rs 350 from there to Kishtwar, a circuitous route.
"It's evening by the time we reach Kishtwar and no work gets done as all offices start shutting down by then. The Sumo fares also depend on the weather. If the weather is bad, the driver charges more. Imagine, we still haven't seen a bus in our villageat this age," said Rouf Lone (33), a resident of Marwah block.
Education, health out of reach
Students and patients particularly face the brunt. Amir Bhatt (17), a class 11 student from Gumree village, walks seven km to the government high school in Aftee village daily.
"Sometimes we leave home on an empty stomach as there is no time to eat. We have to leave early and reach home quite late. It is exhausting and even leads to disinterest in studies. When it snows, we stop going to school completely," said Bhatt.
Danish Ahmad Rather (25), also from Gumree, abandoned studies after class 12 due to lack of transport and poverty. "There is only one degree college in Marwah about 30 km from our village. It functions out of a rented building, has only one permanent lecturer and only offers arts. Students eager to study further in other streams must go either to Anantnag or Kishtwar."
He added, "Not everybody can afford to stay away from home. So, we drop out. If there was a proper bus, we would not have given up our education."
The Marwah Community Health Centre does not have adequate facilities, claim residents. "No specialised treatment is available here. We have to rush a person to Anantnag or Srinagarin an emergency but only if there is a vehicle. Last year, Mohammad Amin (53) in our village complained of fever and chest pain in the evening. He was rushed to Anantnag but he died on the way. This is a routine affair here thanks to the state of public transport and roads," said Rather.
To avoid last-minute exigencies, pregnant women are shifted to cities a month before child delivery. "They stay with relatives or in rented accommodation. Since there is no maternity and child care facility in the subdivision and no transport facility to reach there on time, this is a necessity," said Sarpanch Lone.
The condition of internal roads is also no good, claim residents. "Only a few roads have been macadamised since they were constructed.But in Warwan and Dachhan blocks, most roads are still dilapidated," said Rouf Lone.
Besides the lack of proper roads and transport, poor electricity supply, Internet connectivity, health care and educationplague Warwan.
Frustrated residents are choosing to migrate. In Yourdu village, 30 out of 130 families have left, Lone said.
Ten years ago, Mehra Begam (60) with eight family members left for Anantnag. "Walking miles for every little thing was not easy. Once we shifted and my children started work, we bought a house in Wanihama village in Anantnag district," Mehra told 101Reporters.
In 2016, Margivillage of Warwan tehsil was reduced to ashes in an accidental fire. "There was no fire brigade or emergency service at the subdivision and nothing could reach from outside," recalled Mehra.
Much-awaited road and dream of a bus
The roundabout way to reach Kishtwar could be avoided if a road from Marwah to Dachhen existed. That would reduce the distance between the subdivision and the district HQ to 85 km. Since the road has to be carved through a mountainous forest, work is currently underway along the stretch,Kishtwar deputy commissioner Devansh Yadav said.
"We are in talks with the State Road Transport Corporation and soon a bus will ply, at least, during summers. In winter, since the area is cutoff, we run a helicopter service at 80% subsidy for locals," Yadav told 101Reporters. One copter trip from Kishtwar to Marwahcosts Rs 1,500 (Rs 2,700 without the subsidy).  
Under the Mumkin scheme of Mission Youth, an initiative of the J&K government, 100 unemployed youth have been hired in the district to buy vehicles for ferrying people. "Most of these vehicles have been running for a year now," said Yadav.
People, however, have no idea about the scheme. "We have only seen a few commercial vehicles plying on interior roads and nothing else," said Rouf.
The writer is a Jammu and Kashmir-based freelance journalist and a member of 101Reporters, a pan-India network of grassroots reporters.
Get the latest reports & analysis with people's perspective on Protests, movements & deep analytical videos, discussions of the current affairs in your Telegram app. Subscribe to NewsClick's Telegram channel & get Real-Time updates on stories, as they get published on our website.
Subscribe Newsclick On Telegram