"JNU Administration Robbing our Dignity by Denying Promotions"- JNUTA
JNUTA said that the university lost 378 PhD seats in 2021-22 alone due to promotions pending for several years.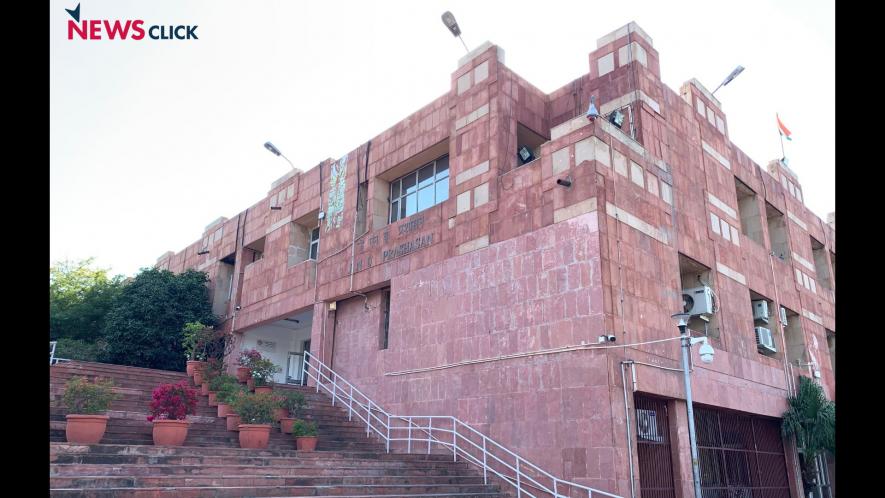 New Delhi: In a startling revelation, Jawaharlal Nehru University Teachers Association(JNUTA) said that the university lost 378 PhD seats in 2021-22 alone due to promotions pending for several years. Addressing a press conference at the JNUTA office on Tuesday, Rohit, Executive Member, JNUTA said that the issue of pending promotions has been robbing teachers of their dignity, labour rights and hard work as they have been made to run from pillar to post to get their rights in absence of universal standard operating procedure.
He said, "the pending promotions are affecting the research quality of the university which it boasts across the world as its key asset. We all know that the university caters to a large chunk of students from marginalised backgrounds and rural backward areas. As per University Grants Commission regulations, An Assistant Professor, Associate Professor and Professor can supervise Upto 4 students, 6 students and 8 students respectively. In absence of promotions, the teachers are losing students who could serve the country in their best capacity."
"Secondly, If you are an Assistant Professor for more than 15 years, we cannot get funding and projects to the university. The people in funding agencies like CSIR get the impression that if any teacher is Assistant Professor for 15 years, there must be something wrong with him. I can tell you that the situation is so worse that a teacher is still an Assistant Professor when he is 63. We are being punished for no fault of ours," he continued. 
Referring to the traditional practice in promotions, the JNUTA officials said that Assistant Professors are promoted from stages 1 to 4 with 12 years of experience. Then, he/she is made Associate Professor with additional three years of experience and finally, he/she becomes a professor with additional 10 years of experience.
Attributing to data from the JNU website, Rohit, Assistant Professor, Centre for Economic Studies and Planning said that more than 80% of Associate Professors and 73% of Assistant Professors are eligible for promotions. He added that pending cases of promotions accumulated during the tenure of the last Vice-Chancellor Mamidala Jagadesh Kumar which amounts to 206 cases. 75 pending cases can be attributed to earlier administrations.
"We conducted our own survey among teachers and the results are mind-boggling. 89.6% of women Assistant Professors are eligible for promotions. Among SC(Scheduled Caste) and ST (Scheduled Tribe) faculty, 15% and 6.6% have been deprived of their promotions. We have always been saying that higher education gets little budgetary allocations and considering the current scenario, we can comfortably say this is a massive under-utilisation of funds and resources!" he said. 
The teachers of the university who requested anonymity fearing backlash told NewsClick that the administration has been verbally denying promotions on three counts: services in state universities, experience in national research laboratories and teaching experience abroad. A teacher said, "It is astonishing to see that any teacher in sciences school cannot join if he has no post-doctoral fellow experience. But when it comes to counting this experience as a past service, you are simply denied. If we look at the notifications of the university ratifying the decisions of the Academic Council and Executive Council, it is clearly mentioned that the past service must be counted."
JNU's 2010 ordinance states that "service as Research Associate/ post doctoral fellow/ research fellow in universities/ research organisations abroad may be counted for the purpose provided teaching/ research experience gained abroad prior to joining the university is equivalent in content and substance of the work expected in their present position in the university."
Showing the data from the survey of teachers, the association members said that 35% of teachers were wary of arbitrariness in promotions. Another teacher from the Sciences department said, "it is quite demoralising to see that the students taught by us are Associate Professors in other universities. The University of Delhi has laid out SOP for promotions where every case has been cleared. I have stopped going out for conferences and seminars where your students would greet you and see our plight. Additionally, what message would it deliver to current students that you are being punished for your hard work."
Another teacher requesting anonymity from the School of Modern Indian History said that when teachers go to the administration, they are told that they should visit the recruitment department. The officials in this department ask you to go to another department. "We are here for teaching not running here and there. I must remind you that our department will not have any professors in the next three months. Who will manage affairs in the department then," the teacher told NewsClick.
Rohit, who interjected, said that we get the news with every passing AC/EC meeting that so many teachers have left the university. "Obviously, they are going to private universities like Ashoka University and Shiv Nadar University. However, the majority of teachers are still willing to contribute to this public university. Please retain them or else the glory days will be over !"
NewsClick tried reaching JNU Vice Chancellor Santishree Pandit and UGC Secretary Rajnish Jain through phone and email but could not get a response.
Get the latest reports & analysis with people's perspective on Protests, movements & deep analytical videos, discussions of the current affairs in your Telegram app. Subscribe to NewsClick's Telegram channel & get Real-Time updates on stories, as they get published on our website.
Subscribe Newsclick On Telegram