Journalism in Small Towns: Story of Two Deaths in Tinsukia
In a small town in Assam, it is nearly impossible to make ends meet while just being an independent/freelance reporter.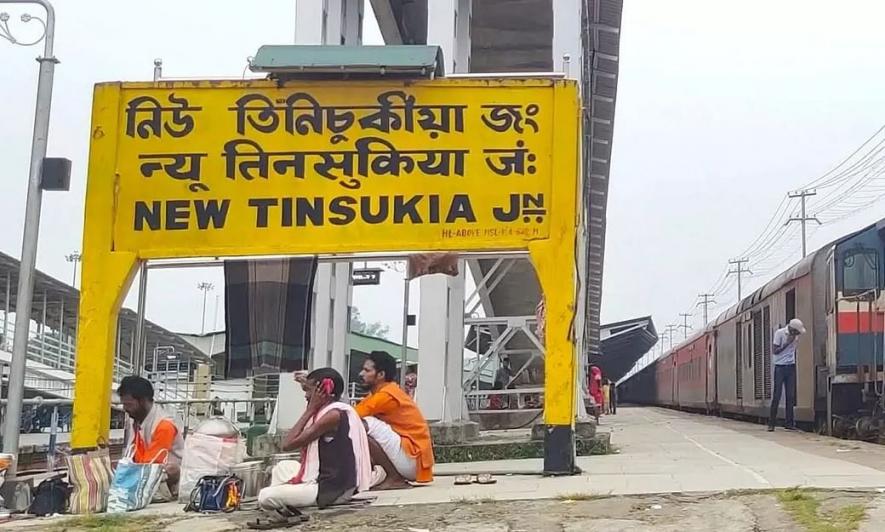 Image credit: The Sentinel Assam
In 2020, two journalists died in upper Assam, India. Parag Bhuyan was hit by a mini-truck just outside his home and Bijen Deep was found dead at his home-office, a cable around his neck, after an apparent suicide. In a corner of northeast India, far from the state capital Guwahati, their life stories went untold. Both Bijen and Parag lived near Tinsukia, (the district headquarters) a small town barely 100 km from the Myanmar border. Tinsukia district has India's oldest tea gardens, the oldest oil field and refinery, two national parks, rainforests and wetlands. The Baghjan oil field, which caught fire in 2019 and burned for 173 days, is in Tinsukia.
Story of Parag Bhuyan
Parag Bhuyan lived in Kakopathar, 40km from Tinsukia, just off the national highway, NH15, his home barely 100 metres away from the police station in the town.
At 8:15 pm on November 11, 2020, Parag and his friend, Debakanta Baruah, had walked out to a shop across the road to buy medicines. Parag realised he had forgotten his wallet; the shopkeeper asked him to make the payment later, but Parag refused and started walking home to get the money. "We were walking by the side of the road, when something slammed into Parag, he was thrown 25 feet away and landed on his head," Debakanta told NewsClick. It happened so fast that he was stunned for a moment. The vehicle sped away crossing barricades on the highway, opposite the police station. Shouting for help, Debakanta ran to the Kakopathar police station and a police vehicle rushed Parag to a nursing home in Rupai, 12 km away. "There, seeing the seriousness of his injuries, we were given oxygen and advised to rush him to Dibrugarh, 70 km away, where better medical facilities were available," recollects Debakanta. It took more than an hour to get Parag to Dibrugarh, with Debakanta cradling his head on his lap. Parag did not regain consciousness and died the next morning at 9:35 am at the same nursing home in Dibrugarh.
Parag was a prominent personality in Kakopathar; his elder brother Jagdish Bhuyan was a minister in the previous state government. Journalists, professionals and political leaders demanded a proper probe into the circumstances of his death. On November 22, 2020, a team from the Crime Investigation Department from Guwahati reached Kakopathar and started their investigation. The two men in the mini truck, driver James Murah and his helper Baba Bordoloi, surrendered to the police on the next day of the accident, in Namsai, Arunachal Pradesh, and were sent to judicial custody.
Bibekananda Das, the Special Superintendent of Police investigating the case said, "We have submitted the chargesheet in the case to Tinsukia court. The matter is sub-juice now, I cannot tell you anything more." The chargesheet filed at Tinsukia Court, accuses driver, James Murah, under Section 279, (rash driving or riding on a public way) and Section 304A, (causing death by negligence) of the Indian Penal Code. The punishment for the crime is imprisonment for two years. The investigating officers questioned 21 people as witnesses, found nothing suspicious and concluded that it was not a pre-planned crime.
The last story Parag had worked on was about a legislator from the ruling Bharatiya Janata Party, Dipanjali Kakoty, physically assaulting a sub inspector in Kakopathar Police Station. Parag had managed to get the CCTV footage from the police station and filed his story with the proof. Dipanjali was arrested months later, in February 2021. 
Kakopathar is just 20 km away from Arunachal Pradesh, timber and coal is smuggled through the Dirak Gate border to be sold further down in Assam and beyond. All these trucks take the NH15 outside Parag's home and he could sit on his balcony and watch them pass by. He became a journalist to report about the things he saw and hoped to improve in his small town. Parag started a group of independent journalists, taught them the skills needed to report and edit, and used to take them in his car for news reporting. Journalism was more his passion than a means to earn a living. A tea garden and factory that processed the leaf was a business that brought the family money. "Parag had bought the land and had planted the tea bushes himself, but he neglected that business now with his focus on news and barely visited the gardens 3-4 times a year," said his wife Princemoni Bhuyan.
At his home, a big board with photo tributes to Parag lists his achievements on the wall of the living room along with framed pictures of birds, brahminy and chestnut tailed starlings taken by Princemoni, an avid birdwatcher. Apart from his wife, Parag is survived by his two children: Jagriti, 11 and son Dhritishman, 8.
Princemoni still has the last diary page Parag had marked with things to do the day he died; he used to tick off tasks as they were completed. She has had to take charge of the family business and be strong for her kids and Parag's mother. All Princemoni wants now is closure, now with the report of the police out.
Working as a journalist
Making a living as an independent journalist is not easy in India, unless you get assignments from international publications or news channels, which pay a fair wage and expenses for reporting. Most Indian newspapers pay a few thousand rupees for stories that could take weeks to report and many do not pay reporters for expenses. TV News channels could pay as low as Rs 500 for footage that may take a day to travel, shoot and upload. In January 2015, I met independent video journalist Arif Haldar in Biswanath Chariali, Assam. He worked long hours and reached remote places on his motorcycle to get footage that only he could. He was respected locally by people from all communities for the stories he reported. 
Arif committed suicide in June 2018 because of financial difficulties. 
Even independent journalism in a big city is a highly competitive field and without a network of important friends, the best journalists could struggle for assignments. In a small town in Assam, it is nearly impossible to make ends meet. Most independent journalists and even some staffers in media organisations have a second job that allows them to earn a living. Something that would be considered unethical or a conflict of interest, like special coverage of local politicians could then become a necessity. Staff reporters from small towns often work both as reporters and salesmen to get advertisements for their media outlet.  
Journalism ethics sometimes needs to be taught and explicitly explained. National news channel reporters and even editors have not been well known for their ethical behaviour in India. The current CEO of Zee TV, Sudhir Chaudhry, was caught on video trying to extort Rs 100 crore from Jindal Steel for not broadcasting adverse news stories about the firm. He is still employed by Zee and continues to head editorial decisions. Assam Police shot an unarmed man, Moinul Haque, in the chest in Sep 2021, and a freelance photographer, working with the police, was caught on video jumping on Moinul's body. Anchors from a national news channel, Times Now were censured by the National Broadcasting and Digital Standards Authority in November 2021, for their biased reportage. News channels and wire services are constantly caught by fact checkers for misleading and fabricating stories and using fake news as clickbaits. The examples set by bigger channels and the stories that they do make an impact on smaller channels and their reporters.
Bijen Deep's Story
Back in Tinsukia, journalist Bijen Deep was found dead on August 8, 2020, at his rented office, in Jyotinagar area with a wire around his neck, following what seemed like a suicide. Bijen Deep ran a news website Dinpratidin, by himself from his office on the first floor of the building. "He started work as an employee at a biscuit factory in town. As he spent time with journalists, he learnt from them and eventually started his own venture. Bijen told me that he got some financial help from the local MLA, Sanjoy Kishan, which he used to buy cameras," his brother Solen Deep told NewsClick.
Bijen lived out of his home office; on many nights, he did not go to his family home, which was 3 km away. His friend Asonti Bagh, a medical technician, used to live at the office. She was with him the night he died and was the last person to see him alive. "He was drunk the night he died, we fought and I was crying in my room. He said he would kill himself if I didn't forgive him, I never expected that he would do it. It was raining hard and I did not hear anything until I came to the main room and saw Bijen lying on the floor with a wire around his neck," said Asonti. She tried to revive him, but he was dead. The main gate was locked each night by the landlord. So, Asonti waited till 5 am and slipped out of the house, carrying two big bags with her. Tinsukia city was under a lockdown and she asked the only man she saw outside on a motorcycle to give her a lift till her home in Phillobari, about 20 km away. She also carried Bijen's mobile phone, she broke the screen and buried it next to her home.
"I was scared that he had compromising pictures of us on the phone and that is why I carried the phone," said Asonti. Three days later, police arrested her from her home and arrived with a local video journalist who filmed her as she dug up the mobile phone. At her parents' home in Phillobari – where she has lived since she was released from prison on October 15, 2020, Asonti cried as she remembered the incident and gave her side of the story. Bijen had contacted her on Facebook and offered her a job. For more than two years, she was not aware that Bijen was married or that he had three kids, including a son born just 13 days before Bijen died. When she learnt about them, she had tried to break off their relationship, but Bijen was persistent.
Eventually, Asonti had accepted that he would not be able to marry her or leave his wife, she said. Bijen was very pushy and would show up at her workplace and create a scene if she refused to give him time. I showed Bijen's post mortem report, that his family shared with me, to a reputed doctor near my home, Dr Philip Alexander. "The marks on the neck and death by asphyxiation are consistent with hanging, however the injuries to the chest and hands need more information. There are no details on how the chest injury came about and the doctor who signed off on the post mortem has not written about inspecting the chest."
"We will file the chargesheet anyday now, and Asonti Bagh will be accused of murder," said Police Sub Inspector Lokinath Dolay to me who is investigating the death of Bijen Deep, in late August 2021. A week later, he confessed that he was overloaded with cases, he has at least 200 cases pending just assigned to him and it is not humanly possible to investigate and close all of them even in a year. In late November 2021, SI Dolay said "We have been told to dispose off all pending cases from before 2015, and we are all working hard on that, all recent cases, like Bijen Deep from 2020, will take some time now. He did however speak at length to me about Bijen Deep's case. "Why did Asonti run away from the scene if she was innocent, taking his phone when she was seen by the landlord? How will we offer justice to Bijen's family if she is allowed to get away?" he questioned.
Bijen Deep's family wants the police to take action and close the case, but the wheels of justice turn slowly in Assam.
Disclaimer: Reporting for this story was made possible by a grant from the Justice for Journalists Foundation.
Get the latest reports & analysis with people's perspective on Protests, movements & deep analytical videos, discussions of the current affairs in your Telegram app. Subscribe to NewsClick's Telegram channel & get Real-Time updates on stories, as they get published on our website.
Subscribe Newsclick On Telegram