Journalists' Unions from Kolkata, Mumbai, Condemn ED Raids on Newsclick
'Newsclick has been intensely reporting the ongoing farmers' agitation and the raids are clearly meant to intimidate it and a sort of warning signal to other online portals who dare to speak truth to power,' digital media organisations from Kolkata said.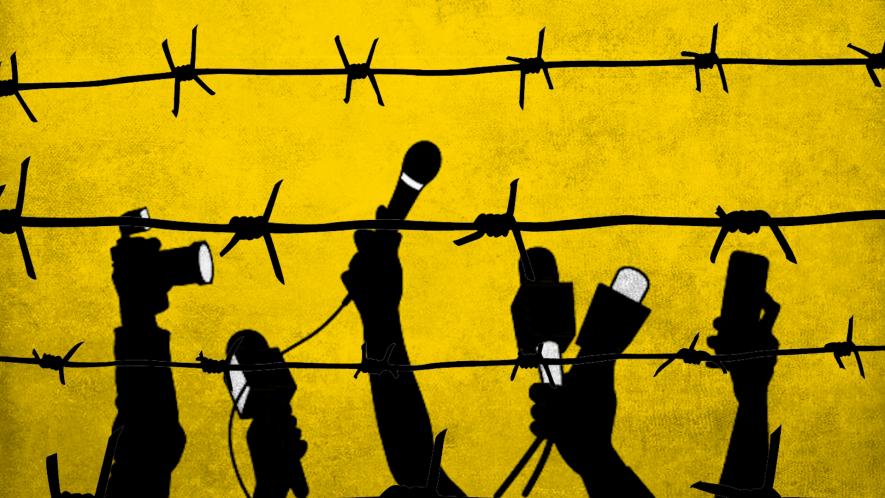 Digital media organisations from Kolkata and the Brihanmumbai Union of Journalists (BUJ) have condemned the Enforcement Directorate (ED) raids on Newsclick, one of which is still ongoing at the house of its Editor-in-Chief Prabir Purkayastha.
In a statement issued on Thursday, the BUJ said that it was "perturbed" by the developments, mentioning it was necessary that "journalists and their severely-fragmented organisations wake up to the authoritarian reality that is fast unfolding before our very eyes."
"At one level, we are faced with an Indian state that has become totally allergic to any kind of dissent. Journalists, social activists and political opponents of various hues are all treated as 'enemies of the state' and subjected to every manner of falsehood, ignominy and oppression. In the process, Central agencies like the Enforcement Directorate and the CBI, etc, have been reduced to nefarious and partisan organs of terror. The recent ED raids on the news portal Newsclick are part of this miasmic and arbitrary pattern. Even fig leaves have now been discarded," it said.
The BUJ mentioned that journalists are constantly being put behind bars under The Unlawful Activities (Prevention) Act, 1962 and that senior editors have been accused of sedition and charges of disturbing communal harmony. "In India, where the process itself is punitive, such actions have a prolonged chilling effect," it added.
In a statement issued on Wednesday, digital news outlets from Kolkata condemned the "harassment and intimidation" on display by the Centre against journalists and media outlets.
"The raids by the Enforcement Directorate at the office of Newsclick and the homes of its directors and editor Prabir Purkayastha is not an isolated stray incident, but part of the BJP government's ongoing witch hunt of media houses, journalists and activists, who refuse to toe its line. Newsclick has been intensely reporting the ongoing farmers' agitation and the raids are clearly meant to intimidate it and a sort of warning signal to other online portals who dare to speak truth to power," it said.
The organisations mentioned that the ED raids on Newsclick were a "clear attempt" to "suppress journalism critical to the government and its policies". They demanded that the government "immediately stop the ED's action against NewsClick and explain why it was raided to begin with. We demand immediate release of all journalists arrested on charges of sedition and under the anti-terrorist UAPA."
The BUJ statement mentioned that the state has been acting as a "blind observer" when media houses do not implement the Supreme Court-approved Majithia Wage Board Award and sack journalists and dock salaries.
"At the third level, the Indian state has swiftly dismantled the historic rights to be entitled to certain working conditions that journalists and other workers had struggled to win since Independence. The recent enactment of the four Labour Codes clearly signals the ushering in of a new era of accumulation wherein contract labour and casual labour will be the order of the day and the social relations of production will be barbarically changed to the detriment of those who work for a living, be it physical or mental exertion," it added.
In a statement released on Friday Newsclick has said it was "disturbed" to note the "selective leaks" by senior ED officials to some news organisations. "The selective leak of misleading facts is nothing but a malicious attempt to smear the image of Newsclick and discredit our journalism. It also constitutes a violation of the sanctity of the legal and investigative process," it added. It mentioned that the organisation had co-operated with ED officials and would continue to do so.
The Newsclick office was raided for over 36 hours beginning Tuesday morning while a raid at the home of its Editor-in-Chief Prabir Purkayastha still goes on.
In a statement on Wednesday the organisation had said that it would "continue to report and record voices of the unheard and unseen people of India, and the world, who are struggling to build a life of dignity and well-being. Efforts such as these raids, to suppress protests and indeed, any striving for progressive thought, will not deter those who stand for justice."
Get the latest reports & analysis with people's perspective on Protests, movements & deep analytical videos, discussions of the current affairs in your Telegram app. Subscribe to NewsClick's Telegram channel & get Real-Time updates on stories, as they get published on our website.
Subscribe Newsclick On Telegram