Just Gratuity Not Enough: Anganwadi Workers
Anganwadi workers and helper unions remind their salaries are meagre and often delayed; many were frontline workers during Covid-19 and some were even martyred.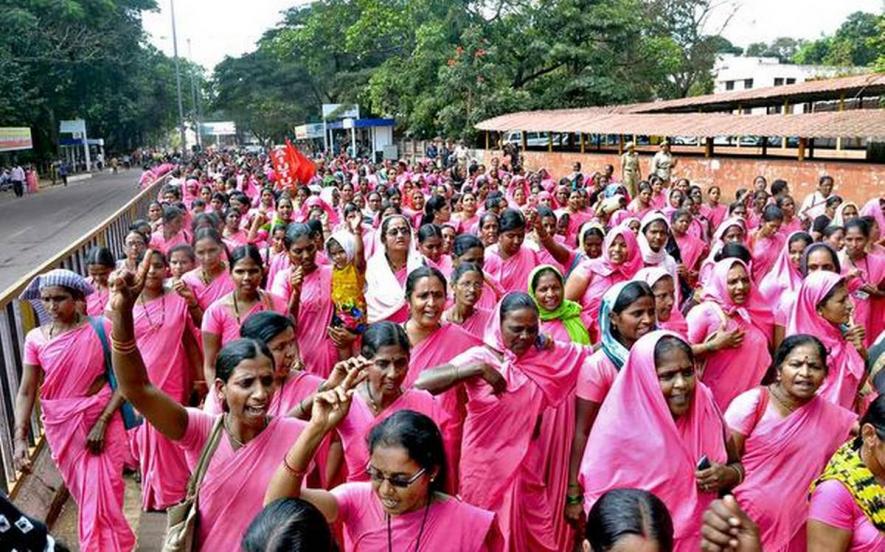 The Supreme Court on April 25, 2022 relieved more than a lakh workers at Gujarat's Anganwadi centres when a Bench acknowledged workers' right to gratuity payment. The verdict concludes around 16 years of legal proceedings by local Anganwadi workers and helpers. More importantly, the judgement gives weightage to the protests by anganwadi groups against recent budget allocations.
Around March 15, Delhi's anganwadi workers (AWWs) demanded increased Budget allocation under Integrated Child Development Services (ICDS), and minimum wages, pension for AWWs and Anganwadi Helpers (AWHs).
At the time, All India Federation of Anganwadi Workers and Helpers (AIFAWH) General Secretary A R Sindhu pointed out that 26 lakh AWWs and AWHs provide food and health services to rural households. During Covid-19, AWWs and AWHs alongside ASHAs and midday meal workers, soldiered through all three waves of Covid-19, often without adequate protection; some even lost their lives.
"AWWs, AWHs and midday meal workers have delivered door-to-door service to [ICDS, MDM and NHM] beneficiaries. The government has not paid any risk allowance and not even provided any safety gear to them. Scores of ASHAs, AWWs and AWHs have been martyred fighting Covid-19 for the government," said Sindhu.
As per the AIFAWH, over 20 crore children under 14 years and around 3-5 crore women get the basic right to food and health through these schemes. However, in the 2021-22 Union Budget, the NDA-led government reduced the ICDS allocation by 30 percent. Similarly, the MDM scheme suffered a cut of ₹ 1,400 cr and then another ₹ 1,200 cr this year. Due to such fiscal reductions, even the meagre remuneration is not paid to the employees for months together.
Acknowledging anganwadi contribution
In its judgement, Justices Ajay Rastogi and Abhay S. Oka recognised the "all-pervasive duties" assigned to AWWs and AWHs. These include identification of beneficiaries, cooking nutritious food, serving healthy food to beneficiaries, conducting preschool for 3-6 year-old children and making frequent home visits for various reasons. For all this, Gujarat's AWWs earn ₹ 7,800 monthly and AWHs earn only ₹3,950 monthly. In mini-Anganwadi centres, AWWs earn ₹ 4,400 per month.
"Considering the nature of duties specified thereunder, it is full-time employment. In addition, there is a duty to render pre-school education. For all this, they are being paid very meagre remuneration and paltry benefits under an insurance scheme of the Central Government. It is high time that the Central Government and State Governments take serious note of the plight of AWWs and AWHs who are expected to render such important services to the society," said the court order.
More than independent studies, Lok Sabha questions-answers qualify this argument all the more.
Anganwadi centre budget
On February 11, MP Mahesh Sahoo asked about the budgetary allocation made to Anganwadi centres during the last five financial years. Accordingly, the Women and Children Development Minister Smriti Irani said that budget estimates increased from ₹ 14 cr in 2016-17 to 20,532. 38 cr in 2020-21.
The budget showed an increasing trend from ₹16,334.88 cr in 2018-19, ₹19,834.37 cr in 2019-20 and ₹20,532.38 cr in 2020-21. However, the revised estimates showed a declining trend with ₹17,879.17 cr in 2018-19, 17,704.50 cr in 2019-20 and ₹17,252.31 cr in 2020-21. This implies that money not spent in the previous year is being added the next while the allocation may in fact have declined.
Further, Mahila Anganwadi Karamchari Sangh Uttar Pradesh President told SabrangIndia that additional schemes for adolescent children's education have been included in this budget. For example, under PM POSHAN scheme 2.0 the government of India allocated another ₹9,315.26 lakhs to India's Anganwadi centres for maintenance. Around March 25, the government said that 10,000 Anganwadi centres out of 13,99,697 centres are not operational. Among the 1,89,309 operational centres in Uttar Pradesh, as many as 1,47,725 centres do not have their own building.
Even under the ICDS funds, only 8,70,160.16 lakhs funds were utilised for supplementary nutrition (SNPs) out of the approved fund of 10,10,636.16 lakhs. In reality this only increases the workload for the workers while doing precious little about their wages.
"Scheme workers are in continuous struggles for improving their working conditions and schemes. Even before the budget, we had approached Ministers and MPs from all political parties but in vain," said Sindhu.
Unions of ASHAs, AWWs and AWHs and MDM workers demand for increased budget allocation to ensure proper healthcare, quality ECCE services to the children and Covid-risk allowance of ₹ 10,000 per month, minimum wages of ₹ 26,000 per month, pension and social security to the workers. This is also in line with the recommendations of the 45th Indian Labour Conference.
Yet, the Centre and state governments continue arguments like the ones made by the Gujarat administration regarding "substantial financial burden" on the State exchequer. Meanwhile, unions said that increased salaries and monetary security to the women ensures better healthcare and nutrition for citizens.
Even the apex court agreed to this considering the six major responsibilities of AWWs and AWHs: Supplementary Nutrition (SNP) Pre-school Non-formal Education, Nutrition & Health Education, Immunization, Health Check-up, and Referral Services.
"It is high time that the central government and state governments take serious note of the plight of AWWs and AWHs who are expected to render such important services to the society - They are being paid very meagre remuneration and paltry benefits under an insurance scheme of the central government," said the court.
Get the latest reports & analysis with people's perspective on Protests, movements & deep analytical videos, discussions of the current affairs in your Telegram app. Subscribe to NewsClick's Telegram channel & get Real-Time updates on stories, as they get published on our website.
Subscribe Newsclick On Telegram