Kaam Karo or Why Naveen John is India's Most Successful Cyclist
The 2017 Indian National Champion is a man of routine who WILL NOT compromise on training.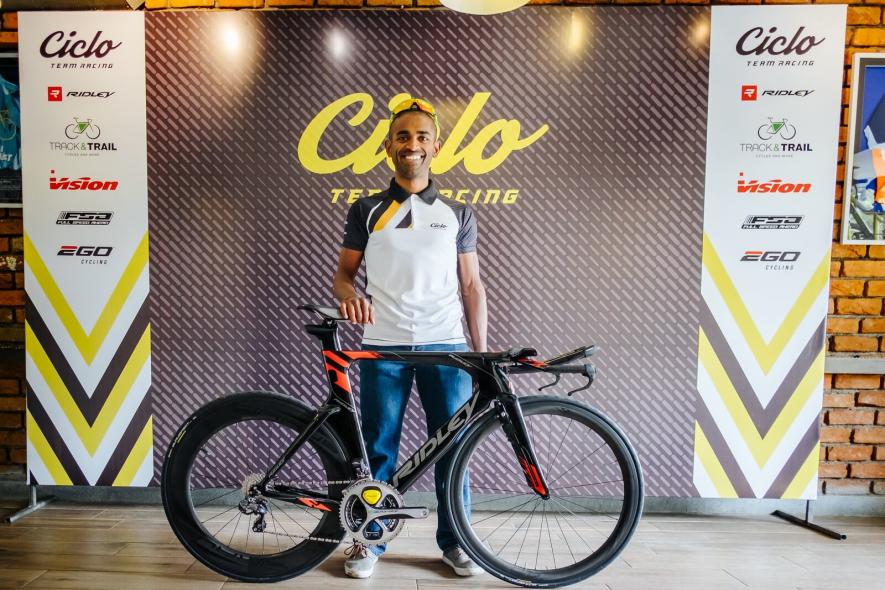 Image Courtesy: Chenthil Mohan
To really understand the madness of Naveen John, you have to first see him in a YouTube video titled 'He did the Double'. The clip is a chronicle of John's biggest achievement last year—the National Road Race title, one that meant he became the first cyclist in over a decade to take the Time Trial gold and the Road Race gold at the same event the same year.
The video is cult among cycling fanatics in India, so much so that a singular moment from it, a five-second clip, sparked its own 38-minute tribute.
It comes towards the end third of the video—and the final third of the road race itself. A fellow racer is caught drafting behind John as he pushes his pace. John sees this happening, turns around in his saddle and berates the hanger-on. 'Kaam Karo,' he screams, "Kaam karo, kaam karo, kaam karo," till the offending cyclist pulls away. For added insult, John gently nudges him ahead.
The shot cuts soon after, and you never see the 'drafter' again. John races to the title.
Even after seeing John race, train and otherwise talk in his genteel, polite and exuberant manner in real life, you cannot get that video out of your head---those five seconds of it, to be precise. It isn't just the shock of his vocal admonishing that jars you. It is the words he uses. Kaam Karo.
For Naveen John, hard work is everything. You learn this as you talk to him more and more. Nothing replaces hard work. No pain, no gain.
Naveen John took up cycling a bit late in life. Later than you would expect an elite athlete at the top of his sport to at least. That he took it up at all is a surprise, especially when he tells the story of his initiation.
In the sophomore year of an electrical engineering course at Purdue University in Indiana, John—then not the lean, mean muscle machine of today—signed up for a 120-mile cycle ride called 'Habitat for Humanity'. The ride aimed at raising money to build houses for the underprivileged across the country.
"Once I signed up, I panicked a bit. I realised that I had to get fitter than I was, and started training seriously," he says. Where most would've quit once the charity ride was over, John was transfixed by the sport.
"The first allure was obviously the community aspect of it," he says. "In the US, cycling is huge, and cycling long distances with your mates gave you an opportunity for great conversation and good times. Soon, though, I got more involved. I was in the collegiate racing system, and, every now and then, the guys there would throw out the idea that I should go back to India and become the national champion."
When he says this he laughs, reminding you of how absurd his introduction to the sport was, and how supremely talented (and unbelievably hard working) he really is to have gone and done what he did.
The thought took hold though, and its roots spread as John started researching his options in India. Some of the quick hits he found on Google in 2012 are still around today. Names such as Wheelsports and Kynkyny Racing popped on the screen. And then he noticed a timely event for an audition—the Bangalore Bicycling Championships (BBCh).
He shot off a few mails to some teams in India, and expressed a wish to come and race here. Within a few months he shifted to Bangalore, and started what would be a breakthrough chapter in Indian cycling.
In The White Tiger, Aravind Adiga describes parts of northern India as "the darkness" that his protagonist has to escape from. Bangalore is the light: new India, shining amid the darkness. There can be different arguments for different problems with this assumption, but it is safe to say that Bangalore is the new light for cycling, the light tower that all lost ships sail to when they have lost their way.
The city has the most cycling clubs in the country, and was also the base for India's first professional cycling team, the Specialized Kynkyny Cycling Team, launched in 2012.
Its founder, Vivek Radhakrishnan, carved his route into cycling after a stint as a bike messenger while studying design in the Netherlands. When he returned home, he was excited about starting a team and rallying up the top names of Indian cycling under a single banner. His rallying point came in the form of then National Road Champion Lokesh Narasimhachar, a man who was then regarded as the guru of Indian cycling.
Very soon, SKCT ruled the roost at cycling events across the country. Not only were they easily recognisable for their ability to finish on the podium, their race strategy, and—what was at the time a real deal sealer—their coordinated, bright pink kits were also big draws.
When John decided to return to India in 2012, he was landing flush in the middle of this revolution, hoping, perhaps, to make his mark as quickly as he could.
Chenthil Mohan first met John at the Tour of Nilgiris in 2012, and was immediately taken in by what he then saw as a 'talent worth keeping an eye on'.
Mohan had been working as a photographer in the Indian cycling scene, and regularly attended the various road events and Nationals that pockmark the country. Naveen's win at TFN that year, though, sparked a personal project that is now six years in the making. He started documenting John's daily grind and also got more involved with the sport itself, working with and around Naveen to make inroads into Indian cycling itself.
"One thing you must know about Naveen is that he is really driven and focussed," he says, "Once NJ gets his mind set on something, he cleans the table of all the clutter and focusses on getting the job done."
Oddly enough, John didn't win the Nationals as soon as he came back. He took stock of where cycling was in India, and slowly paced himself into it. Having noticed the lack of funding, the unavailability of top coaches or training regimes, he started implementing what he could, on his own, on himself. He found help where he could, and was forever eager to listen to others and learn from them.
"If there is one thing Indian athletes are guilty of, it is complaining about the system," Mohan says, "It's a regular phenomenon. Why doesn't A do well there? Because the system is bad. And that's what separates Naveen from the rest, man. He doesn't believe the world owes you shit. He will never crib about what isn't there. Instead he just wants to change what isn't."
This is easy to explain. He is a stickler for routine, and has all the regular elite athlete quirks—an insatiable need to use the roller before falling asleep being at the top of his list of priorities.
There is something else that is harder to explain: there remains an unknowable quality to John. He is unfailingly polite, often deferential, always exuberant but rarely exposes too much to you despite it all. It is difficult to know him separate from the cyclist.
Mohan laughs at the assumption that there is something separate than the cyclist in John. "Dude, he has no girlfriend. He has a family that is on the fringes of his daily life. He has no social life. For him, all of this is interference," he says. "NJ is very clear. If you cannot help him with whatever his agenda at the time is, you are making it more difficult. He will just, very lovingly, cast you out till you know very little of what is going on with him."
Kaam karo at its finest. No drafting please.
John's legend in Indian cycling is built on an oral rendition of his dopest moments (mostly through people who have seen him race, in the flesh) on the saddle, and nothing quite beats the story of his audition in Bangalore.
The setting was the BBCH in 2012. In his own words, John landed up in town the day before the race and 'did the barest minimum of recces, before hitting up the track the next day'.
"I'd corresponded with Vivek before coming to town, and had expressed an interest in joining Kynkyny. He sounded like a keen guy, but I also got the feeling that I needed to prove myself. There was no free ride into the team," John recalls.
From there on, the stories take hold.
"No one knew him here. He had, I think, landed just a day before the race and to us, he was just another biker, in the pack. We all wondered of course, who this dark guy in the green kit was," says N Venkateswara Rao, a cyclist who runs the Spectrum racing team and blogs at bvcoaching.in.
Rao—or Venky as he's popularly known in the cycling circuit—is the foremost voice when it comes to recalling the events of that day. He chronicled them on his blog, but was gracious enough to replay them, almost verbatim, on the phone.
"Kynkyny was the top team at the time and a couple of their riders were leading the BBCh at the time. Naveen started off strong and was immediately riding with their lead pack. We'd seen something like this before—a newbie coming in, adrenaline rushing and then burning himself out midway through the race."
John though was no newbie. He was an accomplished collegiate-level cyclist, and, despite the late start, had trained and religiously progressed through the sport in the years he had been away from India. He burned through the peloton and laid down the charging marker that everyone else would soon pick up and try to catch up to.
"Everyone who saw him ride that day has a story to tell. It's a cult moment," says Rao. "Volunteers were raving about him no end. Watchers were raving about him. Riders he lapped had a story to tell. There was the bit about how he bunny-hopped over a 5-foot crater. Another one about how he got a flat, and had to borrow a wheel from a volunteer. By the end of the race, everyone's jaws were on the floor. We knew he had arrived."
Cult stories and championship moments define a sportsman's past. Their future and their present are often spent obsessing over minute details others may not give a damn about.
Every waking moment of John's life seems to be spent in training and recovering from the ordeal of training. Messages and calls are often prefixed with 'just got back from a ride', 'Call you in a bit. Just hitting the shower' or the singular 'I'm going to grab a smoothie for recovery and call you back'.
In the follow-up video titled 'Kaam Karo Explained', John talks viewers through the road race at the Nationals. The intricacies can be a bit overwhelming. The larger point you come out of it thinking is this: this man is more than a killing machine on pedals.
Last year, John became the first Indian rider to saddle up for a professional team outside of India when he joined State of the Matter MAAP Racing in Australia for the season in 2016. The team was disbanded at the end of the season, but not before John picked up some valuable life lessons for the future.
"The way they think about cycling, and professional cycling abroad, is massively different," he says. "The training, as an individual and as a team, as well as the importance of strategy, all of that is lost when you're racing here all by yourself."
On his return, John joined Ciclo Team Racing, India's sole Elite Amateur Cycling team, as a team director, mentor and rider.
"One of Naveen's greatest assets is his ability to look at the larger picture," says Rao, "Ever since he's come back, his main objective hasn't been just to become a top-level cyclist, but also to make India a space where cycling is a top-level sport."
Rao talks about how he would always sit in consultation with other teams, directors and clubs, and discuss and propose different formats of races, and suggest changes to the calendar.
"That really is one of the defining things he is essentially doing," Mohan also agrees, "Cycling isn't yet huge in India, and so he is working not just to take himself up the ladder but also to take the sport up with him."
"He understands this. For him to grow, the ecosystem also has to grow," says Rao.
John started the Indian Pro Cycling Project in 2013 with an aim to help a small community grow from the grassroots. It is a team that he set up with the intention of taking the best amateur cyclists, across ages, to Belgium to train and compete in kermesse events through the season.
"We had 75 applicants last year, and the first woman rider who came with us too (Rutuja Satpute). The idea is to grow this organically. It isn't enough to just have pro riders, we also have to have a more rounded look at sport, and inculcate people who are successful at this approach."
IPCP is in its fourth year now, and every year its graduates seem to be creating inroads into Indian cycling. Satpute won the Individual time Trial at the Nationals last year.
On a personal front, John is kicking down his own doors. At the Asian Cycling Championships in Myanmar early this month, he qualified for the ITT and the Road Race. Racing for the team with the smallest budget—not to forget he was one of a small percent of riders who are still elite amateurs—he finished a credible 10th in the ITT.
For John, each experience is a new chapter. In his Instagram post after the road race, he clearly lists the six things he tried out to try and push himself into peak performance. He, articulately, also recognises the mistake he may have made with certain strategies, and closes it with a positive statement looking forward to next year.
He is a man of logic, of numbers; every success or failure is dissected with the same amount of diligence. Excuses like funding, infrastructure and coaching do not feature in his vocabulary. It is no wonder then that he pushes people with a dislike for details and obsessiveness away. And, unsurprisingly, admonishes riders who piggy back on his draft stream to secure positions in races.
At the Nationals, John's greatest strength was in his ability to outlast and outhink the other racers in moments of adversity. Racing all by himself, he made solo breaks to catch the leading peloton (who had pulled away 20km into the race) and then kept a sustained pace to break those who tried to keep up with him. He crashed 100m from the end, and still managed to get back up on his bike and get to the finish line.
He was the local hero in those surroundings, a Karnataka rider racing in Karnataka for the National title. For anyone who didn't understand, kaam karowasn't simply a rebuke. It was a mantra he gratefully gifted his competitors.
There is only one way to beat him. Kaam karo. It is also, the only way to earn his respect.
Get the latest reports & analysis with people's perspective on Protests, movements & deep analytical videos, discussions of the current affairs in your Telegram app. Subscribe to NewsClick's Telegram channel & get Real-Time updates on stories, as they get published on our website.
Subscribe Newsclick On Telegram