Karauli, Rajasthan: Muslims Suffer an Economic Loss of Over 5 Crore!
Amongst distressed accounts, a fact-finding team reports 62 properties were destroyed in the April 2 violence.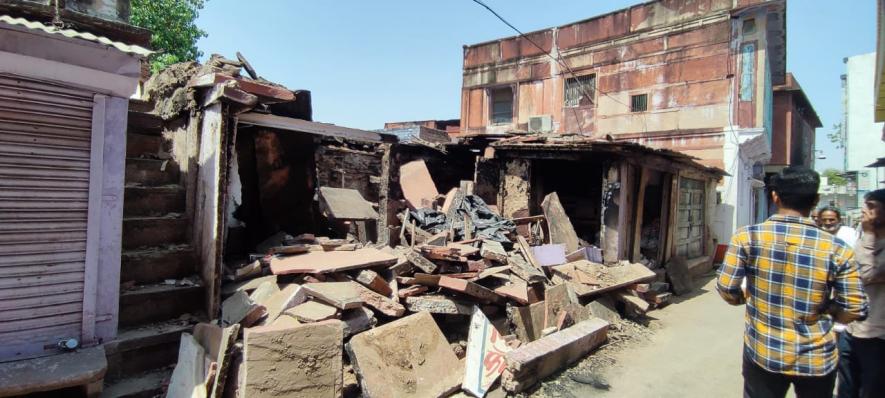 Boora Batasha market in Rajasthan's Karauli city once housed four fareedi sweet shops owned by Muslims. These shops sold batashe meethai, Indian cookies, misri, boora, dry fruits and many such confectionaries adored by lovers of Indian food. After the Karauli violence on April 2, 2022, these shops now lie as rubble between market shops, fact-finding team member Amir Sherwani told Sabrang India on April 14.
Sherwani visited the violence-inflicted area on April 11 with activist Aasif Mujtaba, journalists Syed Meer Faisal and Arbab and volunteer Danish. Early data acquired by the team showed that 62 properties were destroyed in the violence. Further, Sherwani noted a palpable tension in the area that had created a communal gap among people. They are part of a fact-finding team who's report will be released soon.
"When we were talking to Muslim shopkeepers, non-Muslims maintained a distance from us. Even while talking to them, they kept their distance. The sensitive environment was very noticeable," said Sherwani. Mujtaba squarely blamed the Hindutva assaulters, drawing parallels with the Delhi riots in February 2020.
"In both areas, people were living peacefully. The market had good inter-faith relations and the anti-CAA protests were peaceful. The moment the Hindutva mob entered these regions with the intent to create riots, violence broke out," he said.
Ferocious attack in the market
Four out of eight Muslims shops in the bazaar were reduced to rubble. Some shopkeepers could not contain their tears  on meeting the fact-finding team, explaining that no one from the authorities or government has come to talk to them even a week after the incident. According to locals, the region had not witnessed such a violence since 2012. Before that, there was another attack in 2006. However, people said that they had never witnessed such targeted aggression before. Only Muslim shops, amidst long lines of sores, were looted, burnt and destroyed to ruins.
"It was clear that the system was complicit. These were planned attacks," said Sherwani.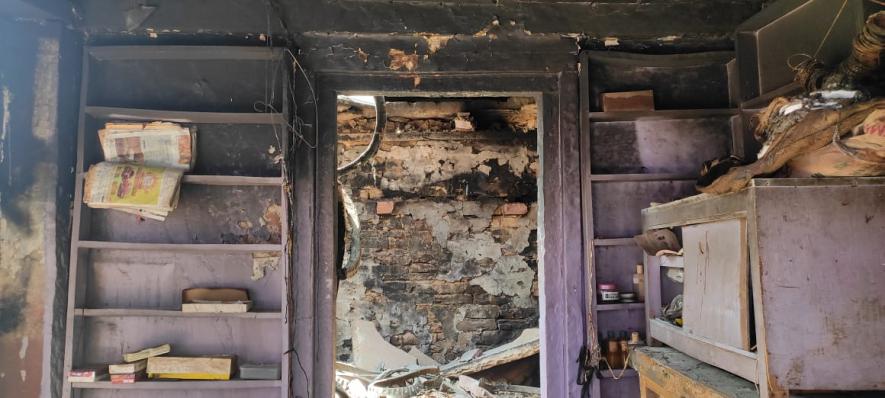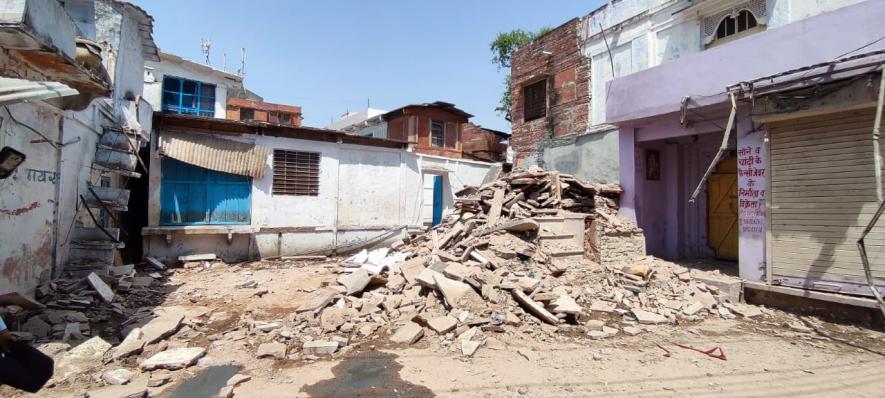 The damage was much more than four shops. Of the 62 properties destroyed, 59 shops belonged to Muslims. According to Mujtaba, this included 44 well-established shops and 15 small shops. Overall, the economic loss is estimated over ₹ 5 cr. Yet, when he talked to victims, no one had received any compensation from the government. "There is never any moral justice by the system by way of legal punishment but even the economic justice here is highly inadequate," said Mujtaba.
When shop-owners learnt about the attacks by Shobha yatra members – led by the BJP, Bajrang Dal and other RSS-affiliated groups – they immediately pulled the shutter and bolted home. On arriving, they learnt that the shops were attacked by right-wing groups.
Among them, the team spoke to Najmuddin, Usmaan, Qasim and brothers Jannar and Anwar all of whom suffered a loss anywhere between ₹ 4 lakh to ₹10 lakh. They filed FIRs in the nearby police station. However, Sherwani pointed out that even these documents maintained a "balanced" account, referring to "clashes" between Hindus and Muslims. Victims said that there was no conflict because they had run away from the place.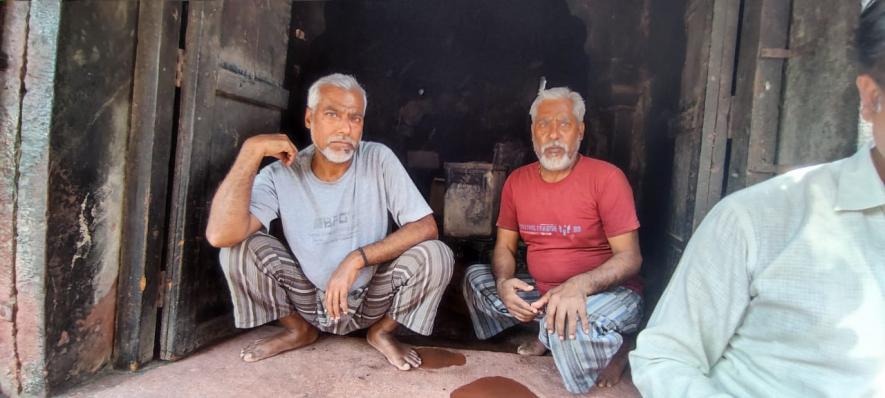 In Phootakot market where the aggressions began, the Manihar Muslim community lost choodi (bangle) shops with products of invaluable varieties from across India. Khatoon Bano and Sitara lamented the loss of their 400-year-old mansion whose ground floor was used as a bangle shop. Accounting for the glass furniture housed in the home of 16 people, the economic loss can amount to crores of rupees.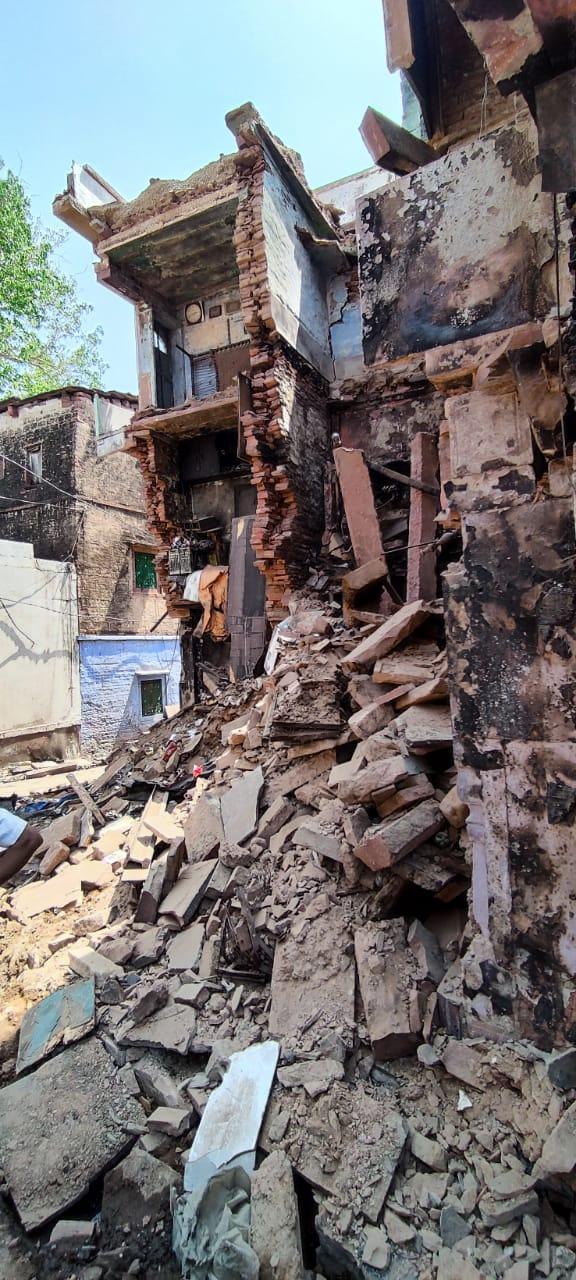 "There were Jaipuri bangles and others from across the country. It was a multi-storage building that is gone now," said Sherwani.
Similarly, bangle-shop owner Abdul Hamid owned a store with a thousand different bangles and a showroom worth ₹ 8 lakh to ₹ 10 lakh. He told Sherwani there's no way he can recover this loss.
Another victim, tailor and embroidery-worker Wahid, worked in a non-Muslim shop with four other Muslim employees. Even that shop was destroyed leaving the sole-breadwinner of 12 people unemployed. "It was a pre-planned, complete socio-economic boycott – an attempt to uproot them. Some people said they are not sure if they will get shops there again," said Sherwani.
Further, Mujtaba pointed out that unlike the team, authorities had not mapped the loss in the area. He wondered how authorities would provide adequate compensation if they did not know the actual loss. "These are not rich people, these shops were their livelihood. And yet, when we met them, they had not received a single rupee," he said.
Was the police complicit?
Like in Delhi riots, Mujtaba said that the violence had the tacit support of the police, who treated the violence one-sidedly.
Contrary to the idea that victims might have been reticent to speak to outsiders, the team four that local people were eager to talk to the team and express their anguish. They would have talked to other officials as well but were only visited by the tehsildaar and munshi to register the FIR. Still other victims have not been able to register their complaints. Bhaskar news on April 14 claimed that over 100 arrests were made by April 14 with 27 cases registered.
However, Mujtaba argued that even though the minority community was the clear victim here, Muslims were simultaneously being arrested by the police. Notedly, Muslim juveniles were remanded by the police.
"Just like in Khargone (Madhya Pradesh), there is an attempt to give the victim the colour of a perpetrator," said Mujtaba. However,  Sherwani agreed that some Hindu shops were also attacked; he added, however, that they were unable to access those areas. The group also tried to enter other violence-hit areas but these were closed off by the police.
On the attitude of the police, members observed that the police officials were not comfortable with the presence of the fact-finding team. Sherwani also spoke about bias of the police officers as they prevented the team from visiting a local masjid for prayers and expressed surprise to meet a Muslim journalist. At one point, 40-50 police personnel gathered around them with lathis. Eventually, the Superintendent of Police (SP) asked the group to leave if they were done with their work.
A tear in the social fabric
Videos and pictures shot by the team went viral on social media. Sherwani said that this had an impact on the state administration that prevented BJP leader Tejasvi Surya from entering the affected areas as well. Speaking to Bhaskar news, Minister Vishwendra Singh and Subhash Garg criticised the party members for only arriving at the area, partying at a hotel and then moving on to Delhi. Singh called it a clear violation of Section 144 and warned the BJP of arrest if any member tries to spread chaos.
However, Sherwani, more concerned with what did happen than what could happen said, "What concerns me is that there is a mistrust among the Muslim community against the state machinery which is not healthy for a welfare state. They feel they are not welcome because they are Muslims."
Similarly, Mujtaba said that unlike other riot incidents, officials could not blame the attack on "outside elements". As reasoning, he recalled the story of clothes shop owner Irfan, whose well-established and four-shop long store was tucked in a corner of the market. While popular in the area, the shop was a diamond in the ruff for newcomers. "He (the shopkeeper) asked me, '' How could these people find my shop?" Such facts point out that there is a definite attempt to rile up the people," he said.
Looking back at the experience, Sherwani said that citizens must collectively worry about this erosion of trust in a secular democracy.
All photos and videos provided by Amir Sherwani
Get the latest reports & analysis with people's perspective on Protests, movements & deep analytical videos, discussions of the current affairs in your Telegram app. Subscribe to NewsClick's Telegram channel & get Real-Time updates on stories, as they get published on our website.
Subscribe Newsclick On Telegram