Karnataka: AIDSO Organises Conference of Unemployed Youth in Bengaluru
Many of the youth in the audience were mobilised from colleges and coaching classes across the district.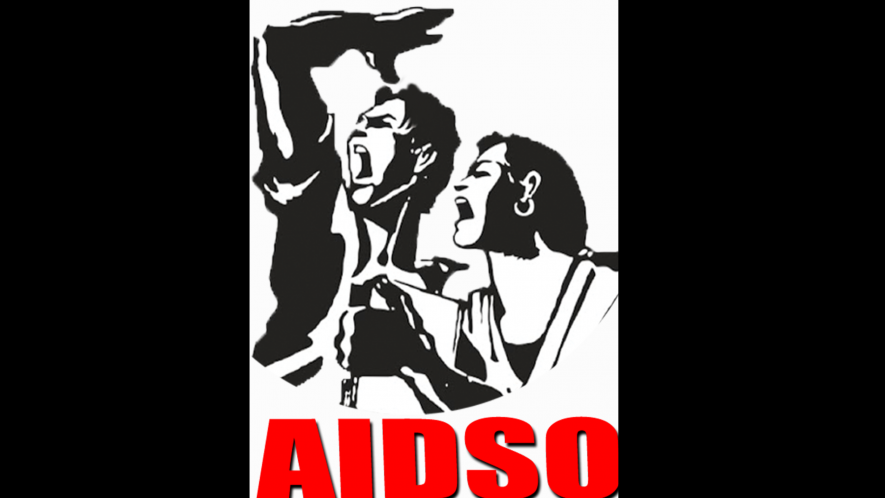 Bengaluru: Unemployed youth from across the state of Karnataka gathered at the Bharat Scouts and Guides auditorium on Thursday to attend a conference on unemployment and its roots. The conference was set up under the banner of the 'All India Unemployed Youth Struggle Committee', which is an initiative of the All India Democratic Youth Organisation (AIDYO).
The audience consisted of primarily unemployed youth in their early twenties who were either looking for a job or were preparing for exams related to government jobs.
Many of the youth in the audience were mobilised from colleges and coaching classes across the district. For example, in Raichur, members of AIDYO ran a campaign to convince the State government to provide free bus passes to students. Ultimately, the government provided cheaper bus passes, but only to SC/ST students.
But through this campaign, the organisation came in touch with students who had the potential to be organisers and future leaders. Members of AIDYO said they were looking to build the organisation with the help of young student leaders.
Among the speakers at the conference were former Karnataka Lokayukta, Justice Santhosh Hegde, senior journalist Mangalore Vijay and Dr GS Kumar.
GS Kumar, Vice President of the AIDYO, spoke about the dominant class in society. Addressing the gathering, he said, "The world looks at India and speaks about the possibility of demographic dividend. However, this is looking to be a demographic disaster because of youth unemployment. But what is the root of this problem? I feel the problem has been created by the capitalist class in our society.
In the Indian context, there are two classes - the capitalist class, which owns all the wealth as well as the political machinery. On the other hand, we have the working class - farmers, peasants, masons, factory and MGNREGA workers. They make up 95% of the population. However, all the policies and laws are created in favour of the capitalist class."
"In 2014, some businessmen who were not even present on the list of the ten richest people in India had quickly risen up to one among the richest persons in the world. The present arrangement is built on greed and selfishness and can only benefit the capitalist class. Our struggle needs to aim for a change in this basic structure," Kumar added.
Madayya, 30, a member of the Jenu Kuruba tribe, was one of the attendees. He has passed only the sixth standard and has been working to support his family from the age of 12. He said, "This organisation is trying to help our people, that is why I have come to attend this conference along with 8 of my friends from the village."
All of them belong to a remote village located near the Bandipur National Park. Madayya said that their families used to live on the forest produce but were forcibly displaced by the forest officials. Now they live in a village in Sargur Taluk. In order to earn a livelihood, they work as peasants and labour on farms and coffee estates, particularly in Kodagu. Due to the presence of abundant demand for labour in coffee estates, they make their way there for three months a year and pluck coffee as well as pepper. They earn Rs 300 per day and a bag of rice from this. They came in contact with political activists a few years ago during a protest to restart ration (PDS) services in their village.
"We came to know about our rights after interacting with some activists. We sent letters to the government to set up better facilities in our village," Madayya said.
They have been provided with small houses under the schemes for Particularly Vulnerable Tribal Groups (PVTG). However, they do not have any land ownership documents and fear that if they are asked to move again, they will not have documents to support their claim over their houses.
Mangalore Vijay, a senior journalist, while addressing the audience, said, "The onus is on us to identify the classes within our society as well as the basic attitude of these classes. How do we stop injustices from continuing? It cannot be done by one person alone. This organisation (AIUYSC) is being built by people who wish to spread enlightenment about our rights and struggle to gain these rights.
To make this happen, we need a conscious mind and a willingness to struggle. If we have identified capitalism as a cause of inequality, we should work towards dismantling it. We want to rebuild society in a way that hard-working people can also live a life of dignity," he said to a rapturous applause.
Justice Santhosh Hegde also spoke about greed but in the context of government corruption. Addressing the audience, he said, "people who give bribes are responsible for the corruption in the government. Development is not possible when there are so many scams. Sometimes I feel there is no solution for corruption within our existing legal framework. But, I cannot support a revolution. You should gather on the streets in large numbers and go for a peaceful protest. I am with you in this."
Get the latest reports & analysis with people's perspective on Protests, movements & deep analytical videos, discussions of the current affairs in your Telegram app. Subscribe to NewsClick's Telegram channel & get Real-Time updates on stories, as they get published on our website.
Subscribe Newsclick On Telegram