Karnataka: ASHA, Sanitation Workers Battle Govt Neglect Amid Pandemic
July 24 marks the 15th day of the indefinite strike waged by around 42,000 ASHA workers; while sanitation workers staged multiple protests in the state capital.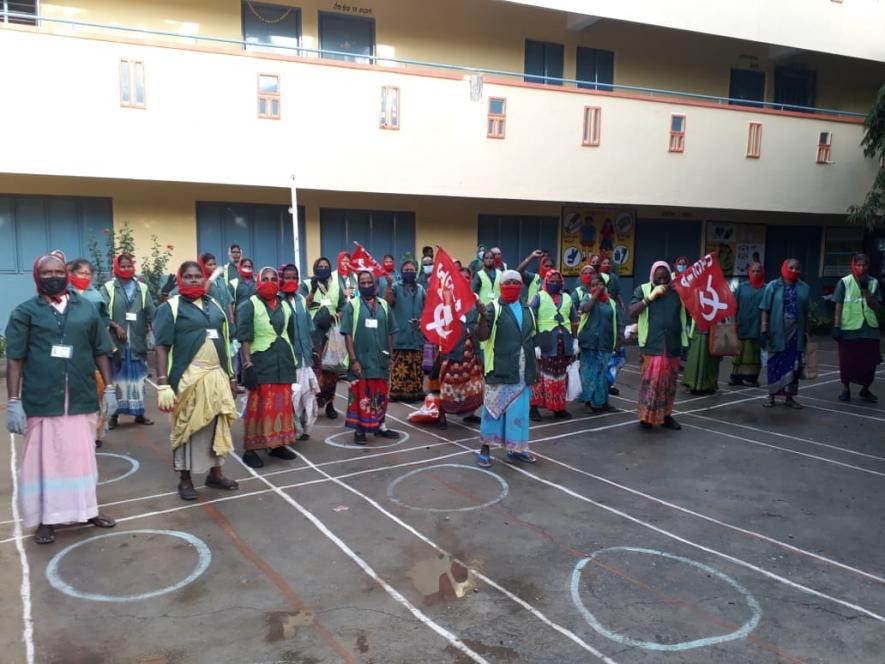 The COVID-19 pandemic has again brought to the fore the history of neglect that a large sections of workers, now at the frontline in battling the virus, have been subjected to for many years now, allege activists and trade unionists, as a spate of protests rage in Karnataka.
July 24 marks the 15th day of the indefinite strike waged by around 42,000 Accredited Social Health Activist (ASHA) workers across the state, who are pressing for a fixed monthly payment. Similarly, multiple protests are being staged by the sanitation workers, popularly known as pourakarmikas, and hospital staffs in the state capital Bengaluru, whose primary demands include better safety arrangements.
The workers' agitation comes at a time when the number of infections in the state are continuing on its upward trajectory. Since last week, a sharp rise in the positive cases have made Karnataka the fastest growing state in the country in terms of virus-infected cases.
In this backdrop, the front line workers have alleged that the Bharatiya Janata Party (BJP) – led state government has failed in discharging its duties to ensure proper working conditions and safety – despite the indisputable significance of these workers in assisting the administration to restrict the spread of virus.
"The ASHA workers in the state have been pressing for a hike in remuneration for many years," said Hanumesh G of the All India United Trade Union Centre (AIUTUC) – backed Karnataka's ASHA Workers' Union, adding, "Now, in the COVID times, they are forced to boycott their work but even that does not seem to worry the Karnataka government which has given us mere assurances even now." 
On Friday, protests were held at the taluk level across the state as part of the work strike. The ASHA workers, who have been extensively engaged in contact tracing and door-to-door fever surveys, are demanding a fixed monthly salary of Rs. 12,000 along with PPE kits and an insurance cover. Currently, they make only Rs. 6,000 a month in addition to incentives, which are, however, not regular.
In May, as part of relief measures for those helping in the fight against COVID-19, Chief Minister BS Yediyurappa had announced a one time incentive of Rs. 3,000 to the ASHA workers.
But, even that amount is yet to be transferred to all the ASHA workers in the state, Hanumesh alleged. "The workers are protesting not for some one-time relief, but to pressure the government in paying heed to the prevailing poor working conditions," he told NewsClick.
Similarly, to raise the issue of other scheme workers including anganwadi and National Health Mission (NHM) workers at a national level, the 10 central trade unions have given a call for a two-day pan-India work strike on August 7.
Also watch: "ASHA Workers are in Forefront of Fighting COVID-19 but are Denied Facilities"
Likewise, the sanitation workers, employed by Bruhat Bengaluru Mahanagara Palike (BBMP) complain of having been exposed to the virus without any safety equipment. In order to ensure that their demands are heard, the workers have gone on an indefinite protest led by All India Central Council of Trade Unions (AICCTU) – backed BBMP Pourakarmika Sangha.
Lekha Adavi of the Sangha told NewsClick that almost all of the 17,000 pourakarmikas under Bengaluru's municipal body participated in protest, by staging a sit-in twice a day at their mustering centres and by wearing black band during service.
"For months, BBMP has failed in ensuring that the waste is properly segregated," which translates to improper disposal of bio-medical waste including hazardous material that potentially carries virus, from containment zones and quarantine households, she said.
Instead, the sanitation workers, who are not provided with any protective kits, are being compelled to collect the waste, Adavi averred. The result of this, according to a statement issued by the Sangha earlier on July 21, is that five sanitation workers have succumbed to COVID-19 while more than 50 others have tested positive till then.
"It was only after sustained protests that now fresh PPE kits have been distributed to some of the pourakarmikas, but that is yet to be seen in all the wards. Also, assurance has been given that thermal testing will take place at all mustering centres," Adavi said.
The recent protest of the pourakarmikas in Bengaluru also saw participation – in substantiate numbers – from the the 3,000 odd drivers and helper – also engaged in collection of garbage in India's silicon valley. They are employed by third party contractors, who assist the pourakarmikas.
Adavi alleged the condition of these contractual drivers and helpers to be much worse, who have not received their salaries since past three months. "With their participation in the protests, we are demanding the BBMP to not run away from its responsibilities of being their principal employer," she added.
Maitreyi Krishnan, a Bengaluru-based lawyer by profession and trade union activist with AICCTU, referred the recent protests in the wake of COVID-19 as a direct result of the "long history of state's neglect towards the workers and their rights."
Speaking of the protests, she said, "Look at the demands that are made, which are nothing but mere basics. These are your front line workers, however, they are in despair. The state is choosing not to prioritise the needs and safety of the workers. This is wrong on multiple grounds."
These protests must converge in the future, in a bid to mount further pressure on the state government, Krishnan added.
Also read: After Massive March, Karnataka ASHA Workers Decide to Boycott Work Indefinitely
Get the latest reports & analysis with people's perspective on Protests, movements & deep analytical videos, discussions of the current affairs in your Telegram app. Subscribe to NewsClick's Telegram channel & get Real-Time updates on stories, as they get published on our website.
Subscribe Newsclick On Telegram