Karnataka: Anganwadi Workers Demand to be Classified as Teachers
Thousands of workers affiliated with CITU on strike since January 23; Workers are classified as 'activists' and paid honorariums instead of salaries currently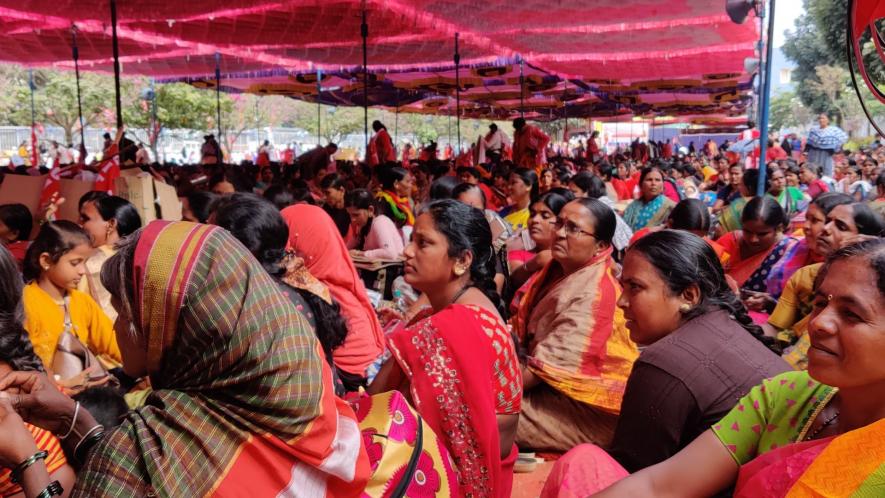 Thousands of workers affiliated with CITU on strike since January 23; Workers are classified as 'activists' and paid honorariums instead of salaries currently
Bengaluru: Thousands of Anganwadi workers affiliated with the Centre of Indian Trade Unions (CITU) have been on strike in Karnataka since January 23, 2023. Their primary demand is to be classified as 'teachers'. They have been sleeping in the open air at Freedom Park in Bengaluru for the last two days and are determined to stay the course until their demands are met. Most of the Anganwadi workers are women.
Anganwadi centres were set up by the government in 1975 to combat child hunger and malnutrition. They are run by grass root level workers who are responsible for feeding children as well as pregnant women. However, the workers are classified as 'activists' and paid honorariums instead of salaries.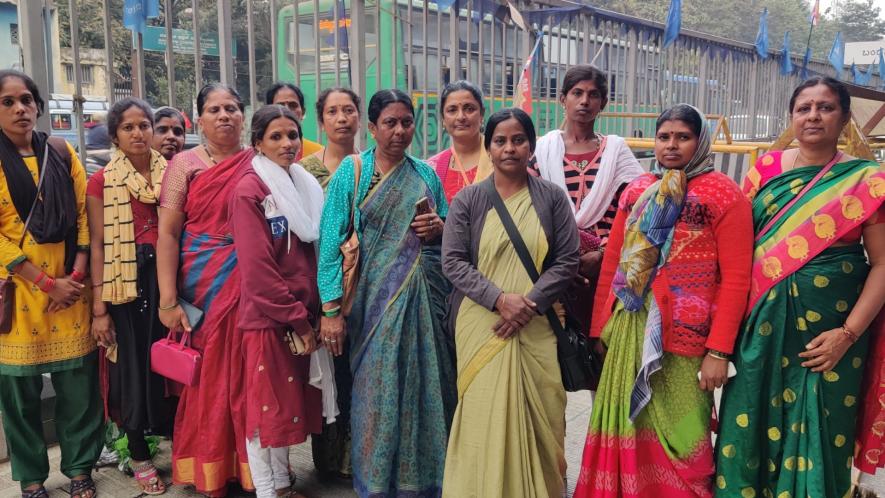 Anganwadi workers are provided with a mobile application called 'Poshan' through which the government can track the health and nutrition level of lactating mothers, pregnant women and children between three to six years of age. This app is known to crash periodically. Failure to update the app can result in loss of pay for the worker.
Sujatha is a CITU taluk President from the Kolar district. She says that there has been a historical injustice to Anganwadi workers because they have not even been considered workers. Speaking to NewsClick she says, "this is an indefinite protest. We have placed ten demands before the administration. We have left our families behind and have decided to take on more hardship in order to reach our goals. We want to be classified as teachers and we want to be eligible for gratuity payments. Why have you classified us as karyakartas (activists) and made us work for forty years, in return for honorariums?"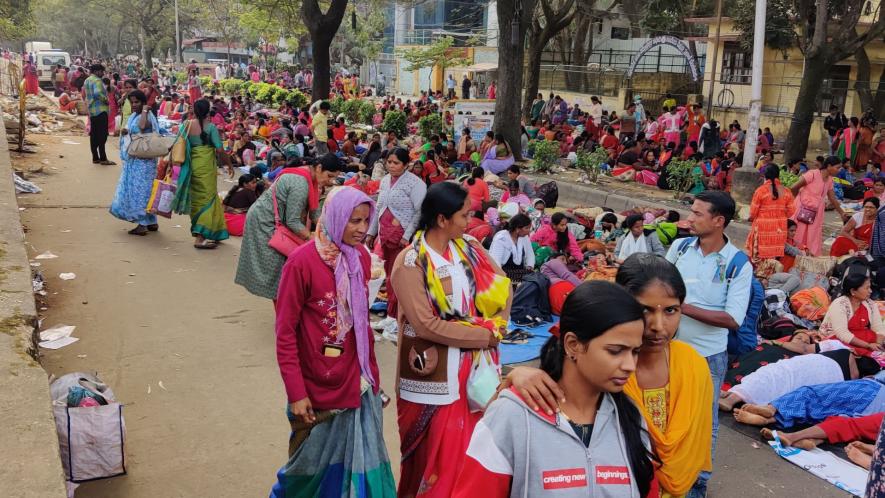 As she was speaking, other Anganwadi workers from Kolar gathered around and spoke about their issues. Among their concerns were the heavy workload and harassment of Anganwadi workers. They said, "in our village (unnamed), there is a population of 1300 people and my Anganwadi has 28 children between the ages of three and six years. On the other hand, a village like Kondenahalli has a population of around 500 people, but that Anganwadi has more children because it is located in a rural area and there are no Convent schools in that region. That Anganwadi has only one teacher and no helper. By herself, she has to maintain around 40 books, and update the 'poshan' app daily. We serve eggs twice a week to children and pregnant women. However, the eggs are not delivered to us. We are given Rs 5/egg and expected to buy it ourselves from the market. On that day, our husbands have to take leave and deliver this to the Anganwadi. This is a further loss of earnings." 
They spoke about the additional, unpaid labour that they are expected to perform. "We are at the beck and call of Mandal authorities. We have to participate in two taluk-level meetings per month. We are subjected to mental harassment if we close the Anganwadi to attend this. We are also appointed as Booth-Level Officers (BLO) for election duties. We have to update the voter lists and conduct house-to-house verifications for inclusion and exclusion errors. We are expected to send field reports through the Garuda app when we conduct voter ID verifications."
Among the protestors is a contingent from Gulbarga district (also known as Kalaburagi) in North Karnataka. They are led by Pushpavati, 53. She says, "there are 1,500 women who have come here from Gulbarga district alone. Wage revision is one of our demands. Today, Anganwadi workers earn around Rs 11,500/month and the helpers earn around Rs 6 000/month."
Speaking about the history of the union, she continues, "the CITU Anganwadi union in Karnataka was first started in Gulbarga in 1994. Back then an Anganwadi worker used to earn Rs 120/month. After many union-led struggles, our honorariums have been raised to this much, otherwise, it would have been even lower."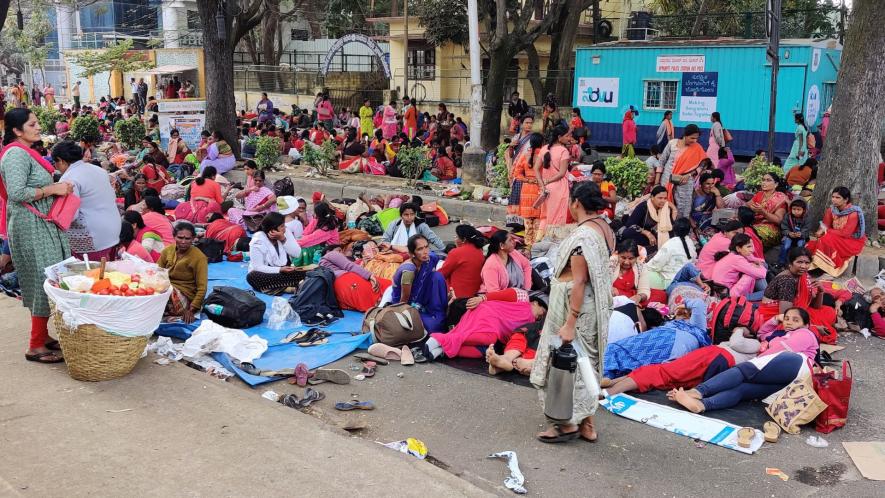 CITU Karnataka President, Varalakshmi says, "as per NEP, new pre-primary education centres will be opened. This will ultimately lead to a reduction of Anganwadi. Instead of this, we are recommending that LKG and UKG should be set up inside Anganwadi. The workers are presently burdened with too many additional tasks. We demand that workers should only be asked to do the work related to the ICDS. That way, they can focus on pre-primary education as well."  
The CITU memorandum also says that the workers are expected to mark their attendance thrice in the mobile app and twice in a physical register. This is deemed excessive. It goes on to demand that pre-primary education timings must be fixed for workers during which they should not be disturbed by outsiders. Further, it says that they should not be expected to perform duties beyond the care work identified by ICDS. It recommends that the supply of food to Anganwadis should be decentralised and the food must be cooked at the Anganwadi itself, in line with a supreme court order in this regard.
Get the latest reports & analysis with people's perspective on Protests, movements & deep analytical videos, discussions of the current affairs in your Telegram app. Subscribe to NewsClick's Telegram channel & get Real-Time updates on stories, as they get published on our website.
Subscribe Newsclick On Telegram