Karnataka: Dalit Workers Forced to Dig up Decomposing Bodies Bare-handed
Workers at a public meeting revealed that encroachments on graveyards led to them digging out old bodies to make space for new ones.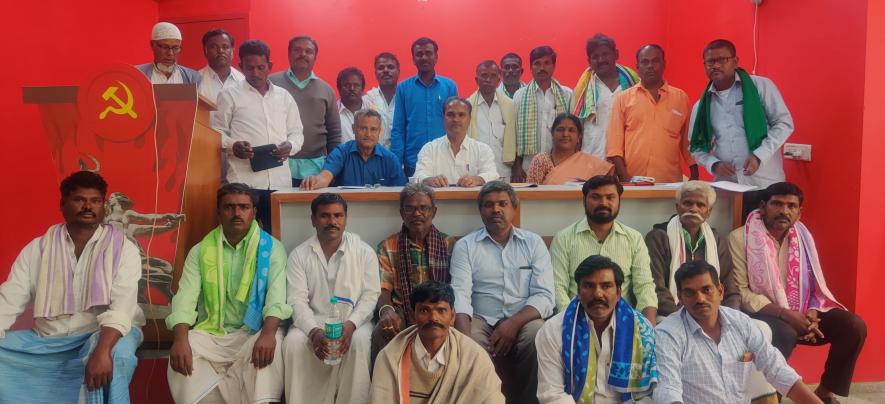 Bengaluru: Dalit workers in North Karnataka have been forced into bonded labour by a practice known as Bitti Chakri. They have been made to conduct burials with their bare hands and denied payment for their labour. Now, they are organising themselves and planning to make their voices heard.
Enagi Sannahanumanthappa, 50, is a member of the Adi Karnataka (Scheduled Caste) community from Vijayanagar District. He spoke to NewsClick about his work and the labour association he is now a part of.
"We have been working as mashana Karmikas for many centuries. We have been working without pay all this time, and now we demand that the government pay us decent wages for our labour."
As disturbing as it might seem, these dalit workers are not paid any money from the government for their labour. When a person dies, they are called upon to dispose of the body, and the family of the deceased decides their pay. This is because this job is caste-based, hereditary labour, and no other community is willing to do this work. This practice, known as 'Bitti Chakri', is a customary, bonded labour prevalent in North Karnataka. In exchange for digging up a grave and handling the disposal of the body, they receive a small tip. The pay is always meagre.
During their work, they have been subjected to several atrocities. In many cases, there is an encroachment into the burial ground, vastly reducing the space for burials. In such cases, they dig up the old grave and lift the rotting, half-decomposed corpse by hand and use the old grave for a new corpse. The old body is then carried to a nearby field and burnt. They say they don't use gloves or special equipment for this. During the height of the COVID-19 pandemic, there were instances where people living alone had passed away but whose bodies were only discovered due to the stench of the rotting corpse. In such cases, the workers were expected to move the body with their bare hands without pay.
In rural areas, there are several superstitions surrounding droughts and rainfall. When there is a drought, the locals conduct certain rituals to pray for rain. It may be a frog procession, a donkey procession, chanting of bhajans and reading Puranas. This is done to lift the drought. Similarly, they believe that droughts also occur when a dead body has not completely decomposed. So, these workers will be pressured to open up all the graves and inspect the bodies. If any are insufficiently decomposed, they will have to take it out and burn the remains without pay.
Sannahanumanthappa continues, "My father and grandfather did this work. Now I'm doing it. But I don't want my son to do this."
On Tuesday, cemetery workers and gravediggers gathered at the EMS Bhawan in Bengaluru to discuss their issues. They wanted to be recognised as Safai Karamcharis and be paid a decent wage for burying and disposing of dead bodies. The meeting was conducted by the Communist Party of India (Marxist), which has been organising these workers under the banner of "Karnataka Rajya Mashana Karmikara Sanghatane".
Forming an association of workers
Sannahanumanthappa said that the idea to come together and form an association came after their interactions with B Malamma, a CPI(M) organiser working with Devadasis.
"Malamma akka came to our villages and surveyed mashana karmikas and told us that if we came together and formed an association, we could demand our rights from the government. Before her, nobody came to inquire about us."
The responsibility of helping such vulnerable workers was taken up by Malamma in 2014. She is an experienced organiser and the general secretary of Karnataka Rajya Devadasi Vimochana Sangha. Speaking to NewsClick, she said, "Apart from digging the graves, there are many jobs they are expected to do when there's a death in somebody's home. They are expected to pick up and dispose of the sheets and dirty clothes which had come in contact with the body. They have to dispose of the fruits and flowers used in the rituals. If the body is to be cremated, the wood for cremation is also delivered by dalits who go into the forest and cut down the wood. They are not provided with any vehicle. They carry the wood on their head."
Malamma recounts how she first came across the mashana workers. She said, "In Vijayanagar district, there is a village called Haregondanahalli. I got to know these men when I worked with devadasis there. They were brothers and fathers of devadasis. We visited 4-5 villages and met with other mashana karmikas. We saw that they were facing a historical injustice. Not only were they facing untouchability and discrimination, but they were also facing several health problems. They were working very hard jobs for very little pay. They were not getting food on time and were heavy drinkers. We found that they couldn't perform some aspects of their work without first consuming a lot of alcohol. Many appeared 15-20 years older than their real age."
One of the workers from Haregondanahalli village said that he had borrowed Rs 1500 and a shirt for the journey to Bengaluru. He laughed and pointed out that the shirt was a bit large for him, but he didn't have any shirts at home. Most of the workers were in a similarly precarious situation. Most of them are trying to find work as daily wage labourers. Their situation also makes them harder to organise. Every workday is precious. Malamma says that patience is the key.
H Rudresh, 38, from Jagatageri village (Kottur taluk), is the son of a mashana karmika. He is a graduate and works with the association as an organiser and a community leader.
"For more than two generations before me, we did this work. Yet, we are not given any loans, land or facilities. These workers are burying bodies which may have diseases like AIDS, coronavirus or TB. If workers fall sick or die, their families will not be compensated. The sangha is trying to help them stand on their own feet and demand their rightful entitlements. Their work is not recognised by the government. There should be a proper survey and identification of these workers. Whatever they are paid for burying bodies gets spent the same day. They should be paid a decent monthly wage to educate their children."
Rudresh has a BA degree but did not get a job. He says that his family owns two acres of land on which they grow maize. Even though the yield for this season was equal to around ten sacks of corn, the unseasonal rain damaged the crops, resulting in a loss. As an organiser, he has established contact with 300 mashana karmikas and an equal number of Devadasi women. People like Rudresh are essential for the working of a grassroots union. He is in a position to educate workers, understand their day-to-day issues, build trust and mobilise them for protests.
U Basavaraj, 61, State Secretary of CPI(M) in Karnataka, spoke to NewsClick about the workers' demands.
"It takes around four men to dispose of one body. So we are asking the government to compensate the workers at a rate of Rs 3000/burial. They need to be given gloves and equipment to ensure their safety. The government can also recruit these workers to look after the burial sites and ensure no encroachment. They need to be recognised as workers performing a public service. Older workers must be given a pension. Ultimately, this practice of Bitti Chakri has to end".
The public meeting on November 1 was chaired by Basavaraj, Malamma and Rajanna. Around 25-30 mashana karmikas from North Karnataka attended the program. Most of them reside in Vijayanagar and Ballari districts and are taluk-level leaders of their association.
The meeting ended with a declaration that a padayatra would be undertaken to Bengaluru in February. The workers were also informed that they would have to unite as many mashana karmikas as possible to reach at least 10,000 people. As per the association members (based on back-of-the-envelope calculations), there must be around 50,000 graveyards in Karnataka and around 2.5 lakh gravediggers.
Get the latest reports & analysis with people's perspective on Protests, movements & deep analytical videos, discussions of the current affairs in your Telegram app. Subscribe to NewsClick's Telegram channel & get Real-Time updates on stories, as they get published on our website.
Subscribe Newsclick On Telegram