Karnataka: Farmers Stare at Bleak Future as Submerged Fields Damage Crops, Devastate Livelihoods
Excessive rains have damaged over Rs 11,000 crore worth crops in Bengaluru Rural, Tumkur, Kolar, Chikkaballapur, Ramanagar, Chitradurga, Chikkamagluru, Shivamogga and Hassan district.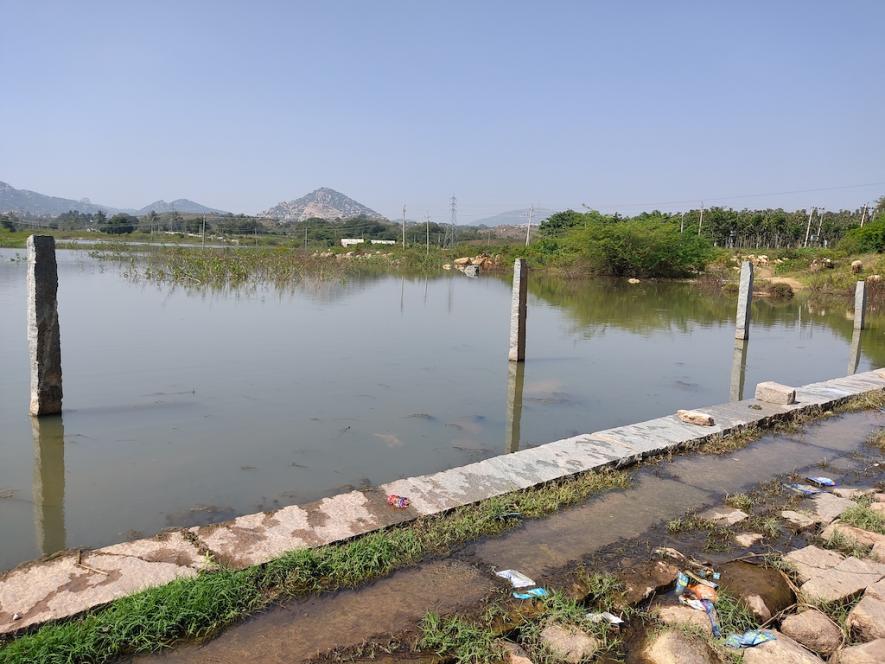 Waterlogged agricultural land / Chikkaballapur
Farmers across southern districts of Karnataka are under immense stress due to recent crop loss. The devastation was caused by the late retreat of the monsoon in its last leg and cyclonic depression that submerged hundreds of acres of cultivable land affecting kharif crops, including cash crops. Maize, paddy, vegetables, groundnuts, ragi, flowers, coffee, fruits, ginger, chilli, pepper were reported to be damaged across Karnataka. 
The rains have caused extensive damage to Bengaluru Rural, Tumkur, Kolar, Chikkaballapur, Ramanagar, Chitradurga, Chikkamagluru, Shivamogga and Hassan district. 
The crop damage on a total 14.32 lakh hectares of land in the state and the loss has been estimated at Rs 11,041.79 crore.
Kharif crops ready for harvesting in October were damaged by the rains. After Rabi crops were sown, November rains played a spoiler for them in the initial stage. Thus, heavy rains in these two months damaged both Kharif and Rabi crops in Chikkaballapur district.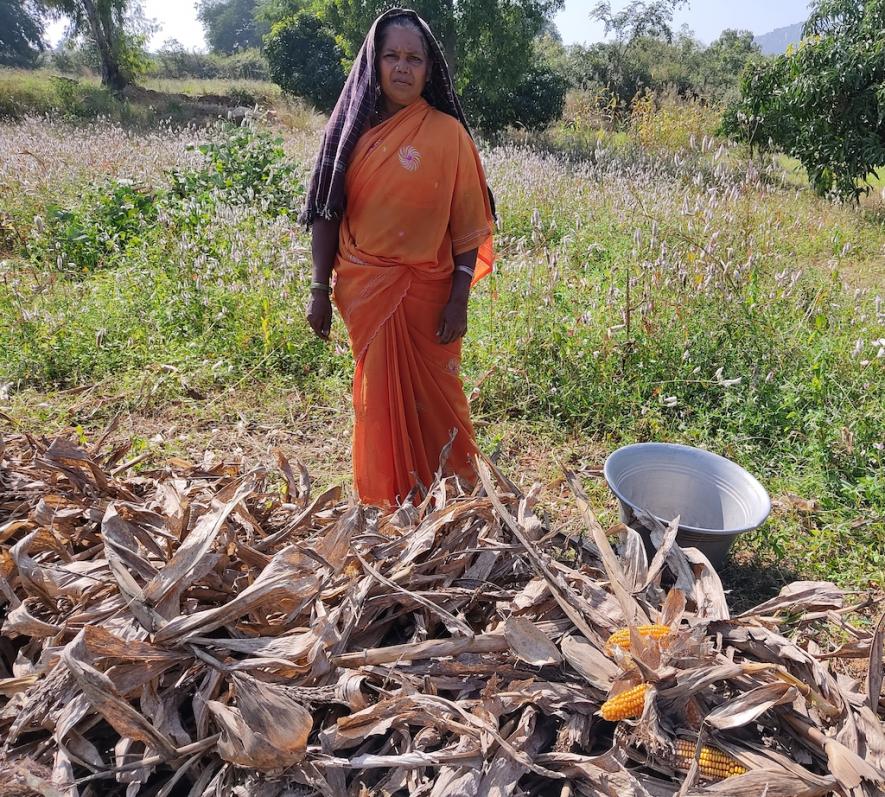 Shamshun (58) a farmer in Digavanettakuntapalli village, 130 km north of Bangalore in the last leg district, invested nearly Rs 1 lakh to produce maize in two acres of land. The incessant rain inundated the crop field completely, leaving the crop damaged and without grains. The left-out crop residual cannot be sold in the market due to quality deterioration after prolonged immersion in water. Feeding the left-out crop to cattle is the only option left, Shamshun told NewsClick. Five dependents of his family are now facing a grim situation wherein no relief package has reached her and many alike. 
In her memory of four decades, Shamsun say she has not seen crop damage of such intensity. It has wrecked livelihoods. The district witnessed a colossal 433 % excess rainfall, the highest among all districts, as per meteorological department data.
The lofty announcement of simultaneous relief by the Karnataka government to farmers in affected regions is a farce, said Babu Zaheerbaig. Babu (50) had sown groundnuts in an acre of land which submerged in water, ruining his expected earnings. The family is left with a few kilograms of paddy that is meant to satisfy the hunger of his family.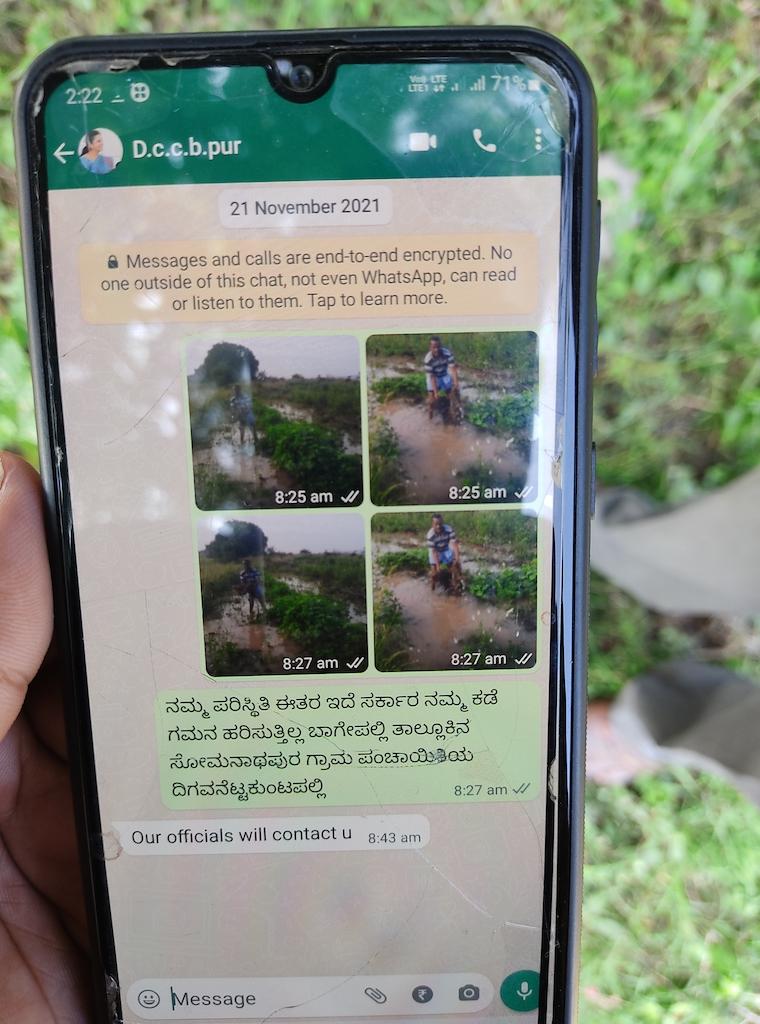 Message of Crop loss to the District Collector of Chikkaballapur
Babu's woes did not end here. He had sent photographs of his crop damage to the Chikkaballapur District Collector on November 21, after which he was given assurance by officials that they would visit his field to assess the damage. But till date no government official has turned up, he said, adding that all efforts to reach out the District Collector of Chikkaballapur over phone did not get a response.
Chief Minister BS Bommai on November 22 announced compensation for farmers against the damage caused after the rainfall and flash floods. As per state revenue minister R Ashok, the government had disbursed Rs. 926 crore as compensation to 12 lakh farmers in the state.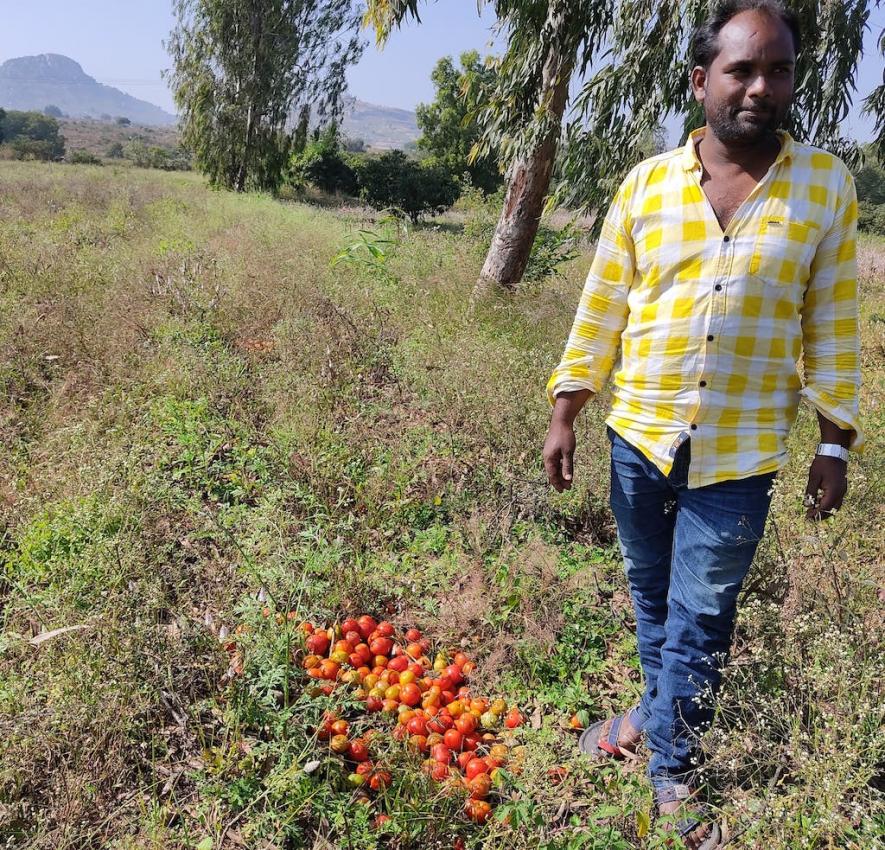 Venkat Rama / Dodhbalapur / Rural Bangalore
The situation in rural Bangalore is similarly grim in terms of crop loss. Venkat Rama (28) owns two acres and undertook tomato cultivation, incurring an expenditure of Rs 4.7 lakh, but he did not get a penny back due to crop damage. The rest of the crop standing in half an acre of land is he only hope he has now to feed his family till the next harvesting season.
In a span of a decade, this is the biggest loss Venkat Rama has suffered due to unseasonal rains. Tomato production was expected to be 21.1 million tonnes. It was 20.6 million tonnes last year. A 0.5 million tonne rise is expected in fruit production, i.e., 16.6 million tonnes, which was 16.1 million tonnes in 2019-20. 
The Agricultural Produce Market Committee (APMC) in Kolar district, considered to be Asia's second largest tomato market, received a mere 50% of its usual supply in November. Kolar APMC Secretary TS Ravikumar told NewsClick that the disrupted supply chain of vegetables, such as potatoes, would take time to recover. Climate change is posing a big threat to farmers. The drought-stricken Kolar district is undergoing irreparable damage, which is causing widespread worry.
As per government data, 70% of the damage is in five districts namely -- Tumkur- 25%, Chikkaballapur-14.7%, Kolar- 13.5%, Ramnagara-11.6%, Hassan-11.6%.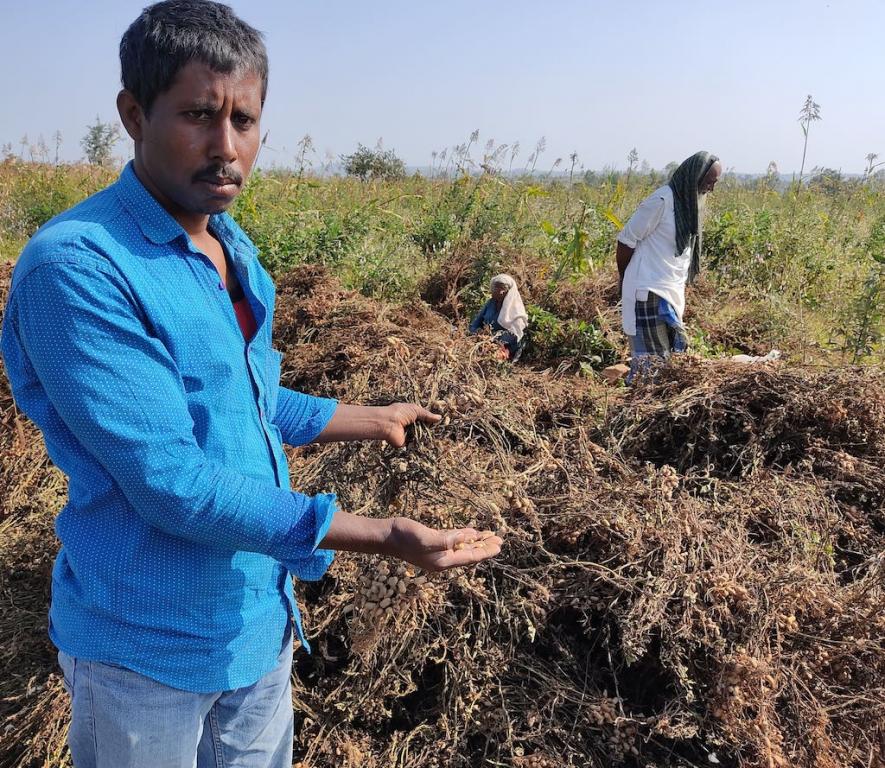 Narayanappa Swamy / Kolar
Narayanappa Swamy (38), a farmer in Kolar's Byapanahalli village, grew groundnuts in three acres. The incessant rainfall waterlogged the field and damaged the nuts. The usual 40 kg nuts in a sack has come down to 10 kg amounting to losses of Rs. 75,000, per sack.
A migrant labour in Kochi, Swamy had to returm home last year during the pandemic-induced lockdown and undertook groundnut farming to earn a living. The cash crop's instant production within 90 days attracted him, but this year's unseasonal rain has created havoc. He is also awaiting compensation from the government. Annoyed with the recent crop loss compensation amount, Swamy said Rs. 6,800 per hectare compensation for rainfed crops was too less because an acre of groundnut requires Rs. 25,000 per hectare, way more than the announced compensation amount. 
Swamy's family of four is in distress due to crop loss and is clueless about the next season as excess rain has disturbed the crop season cycle. As per the young farmer, Chikballapur and Kolar districts contribute the highest to the production of groundnuts in the state and even in supplies to neighbouring Tamil Nadu. 
Groundnut is the king of oilseeds and is one of the important legume grown in order to enhance soil fertility. Karnataka is the highest groundnut producer, and Kolar being its top producer is worst affected. In southern parts of Karnataka, it is cultivated extensively as rainfed crop, while in the north it is cultivated with protected irrigation.
The writer is a Bihar-based independent journalist and was on a visit to Karnataka for this ground report.
Get the latest reports & analysis with people's perspective on Protests, movements & deep analytical videos, discussions of the current affairs in your Telegram app. Subscribe to NewsClick's Telegram channel & get Real-Time updates on stories, as they get published on our website.
Subscribe Newsclick On Telegram