Karnataka Holds Mega Fest for Investors, But Hopes of Industrial Recovery Dim
The reality is that previous editions of GIM have delivered only a tiny fraction of what was promised.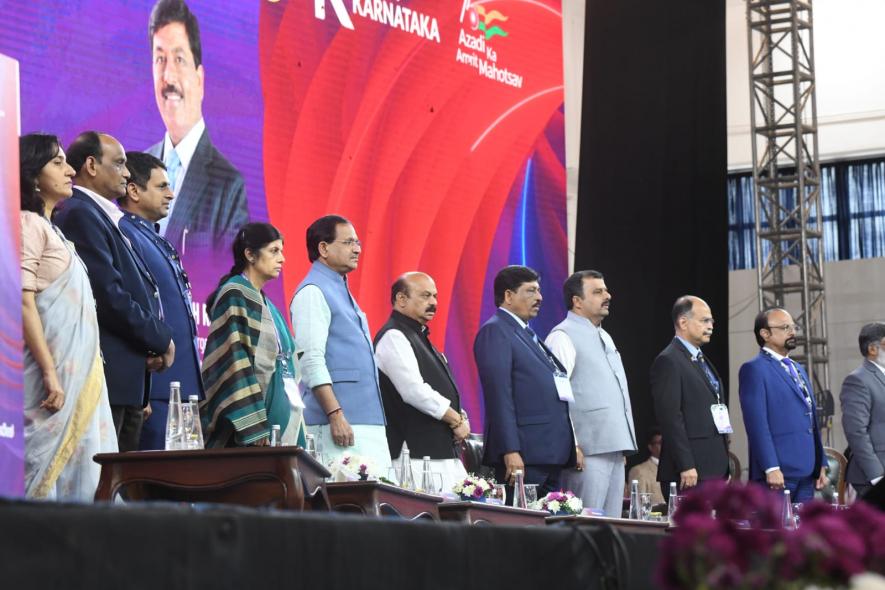 Image courtesy: @CMofKarnataka
Bengalauru: "Never pay too much attention to what an industrialist utters, instead, just follow the money to know what he/she is actually investing," said a veteran industrialist, when asked about the prospects of an industrial recovery after the recently-concluded Global Investors' Meet (GIM) hosted by the Karnataka government.
The state government claimed that the three-day event, which ended on November 4, resulted in investment "commitments" amounting to nearly Rs. 10 lakh crore. But if the past — especially the track record of the previous governments led by the Bharatiya Janata Party — is any guide, this too may prove to be a damp squib.
Inaugurating the event on November 2, and with his eyes firmly on the state Assembly elections due next year, Prime Minister Narendra Modi used his now-familiar cliché of invoking the advantages of having a "double engine" government. Union Finance Minister Nirmala Sitharaman made familiar and tired references to the advantages that the state enjoys, and also made the outlandish claim that India offered a credible alternative to foreign companies seeking an alternative to investment in China.
Sitharaman pointed out that Karnataka enjoys the advantage of being the biggest draw for foreign direct investment (FDI), accounting for almost 40% of all FDI into the country in 2021-22. That this is a misleading way of reading the numbers is obvious from the fact that a state's share of the country's FDI only refers to Karnataka-based subsidiaries of foreign entities investing in India. For instance, the investments in subsidiaries of Amazon and Walmart (which owns Flipkart), both of which are based in Bengaluru, does not mean all the investment is in Karnataka-based operations. Moreover, as studies have shown, notably by Biswajit Dhar (professor of economics at Jawaharlal Nehru University, Delhi), a significantly large proportion of FDI into India is for mergers and acquisitions, which do not guarantee an immediate increase in economic activity.
Taller and Taller Claims
Even before the event began, state Minister for Large and Medium Industries, Murugesh R. Nirani, claimed that investments of Rs. 5 lakh crore were expected by the end of the GIM. The meter started ticking fast by the end of the first day of the GIM, with different figures doing the rounds. Nirani claimed Rs. 2.1 lakh crore worth of investments were already in the bag; Chief Minister Basavaraj Bommai claimed investments of Rs. 2.8 lakh crore were already committed; and, Sitharaman, according to media reports, stretched it even further, to an eye-popping Rs. 7.5 lakh crore. It was just a matter of time before Nirani upped his "estimate" to Rs. 8 lakh crore.
To hard-nosed observers of the track record of these events, where government ministers conduct themselves like briefcase-wielding businessmen, the events at the GIM had a familiar ring. Nirani should know this well because he held the same portfolio when the previous editions of GIM were conducted by BJP-led governments, in 2010 and 2012.
The reality that previous editions of GIM have delivered a tiny fraction of what was promised, forced Bommai to assert repeatedly that this time it was for real. At the end of the event, he said his government was only interested in "genuine investors."
"We don't want guys (investors) who get clearances and then try to market in the stock market," he said, revealing a poor understanding of how hard-nosed market participants work.
"It (the Chief Minister's comments) reveals that the state's leadership naively assumes that the markets take industrialists' tall claims seriously," said an industrialist who runs a machine tool manufacturing unit.
Nirani's other role, that of an industrialist, having founded the MRN Group (named after himself, one supposes), which has interests in sugar, ethanol, education and renewable energy and has ambitious plans to move into cement and oil and gas, makes him eminently suitable as a "business-friendly" minister. Indeed, among the projects cleared at this GIM was a project initiated by his Group, for the production of ethanol. The small matter of how an active industrialist can also hold a portfolio that directly concerns his business, and the questions of conflict of interests that result, has obviously escaped the attention of not just the ruling party but the media over the last decade.
Lack of Credible Numbers
The proposed investments reveal an interesting pattern, one that is very similar to the earlier GIMs organised by BJP-led governments in 2010 and 2012. In particular, they raise questions about the credibility of the numbers offered in such a lackadaisical fashion.
First, of the total investment of Rs. 9.82 lakh crore proposed, the memoranda of understanding (MoUs), 57 in all, accounted for Rs. 5.41 lakh crore — that is, about 55%. In addition, Rs. 2.83 lakh crore were for 608 proposals cleared by the State High Level Clearance Committee (SHLCC), a standing committee headed by the Chief Minister, or through the single-window clearance process. The remaining investment, amounting to Rs. 1.57 lakh core were for two proposals that came up during the GIM. Thus, the average ticket size of each project for which MoUs have been signed — about Rs. 9,500 crore — is significantly higher than the projects that have been cleared by the SHLCC (average ticket size of Rs. 466 crore).
While an MoU is a mere expression of interest, projects cleared by the SHLCC are vetted by the government, explained a bureaucrat. "However, in both cases, whether a proposal actually sees the light of day is entirely dependent on the industrialist," he conceded. Thus, there is no guarantee that a proposal may actually materialise.
So, why would industrialists make promises knowing full well that they have no intention of keeping them? There are several reasons, says an industrialist who has participated in investor meets in the past in Karnataka, Gujarat and Uttar Pradesh. The conduct of a mega event, one which is judged purely by the number of participants or by the worth of investments promised, ensures that industrialists like to be seen hobnobbing with the powers that be. In other words, the nature of the event, the manner of its conduct and its marketing ensure its downfall, he says.
Industrialists, especially from large corporations, also see such events as an occasion when they counter the moves of their opponents, he explained. For instance, in cyclical industries like steel, which are also highly capital-intensive, proposals to expand capacity may check similar moves by rival groups. This is perhaps what happened during the first GIM hosted by a BJP-led government in 2010, when a significantly large proportion of the proposed investments were in the steel and mining industries.
All the major Indian steel companies and even Arcelor Mittal, had proposed to set up integrated steel plants in Karnataka. This happened just before the mining scandal forced the ouster of B S Yeddyurappa as Chief Minister, following which the entire iron ore mining activity in the state came to a standstill.
Risky Focus on Few Sectors
The second standout feature of the GIM has been the extreme focus on a single sector — renewables. This, again, is in line with the GIM fiascos in 2010 and 2012. If GIM 2010 was all about iron and steel, the 2012 edition was all about the power sector. At GIM 2012, power projects, especially gas-based projects, accounted for the overwhelming share of the total proposed investment of Rs. 8.27 lakh crore. This, despite the fact that supply of gas was by no means assured.
As the accompanying graph illustrates, almost two-third of the total investment proposals are in two areas — hydrogen manufacturing and in renewable energy projects. Given that hydrogen as a fuel also constitutes a renewable source of energy, this means that effectively this was a renewables-focused GIM.
Nine projects for manufacturing hydrogen are projected to result in an investment of Rs. 2.86 lakh crore — an average ticket size of Rs. 31,782 crore each. Among the proposals are those that plan to use hydrogen for manufacturing ammonia for use in the fertiliser industry.
However, there are several imponderables, of course, not all of which are of the state's making. For one, although the Modi government has announced a "green" hydrogen policy, the key determinants of investments, particularly the extent of subsidies that would be on offer, remain unclear. How the Centre plans to prioritise industrial uses of hydrogen is also not clear; among the prime candidates for the use of "green" hydrogen are fertiliser, cement, steel and plastics. This is critical because manufacturing hydrogen as a "green" fuel is horrendously expensive. But just as important is the infrastructure that would facilitate the transport and storage of hydrogen for industrial use.
Shying From Investing
Sitharaman's recent expression of exasperation with industrialists for having failed to respond to the several sops that her government has dished out to Indian corporate entities, most notably the significant losses that the government has suffered on account of the cut in corporate tax rates, is revealing. That this is happening after a spectacular and unprecedented increase in profits of large Indian companies during and after the pandemic, is particularly striking.
Recent analyses of the balance sheets of large Indian companies has revealed that they have chosen to use their higher profits to either retire debt or to invest in financial assets. In other words, they do not appear very confident of investing in their own business. At the other end of the spectrum, small and medium-sized businesses have been rocked repeatedly since 2016 — the demonetisation of 2016, the Goods and Services Tax regime that came into being in 2017 and the pandemic and its after effects since 2020.
Modi's pitch for a "double engine" government thus has an ironical ring to it. With the main motor in Delhi barely moving, the secondary engine can do little. The latest GIM only shows that the Karnataka government, obsessed with bells and whistles of a spectacle and the distraction of its brazenly communal politics, is not even trying to pretend to be serious.
The writer is former associate editor, 'Frontline', and has worked for The Hindu Group for over three decades. He is a member of the People's Commission on Public Sector and Public Services. The views are personal. 
Get the latest reports & analysis with people's perspective on Protests, movements & deep analytical videos, discussions of the current affairs in your Telegram app. Subscribe to NewsClick's Telegram channel & get Real-Time updates on stories, as they get published on our website.
Subscribe Newsclick On Telegram