Karnataka Polls: Typewriting Classes Survive Amid Job Woes in KGF, Left Parties' Campaigns Recall Rich Industrial History
"We are talking to people about the history of the party. We stood with the workers of BGML and BEML. We are protesting for issues like increased train facilities, drinking water, and the release of compensation funds for BGML workers who lost their jobs in 2001," said CPI(M) candidate Thangaraj P.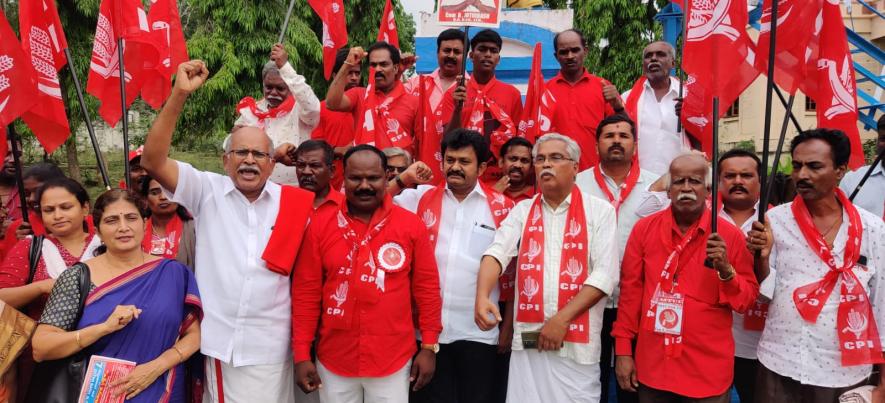 CPI's candidate Jothi Basu (centre, in red) during an election campaign in the KGF city.
Kolar Gold Fields (KGF) in Karnataka was a source of immense wealth for the British colonial government in India. According to estimates, they managed to loot at least 400 tonnes (400,000 kgs) of gold from the mines in the region. However, the region has been unable to develop despite the large reserves of gold still lurking beneath the surface. The mines have all been closed, and unemployment is high. A one-hour bus ride away from the district capital, Kolar city, KGF is a region in search of a new story.
The mine workers were part of the CITU union, and due to union leaders like KS Vasan, the region was a communist party bastion until the 1962 Assembly elections. Representing CPI, Vasan himself became the MLA in 1951. Subsequently, MC Narasimhan and S Rajagopal won the seat for the party in 1957 and 1962, respectively.
However, with the split of the party in 1964 and the closure of mines in 2001, the left has been unable to hold its ground in the region. TS Mani pulled one back in 1985 for the CPI(M). But the Republican Party of India (RPI), Indian National Congress (INC), the BJP, and even the AIADMK have managed to carve out political space here.
The constituency has a diverse population. A majority of the residents are Tamil speakers. According to the report of the delimitation commission of 2008, the region has a Scheduled Caste (SC) population of 42.41%. The Scheduled Tribe (ST) population is a little over 1%. The constituency is a reserved SC seat.
The Alternatives
In the present assembly elections, the CPI has entered the fray for the first time with a candidate called Jothi Basu, an advocate and social worker. Both the CPI and the CPI(M) have put forth candidates from the KGF constituency. The seat is made up of three regions - mine area, non-mine area, and villages.
The CPI(M) candidate, Thangaraj P, 48, has contested every Assembly election here since 2008. He is also an elected councillor in the KGF city municipal council. His grandfather was a mine worker, and his mother was an active member of the CITU mine workers union. He is a B.Sc LLB graduate.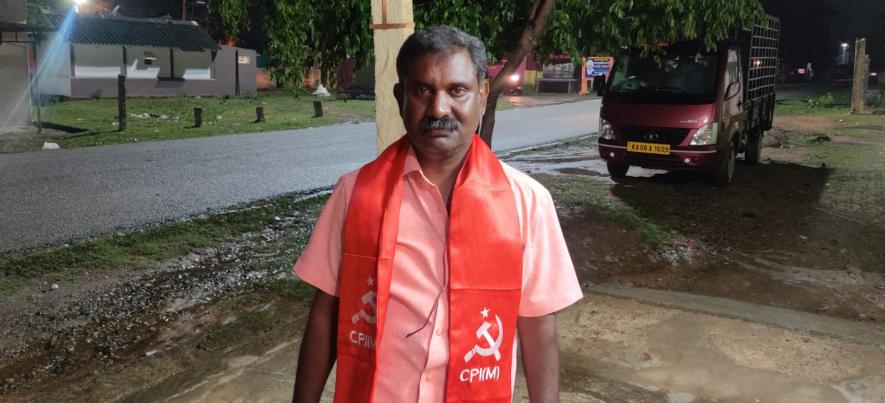 Thangaraj P, CPI(M)'s candidate for the KGF seat
Speaking to NewsClick, he said, "Last time the Congress won this seat after spending a lot of money. BJP does the same. It has changed the expectations of people. When we go for campaigning, they ask us how much we are willing to pay for votes. We do not pay money for votes. Last time, our entire election campaign cost Rs 5 lakhs. We are talking to people about the history of the party. We stood with the workers of BGML and BEML. We are protesting for issues like increased train facilities, drinking water, and the release of compensation funds for BGML workers who lost their jobs in 2001. There is rampant unemployment here. The BJP government has promised 200 crores for a Ram temple in Karnataka. Let there be an allocation to bring industries here."
Presently, the CITU union has members from BEML, gram panchayat workers, auto drivers, Anganwadi workers, and Bisi Oota Nakarara Sangha (mid-day meal workers).
Inside KGF city and the mine areas, S Rajendran of the Republican Party of India is a popular favourite. A two-time MLA, he is well-regarded by the locals in the city.
Rakesh, 23, is a salesman at a kitchen utensils store. He says that he has completed SSLC (standard X) but is disappointed at the lack of opportunities in the city. Speaking to NewsClick, he said, "There's nothing here. No jobs, no industries. Only BEML (Bharat Earth Movers Limited). Rowdyism and consumption of ganja are increasing."
When asked whom he is going to vote for this time, Rakesh replied: "SR". At first, it was unclear which party he was referring to, but he clarified that it is the "Jai Bhim Party". S Rajendran, also known as SR, is the name on the lips of most working-class people across the city.
This NewsClick reporter encountered a group of BEML workers at the BEML Tamil Mandram (Tamil Association). A BEML employee, Dayal, 45, said, "SR will fight for us. He can get funds released for the development of the constituency. He is a lawyer with experience as a two-time MLA. He has a lot of knowledge. He brought an emergency fire service, road infrastructure, and a KSRTC bus depot."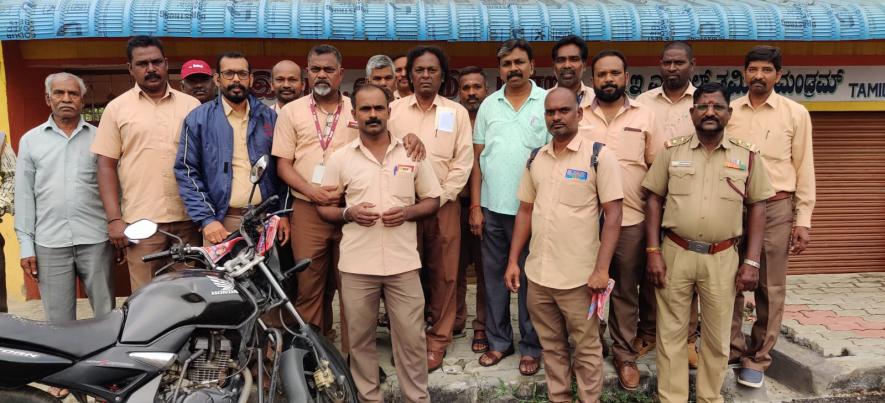 BEML employees outside the BEML Tamil Mandram.
The BEML plant in KGF manufactures and assembles earth mover equipment. There are 1,318 permanent employees there. Furthermore, there are also around 2,000 contract workers who are worried about the privatisation of the company.
Karthikeyan, 58, a BEML employee said, "We need an industrial corridor here. We need a government medical college and an engineering college. The city is full of ITI trade certificate holders, diploma holders, and engineering graduates, but there are no industries. BGML is gone, and only BEML is left. Young people are getting jobs only on a contractual basis. How will they survive on Rs. 12,000 per month? This region was the first to get electrified. Broad gauge came here first. The mine workers had risked their lives to build this city. If they went into the mines, there was no guarantee that they would come out. That is how our elders built the city."
Bharat Gold Mines Limited (BGML) had 3,500 employees when PM Atal Bihari Vajpayee decided to shut down the company in 2001. Being a public sector undertaking, BGML was shut down because the sales of the extracted gold were unable to cover the operational expenses.
The mine workers were paid a one-time settlement as a voluntary retirement scheme (VRS). The amount received has been deemed insufficient, and the workers have challenged the settlement in the Karnataka High Court.
The ex-mine workers are living in squalor, with their families residing in slums for which they don't possess pattas (land titles). Both CPI and CPI(M) have promised to fight for pattas for the ex-mine workers.
Thanga Raj of the CPI(M) said, "Since 1940, there was a red flag movement in Kolar. The United Party continued to fight elections as CPI until 1964 when there was a split. After that, CPI(M) continued to fight elections and won the Assembly seat in 1985. We even fought and won local body elections as CPI(M). In the state, seven parties including CPI, SUCI(C), RPI-K, and CPI-ML (Liberation) have tried to work together. This time, there are two left candidates in the same seat. It is unfortunate."
CPI has brought in Tamil Nadu MLA T Ramachandran and Rajya Sabha MP from Kerala, Binoy Viswam, as its star campaigners.
Unemployment
Locals say that at least 20,000 people travel back and forth from Bengaluru daily. The workers are daily wage labourers, but also semi-skilled workers who prefer not to have a house on rent in an expensive city like Bengaluru. The IT hub is 100 km away and people make a two-hour journey by train every day. It amounts to at least four hours of train travel daily. There are also other indicators of job scarcity.
Typewriting Coaching Classes
A striking feature in the heart of the city is a centre which offers typing classes on typewriters. The centre, known as 'Vani Vilas Commerce and Computer Education' offers typing classes to young people of KGF, charging Rs 350 per month. It is a one-year course.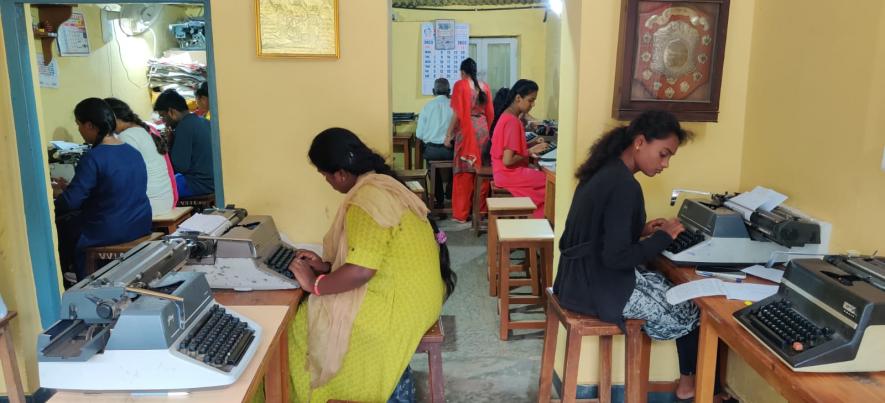 Amid unemployment, youths hope to learn and put to use typewriting skills in KGF. 
There are about 30 typewriters and 12 computers at the centre. The computer typing classes are slightly more expensive at Rs 500 per month. The classes last 45 minutes daily. In the age of rapid technological progress, young people of KGF have been still enrolling to learn using typewriters. The centre is bustling with students throughout the day which speaks for a region stuck in a different era.
Sudeep Kumar, a 19-year-old second-year B.Com student, has a mother who works as a tailor in the nearby town of Bangarpet. She has encouraged him to learn typing, as it could provide him with a career option in the future. When asked about the kind of job he expects to get after completing his one-year typewriter course, he smiled and admitted, "I don't know."
Get the latest reports & analysis with people's perspective on Protests, movements & deep analytical videos, discussions of the current affairs in your Telegram app. Subscribe to NewsClick's Telegram channel & get Real-Time updates on stories, as they get published on our website.
Subscribe Newsclick On Telegram